When you're a cookbook author, über-popular blogger, and a vegan chef with social media followers numbering in the hundreds of thousands, the odds are good that your wedding feast is going to be a meal to remember. For Sweet Potato Soul's Jenné Claiborne and husband-to-be Maxx Loup, that meant hiring a celebrity chef to create a menu that embodied as much heart as the couple have themselves.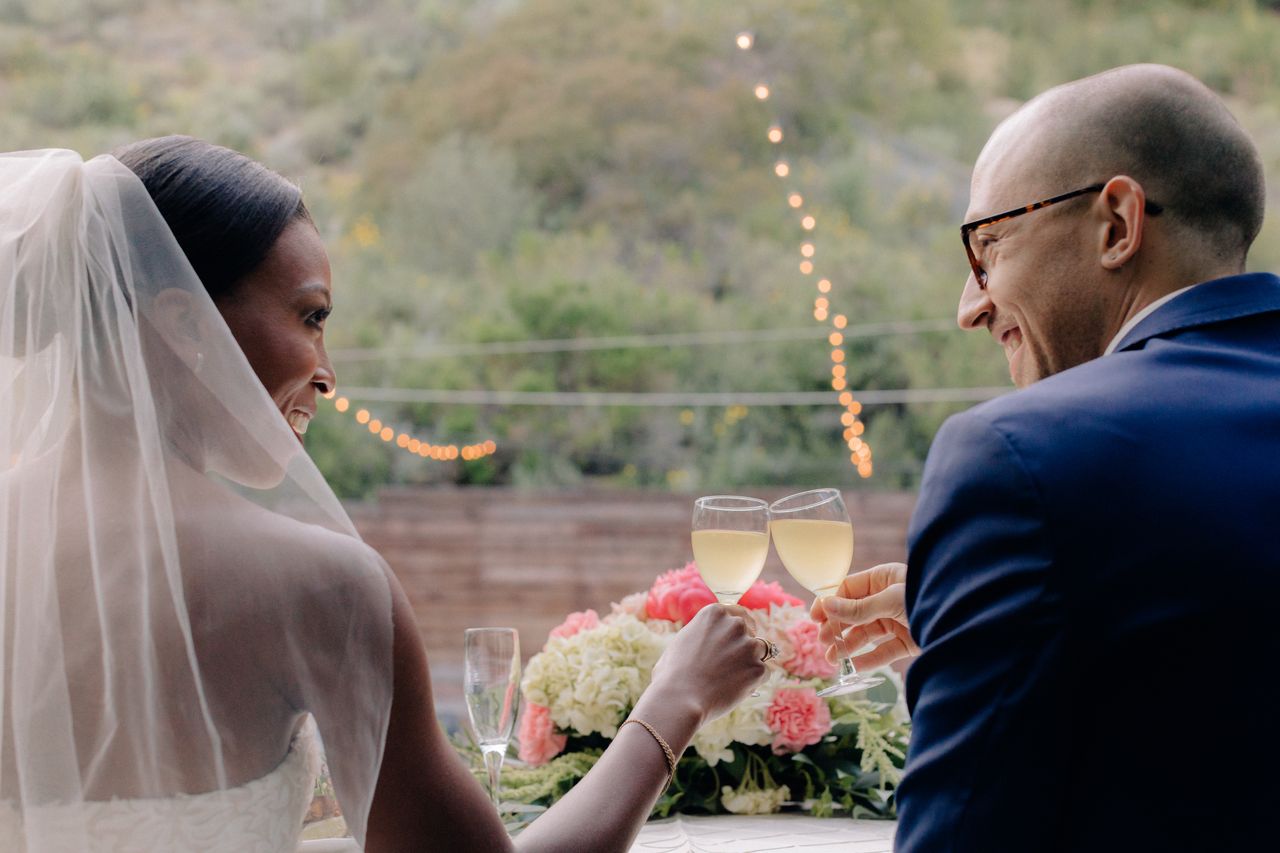 A meal that would satisfy every variety of palates was especially important to Jenné and Maxx, considering that the majority of their guests were not vegan or even vegetarian. They needn't have worried about how the plant-based fare would be received, since the guests were dazzled by the menu that included everything from Superfood Shiitake Kale Salad to Vegan Chicken and Waffles. "They were all blown away by the food," recalls Jenné.

The wedding and reception was held at a quintessential Southern California spot: The 1909 in Topanga. Surrounded by towering old oak trees and grassy meadows, the atmosphere was a celebration of nature and beauty, making it the perfect location for two committed vegans consecrating their connection before family and friends.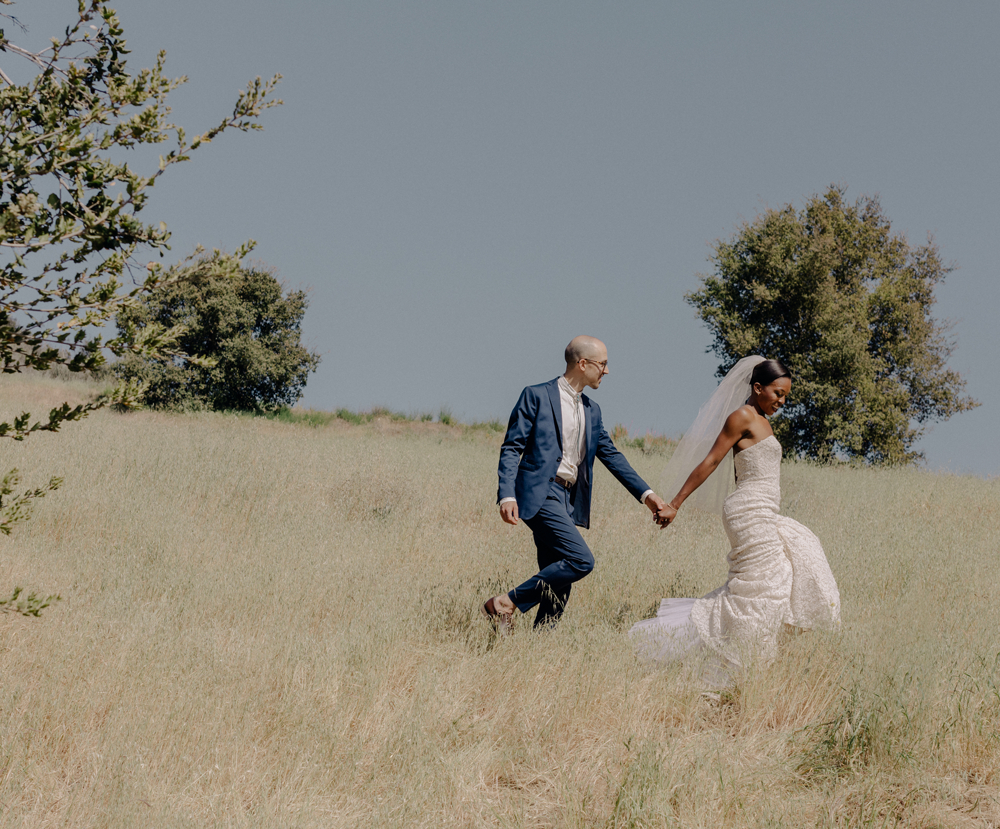 Jenné and Maxx opted for an intimate wedding so that they could share meaningful moments on their big day with each of their 50 guests, including family members who would be meeting for the first time. A micro event also had the added benefit of helping the couple save money—a perk when you've got a relaxing honeymoon in Maui planned—and helped alleviate some of the pressures of planning a major life event. "We wanted something more manageable and less stressful," says Jenné.

For someone whose livelihood is built around vegan food, being able to step aside and let another qualified pro take over that aspect of the wedding-planning process is also a stress reliever. And Jenné and Maxx were lucky to land one of the best-of-the-best caterers in LA, a minor miracle for the start of a perpetually busy wedding season.

Chef Lauren Von Der Pool, who trained at Le Cordon Bleu and has cooked for the likes of Serena Williams, Common, and Stevie Wonder, created a menu with nods to traditional southern fare, with some exciting twists from the African culinary diaspora that brought a fusion vibe to the edible experience. The full menu, served buffet style, was not only bountiful, but full of enticing colors and smells.

The wedding cake, too, was a thing of beauty to behold; two-tiers of chocolate salted caramel cake with pleated white buttercream frosting and a crown of flowers and fresh foliage to tie in nature and enhance the understated cake's sweet charm.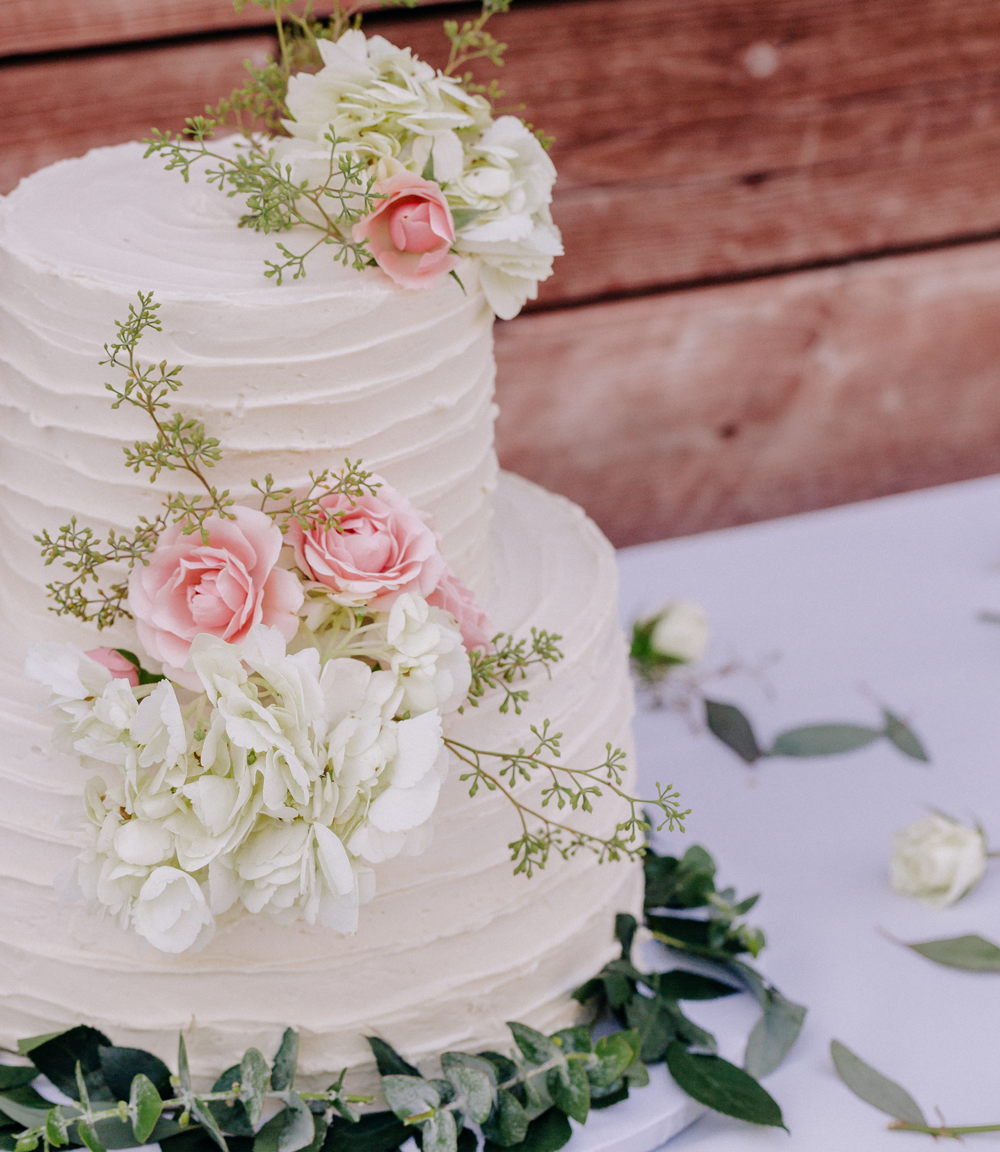 A Chic & Soulful Southern Feast
The Menu
Superfood Shiitake Kale Salad
Southern Fried Crispy Chicken with Mumbo Sauce
Caribbean Red Bean Stew
Crispy Potato Salad with Micro Greens
Eritrean Berbere Spiced Corn with Garlic Aioli
Coconut Braised Greens stewed with Coconut Milk Miso Broth
Sweet Potato Purée scented with cardamom
Vegan Chicken and Waffles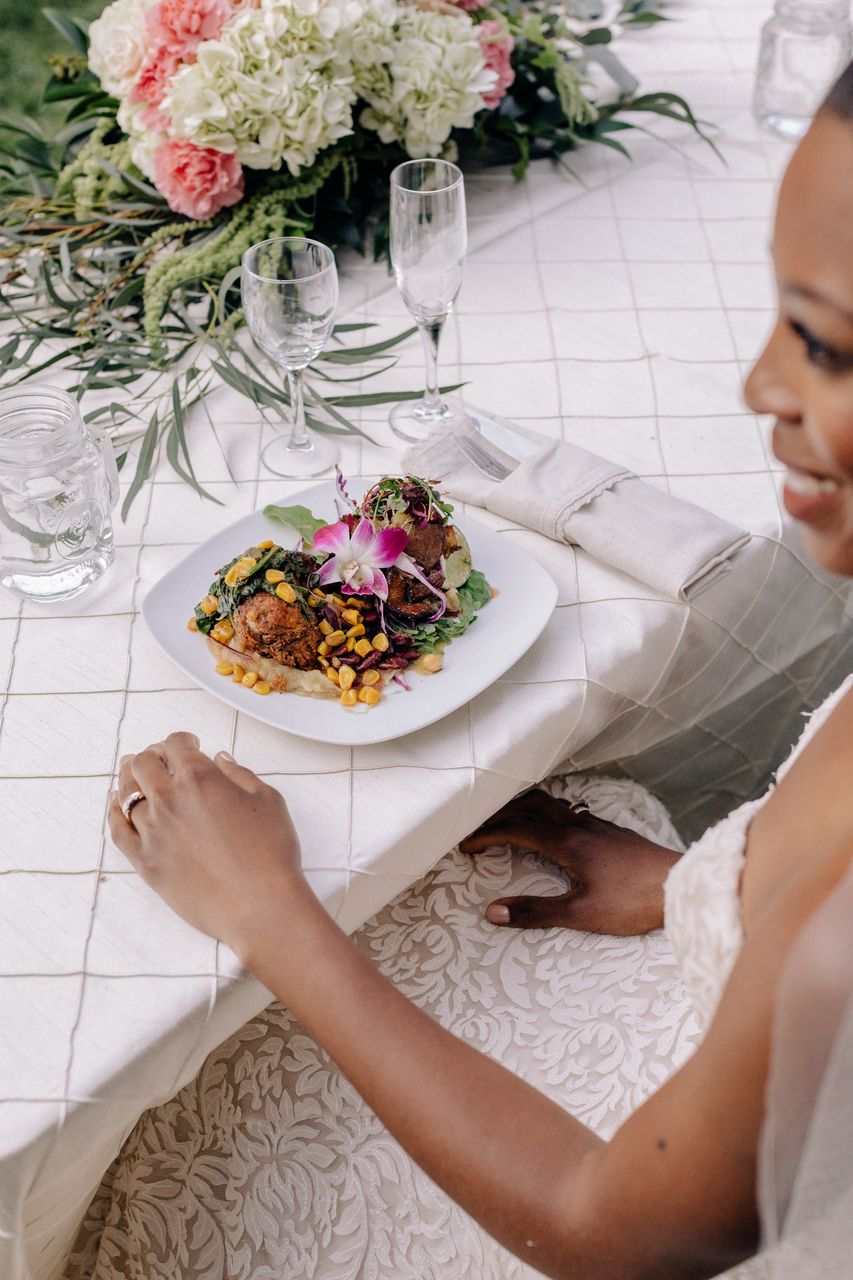 Having a celebrity chef at your wedding might seem like a dream come true, but with planning and preparation, you can have your vegan Southern Fried Crispy Chicken with Mumbo Sauce and eat it, too. "My advice," says Jenné, "would definitely be to plan early so that you can book that caterer/chef. If budget is an issue, try working with that dream caterer to make something work within your budget. Don't give up—get creative."
Want more vegan weddings?
You're going to love our Great Big Vegan Wedding Idea Book!