Your wedding day is a celebration of you and your partner as you cross the threshold into a new life chapter. But it's also a day to celebrate the coming together of families, friends, and loved ones, many of whom have traveled from afar to share their love and support with you as you embark on this exciting adventure. You're doing your wedding your way—as you should!—but have you thought about how the two of you can give back to your guests in ways that will make them feel as special as you do on your wedding day?

One way to dial up the good vibes is through enhanced guest experiences. You know how, when you stay at a hotel and they leave you dog biscuits for your pooch or place vegan chocolates on your pillows? It's those little gestures that make an experience feel next-level, and you can adapt these tiny gestures for maximum impact, all the while keeping in perfect alignment with your vegan values.

We've studied the trends and landed on nine ideas we love that will not only provide an incredible experience for your guests, but for the two of you, too. Read on for all the details!
9 ways to go the extra mile for your guests
Welcome party
Odds are good that your guests have traveled from near and far–sometimes very far–to be a part of your big day, and there's no better way to welcome them to your world than by hosting a pre-wedding welcome party. Whether it's a daytime picnic or a night-before dinner party, an informal gathering that gives you a chance to have a few moments of quality time with your guests will make them feel loved and appreciated, and bonus: you'll feel the love, too!
Veganize it: Keep it simple with a vegan sushi platter from your favorite local spot or other easy-to-eat, informal nibbles. The idea is to mix, mingle, and show your gratitude.
Keep it moving
At most weddings, there's a little gap between the ceremony and reception. It's normal! But how much time is too much? With too big a gap, guests won't know what to do with themselves, and, let's be real, they're going to be hungry! To avoid the dreaded bored guest situation, whittle the time down to 30 minutes or less. Your guests will be grateful!
Veganize it: Offering your guests a glass of champagne or another festive elixir will give them something enjoyable to focus on while they wait for part 2 of the wedding festivities to begin!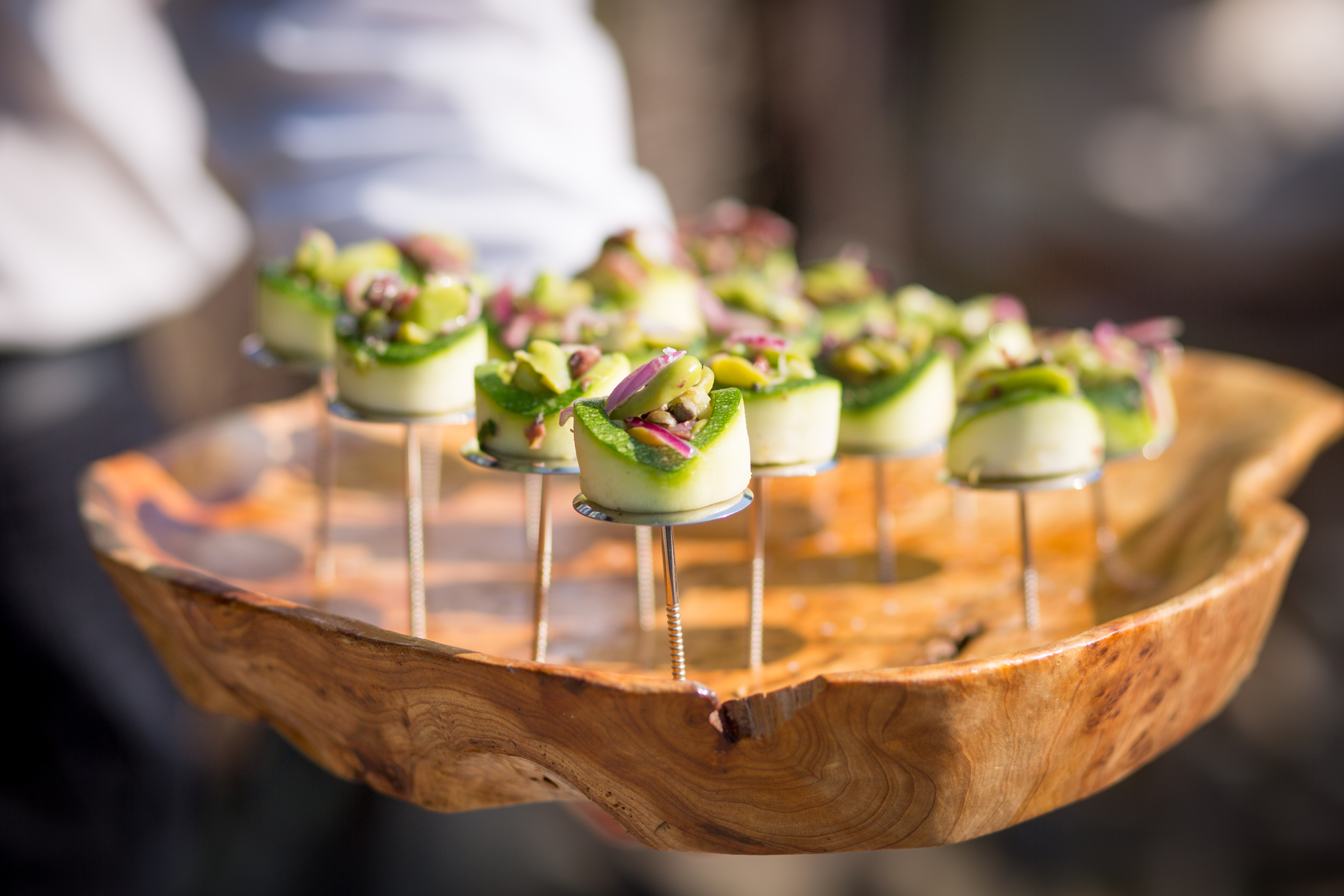 Post-ceremony snacks
There's something about watching other people tie the knot that makes you really … hungry. Don't make your guests wait until the reception is in full swing to sate their thirst and hunger; in addition to a glass of something refreshing (see above), have nibbles ready to roll as soon as the I Dos are done.
Veganize it: A bite of bruschetta, a savory stuffed mushroom, or a fresh summer roll provides just the right amount of sustenance to see your guests through 'til your wedding meal is served. Whet their appetites with something scrumptious and everybody's happy!

Performance art
A little spectacle can go a long way when it comes to making memories for your guests at your wedding. It doesn't have to be an aerial performer or sword swallower … but it could be! Consider a jazz trio playing Django Reinhardt tunes from the '30s, or a magician, or do like Bree and Colleen did and have drag queens perform and mingle with guests!
Veganize it: If you go with the drag theme, you could hire a vegan performer like the amazing Honey LaBronx, or a vegan stand-up performer like the incredibly smart and funny Myq Kaplan. Even without the vegan humor, a good time is guaranteed.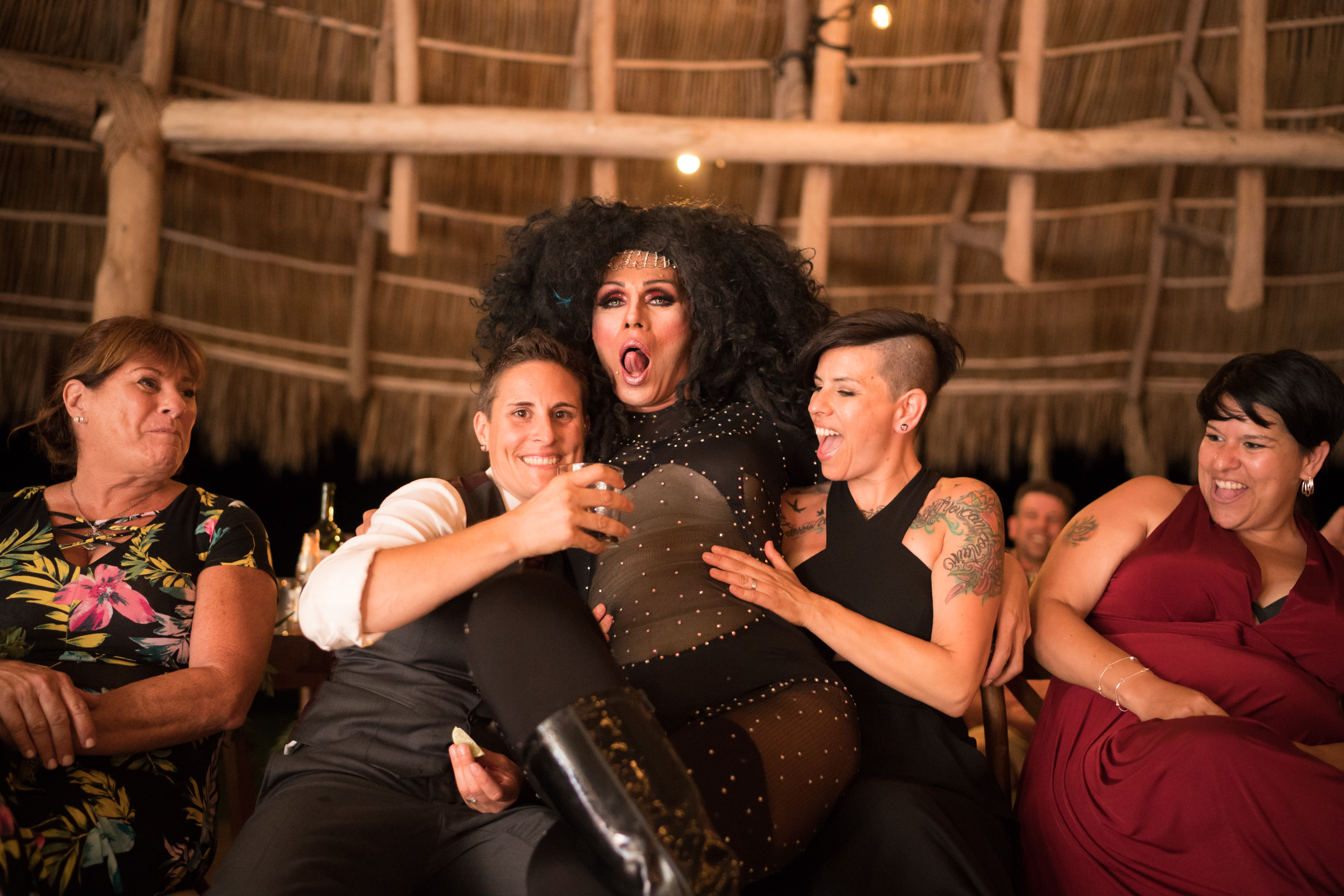 People movers
Arranging for transportation from your reception venue to your guests' hotel is really going the extra mile, especially for those who want to enjoy the celebration without worrying if they're too tipsy to safely get behind the wheel. Designated drivers also offer relief for older guests whose night vision might be impaired (it happens to the best of us). Hiring a few minivans, a fleet of Ubers, or a double-decker bus like Claudia and Michael did (see below) will make your guests feel taken care of.
Veganize it: The ultimate eco-friendly option would be to have your reception within walking distance of the hotel where your guests are staying. Bonus points if your wedding is at the actual hotel!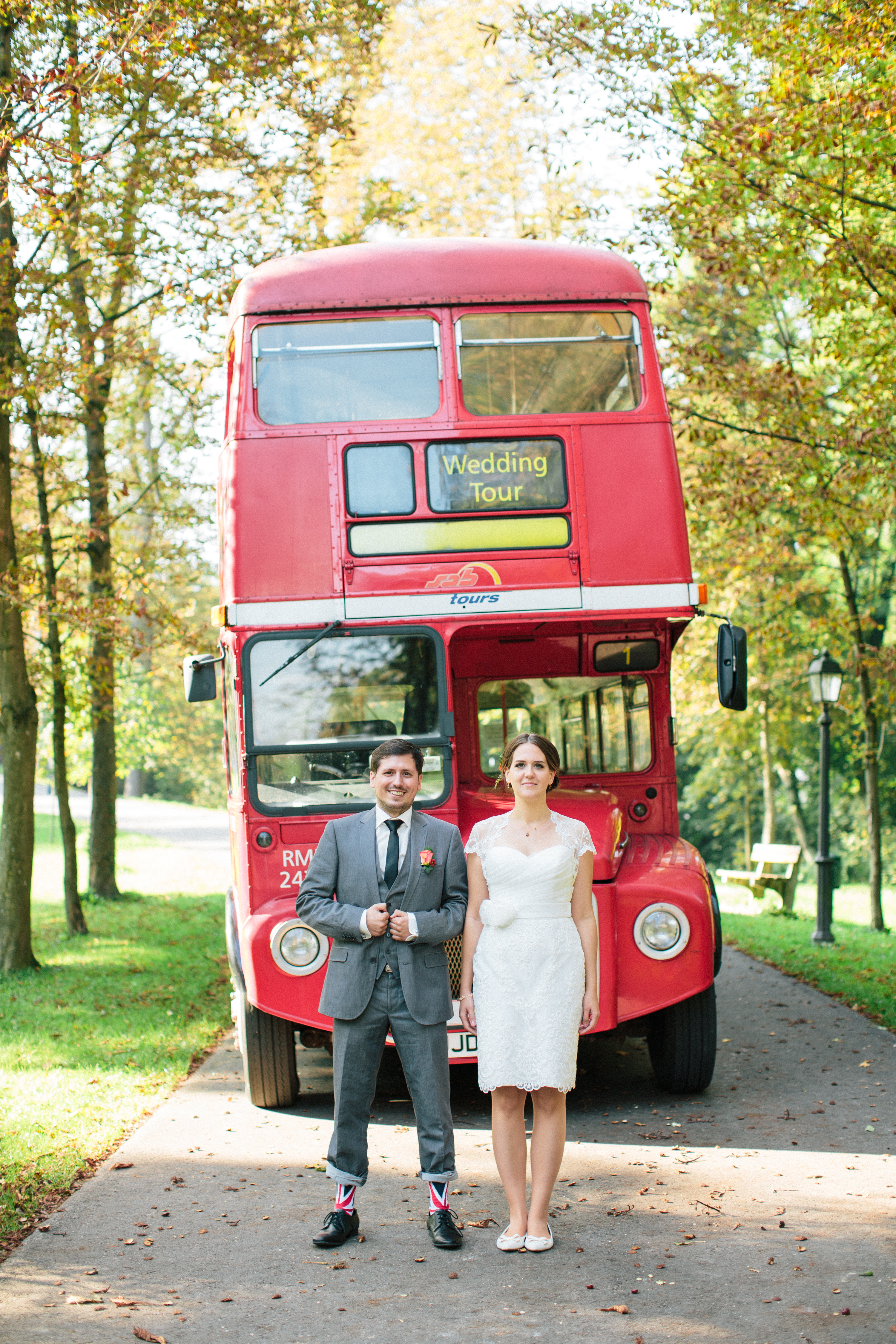 Amusing activities
Your guests will definitely enjoy meeting their fellow invitees, but sometimes it's nice to have the option of a little break from the festivities without feeling like you're being anti-social (we see you, introverts). This is where wedding games shine! If you have an outdoor area, put it to use with giant Jenga, cornhole, or bocce ball (available at most party stores). For indoor events, the photo booth is a perennial favorite, but you could also have a karaoke corner, pingpong, or table trivia games!
Veganize it: If you'll be having little ones at your wedding, consider a video corner where kids can watch a film with animal-friendly messages. Oldie-but-goodie Babe, Disney favorite Finding Nemo, and Chicken Run are all stellar options.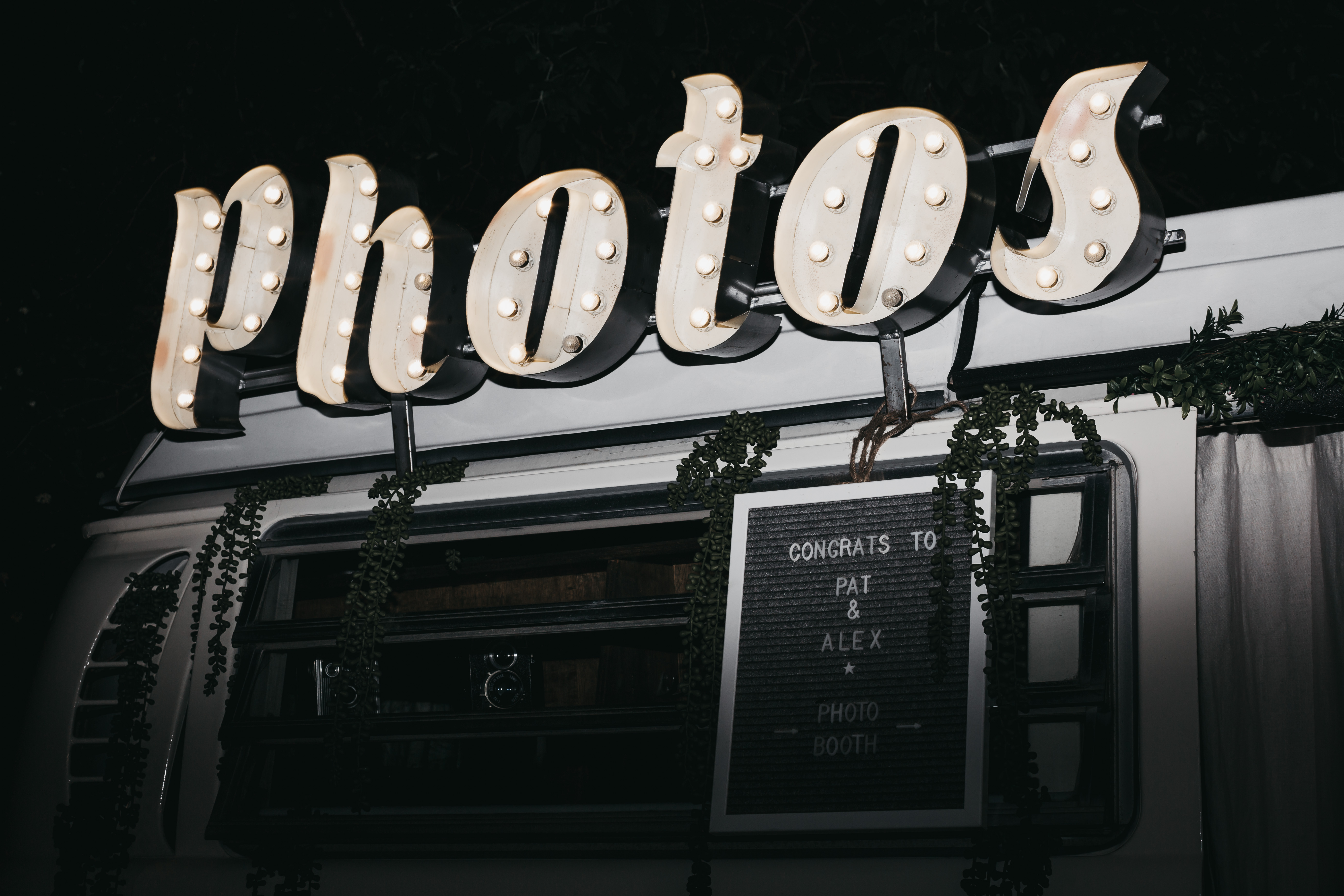 Dance lessons
You want everyone on the dance floor, because let's be real: that's what makes a party a par-tay! But some people are too inhibited or simply lack the skills and confidence to shake their booty in front of all those other guests. Hiring a dance instructor to lead your guests in a couple of dance moves can make this part of your reception more inclusive and way more fun.
Veganize it: A little uptempo jam by vegan artists Lizzo, Billie Eilish, or A$AP Rocky is all but guaranteed to get your guests on the dance floor.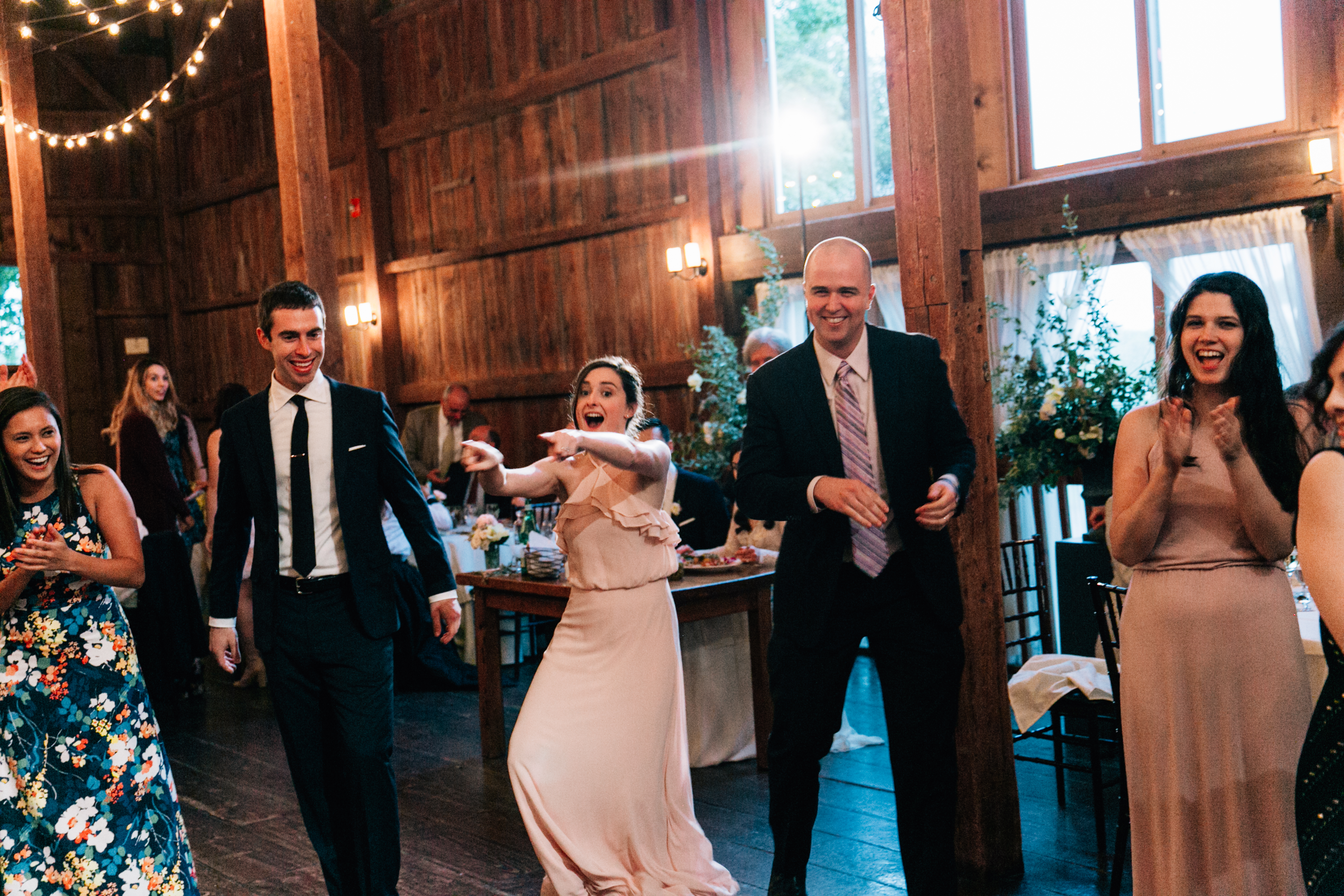 Thoughtful tokens
Giving a thoughtful gift to each guest for sharing your day with you is one gracious way to spread good will and make a lasting positive impression in your guests' minds. Skip the throwaway swag and instead, give each guest something small and special that they can really appreciate. Yes, we might be talking about chocolate! But there are other possibilities, especially when you keep it within the edible realm. Think gourmet cookies, a mini box of truffles, or an artisanal chocolate bar. If they don't eat it on the spot, they'll appreciate it on the plane ride home.
Veganize it: A local speciality like maple syrup, small jars of locally made jam, or even a small bag of coffee beans from your favorite roaster are vegan options everybody can appreciate. Keep on truckin'
Food truckin', that is. A food truck adds an element of fun to your reception, especially if it's in addition to the standard sit-down meal. If you've got the budget for it, consider hiring a food truck to serve up late-night tacos, falafel, or vegan barbecue. Your guests will feel spoiled and sated, which is exactly how you want them to feel!
Veganize it: If a food truck is beyond your budget, try a scaled-down version of the same idea with a food cart serving thick pretzels with mustard, vegan hot-dogs, or scoops of dairy-free ice cream.
Want more vegan weddings?
You're going to love our Great Big Vegan Wedding Idea Book!