Champagne has a long tradition at weddings; we blend it with orange juice for pre- and post-wedding brunch; we raise a glass to toast the newlyweds after the ceremony; and some couples with healthy wedding budgets opt for flashy champagne fountains at their receptions. But with the average price of champagne hovering at around $60 a bottle, it's a delicious tradition that can be out of reach for many couples, especially if you're having a large wedding. The good news is that there are bubbles aplenty to pop at your wedding that lend the same festive vibe to the occasion, but at a fraction of the price of French champagnes.
What makes champagne champagne?
True champagne is made with grapes grown in France's Champagne region, but the word has (incorrectly) become a catchall for bubbly produced in other other parts of the world: cava from Spain, prosecco from Italy, and sparkling wines from the Napa Valley to New Zealand. What they all have in common besides their bubbles is that they are made from white grapes—pale green Chardonnay and purple skinned Pinot Noir grapes are the most common—and undergo a second fermentation process in the bottle, which produces that signature effervescence.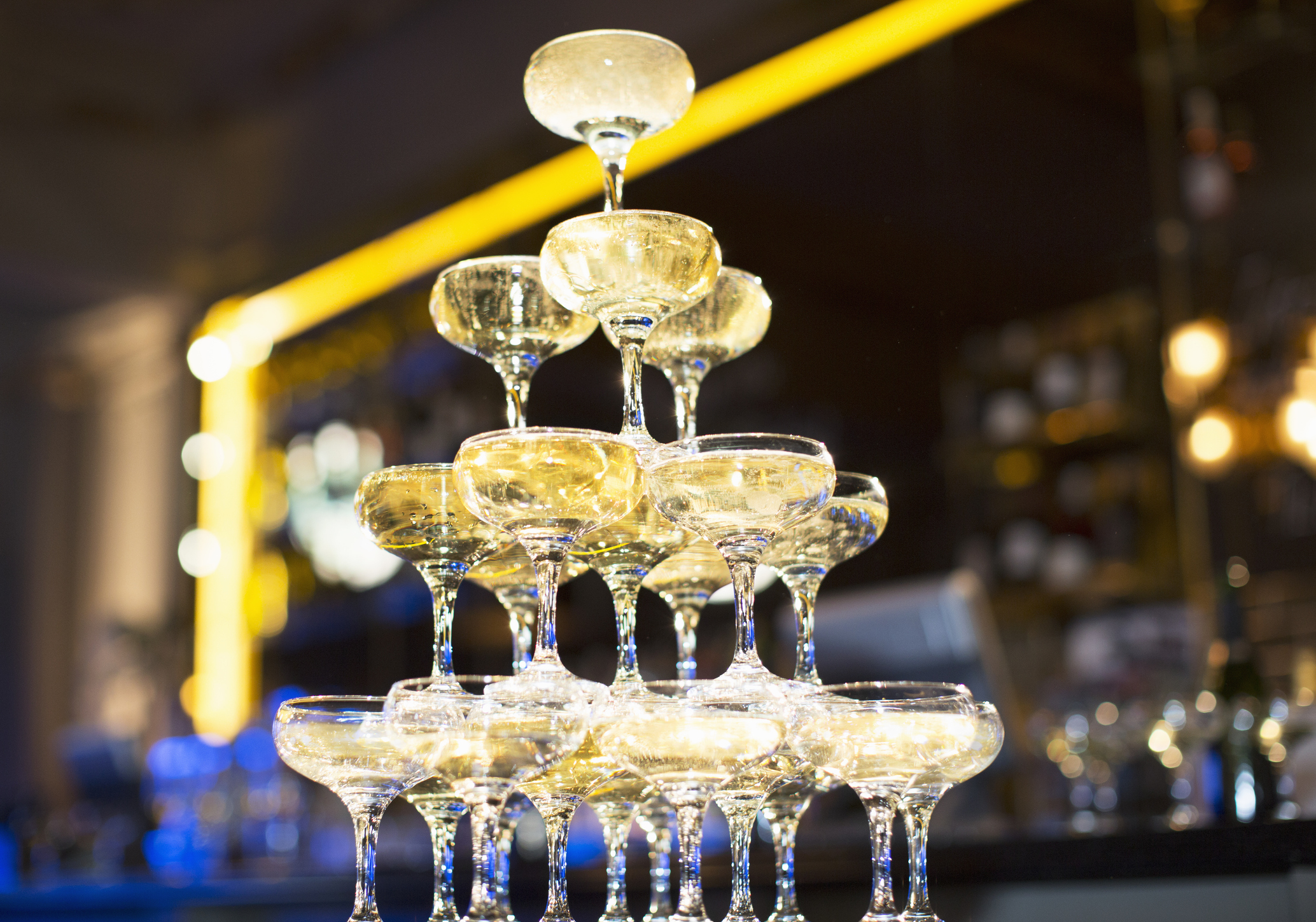 What makes a vegan wine?
Even though, in theory, sparkling wines are merely grapes, yeast, and sugar, there is a process known as fining—the technical term for removing any lingering sediment from the wine—that sometimes introduces non-vegan elements. It's not uncommon, for example, for winemakers to use gelatin, egg whites, or even fish byproducts in this process. But thankfully, more and more wineries are choosing to make their products more inclusive by using vegan-friendly fining agents, or sometimes, eliminating that step in the process altogether.

What constitutes a great sparkling wine/champagne/cava/prosecco really depends on one's own palate, but the experts will tell you that teeny-tiny bubbles are one of the hallmarks of a well-produced vintage. Another quality indicator is a real cork and not one of those flimsy plastic ones!
Budgeting for your bubbly
You needn't spend a fortune for a good wine, either, though it's certainly possible to do so; vegan-friendly Perrier-Jouët can cost upwards of $350 for a single bottle. Champagnes, because of their prestigious lineage and labor intensive production processes, can command those higher price tags, but it's possible to find a lovely bottle that's ideal for a wedding-day toast in the $40 price range. More budget-friendly but equally delicious cavas and proseccos are perfectly acceptable stand-ins, and they cost just a fraction of the price of champagne.

Before you invest in enough champers for every guest at your reception, it's worth experimenting to find the bubbles you like best. Here are some vegan options to add sparkle to your celebration.
Bubbles for your big day

CAVA
Freixenet: This brand has been around for more than 100 years, and is widely available by the case at supermarkets and Trader Joe's. At around $10 a bottle, the price can't be beat.
Albet i Noya: Made with organic grapes, this smooth Spanish cava brims with fresh fruit flavors. So refreshing!

Campo Viejo: This cava is perfect for mixing into mimosas or for sipping after wedding toasts. It has delightfully floral undertones, with just the right amount of tartness.
CHAMPAGNE
Duval-Leroy: A classic aperitif bubbly to prep your palate for your wedding day meal. Its toasty-almondy flavor is delightful!

Taittinger: They've been producing champagnes in France for almost 300 years, so you know they've mastered the technique! Any of their bottles are worth the splurge—especially on your wedding day.

Nicolas Feuillatte: You'll find this brand at grocery stores and corner markets across France, and now, it's widely available in the US, too.

PROSECCO
Brilla: Peaches, green apple, and loads of sparkle are the hallmarks of this prosecco. It's ideal for serving with passed hors d'oeuvres.

La Jara: Your wedding guests will love the crisp, citrusy flavors, and slightly understated bubbles of this prosecco. Bonus: it's organic, too!

Masottina: A glass of this bright and peppy prosecco will make you feel like you're tying the knot in the Tuscan countryside. Cin-cin!

SPARKLING WINE
Domaine Bousquet: This 100-perecent vegan wine from Argentina makes the most delightful sparkling wines that just happen to be organic, too.

Domaine Carneros: This winery in the Napa Valley doesn't just make great bubbly; they've also won awards for their sustainability efforts.

LaRocca Vineyards: This family-run organic wine company makes sulfite-free sparkling wine, which means no headaches, even when you've overindulged! (Hey, it happens.)
Want more vegan weddings?
You're going to love our Great Big Vegan Wedding Idea Book!