Of course, you've heard of wedding gowns, wedding jumpsuits, and wedding minidresses, but what about wedding bathing suits? Maybe it's not on your radar now, but with more and more couples choosing unique and sometimes unorthodox looks for their wedding attire, bridal swimwear is going to be something you'll be seeing at destination weddings and beachside celebrations in the months ahead.
Beach bride boomerang
Even though bridal beachwear is having a moment right now, it's not exactly a new concept. We can thank OG beach bride (and vegan animal advocate) Pamela Anderson for kickstarting the trend way back in 1995 when she tied the knot with Tommy Lee on a stretch of sandy beach in Cancun, Mexico. It was an of-the-moment look: snow-white string bikini for the bride, loose board shorts for the groom.

Flash forward to 2023 and the looks are equally iconic and reflective of the times, but a bit more refined and elegant. Fabrics are high-tech and made to last, often created from recycled materials including ghost nets left out at sea by careless fishing enterprises and discarded plastic bottles that are diverted from landfill.

And then there are the accoutrements: beach coverups in natural fabrics that take brides from day to night; fluffy synthetic tulle trains that attach to swimwear for a bit of beachside drama; and stylish easy-on, easy-off skirts that can instantly transform a simple swimsuit into gown (or a gown into a swimsuit).
Skip conspicuous consumption
Also trending in the world of maritime wedding fashion are multiple wedding looks, and we're not talking one for the ceremony and another for the reception. Many couples are opting for as many as a half-dozen outfit changes for their wedding day, including something new for the cake-cutting ceremony and another for the nuptial after party. But for couples who care about sustainability and keeping their carbon footprint low, this approach doesn't make sense.

It's still possible to make a statement and look chic at your beach wedding without overconsuming or leaning into non-eco-friendly options. When choosing your outfit(s), opt for pieces that you know you'll wear again, whether it's an understated white bathing suit that will still look great when you renew your vows in a decade, or a tailored pair of linen trousers to transform a more casual beachside look into something more elegant.

If your sartorial wheels are turning and a beach wedding is on your dream list, we've found some lovely looks to get you started on the path to finding the style that's right for you. Each of these fits the criteria: eco-friendly fabrics, interesting (but not too fussy) design, and built to last.
5 sustainable, vegan-friendly looks for your beach wedding
Recycled & Rewearable
The Skatie look is all about laid-back SoCal beach vibes. Every swimsuit, including this "Honeymoon" model ($135) is made with either upcycled or surplus fabric, and sustainability is woven into every aspect of production, including their choice to work exclusively with production partners who value a work-life balance for their employees.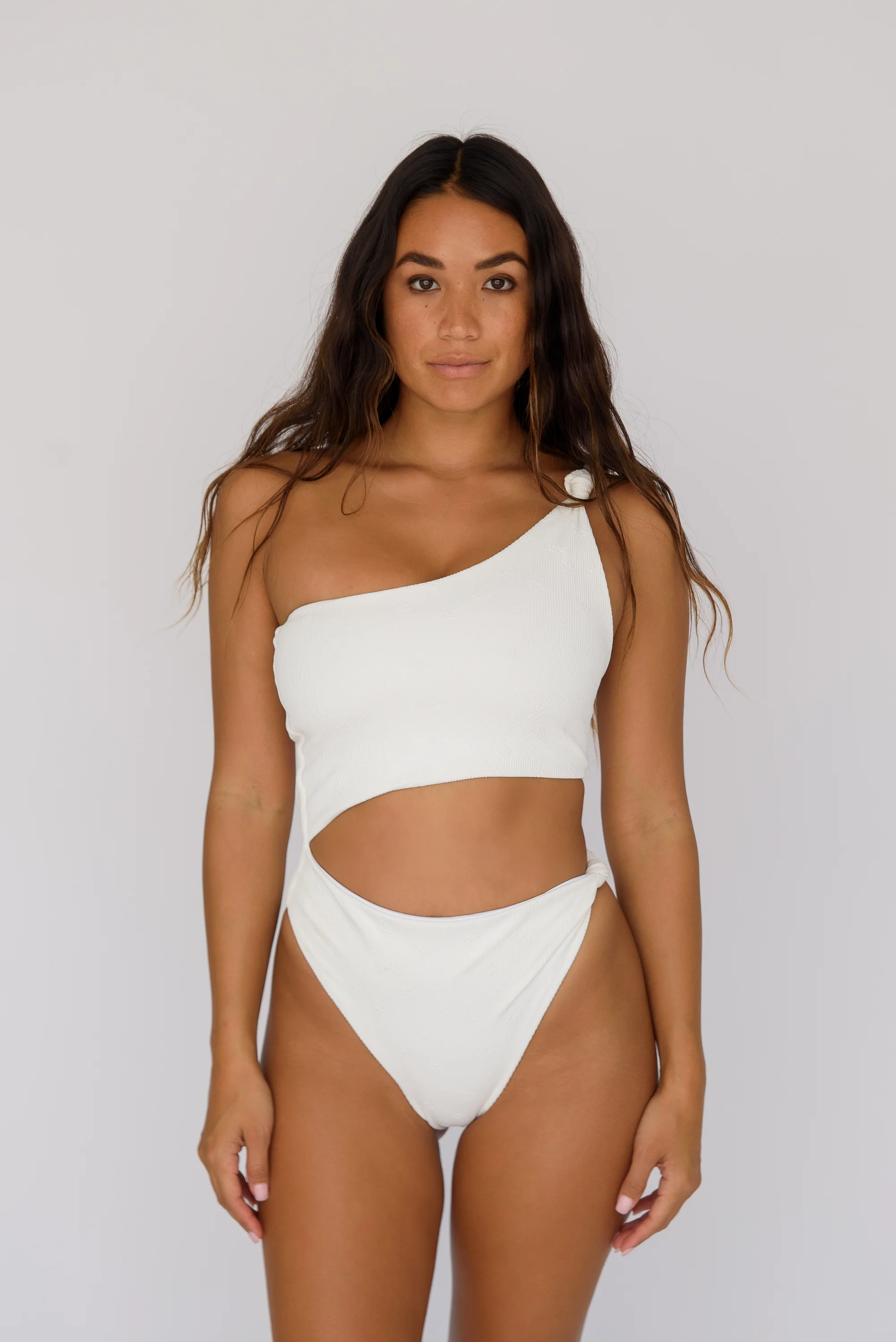 Beach Babe Bridal
Body inclusivity is part of the Berlook ethos, so you don't have to be a size zero to fit (or look fab) in their unique swimwear designs like this Floral Cutout one-piece ($55). This flattering design is made from Global Recycled Standard fabrics, which keeps water and energy use in check and requires a mininum of 20 percent recycled materials in everything from manufacturing to packaging and distribution.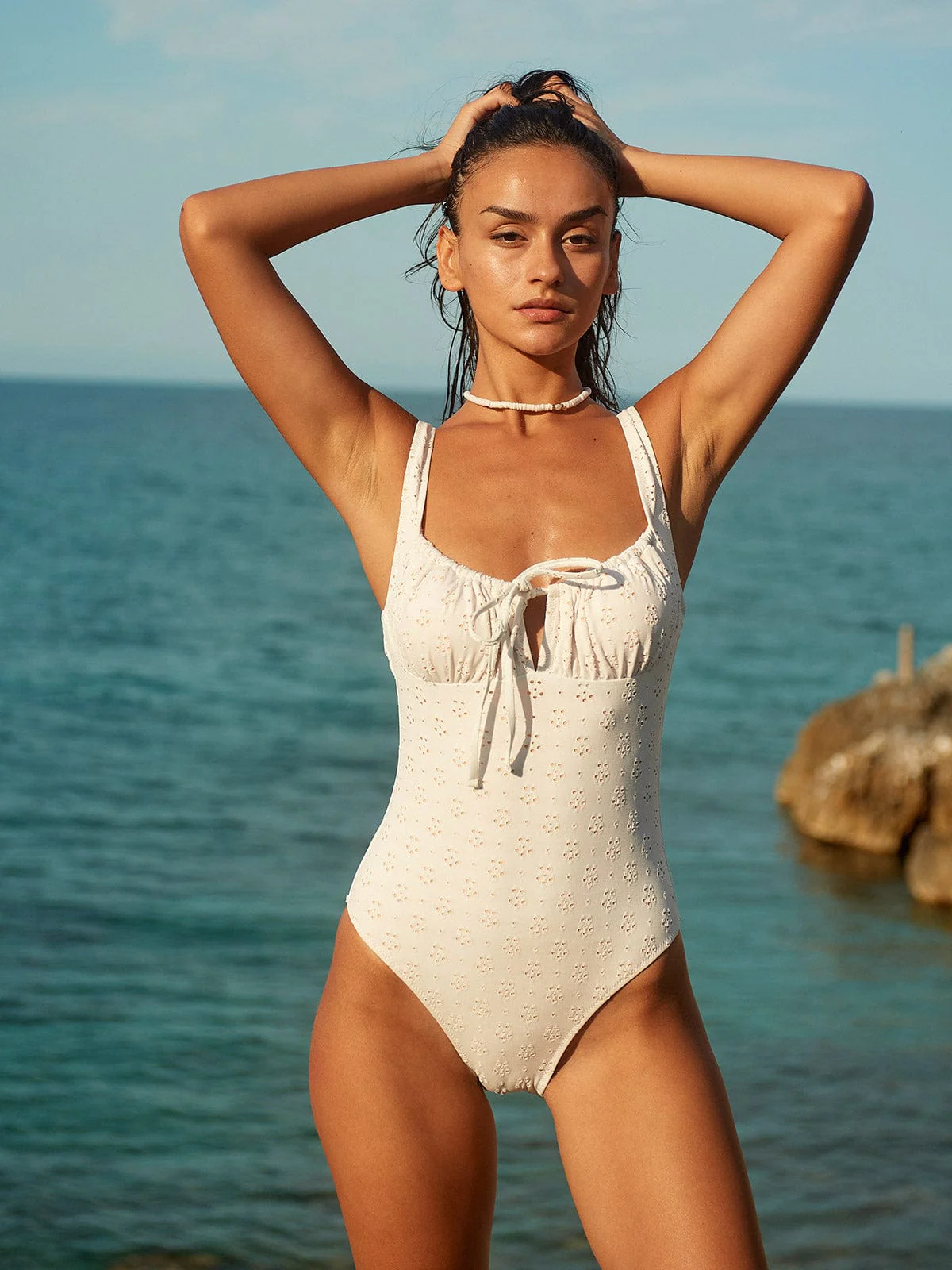 Fish-Friendly & Fab
The folks at Fisch have turned a really bad problem—abandoned fishing nets adrift at sea—into a creative solution by transforming the fabrics made from those materials into attractive and sustainable beach-wedding-ready designs. The Guana Pearl Bikini top ($85) and bottoms ($75) are not only made from eco-friendly material, but they're quick-drying and resistant to UV rays that cause fabric deterioration.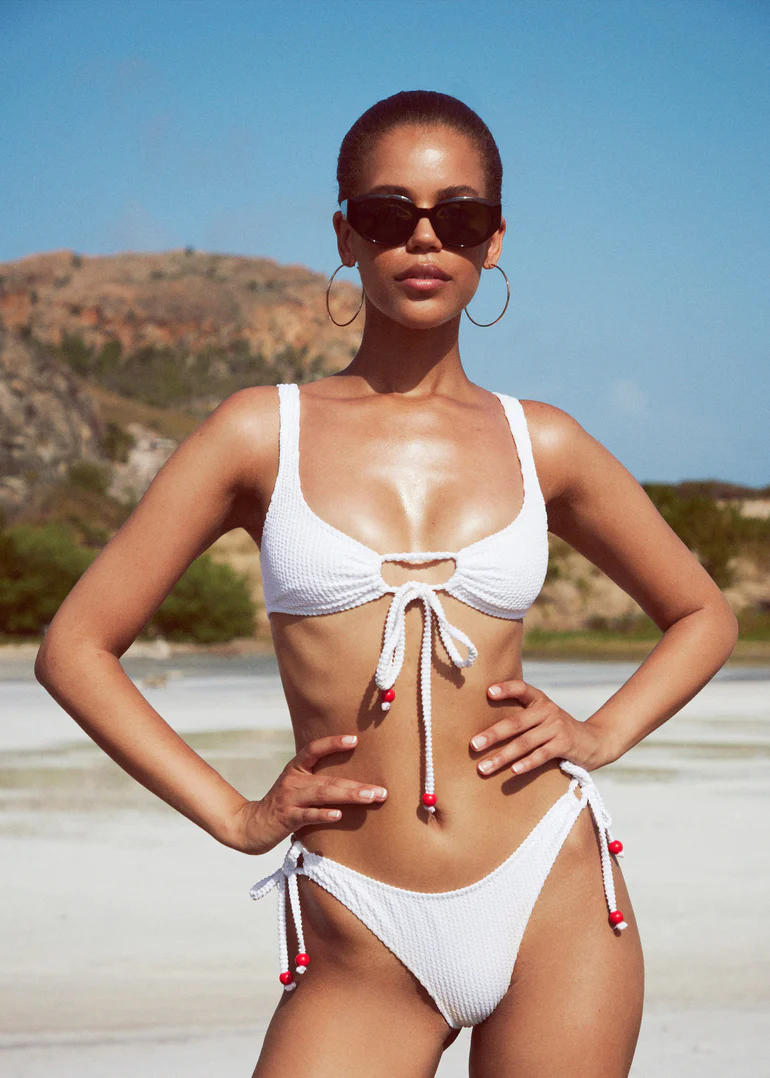 Sustainable & Stylish
The Tesla of bridal swimwear brands, La Chenille creates haute-style suits using sustainable fabrics with an eye toward elegance and sophistication. The pricetag matches the design and flair, with prices stretching into the quadruple digits for looks like this glamorous Dolce swimsuit ($1,490), with its dramatic plunging V neck with ruffled detail.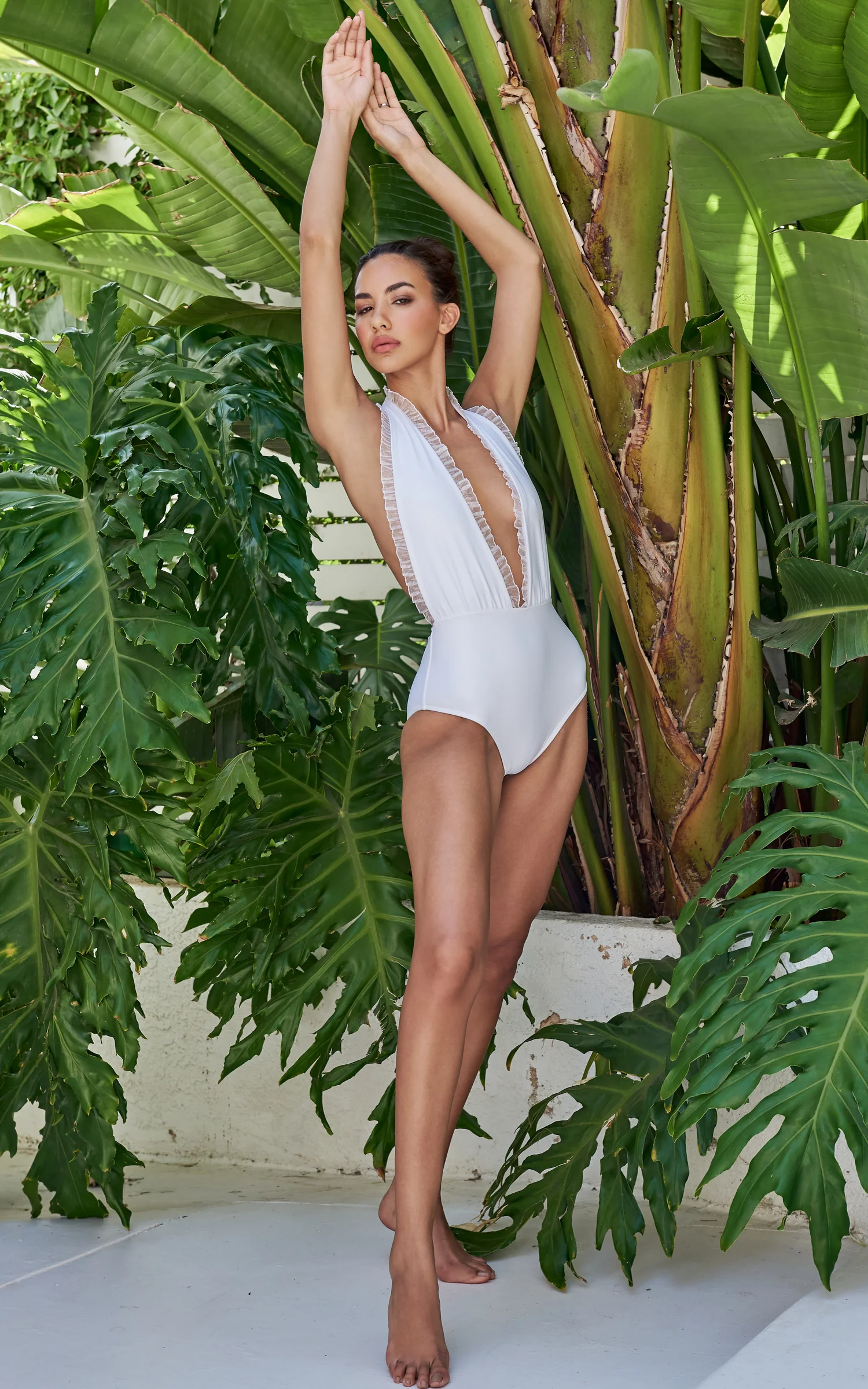 Chic & Sleek
Every since launching in 2020, Posidonie has been creating Riviera-ready beachwear for eco-conscious women who appreciate understated style. The One Piece #7 ($91) is made from a soft jersey fabric created from plastic waste (including cast-off fishing nets) and has an SPF of 50! We imagine wearing this like a bodysuit with jeans long after we say our I Dos.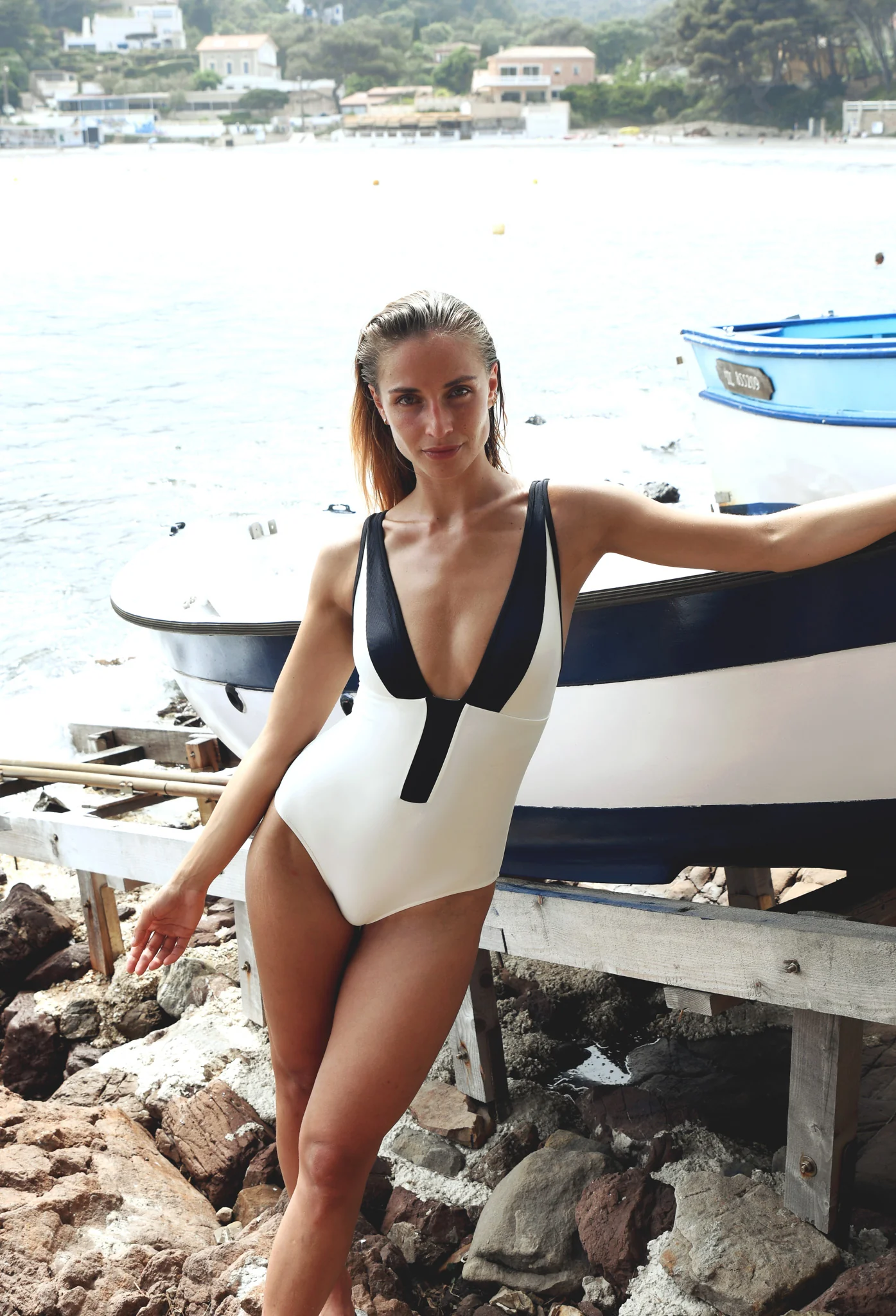 Want more vegan weddings?
You're going to love our Great Big Vegan Wedding Idea Book!