Intersectional environmentalists Monica Pandian and Praveen Ponraj have what you might call the classic vegan love story: They met at a vegan meet-up in Chennai, India, and forged their bond while volunteering together at a local animal shelter.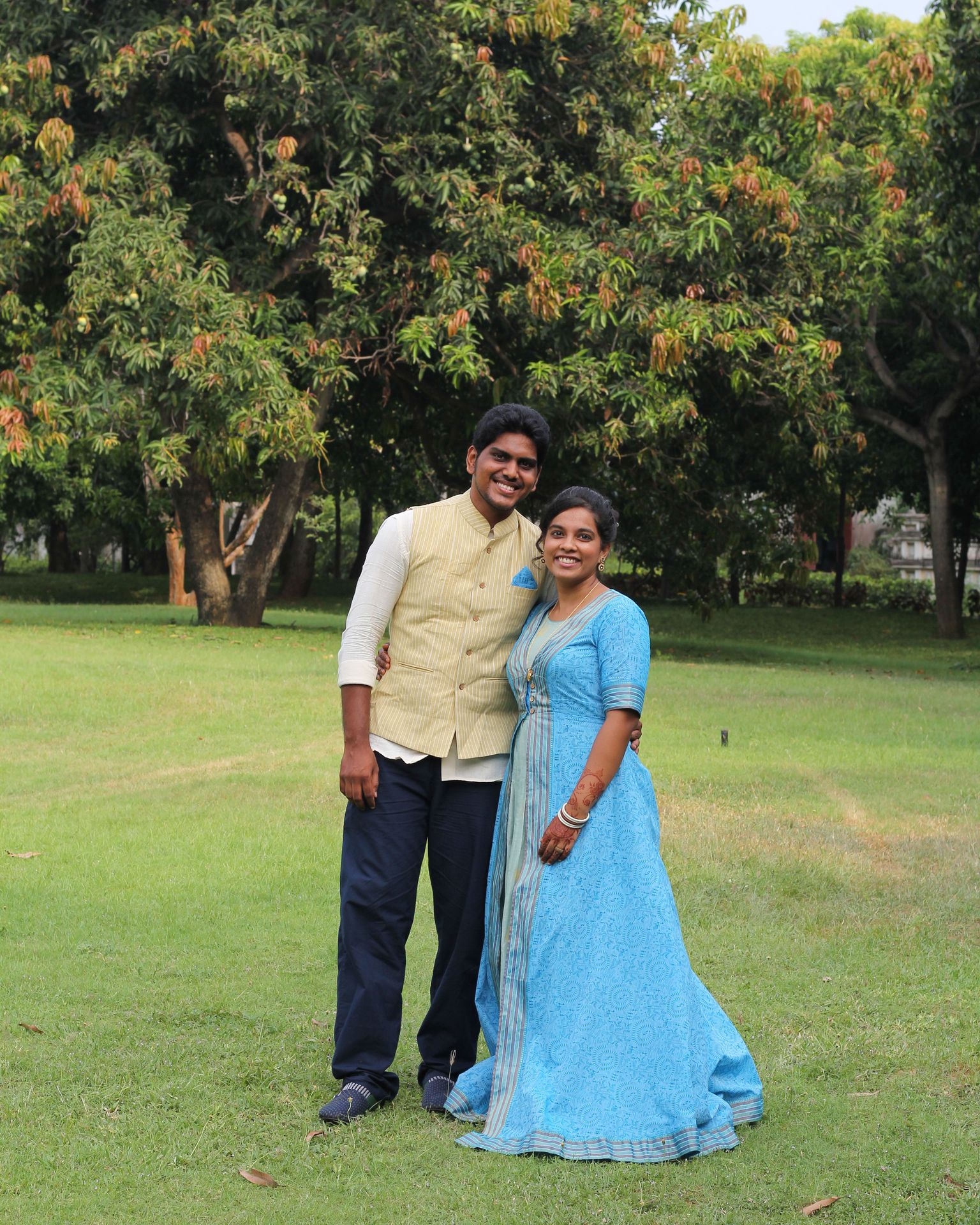 On World Environment Day in 2015, the dynamic duo—who are committed to the principles of sustainable living in every aspect of their lives—exchanged bamboo engagement rings from Auroville Bamboo Centre, a South Indian non-profit organization with ideals centered on bamboo research and education. A year to the day later, they tied the knot with a "Make The Connection" themed celebration that infused every aspect of the day with eco-friendly touches.

"Everything was mindfully curated all by ourselves," says Monica, who, together with Praveen, lives in British Columbia, Canada. "Initially there was too much resistance from parents to do the 'normal' way, but we didn't give up on our values."

With their values deeply rooted in all things sustainable, they had big plans for an environmentally friendly, low-carbon-footprint, high vibe wedding day.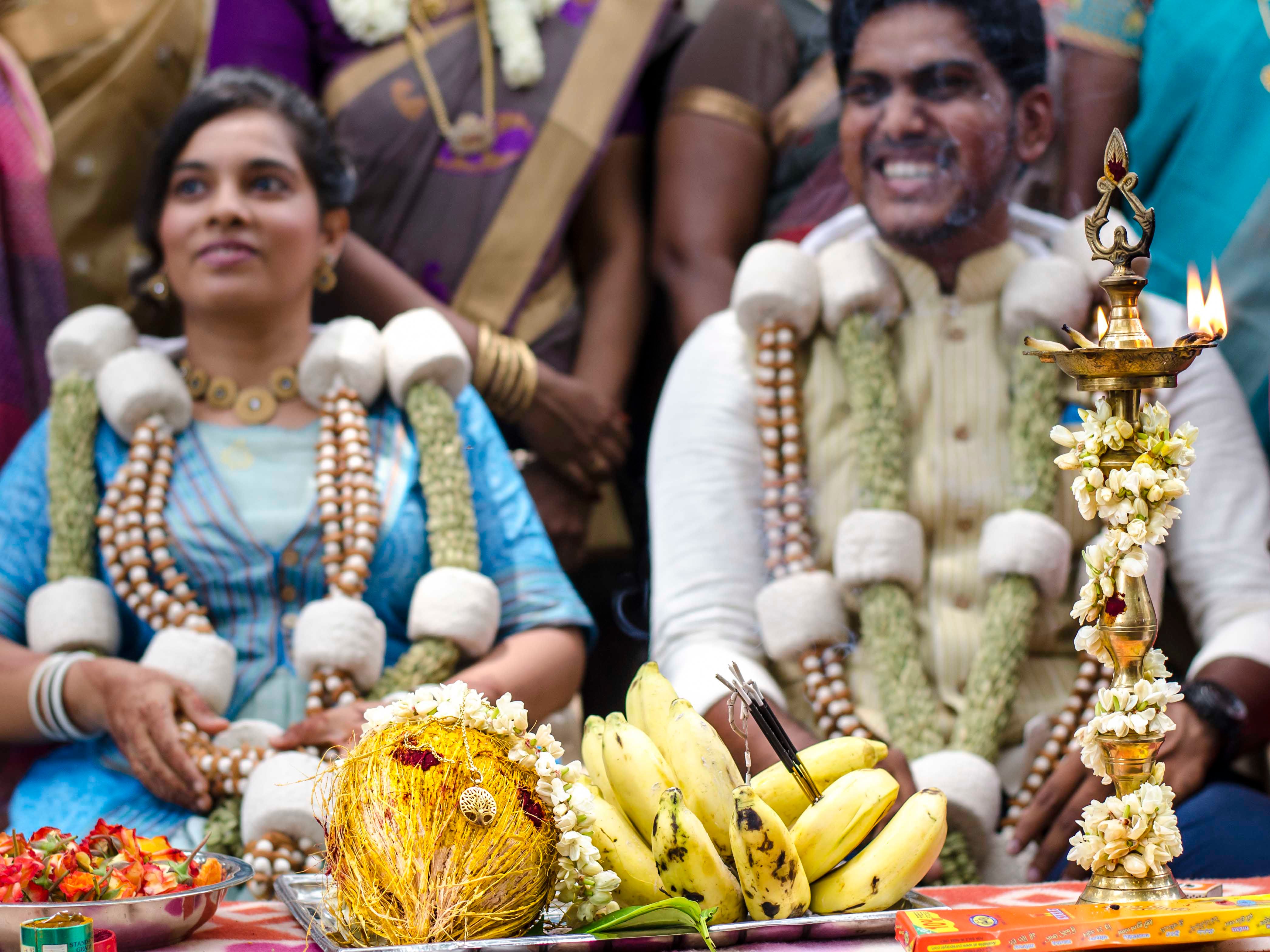 "My husband and I had our vision on the green wedding, knew exactly how we wanted it to be, and took charge of it ourselves and did not depend on agents or event managers to execute our dreams."

From the get-go, every detail was thoughtfully considered through an eco-friendly lens. Their invitations came in two forms; small batch artisanal invites for family made from handmade natural-fiber paper, and digital invites for friends.

Walking the eco-vegan talk meant explaining to guests that their presence was the perfect present, and no gifts were needed, elaborating in their invites that they prefer not to contribute to the landfill waste problem with excess packaging.

If guests really wanted to make an offering, Monica and Praveen said they would gratefully accept monetory gifts that they could save for future travels. The invites also included a request that guests not wear silk, leather, or other animal-derived materials.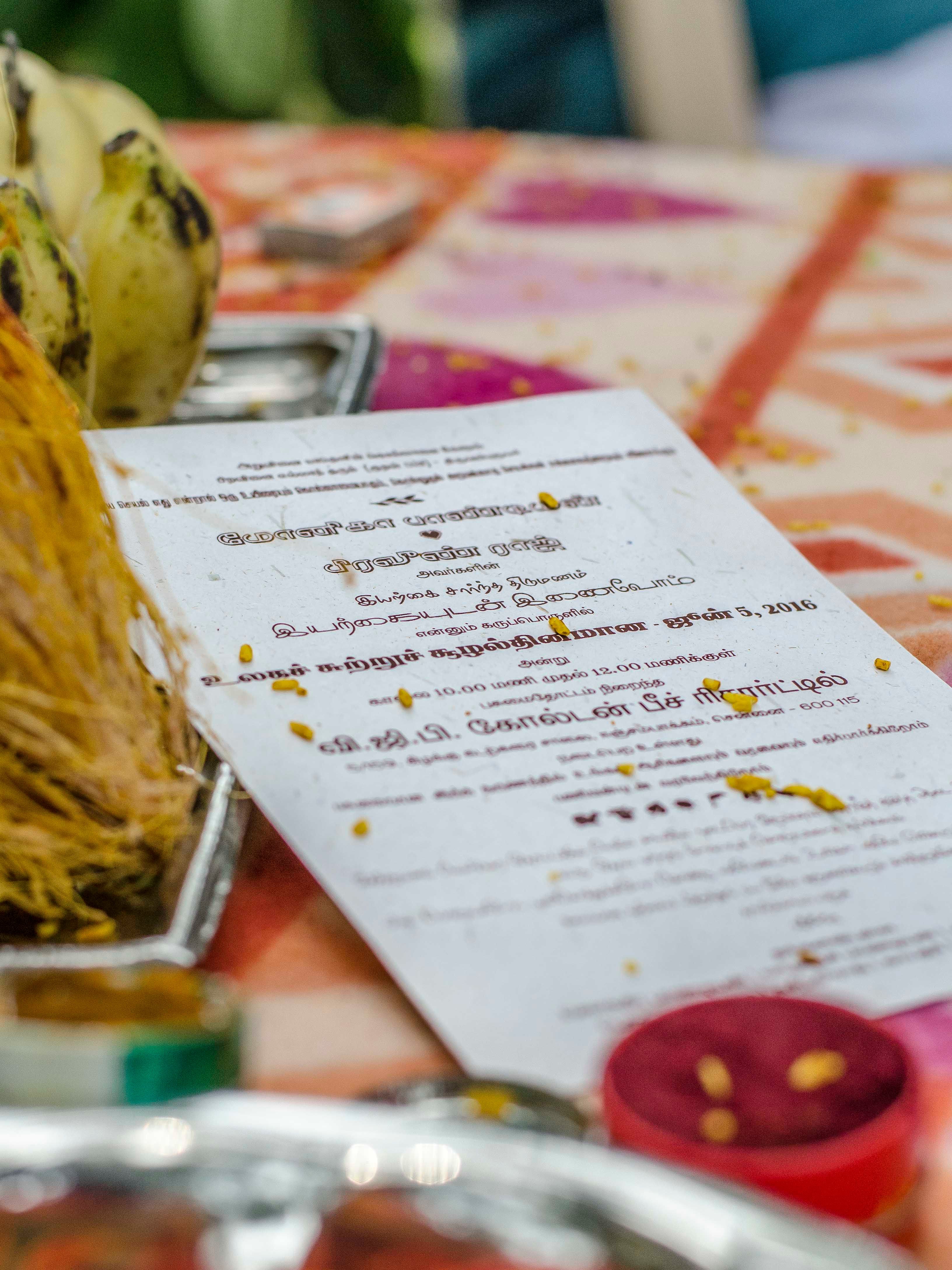 Their vision also included having an outdoor wedding to take advantage of natural lighting and cool breezes to circumvent any reliance on energy-inneficient lighting and air conditioning. They settled on a nearby beach resort that had verdant landscaped gardens that were perfect for a morning wedding ceremony.

Praveen's suit and Monica's dress were both made from hand-dyed, fair-trade organic cotton, and both bride and groom wore cotton shoes with soles made from recycled rubber tires. They eschewed traditional gold and diamonds to make a statement against exploitative mining practices and slave labor often involved in the mining processes.

"We do not need to hurt the planet and others to look beautiful," says Monica.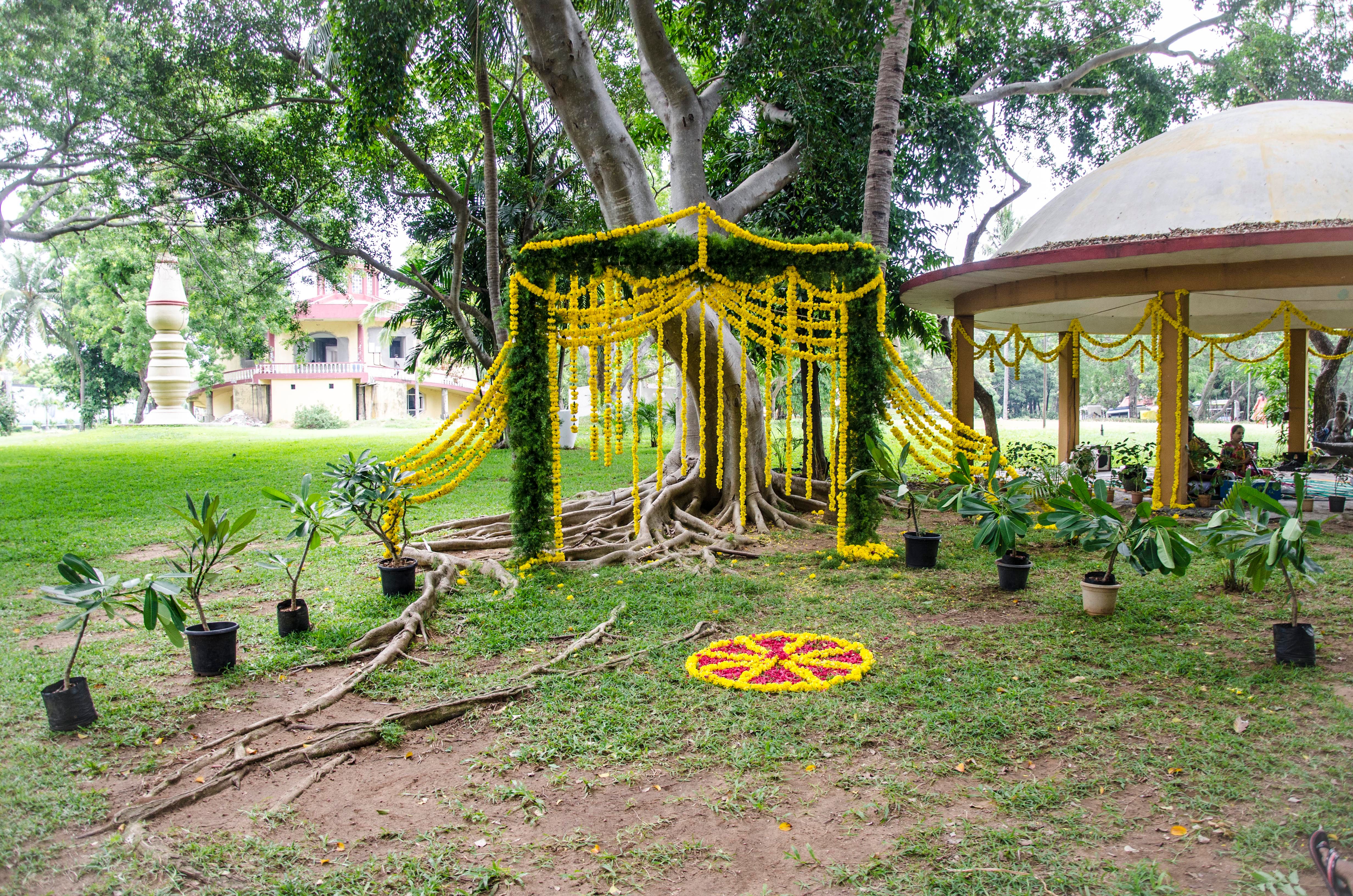 For décor, Monica and Praveen chose potted plants instead of disposable cut flowers, though they did have traditional marigold garlands with little brass bells to decorate their altar. Afterward, bells were given away to the children in attendance.

To welcome guests to the ceremony, everyone was presented with a young coconut whose waters could be sipped and tender flesh could be eaten. "This was my favorite part of the entire wedding, to watch guests awe at this soothing traditional welcome," says Monica.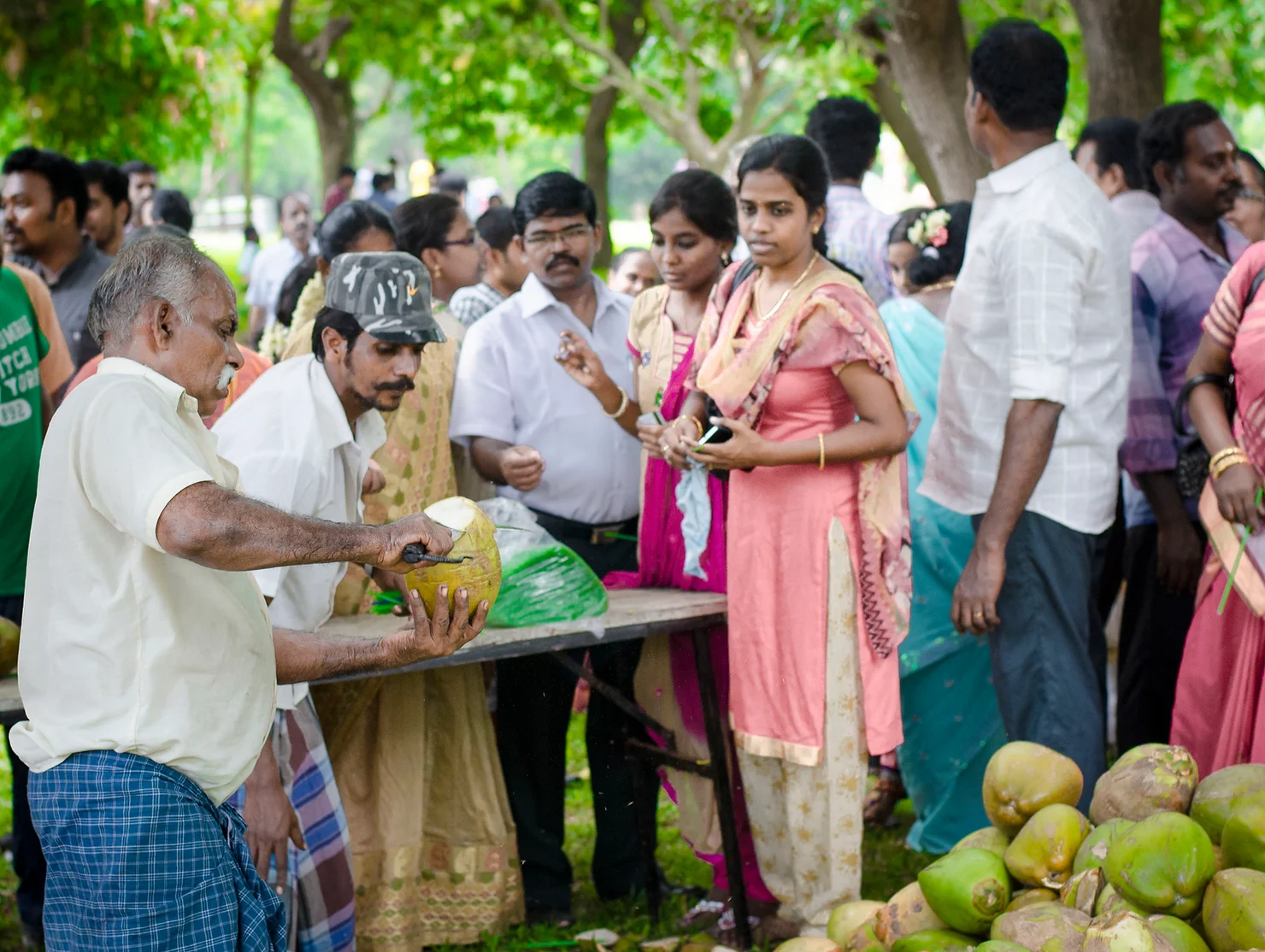 Another highlight of their wedding celebration was the 100% vegan lunch buffet. They worked with the resort chef and manager to create a menu brimming with savory dishes including aloo channa chaat, biryani loaded with vegetables and soy meat, eggplant curry, mushroom kurma, and fresh chapatis.

We have a choice to change and provide a better planet for our future generations."

"They were very enthusiastic and felt it was fairly easy to switch dairy products with soy milk, coconut oil, and so on," says Monica. "It's important to do some research and have a solid plan on what food is desired to be served so that one will be in a comfortable position to explain."

They were able to avoid disposable plates by using actual dishware provided by the caterers, another small but important gesture when planning an eco-friendly wedding.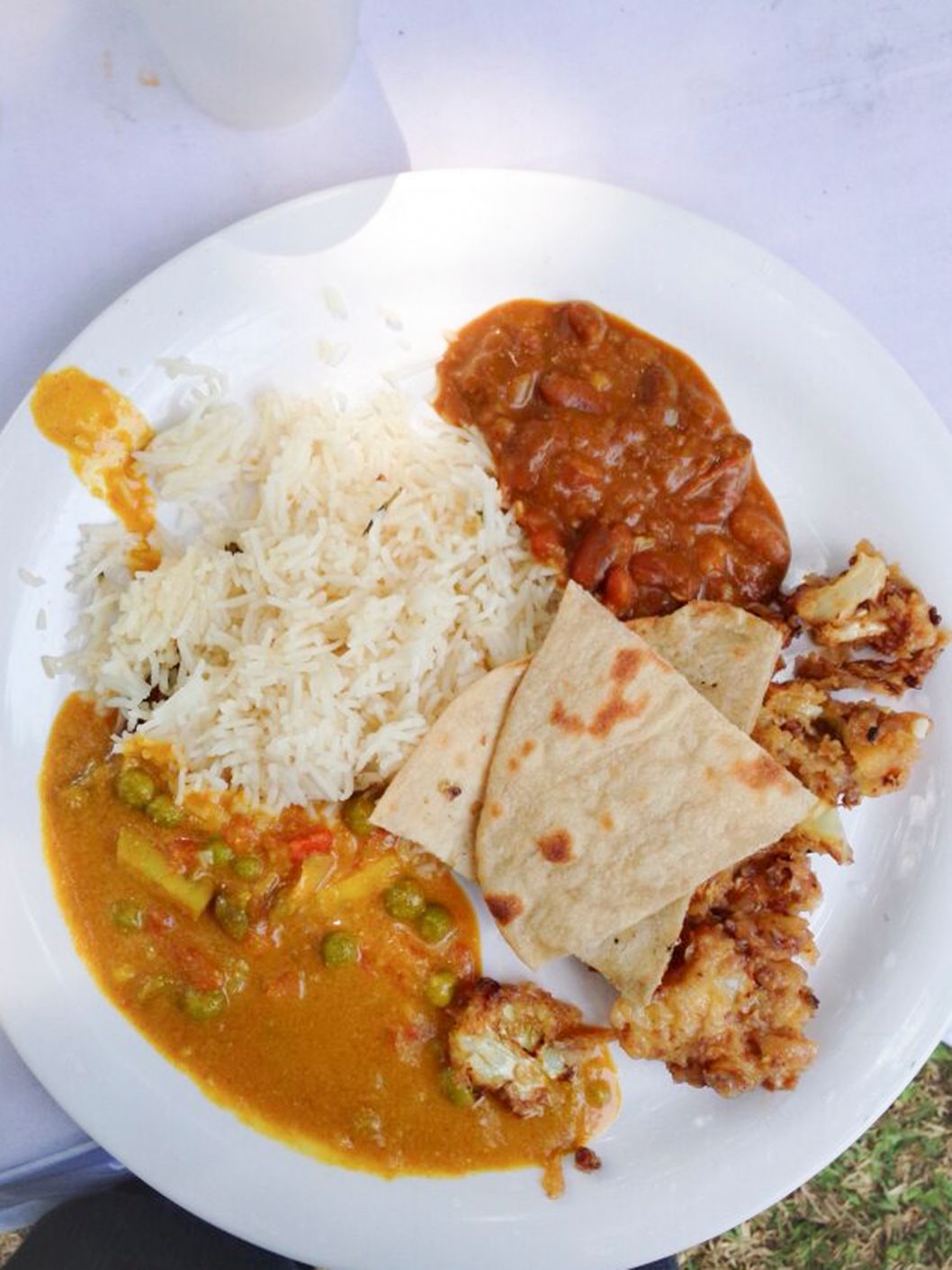 As a gesture of gratitude to their guests, Monica and Praveen gifted each attendee a special wedding swag bag with a strong vegan message. Inside each organic cotton bag from The Yellow Bag was traditional peanut candy, coconut, betel leaves, and an information booklet on veganism to get people thinking about changes they can make in their own lives to live more ethically and sustainably.

Many guests inquired as to why this environmentally conscious message was so important to both of them, to which they had the perfect reply: "With the rising global temperature, with increasing landfills in the city, with almost all natural habitats being polluted and destroyed, we have a choice to change and provide a better planet for our future generations."

THE ECO FRIENDLY WEDDING DETAILS
The wedding day: Monica and Praveen's traditional, 800-guest Hindu celebration was Chennai's first vegan, eco-friendly wedding. No detail escaped the sustainability theme: invites were handmade, décor was compostable, formal wear was handloomed and organically dyed, and even the garlands worn during the ceremony were made with dried cardamom and almonds that were later repurposed. The couple planned the entire fête themselves, and opted out of supporting the problematic practices of the gold and diamond industries by sourcing bamboo engagement rings.
The place: VGP Golden Beach Resort, Chennai, India
RSVPs: 800
Honeymoon: Kerala and Tamil Nadu

The cake: Traditional Indian dessert of coconut milk, lentils, jaggery, cashew nuts, and cardamom
Guest swag: Handmade organic cotton bags from The Yellow Bag company filled with peanut candy, coconut, beetle leaves, and a guide to veganism
Want more vegan weddings?
You're going to love our Great Big Vegan Wedding Idea Book!