Lisa Weinberg is lucky to be living one version of the vegan good life. Not only does she call the beautiful Northern Italian region of Lake Como home, but she's also thriving in a new creative career that meshes perfectly with her vegan lifestyle, while simultaneously bringing joy to others. That's because Lisa is a luxe wedding cake specialist whose gorgeous confections are made without eggs, butter, cream, or any other animal ingredients.

With a background in fashion, Lisa parlayed her eye for beauty into a niche business that takes couples' vision from a kernel of an idea in their minds to a tangible wedding cake that looks almost too pretty to eat. Sourced with mostly organic ingredients that are produced locally, her cakes taste amazing, and it's not just her vegan clients who think so; many of her customers are non-vegans who just want a show-stopping cake that also happens to be utterly delicious.

Lisa started her journey in the world of professional baking in 2021 (though she first learned to bake cakes from her grandmother as a young girl), and has grown Lisa Bakery into a thriving enterprise. And when she's not putting her skills to use in the culinary sphere, she's busy being a mom to two sons and wife to a supportive husband, all of whom are vegan and benefit from Lisa's expertise in the kitchen.

We spoke to Lisa about where she finds her inspiration, how her business is evolving, and we asked for her top tips for getting the vegan cake of your dreams. Read on for all the tantalizing answers!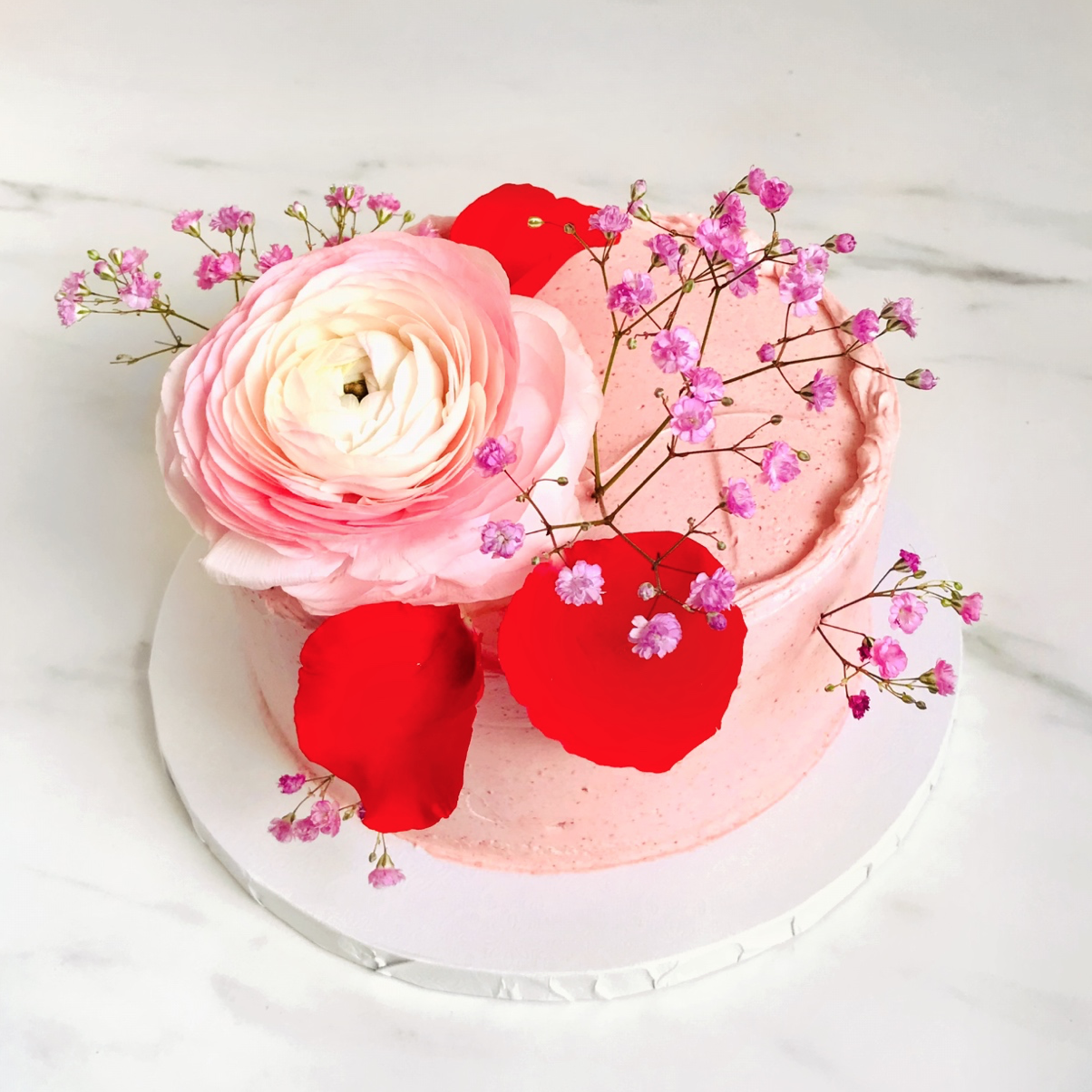 We love the story of how Lisa Bakery came into existence! How has the first year-and-a-half been so far?
Yes, it's a romantic story really, of how I fell in love with a Dutch man in Como. Then after five years of working in the fashion world and the birth of our first son, I gave in to the urge of creating my own cake art business. It's been an amazing experience, from creating the first vegan cake recipes to delivering beautiful wedding cakes to the most renowned venues of Lake Como. It has exceeded my expectations, and I feel so blessed to be able to do what I love most every day and connect with so many wonderful people along the way.
Who is your average client? Are they primarily vegan?
My average client comes to Lake Como from all over the world. I work with private clients and wedding planners from the USA, Germany, Dubai, everywhere really. Not all of them are vegan, but most of the non-vegan clients are happily surprised when they find out my cakes are vegan and very delicious.
How do most people discover your work?
Mostly through Google or Instagram, but also through the recommendation of friends who have experience with my work. I publish my work on social media and on my website and make sure to keep connected with former clients and future clients.
Tell us about your cake flavors. What are some of your most popular?
Mmm! I just had a slice of my tiramisu cake and it's divine! I'm truly passionate about my cake flavors as they need to satisfy all guests' cravings for something delicious. My cakes are never overly sweet; I love creating flavors that are well balanced and elegant. The most popular flavors are:
✔️Vanilla cake with lavender, lemon curd, and vanilla buttercream
✔️Light chocolate cake with raspberry jam and vanilla buttercream
✔️Carrot cake with cream cheese buttercream
It is obvious by looking at your cakes that you have a background in design.
I grew up in a family of designers, so it was inevitable to head in that direction myself. I successfully graduated with a master degree in fashion design in 2009, but my love for baking took over after my first son was born. Naturally the eye for creating beauty plays a big role in creating my cakes and desserts. I'm crazy about flowers, birds, and the incredibly inspiring perfection and beauty of nature. I combine that inspiration with new techniques I am excited about trying out, and so new ideas take form.
Stay true to your own style and taste, and choose something you feel really excited about.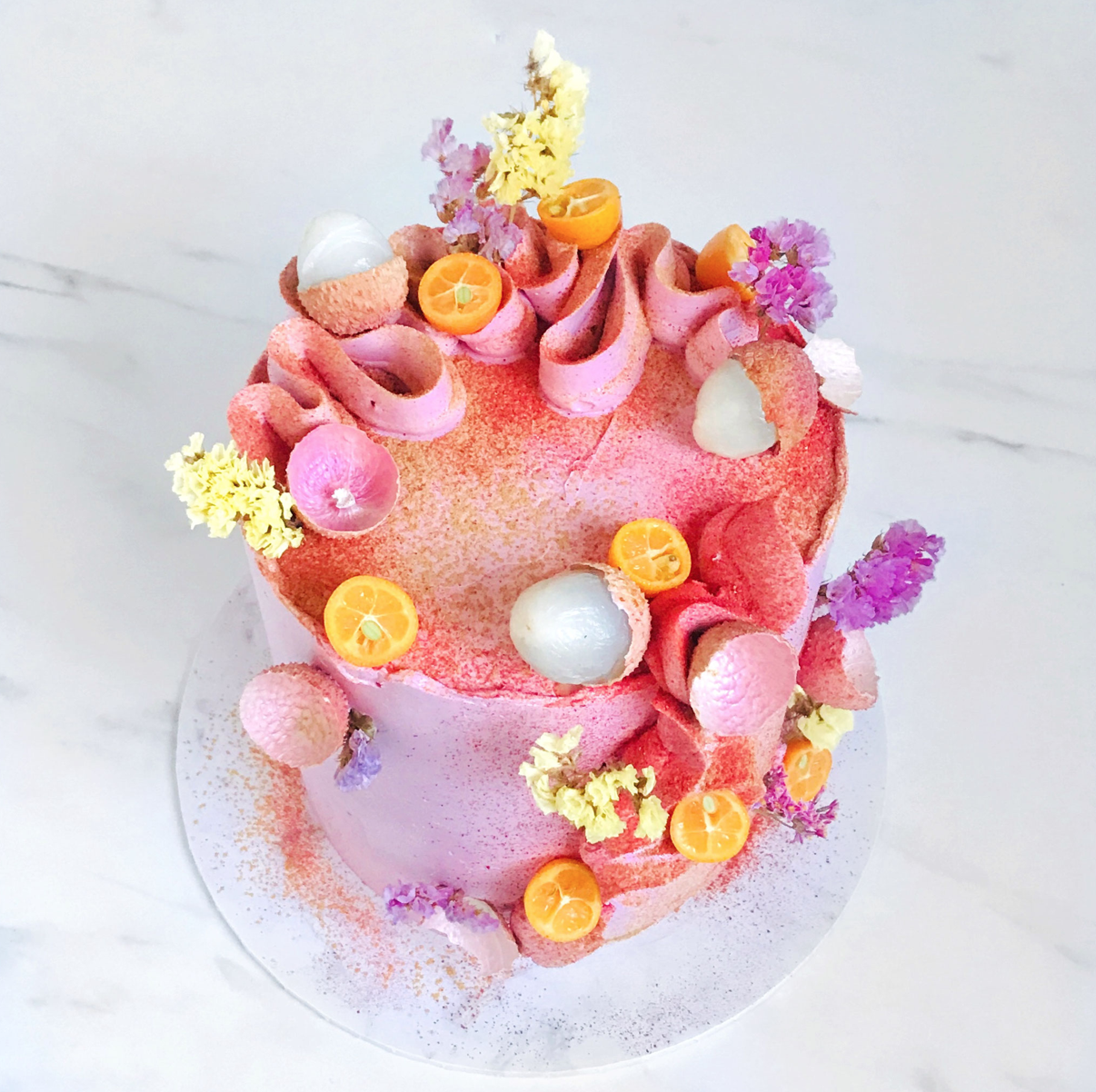 Where do you source the ingredients for your cakes?
I'm passionate about high quality ingredients but also about sustainability and locally sourced ingredients. My fruit vendor knows that and shows me his best local ingredients. Luckily, Italy offers a bountiful range of fresh seasonal fruit throughout the year. I also use organic ingredients wherever possible.
Is it easy to be vegan where you are?
Italy is a bit behind compared to Northern countries like The Netherlands when it comes to accommodating the vegan lifestyle. But, it's changing rapidly and by increasing the demand, the offer will grow. I love cooking, so we get our culinary satisfaction at home. But when we go out for dinner, the choice is still very limited. As Italians are service focused, they are usually happy to adapt to our needs.
How do you see your brand evolving in the future?
I see Lisa Bakery as a very personal brand, wherever I'm going as a person, my brand will want to go too. For this year I'm planning on sharing my passion and knowledge in different formats, from online courses to live inspirational cake decorating events. And I'm excited to create many more beautiful wedding and celebration cakes all over the world. To share my beliefs and values through food, beauty, and connection with others feels like my purpose in life, so I'm willing to explore it thoroughly.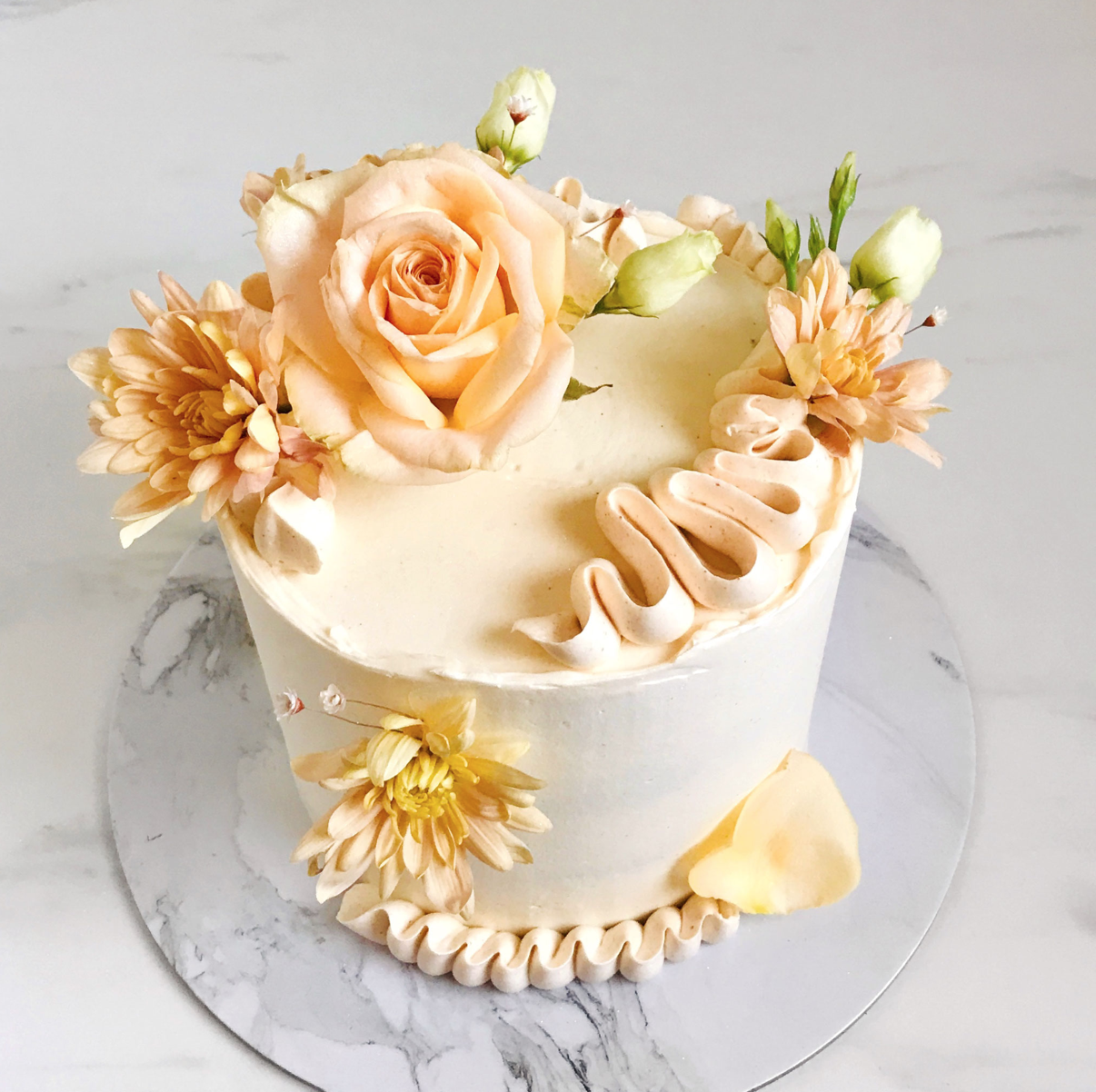 Lisa's top tips for ensuring you get the vegan wedding cake of your dreams
1. Stay true to your own style and taste. Choose something you really feel excited about. Ask your baker to propose different styles and flavors so you can explore different looks but end up with something you truly love.


2. Explore different options like mini cakes, or several smaller cakes; there are so many fun options available!


3. Discuss all details, like serving time, other desserts served in the day, allergies, etc. to exclude any doubts.
Want more vegan weddings?
You're going to love our Great Big Vegan Wedding Idea Book!