When you think about your dream wedding cake, what flavor profile do you envision? Vanilla is the perennial classic wedding cake flavor, but chocolate and lemon are populuar, too. But for some couples, it's carrot cake or bust. If that's you, we've got something that will set your heart aflutter: the secret recipe for the World's Best Carrot Cake. And yes, it's vegan!

Back in 2007, VegNews announced to the world that it had found the world's best vegan carrot cake. It wasn't in Los Angeles or New York City; this humble slab of cake and frosting was developed and sold in a vegan restaurant called Cafe Indigo in Concord, NH.
Founder Patti Dann has since shuttered her restaurant and successful wholesale business to focus on cookbook writing, but her legendary recipe lives on. We've often wondered how she managed to strike that blissful balance between an indulgently moist crumb and a light-but-sweet cream cheese frosting, and after 16 years, the secret is out.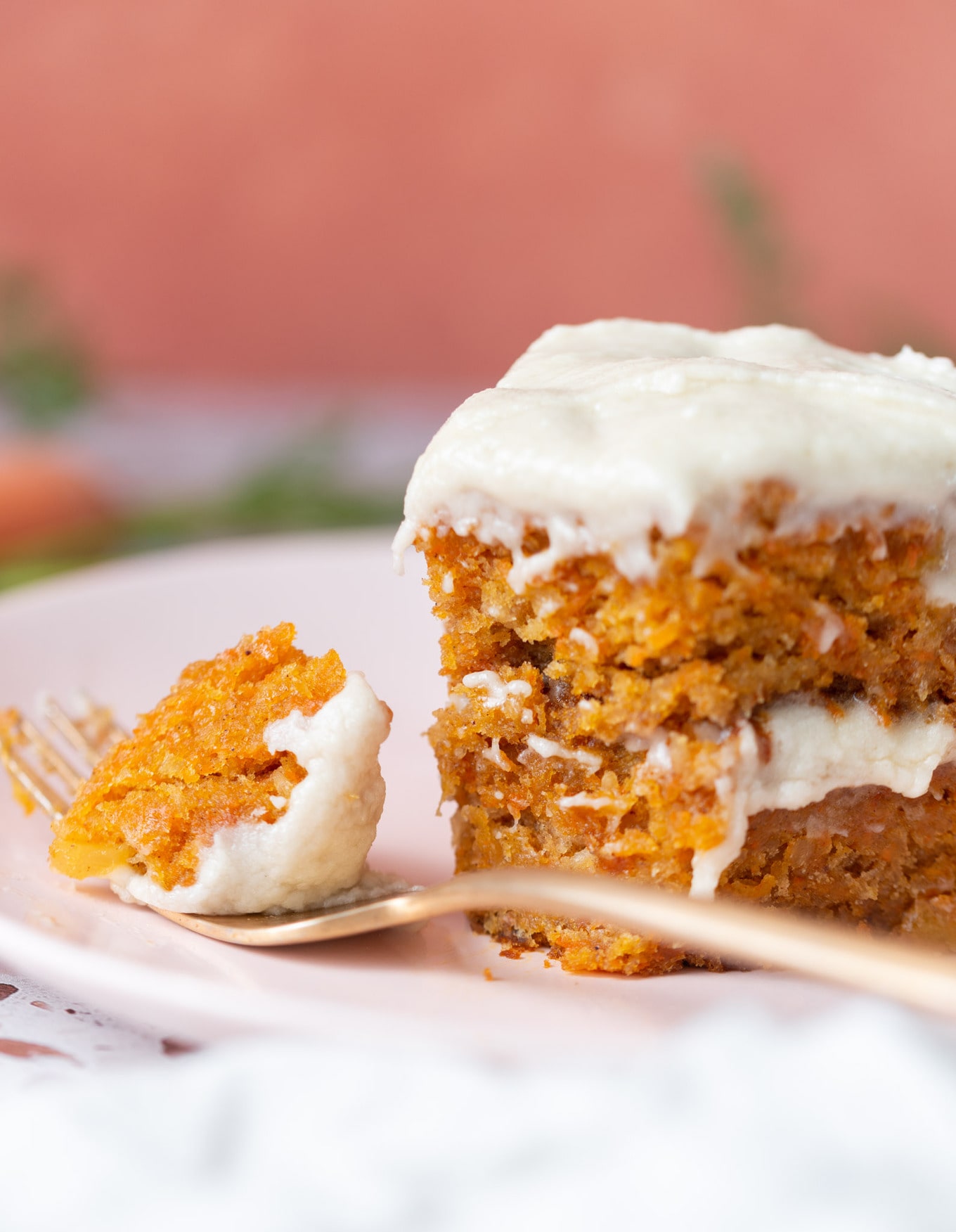 It started with a vegan wedding cake
Patti's ultimate carrot cake creation began with her three daughters. The Dann family was used to vegetarian cooking, as each daughter omitted meat on their own terms. When one daughter decided to go vegan, the family followed suit, at least at the kitchen table.

"Mealtimes are very important in our family and it was important to me to serve food that everyone can eat. As a result, I started to work to convert favorite family recipes into vegan dishes so that when we gathered we could all enjoy the meal together," Patti recollects.
The Cafe Indigo carrot cake was just one of those long-standing family recipes. In 2005, her vegan daughter struggled to find the perfect plant-based cake for her wedding, so Patti took on the challenge. Leaning into her son-in-law's favorite flavor, she went about creating a vegan version of the family carrot cake, and it was a hit. Soon, family and friends encouraged her to sell it. Bolstered by the positive feedback, Patti pitched it to the town's local co-op, and she secured her first wholesale customer.
From a home kitchen to Whole Foods
At first, Patti worked from her home kitchen under a cottage food license, but the business quickly outpaced her oven capacity. She moved to a commercial kitchen space where she crafted not only the carrot cake, but also new menu items that would later make up Cafe Indigo's restaurant and bakery offerings. When she opened her storefront in 2007, she delighted customers with both sweet and savory options from a housemade Rachel Sandwich stuffed with scratch-made seitan to vegan crab cakes and veggie burgers. Along with the carrot cake, cream-filled chocolate cupcakes, whoopie pies, muffins, and chocolate chip cookie bars lined the bakery counter. A few of these items—the lemon poppy cake and chocolate cake—were also available at Whole Foods and other retailers.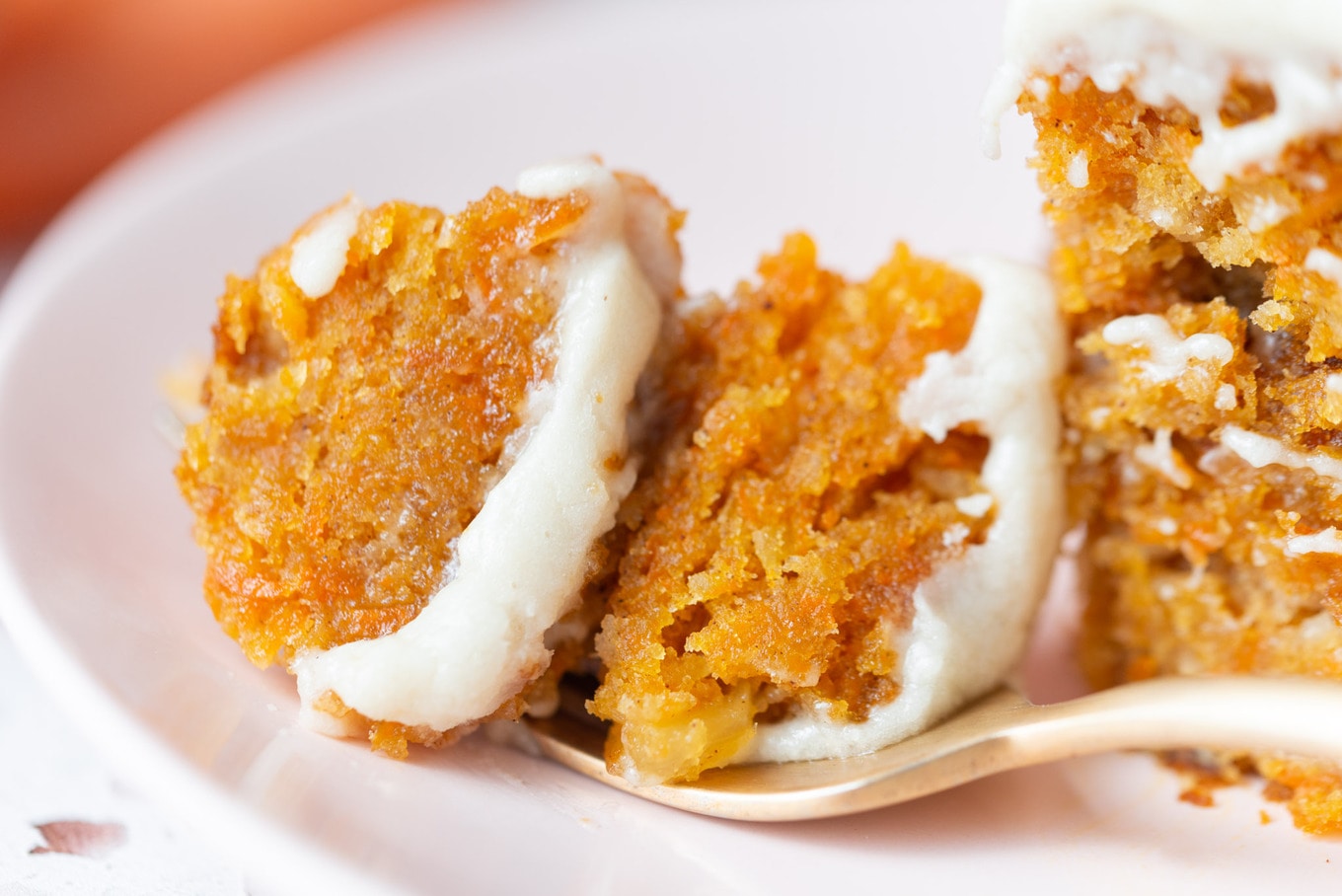 The café delighted customers for seven years, after which Patti decided to focus her efforts on both wholesale cake distribution and cookbook writing. While the brick-and-mortar was closed, she still found joy in creating new recipes for her books.
"The kitchen is my happy place," says Patti. "I love cooking for family and friends. I love experimenting and creating new recipes that everyone can enjoy. Nothing brings me greater joy than serving a meal that makes people smile."
A taste of Cafe Indigo
In line with her strong connection to her children and family, Patti's first cookbook spoke to a child audience. Vegan Kids in the Kitchen helped parents and kids find the fun in whipping up nourishing plant-based cuisine the whole family could enjoy. The content was inspired by her vegan grandchildren and the treasured recipes she created for them.
In 2019, Patti released Simple Vegan Comfort Food after receiving continued requests for the recipes of the shuttered Cafe Indigo. The book includes the aforementioned Rachel Sandwich (including a gluten-free seitan recipe), as well as the recipes for those beloved cream-filled chocolate cupcakes, whoopie pies, ginger crinkle cookies, sweet potato brownies, and more tantalizing treats.
Up next, Patti plans to share more of Cafe Indigo's much-loved recipes in a third book inspired by her garden and seasonal cuisine. For her, cooking isn't about hacks or minimalism—it's about using nourishing ingredients and taking the time to enjoy the process to create something "made with love."
Patti is passing the torch to home bakers around the world. She has shared her beloved carrot cake recipe with us all, and we're honored to receive such a sweet gift, and one that will make your wedding guests swoon.


Café Indigo's Famous Vegan Carrot Cake
What you need:
For the cake:
3 cups flour
2¼ cups sugar
¾ cup shredded coconut
1 tablespoon baking soda
1½ teaspoon cinnamon
1½ teaspoons salt
1 cup plus 2 tablespoons canola oil
¾ cup applesauce
¾ cup crushed pineapple, juice included
1 tablespoon vanilla extract
3 cups grated carrots (about 5 large carrots)

For the buttercream frosting:
1 (8-ounce) container vegan cream cheese
8 tablespoons vegan butter, room temperature
4 cups powdered sugar
1 tablespoon vanilla extract
What you do:
1. For the cake, preheat oven to 350 degrees. Line 2 8-inch cake pans with parchment paper and set aside.
2. Into a large mixing bowl, add flour, sugar, coconut, baking soda, cinnamon, and salt, and combine. Add canola oil, applesauce, pineapple, and vanilla and mix well. Add carrots and mix well until incorporated.
3. Into prepared cake pans, evenly divide batter and bake for 45 to 50 minutes, until a butter knife inserted comes out clean. Remove from oven and let cool.
4. For the buttercream frosting, into a large bowl, add cream cheese and butter and beat with a hand mixer until combined. Add powdered sugar one cup at a time and slowly mix until fully incorporated. Add vanilla and beat until smooth.
5. Place one cake on a serving plate and spread 1/3 of batter over top evenly. Place second cake on top and frost top and sides with remaining frosting.
Want more vegan weddings?
You're going to love our Great Big Vegan Wedding Idea Book!