First comes love, then comes marriage, then comes … well, you know the rest. But let's rewind: How do couples get to phase one of the whole process?! Turns out the road to love is full of twists, turns, and surprises, and these vegan couples illustrate the many quirky and wonderful ways that the universe conspires to match us with our one and only.

Malissa Schwartz & Chad Sarno
Huntsville, UT
East Coast Italian boy meets Mormon-raised Utah girl and love ensues—not the most obvious plotline for a contemporary love story, but with plant-based living as a binding force, romantic success is bound to follow. Austin-based Chad Sarno and Big Apple-living Malissa Schwartz crossed paths through work (he as a chef and healthy-eating consultant, she as a plant-based health and nutrition coach) and became "instant friends." When their friendship blossomed into something more, Malissa's mobile lifestyle and sense of adventure prompted a move to the Lone Star State. Together, she, Chad, and Amaya, Chad's 10-year-old daughter, formed a tight trio.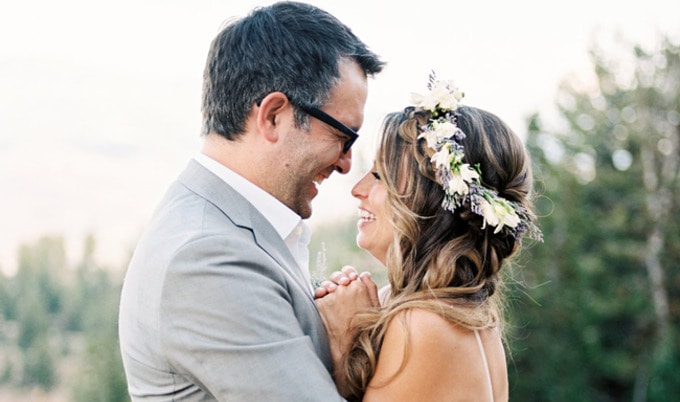 Chelsea Durham & William Croce
Twin Peaks, CA
Chelsea and William met at work, where they shared "some flirtatious moments and many laughs together" before going on their first date after a few months. The pair set the tone for their romance by going hiking in the canyons of Crystal Cove. Their love of the great outdoors led to many camping trips, the backdrop to their proposal, and ultimately the inspiration for their "whimsical woodland wedding."

Amber Sanchez & Jeff Hopwood
Los Angeles, CA
There was no immediate spark when Amber and Jeff started working together at a bookstore. They were purely coworkers for two years before a mutual friend helped them figure out that they'd grown up in the same neighborhood. They decided to meet between their houses (which turned out to be on the exact same street!), went for a drink, and realized that despite their outward differences, they shared many of the same values. Amber had been vegan for about a year when Jeff decided he wanted to go cruelty-free as well. He knew he'd passed a turning point when he tried The Frankenstand hot dogs for the first time and realized that "living without meat isn't scary."
Jac Reasor & Jae Russell
Cleveland, OH
Jac Reasor was just about to delete her OkCupid account when she decided to check her messages one last time. If the school psychologist hadn't followed that impulse, she would have missed the note from her future wife, a fellow animal-loving vegan named Jae. Jae—an Arizona-based occupational therapist—registered with the online dating site at the urging of friends, who convinced her that having connections within Cleveland's LGBTQ community would help with her planned move there. Ten months later, she and Jac had created a life together in The City of Progress and Prosperity with a menagerie of beloved rescue pets.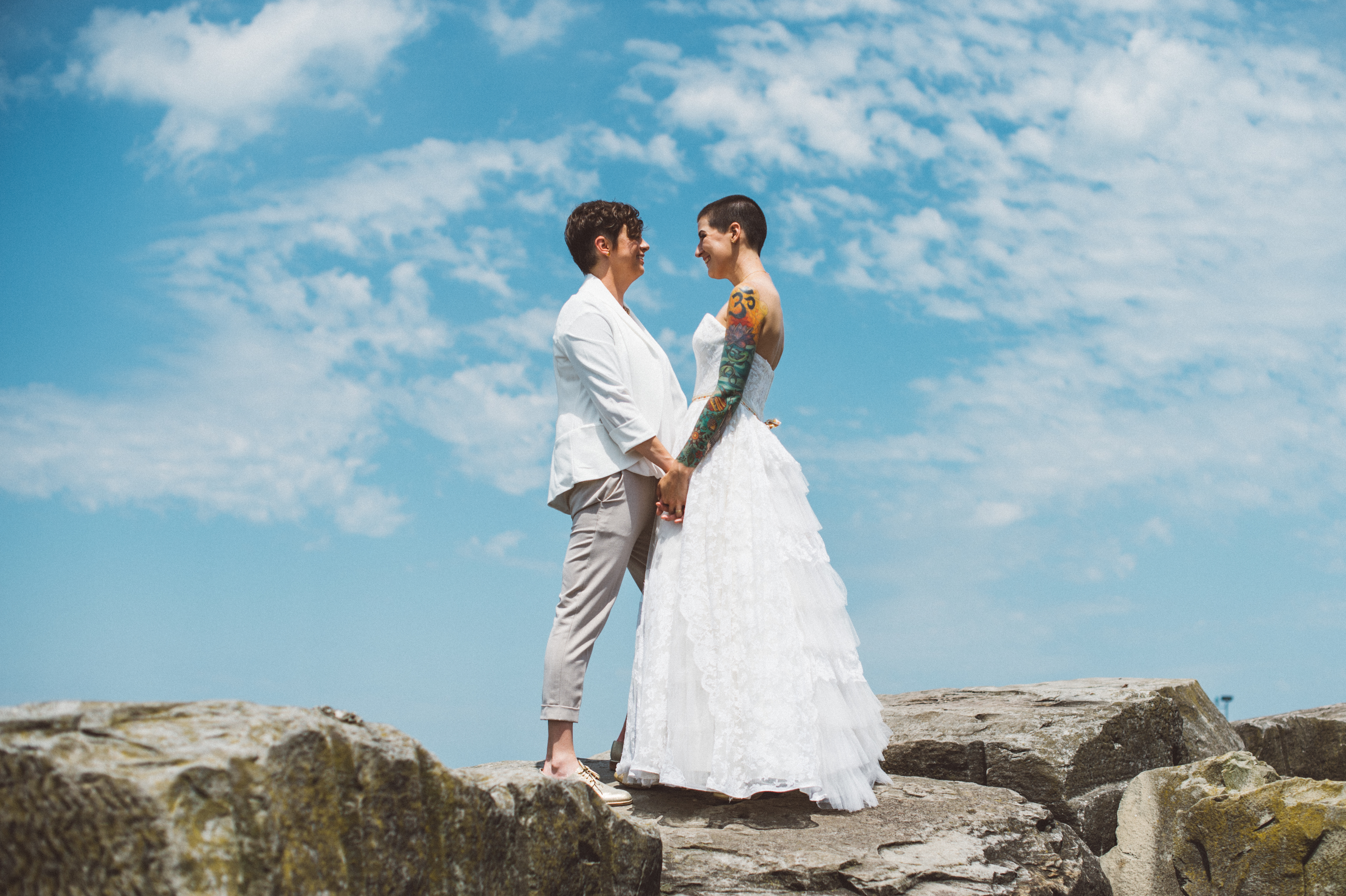 Jenny Uehisa & Scott Jurek
Boulder, CO
"Slow and steady" just may be the motto of Jenny and Scott's partnership. They met through the Seattle trail running scene in 2001, knew each other for eight years before they got together, and dated for another three before they opted to tie the knot. Says Jenny, "We've helped each other grow, as friends do, until one day something changed. I think it was the timing; we were both in exciting places in our lives, or maybe it was celestial reckoning, but somehow we started to see each other in a different light."

Darcy Fawcett & Charles Reeder
Seattle, WA
Some couples may claim they heard music the first time they met each other, but in Darcy and Charles' case, they did—literally. Their first date (arranged via OkCupid) was at the symphony. Although they'd barely spoken a word, they felt an immediate connection and kissed before the final note had even been played. Darcy was initially reluctant to date Charles since he wasn't vegan, but on their second date a few days later, he whipped up the first of what would be many Thai meals the couple would share and confessed that he'd been vegan for the past three days. He hasn't looked back since. In 2011, the duo took over running Seattle's Pizza Pi, cementing their commitment to each other and a lifetime of delicious vegan food.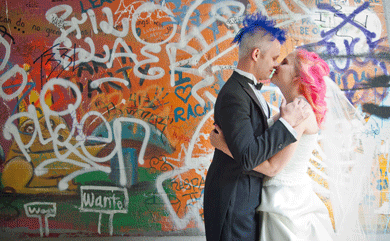 Kelly LaToza & Anthony Levenda
Chicago, IL
Love for animals, activism, and … the undead? It may seem like an unusual combination, but Kelly and Anthony have zombie flick 28 Days Later to thank for taking their relationship to the next level. The couple met in high school and bonded over being the only two vegetarians there, but it wasn't until a fateful night in Kelly's dorm room watching the horror film that they began to consider themselves a couple. Brought closer together by their newly minted veganism, this passionate pair discovered the only thing that surpassed their compassion for all living beings was their love for each other. They volunteered at Mercy For Animals, adopted three furry friends, and relocated to Portland, OR to pursue their graduate studies.

Kyle Domer & Andrea Dermos
Laguna Beach, CA
Southern California native Kyle Domer and Chicago-born Andrea Dermos launched their courtship in a thoroughly modern manner: on Twitter. When cross-country tweets turned into DMs, the longtime vegans didn't waste time before swapping virtual romance for the real deal, merging their personal and professional lives. In 2012, Andrea and Kyle launched Phoney Baloney's Coconut Bacon based on Kyle's secret recipe. On a Valentine's trip to San Francisco in 2014, Kyle proposed to Andrea with a conflict-free diamond ring in front of "Cupid's Span," a pop art bow-and-arrow sculpture on the scenic Embarcadero waterfront. Kyle hadn't taken into consideration the rush-hour traffic and the commotion they would cause. "People were slowing down in their cars, hooting, honking, and cheering us on," Andrea says. "It was great!"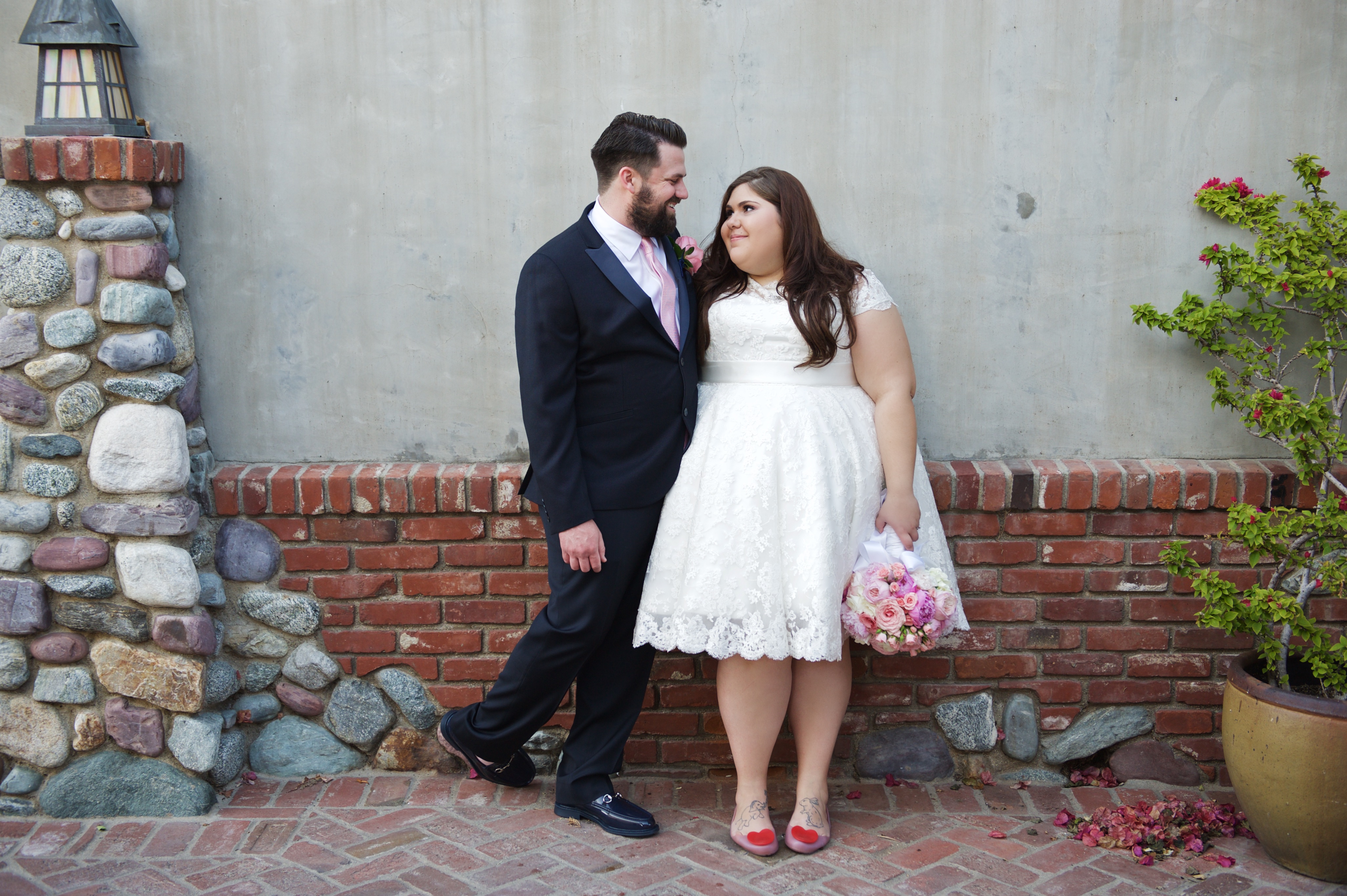 Heather Tyng & Bruce Rozeboom
Virginia Beach, VA
Heather and Bruce's relationship began in an unlikely place—the aisle of a natural foods store in Virginia Beach. Cookbook in hand, Heather was busy scanning the shelves for specific ingredients and Bruce asked her if the book was any good. After learning that Bruce was vegan, Heather invited him to join her vegan Facebook group. Bruce wanted to spend more time with Heather while avoiding the awkwardness of a first date, so he asked her to help him organize a vegan charity bake sale. They worked together as a platonic pair for three months, and after they successfully pulled off the bake sale, the transition to coupledom was effortless.
Want more vegan weddings?
You're going to love our Great Big Vegan Wedding Idea Book!