When Sara Blair left behind the Yukon in 2015 for life on the isolated Marshall Islands off the northeastern coast of Papua New Guinea, she expected to focus on teaching, healing after a breakup, and taking advantage of the fresh start to focus on herself. What she wasn't expecting was to find the love of her life.
"I met him within a week," she says of the whirlwind romance with fellow educator Nicholas Compton. "We quickly became close friends and moved in together within six months."
The romance continued to grow, culminating in a proposal from Compton. However, with high highs, came low lows. In 2020, Blair was diagnosed with cancer, putting plans for their dream wedding on hold. But after a year of chemotherapy and a stem cell transplant, Blair's cancer went into remission, and, with a new lease on life, the globetrotters decided to make the most of it with four epic, personal weddings around the world.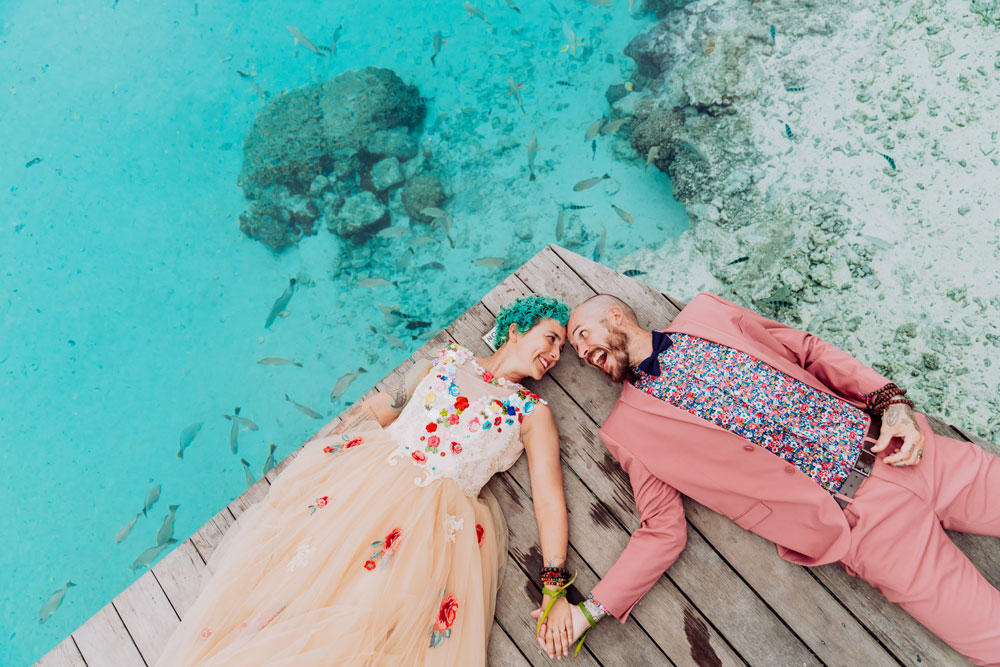 While Compton always wanted to get married, Blair had been against the idea since she was a teenager. However, after reading a feminist essay by Laurie Penny, she changed her mind, realizing how special marriages can be in these modern times, because for many women around the world, it is a choice, rather than a necessity.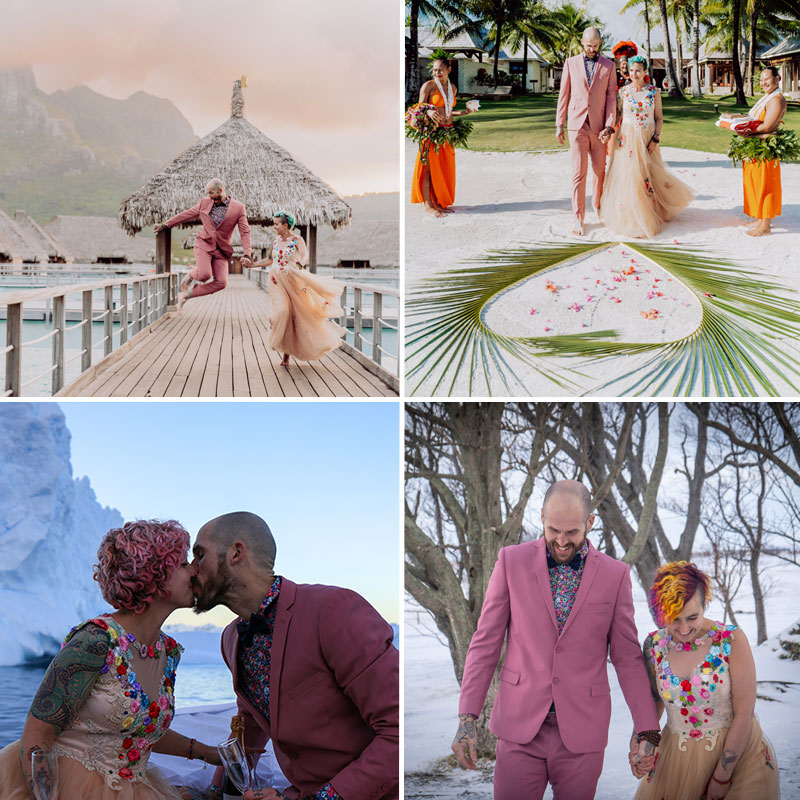 Since traveling has always been a passion for both the bride and groom, the pair wanted a wedding that was a true reflection of their personalities and commitment to each other.
Living abroad and traveling has been our life together," Blair says. "We aren't very traditional, so we didn't want our wedding to be either."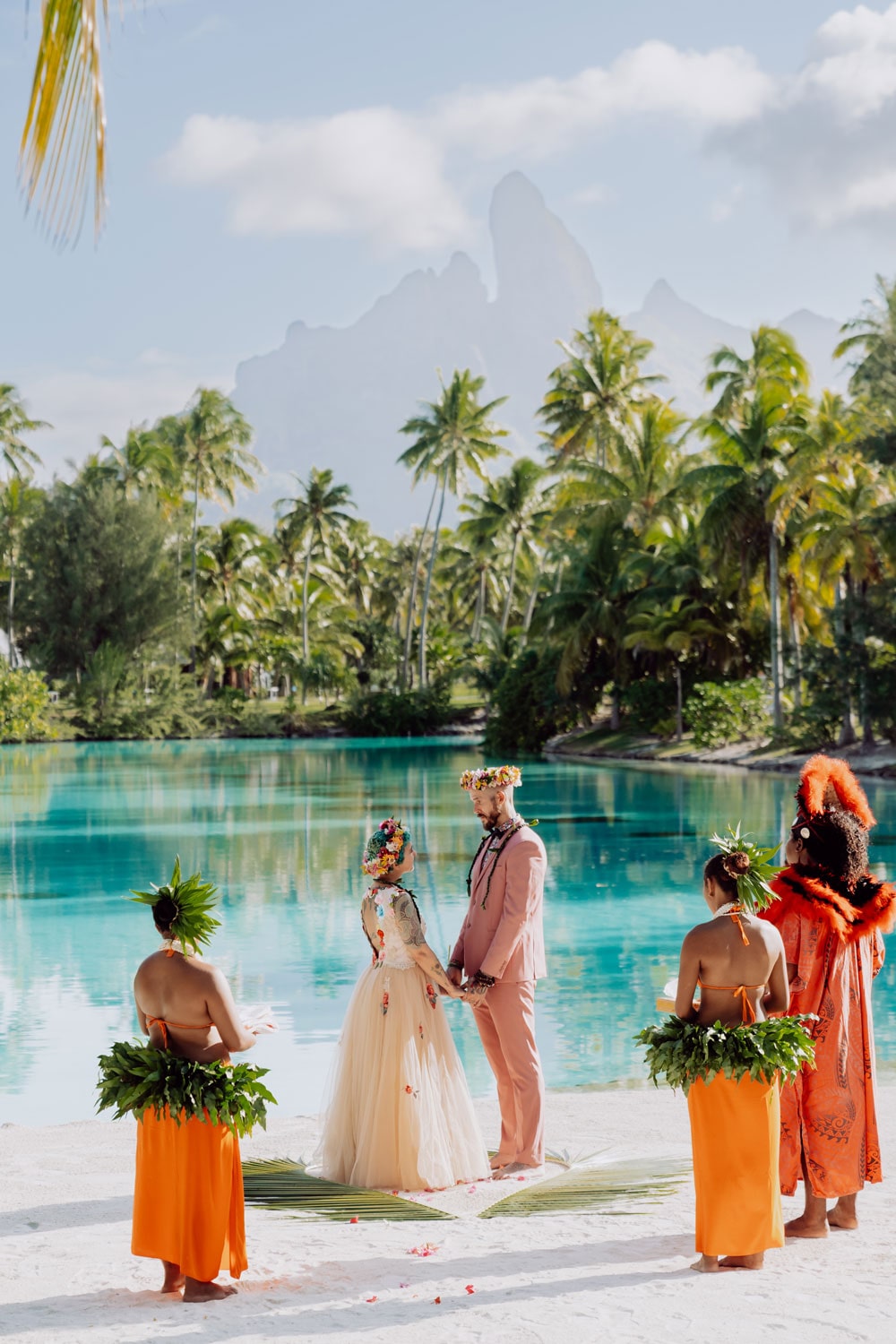 In a celebration that spanned over a year, the bride packed a vibrant dress that matched her equally colorful hair for each trip, saying "I do" in four stunning locales. In the spring of 2022, the pair first eloped on a boat in the picturesque Galapagos Islands with 18 strangers they met on a cruise. Then, three months later, the groom stepped off a rowboat onto a Bora Bora beach to be wed in a Polynesian ceremony overlooking the sparkling turquoise waters. In December, the grand adventurers were joined by two friends and a local penguin to be wed by the cruise's captain in the snow on continental Antarctica. For the grand finale two months later, the couple drew inspiration from one of their favorite shows, Netflix's Vikings, with a historic chapel ceremony on Viking land in Iceland.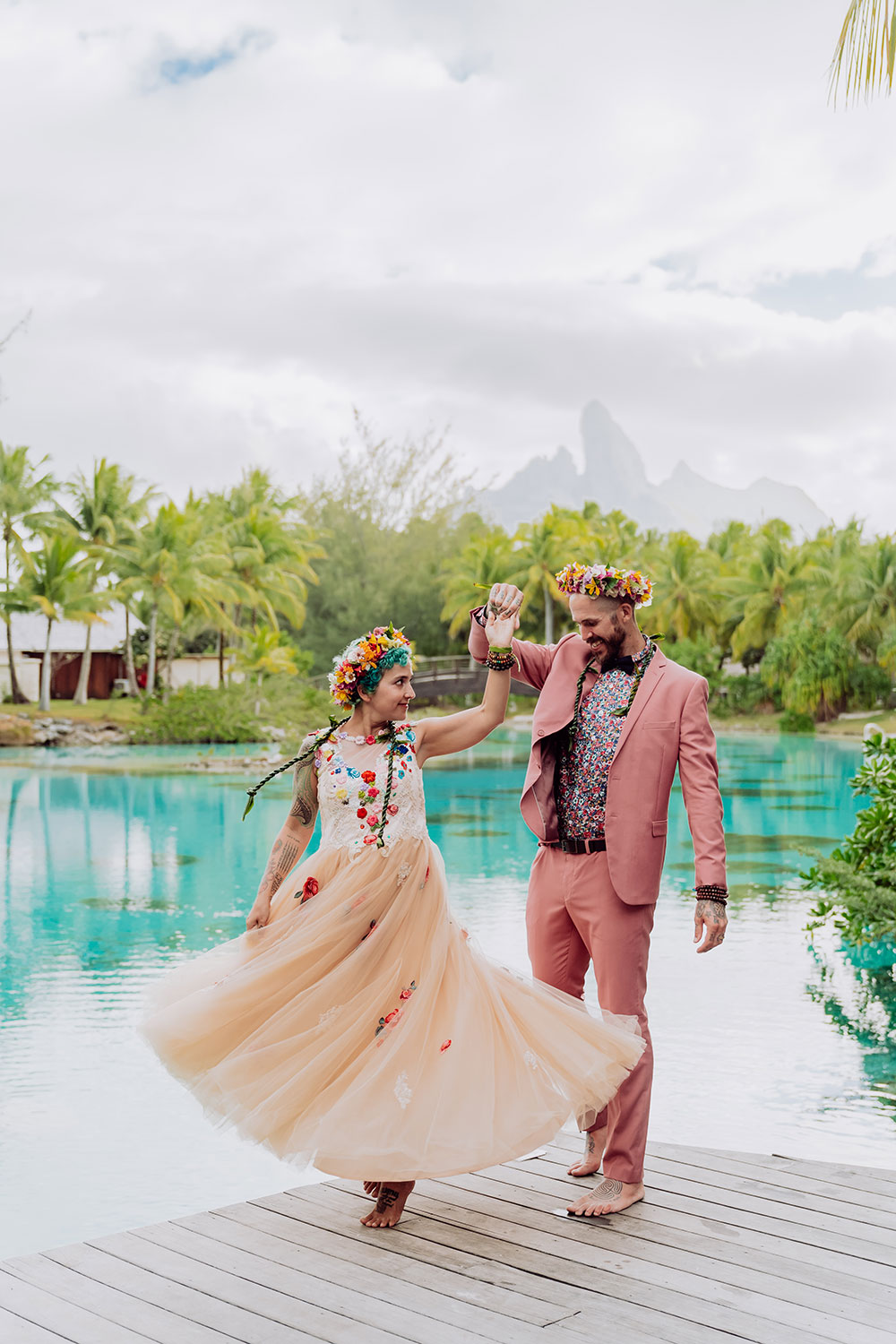 The
look
The groom's peach-colored suit perfectly complemented the bride's unique dress embellished with a sea of rainbow-colored flowers. "When I bought my dress, I was like 'Wait, how do people only wear this once?' That's not sustainable, that's stupid. So I said, 'Let's just do a year of weddings,' and every time we booked a trip, I looked into whether we could get married there," Blair explains.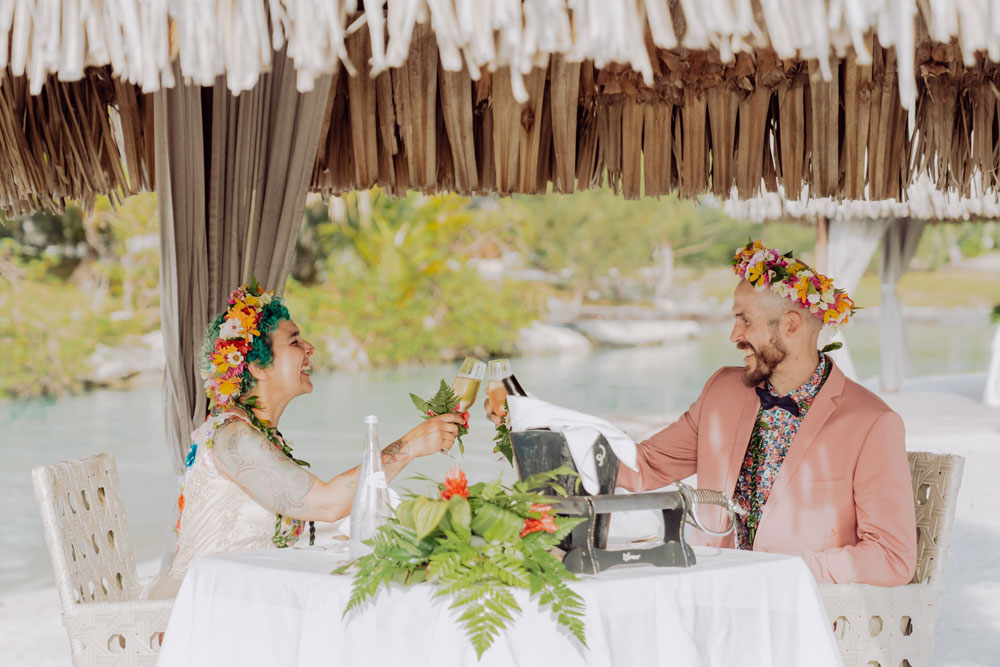 The

menus

In the Galapagos Islands, the couple feasted on fresh dragon fruit, passion fruit, and guava. In Bora Bora, a dinner at the St. Regis resort featured vegan sushi, French toast and pancakes, and méli mélo—cooked and mashed vegetables with potatoes and floral oil. In Antarctica, Indian-inspired fare included Blair's favorite korma curry with a medley of vegetables topped with a crunchy papadum. And in Iceland, the snow hindered the newlywed's dinner plans, so a handful of snacks from a grocery store held over the happy couple.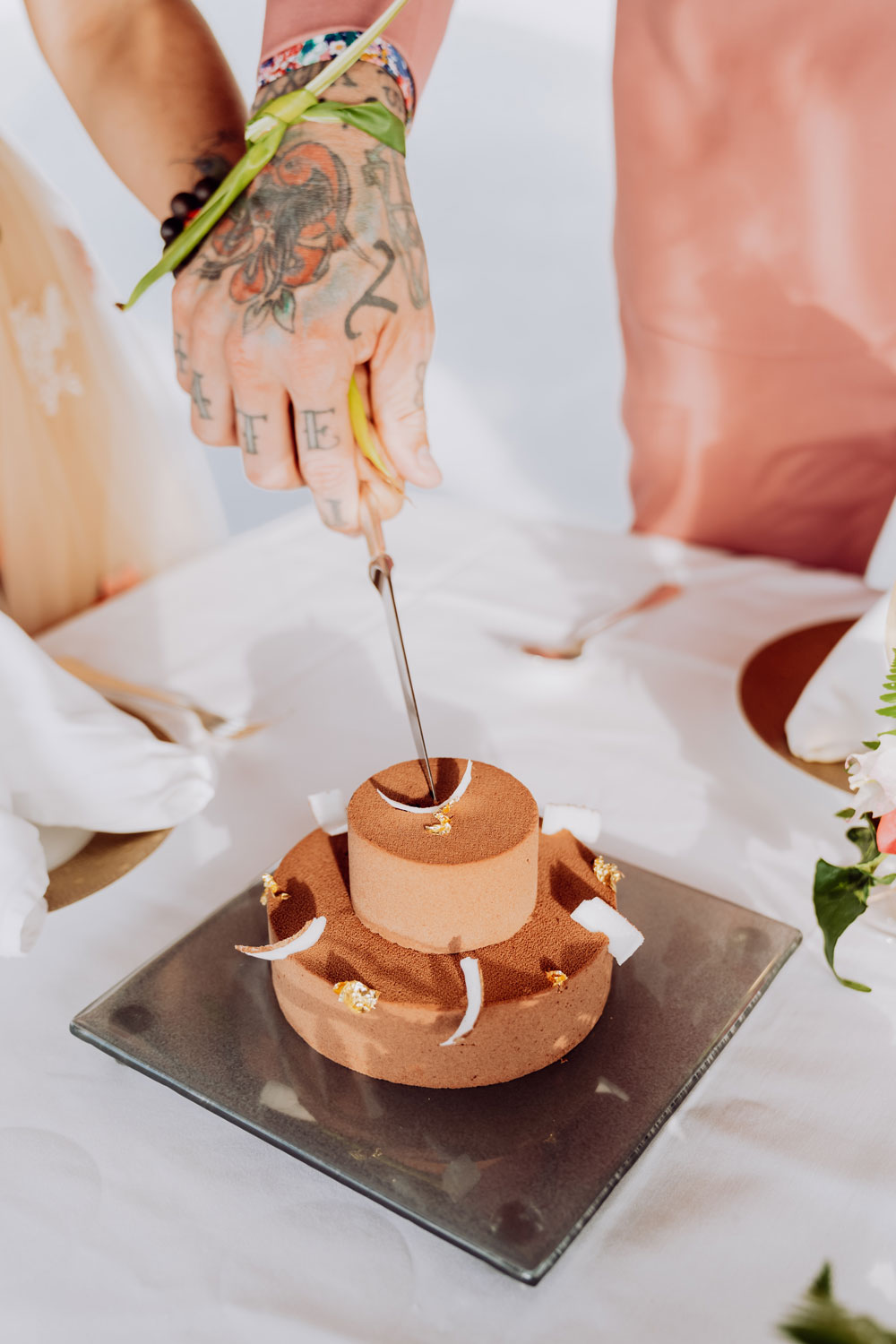 The

cake

The chef on the Ecoventura cruise surprised the couple with a sumptuous coconut-banana cake, while the St. Regis impressed with a rich chocolate cake accompanied by coconut ice cream.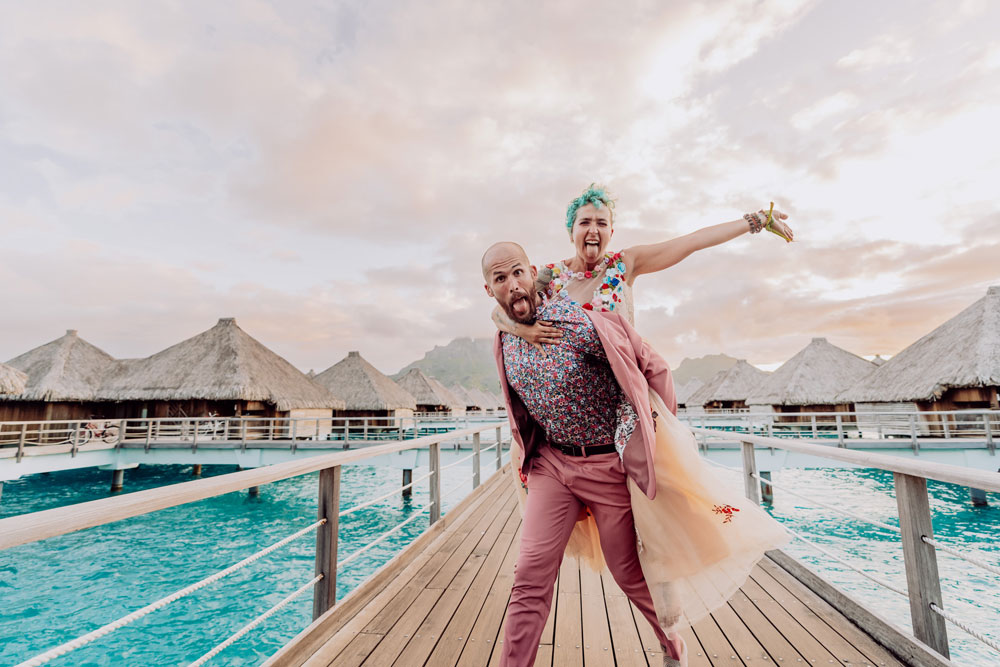 Want more vegan weddings?
You're going to love our Great Big Vegan Wedding Idea Book!