It's a tradition being played out at 21st century French weddings from Paris to Perpignan: after a night of nuptial revelry, the wedding party gathers around a table, spoons in hands, and dives into their steaming bowls of French onion soup, savoring each slurp of crunchy crouton topped with gooey melted cheese (from Jay & Joy Creamery, in our dreams) floating in a rich, savory broth. The hour? Fiva a.m. The French truly know how to party!

The invention of French onion soup has been credited to King Louis XV, who—upon finding the royal pantry bare save for some onions, champagne, and butter—reportedly concocted the earliest iteration of the classic recipe. As questionable as this history may be (how many kings prepare their own food?!), the origins of the early-morning (or really late night) wedding ritual are even murkier.

Some say the rich soup was instituted as a hangover cure after too many toasts to the bride and groom, while others believe the onions have aphrodisiac properties, perfect for stoking the fires of desire for some serious wedding-night romance. Whatever the roots, the custom endures.
Tempting traditions
Around the world, wedding feasts are punctuated with unique food traditions that highlight cultural idiosyncrasies, superstitions, and preoccupations. In England, for example, fruit cake is the dessert of choice on a bride and groom's wedding day, long favored by the royal court's bakers for being impervious to degradation (all that booze serves as a preservative).

In South Korea, wedding festivities almost always feature what is known as koo soo sang, or the "noodle banquet." Long noodles, which symbolize long and happy unions between the newlyweds, are served as soup immediately following the wedding; no interlude for dancing or speeches! This leaves the couple with more time to visit with each guest and express gratitude for making the effort to join them on their big day.

In traditional Hindu wedding feasts, rice is not only part of the celebratory menu, but the bride and groom also shower each other with handfuls of uncooked rice tinted a saffron yellow from turmeric and other spices. This lighthearted ritual is believed to bless the couple with good fortune, abundance, and a joyful life together.
Food for thought
In a curious twist, not all "wedding" foods have a directly traceable lineage to weddings! Two of our favorites, Mexican Wedding Cookies and Italian Wedding Soup, while delicious and festive, rarely appear on contemporary wedding menus in Mexico or Italy. We've taste-tested these veganized recipes and believe they're worthy of inclusion at a wedding buffet or as a late-night snack to keep the party going. Try them out and see if you agree!


Italian Wedding Soup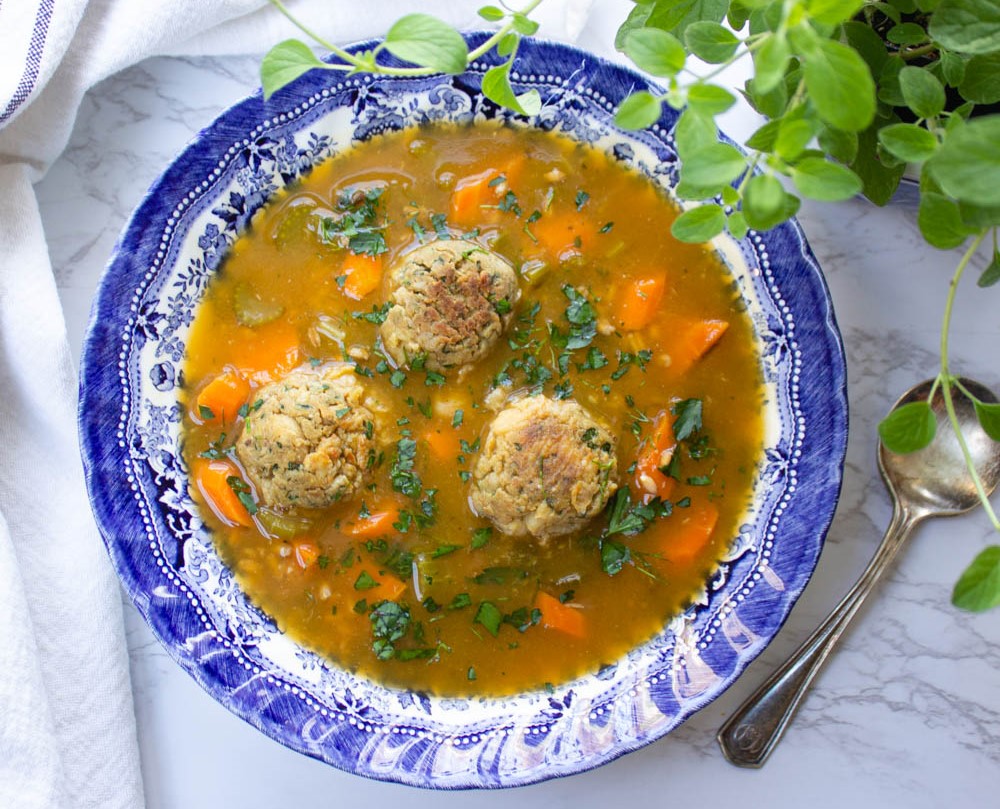 This hearty, herb-infused soup earned its name from its delicious marriage of flavors and textures. In this recipe, traditional meatballs are swapped for hefty white bean-based versions.
For the meatballs:
1 (15-ounce) can cannellini beans, drained and rinsed
¼ cup nutritional yeast
1 teaspoon onion powder
1½ teaspoon garlic powder
1 teaspoon Herbes de Provence
½ teaspoon ground cumin
¼ teaspoon black pepper
⅓ cup wheat breadcrumbs
1 tablespoon tamari
Zest of 1 lemon
½ cup minced parsley
For the soup:
4 cups low-sodium vegetable broth
3 carrots, peeled and diced
3 stalks celery, diced
1 cup of farro, cooked according to package instructions
Juice of 1 lemon
1 tablespoon tamari
½ teaspoon miso
¼ cup finely chopped parsley, for topping
2 tablespoons finely chopped dill, for topping
1. Preheat oven to 400 degrees. Line a baking sheet with parchment paper.
2. For the meatballs, in a large bowl, combine all ingredients well with a potato masher. Use a teaspoon to scoop mix and roll into a ball about 1¼ inches in size. Place on lined baking sheet. Repeat with remaining mixture.

3. Spray meatballs lightly with cooking spray and place in oven to cook for 15 minutes. Remove from oven, turn over, and cook for an additional 15 minutes or until golden.

4. For the soup, into a soup pot, pour vegetable broth. Add chopped carrots and celery, bring to a boil, reduce to a simmer, and partially cover pot until vegetables are just tender. Remove from heat.

5. Add farro, lemon juice, tamari, and miso, and stir well.

6. Ladle into serving bowls then add meatballs to each. Sprinkle with parsley and dill and serve.
Mexican Wedding Cookies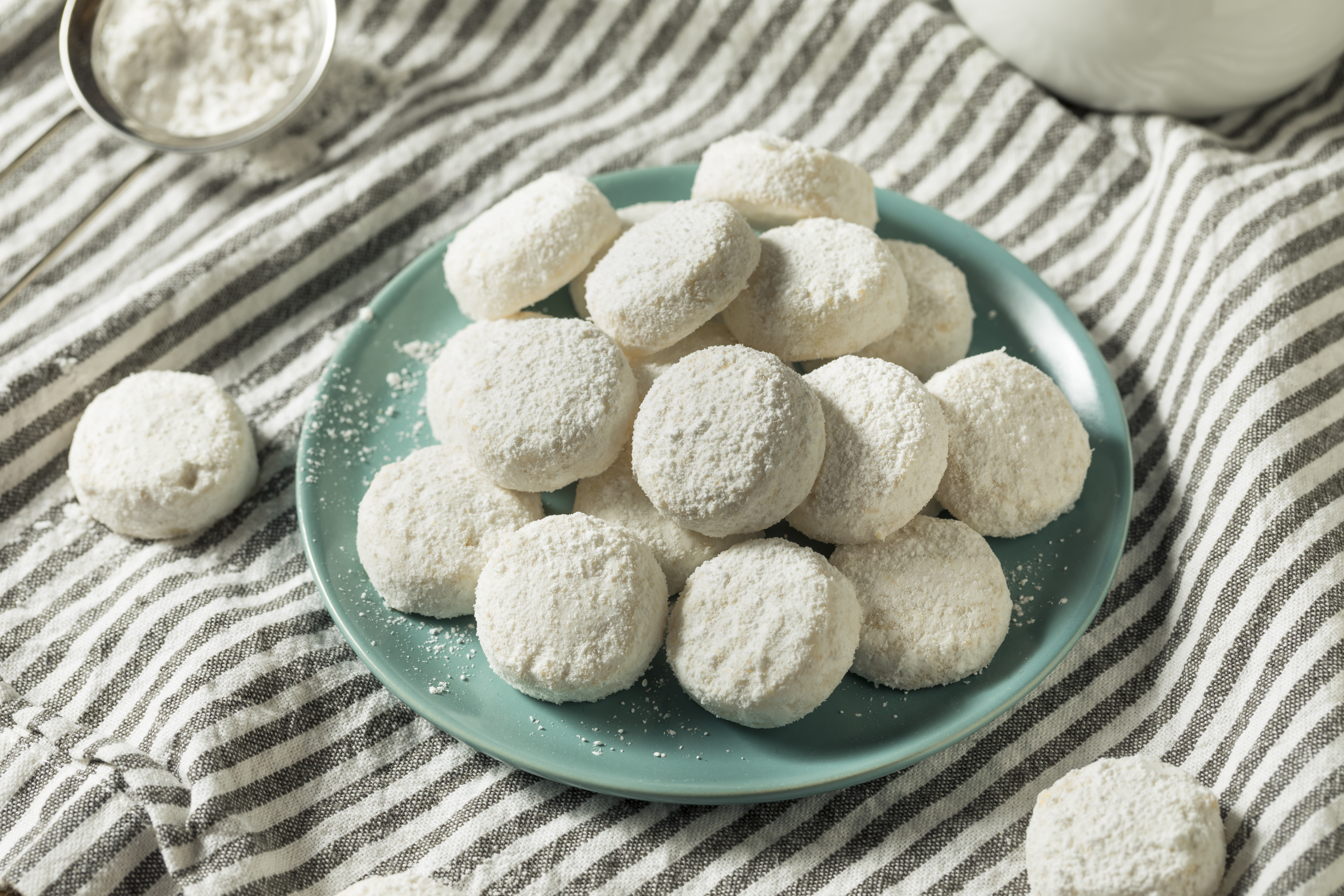 These sugar-dusted delights go by many names including Russian Tea Cakes and Snowballs, and often make an appearance during the holidays as a festive seasonal cookie. They're so delicious that they deserve a place of honor at any couple's wedding table!
2 sticks non-hydrogenated margarine
1/4 cup granulated sugar
2 teaspoons vanilla
2 cups unbleached all-purpose flour, sifted
2 cups raw pecans, finely chopped
2 cups powdered sugar, sifted
1. Preheat oven to 300 degrees. Line two cookie sheets with parchment paper or use a nonstick baking sheet.

2. With an electric hand mixer or by hand, cream the margarine, granulated sugar, and vanilla until light and fluffy, about 1 to 2 minutes. Add the flour, mixing until thoroughly combined. Add the pecans, mixing until well blended, about 30 seconds.

3. Measure out generously rounded teaspoonfuls of dough and roll into balls. Place about 1 inch apart on the baking sheet. Bake until they just begin to turn golden, about 30 minutes. To test for doneness, remove one cookie from the sheet and cut in half. There should be no doughy strip in the center.
4. Roll cookies in the powdered sugar while they are still hot. Cool on baking sheets before serving.
Want more vegan weddings?
You're going to love our Great Big Vegan Wedding Idea Book!