Hosting a sober nuptial celebration doesn't mean bidding adieu to a rollicking good time. Just ask Ann Christine Herstad and Arnold de Souza, whose dreamy destination wedding in picturesque Puerto Vallarta, Mexico was completely alcohol-free, but filled to the brim with fun.

Both Ann—who has never tasted a drop of alcohol in her life—and Arnold, a plant-based holistic health coach and fellow teetotaler, felt it was important to create a personalized celebration that reflected their values, and for them, that meant a zero-proof affair that everyone would not only enjoy, but remember the next day, too.

"Since our wedding was a small and intimate celebration, most of our guests knew us very well, and certainly could have suspected that we weren't going to have alcohol," says Ann. To be sure, they added this detail to their wedding website, and it did end up raising the hackles for one guest, who expressed concern over lack of social lubrication and how that might affect the party atmosphere. But the couple wasn't about to compromise their values just to make one or two guests more comfortable shaking their groove things.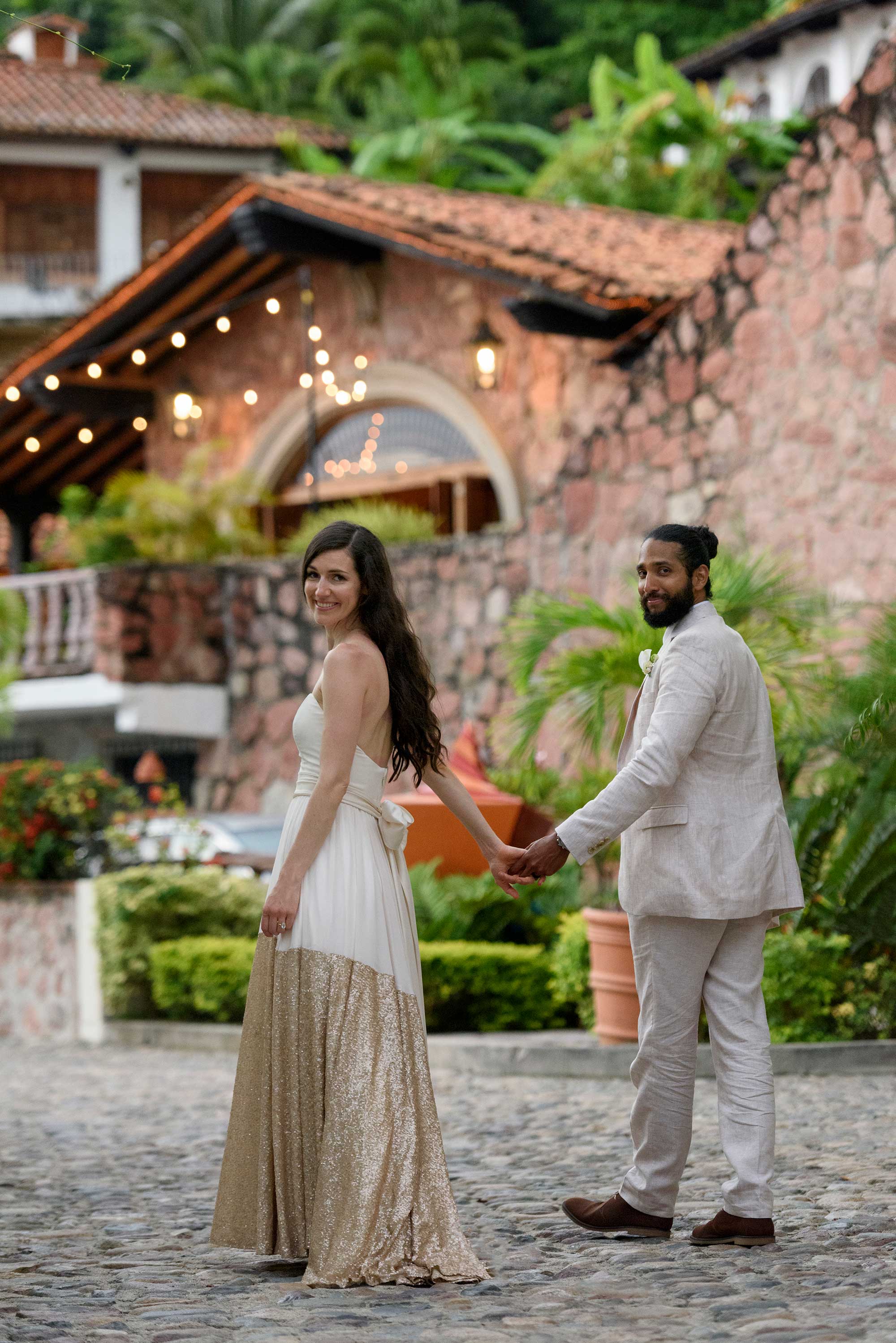 "At the end of the day, it was our wedding, and we wouldn't be comfortable serving something we don't welcome in our own lives, especially just to please a couple of guests and their inhibitions toward sober dancing," says Ann, the personality behind vegan lifestyle brand Veggie Magnifique. And judging by the action on the dance floor, alcohol was not a prerequisite for a good time.

"It didn't seem like anyone had a problem cutting a rug at our wedding," recalls Ann. "Besides, I preferred everyone to be under the influence of cake, and cake there was!"
For many couples choosing to forego alcohol, it's still important to create a celebratory ambiance in ways that feel traditional, which is easily done with a festive drink of the no-booze variety. To create their special elixir, Ann and Arnold worked with caterers at Villa Celeste—a deluxe rental villa overlooking the sparkling surf on a gorgeous stretch of beach—to create a signature drink that would dazzle their guests' taste buds and add sparkle to the twilight soirée.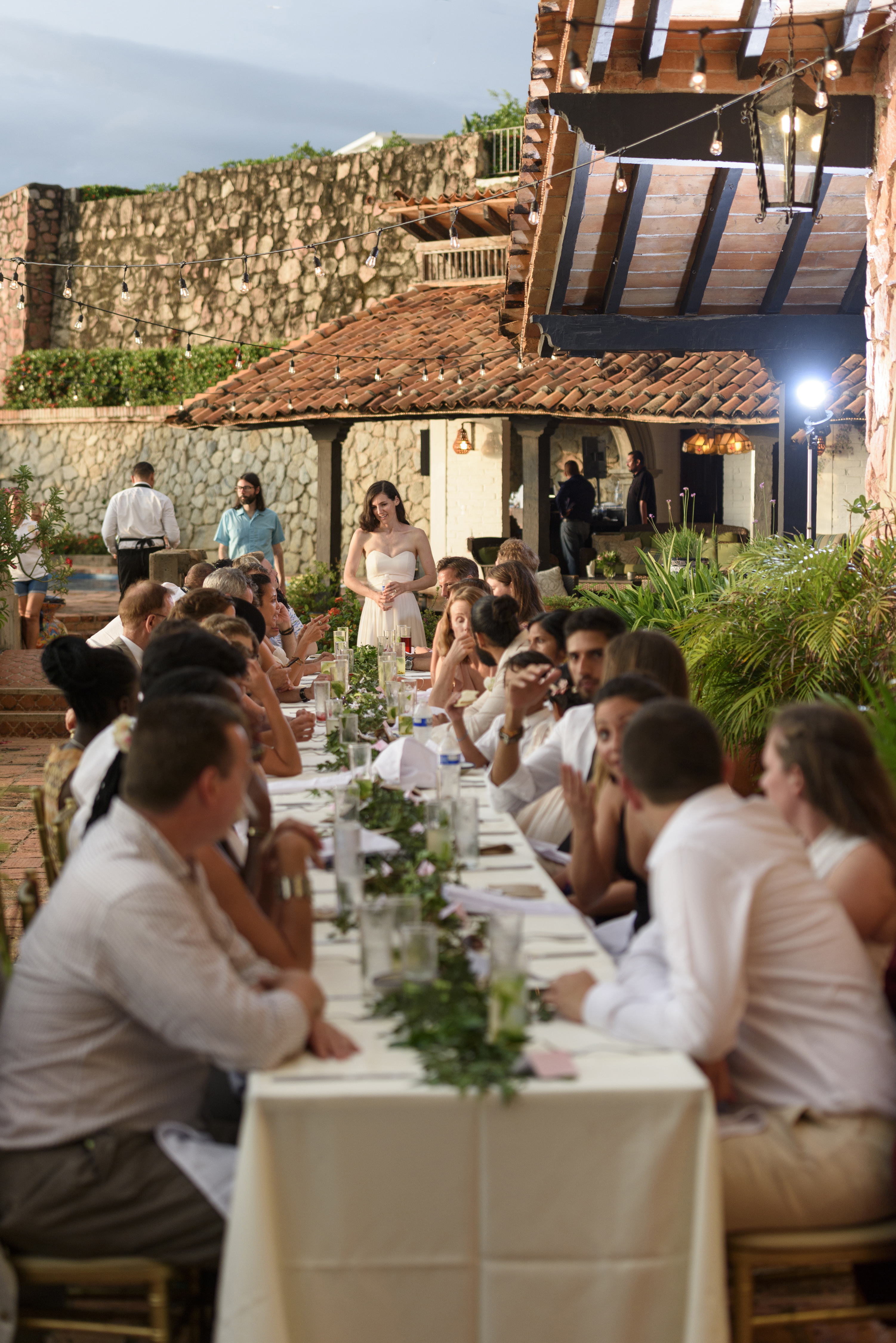 Enter a bespoke Passion Fruit Mojito made with local fruit and fresh herbs, and possessing all the visual appeal of your standard party cocktail. To round out the drinks menu, effervescent hibiscus spritzers and lime margaritas were served, a nod to both Mexico's culinary heritage as well as the bride and groom's healthy-living ethos. Not only did they taste amazing, but they kept guests cool and refreshed all evening long.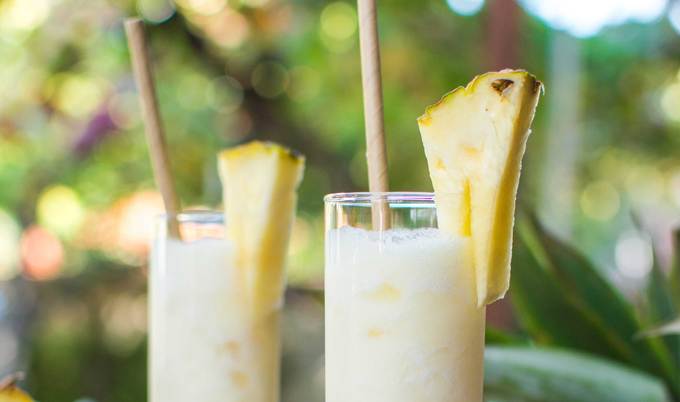 Whatever your reasons for planning an alcohol-free wedding—for your health, your values, or to save money—having a special beverage does wonders to elevate the mood and give guests something special to toast you with on your big day. We borrowed inspiration from Ann and Arnold's wedding with these lovely elixirs that will add a dash of pizazz to your celebration.
Say Cheers With These Festive Mocktails
Fresh + Fruity Piña Colada
Serves 2

What you need:
1 cup pineapple juice
2 cups frozen pineapple
¾ cup coconut cream
1 cup ice
Pineapple slices, for garnish
What you do:
1. Into a blender, add pineapple juice, frozen pineapple, coconut cream, and ice and pulse until smooth.
2. Serve immediately in two tall glasses. Garnish with pineapple slices.

Fun + Fizzy Apple-tini
Serves 2

What you need:
2 Fuji apples, cored, with a slice reserved for garnish
½ cup peeled and sliced fresh ginger
½ cup ice
½ cup sparkling water
1 teaspoon agave

What you do:
1. Into a juicer, add apples and ginger. Stir mixture well.
2. Into two martini glasses, add ice and pour over apple-ginger juice. Top with sparkling water and stir in agave. Garnish with a slice of apple.

For more alcohol-free wedding ideas, check out the vast collection of celebratory sips from VegNews!
Want more vegan weddings?
You're going to love our Great Big Vegan Wedding Idea Book!