Since launching her popular blog The Vegan Nigerian back in 2013, Tomi Makanjuola has connected with countless fellow vegans from all around the world, but only one of them went on to become her husband.

Tomi, who was raised in Lagos, Nigeria but now lives in London, met Ogbonnaya, who was earning his PhD in Texas, when he reached out to her via her popular Instagram to express his enthusiasm for her culinary creations.

"As he's Nigerian and vegan too, he was excited to see a fellow Nigerian sharing plant-based Nigerian recipes," says Tomi. "He dropped me a message to introduce himself and also shared pictures of some of the recipes he'd recreated from my page and cookbook."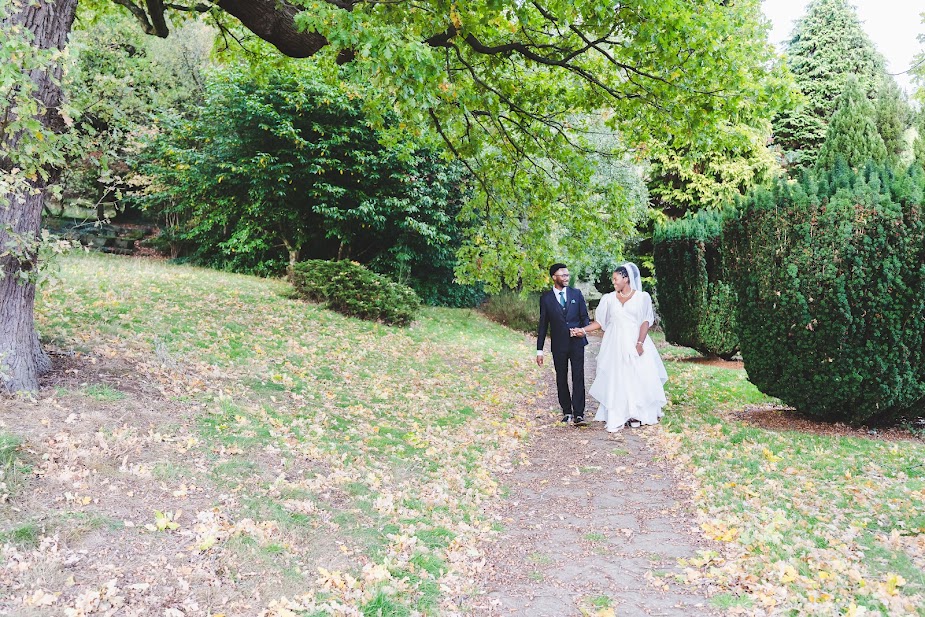 Starting a new relationship in the midst of a global pandemic isn't ideal, but Tomi and Ogbonnaya made the best of it, taking their conversation out of DMs and into text messages, then to long video calls, where they got to know each other better through conversations focused on food, veganism, and navigating pandemic life.

"It was incredible to discover how much we had in common," says Tomi, who finally met her future husband face to face more than a year after they first met on social media. Within a few short months, they were engaged and starting the process of planning their wedding.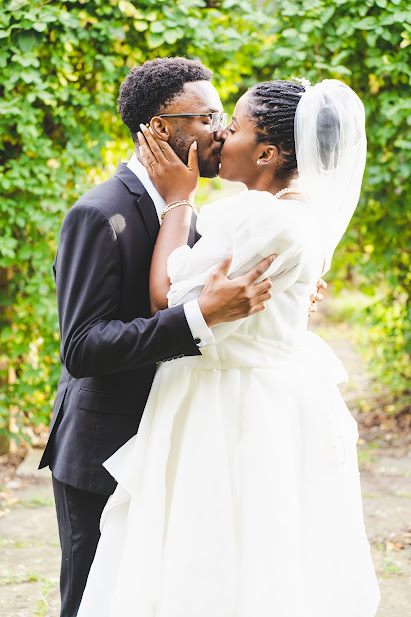 Vegan all the way
When it came to where they would marry, the obvious choice was St. Andrew's Church in Croydon, South London, where Tomi's mother—otherwise known as the woman who taught Tomi everything she knows about Nigerian food—is the Priest in Charge.

"The church has a lovely hall, so it was great to have a venue where we could have both the ceremony and reception in one place," says Tomi.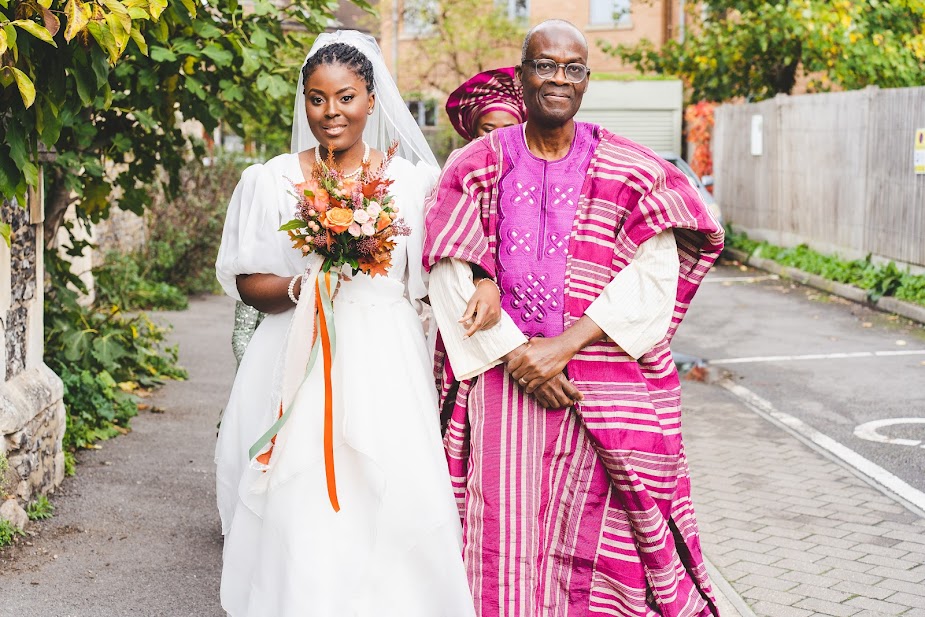 While meat is considered a necessary component of most celebratory meals in traditional Nigerian culture, when it came to their wedding day menu, Tomi and Ogbonnaya were committed to having a nuptial feast that aligned 100 percent with their vegan values.

To share familiar flavors their families would recognize and enjoy, they created a menu with veganized versions of delectable classics including "meat pie" canapés and "chicken" stew, made with non-animal ingredients.

"The flavors and textures were all there, just vegan!" says Tomi.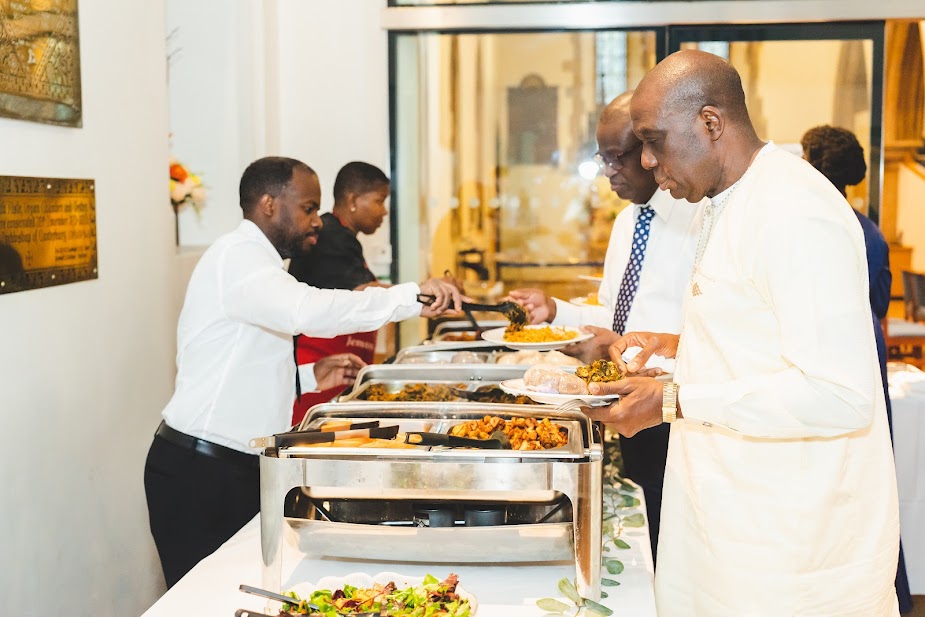 They turned to social media to find Nigerian caterers that already offered vegan dishes on their menus, whittling down their list before settling on Jemmy's Catering, which, while not exclusively vegan, won them over with their enthusiasm, great communication, and customer service.

"We worked closely on designing the menu together and they were open to all our ideas and suggestions," says Tomi.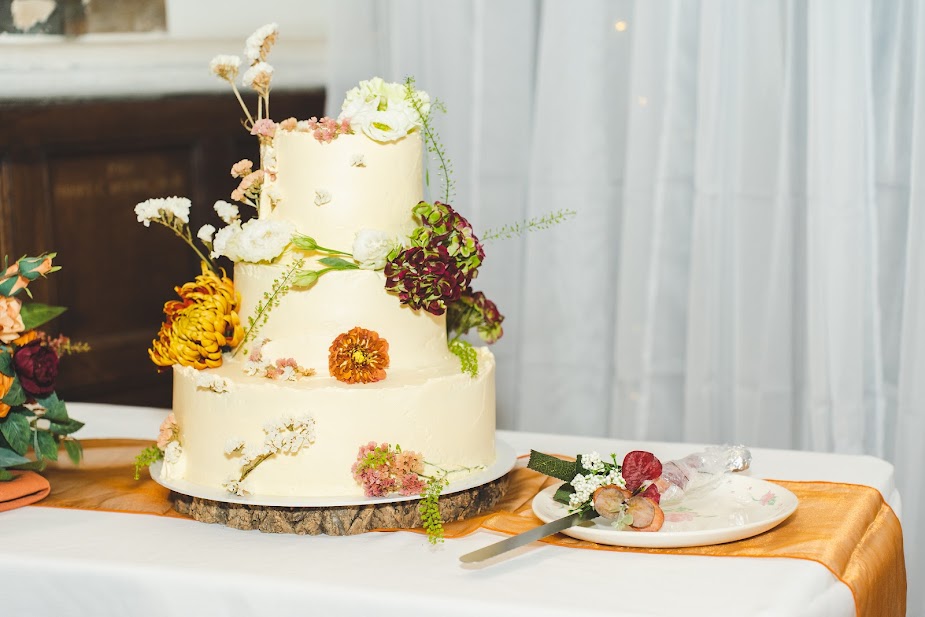 For their cake, they enlisted Dear Friend Bakery, a woman-owned vegan cake bakery in London, and placed their order with just one request: to create a confection with an autumnal theme. What they got was an exquisite three-tier cake featuring layers of chocolate sponge, shortbread, and caramel, embellished with ultra-creamy buttercream and fresh flowers in autumnal hues.
The couple incorporated Nigerian elements into their celebration through music and clothing, with members of the bridal party wearing intricately folded geles—the Yoruba word for women's head ties—and filas, the soft caps worn by men.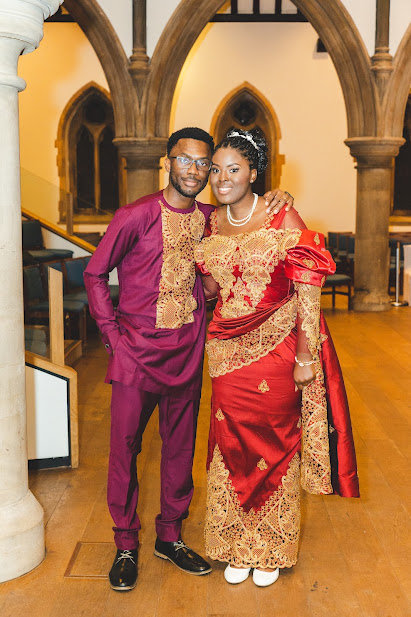 "My husband and I also changed into traditional Igbo outfits halfway through the reception, paying homage to his ethnic group," says Tomi.

"The day before, we'd had a traditional Yoruba Introduction ceremony, where the two families come together and exchange gifts, and we had worn traditional Yoruba attire for that too, paying homage to my ethnic group."
The food and drinks were flowing, and the atmosphere was just so bright and celebratory."

By Nigerian standards, the wedding was minuscule, with 75 guests—which was the perfect size for the intimate celebration with close friends and family that they had envisioned.

"We were touched to have had several relatives travel in from Nigeria, and friends who came from Denmark, France, Wales, and Switzerland," says Tomi.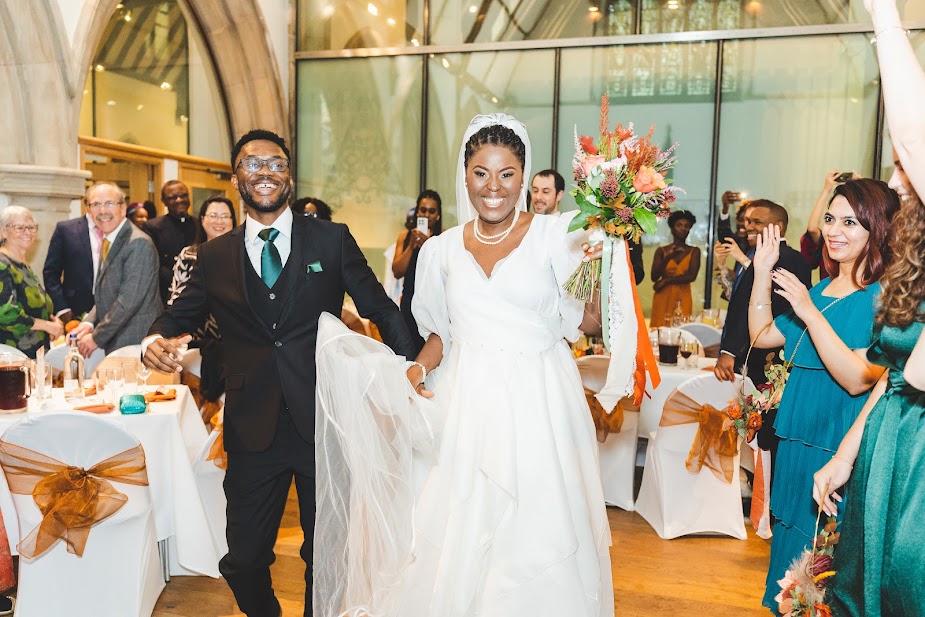 The Menu
Canapés
Mini "meat" pies
Peppered plantain kebabs
Suya mushroom kebabs
Savory buffet
Jollof rice
"Chicken" pepper stew
Moin moin
Yam potage
Fried plantains
Pounded yam and amala with egusi stew and efo riro
Dessert table
Puff puff with coconut and mixed berries
Apple crumble with custard
Fresh fruit kebabs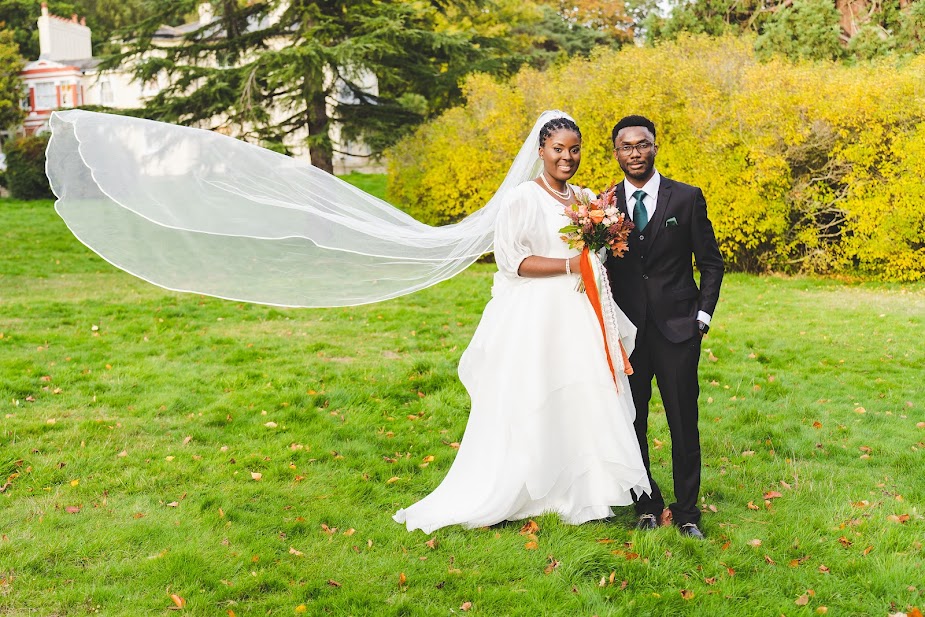 A fabulous finale
After their nuptial celebration, Tomi and Ogbonnaya set off on a food lover's honeymoon in the charming Cotswolds region of England, known for its rolling green countryside and charming villages. They stayed in a vegan-friendly manor house, which they used as a launching-off point for exploring the area's many picturesque towns, taking long walks, enjoying the manor's leisure facilities, and, of course, eating plenty of vegan food.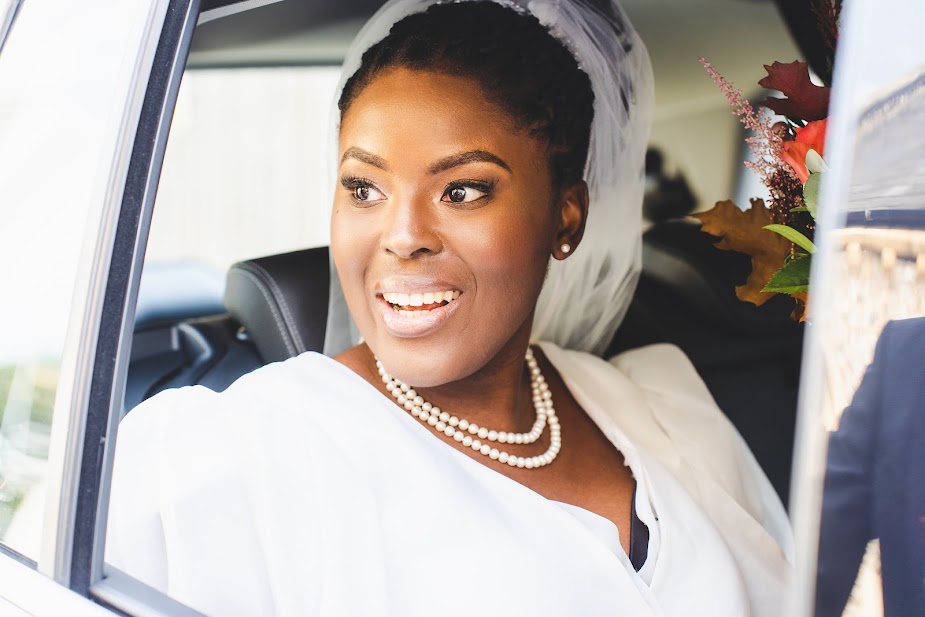 Looking back on her wedding day, Tomi recalls a special day filled with dancing, dining, and quality time with her tight-knit circle of family and friends, all gathered together in a celebration of love, Nigerian culture, and new beginnings.

"The food and drinks were flowing, and the atmosphere was just so bright and celebratory," remembers Tomi. "I don't think I stopped smiling once."
Want more vegan weddings?
You're going to love our Great Big Vegan Wedding Idea Book!