When you imagine your wedding day, what is the vision that springs to mind? Is it a church ceremony with 200 of your nearest and dearest in attendance, everyone dressed to the nines in formal evening wear, followed by a raucous reception with open bar, live music, and late-night dessert stations?

For Michelle May and Elia Nikolaev, the dream didn't include choreographed dance routines, long speeches from tipsy groomsmen, or a $10,000 catering bill. This couple's nuptial celebration was an intimate party of two on a glorious tropical beach, with nothing but the sound of the crashing surf as background music. If it sounds like heaven, that's because for Michelle and Elia, it really was.
Why elope?
Couples choose to elope for a variety of reasons, including reluctance to conform to traditions that feel inauthentic, the desire to create a uniquely special moment centered exclusively on themselves, and even to escape the often overwhelming stress of planning this major life event. For Michelle and Elia, it was about prioritizing the things that really mattered and centering their celebration on the values they share as a couple.
"We knew that we wanted to get married surrounded by wild, natural beauty and that we would rather have an extended honeymoon than a large wedding," says Michelle, a mover and shaker in the vegan business world as the founder of vegan snack company Seva Foods, Benjii's Canine Cuisine, and Vegan Food Popup. "We picked Hana because of the stunning beaches and lush rainforests."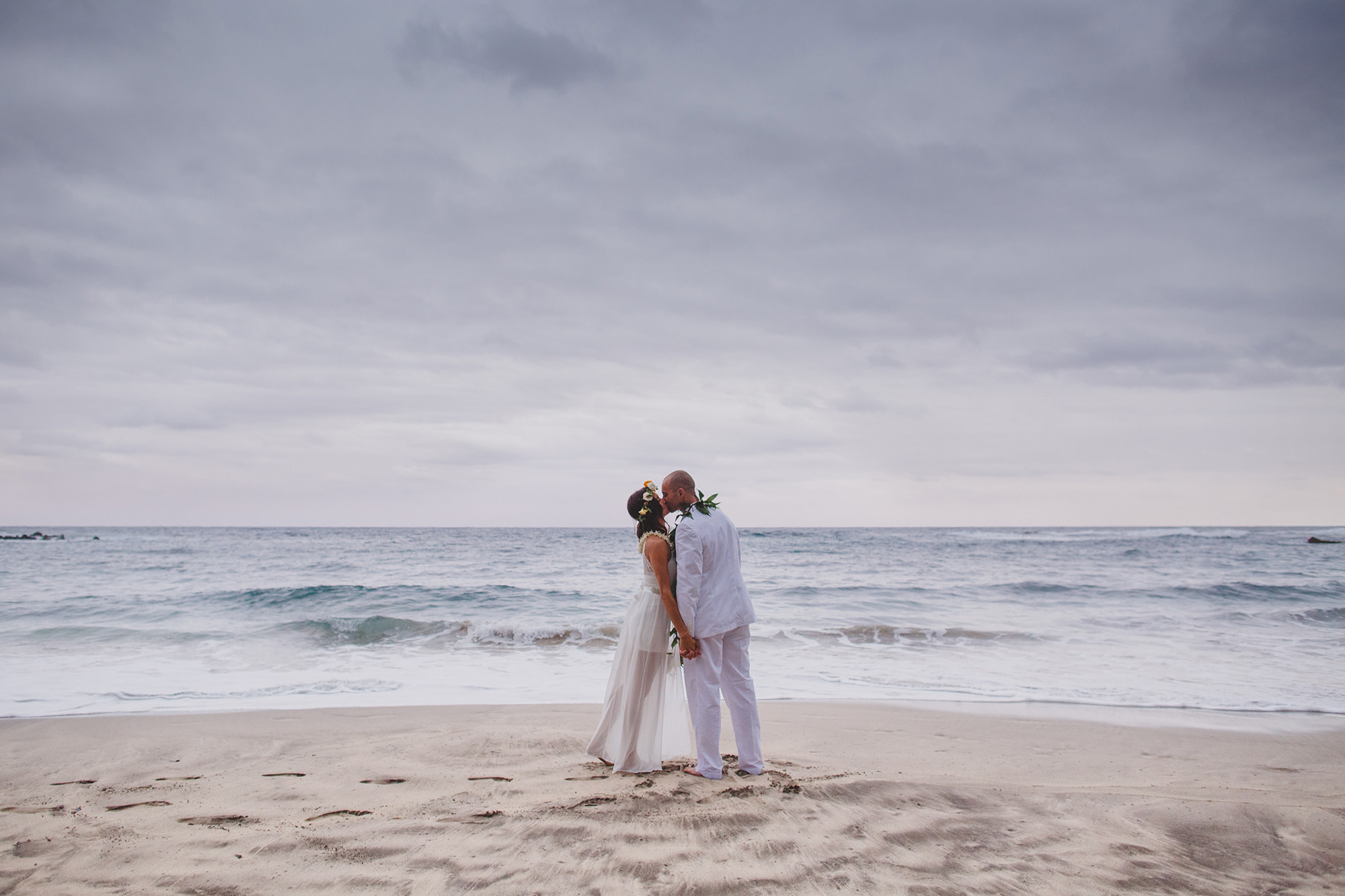 The couple, who live in the sunny Southern California beach town of Encinitas, met a decade ago, and bonded over common interests (yoga) and shared values (veganism). "I took his yoga class occasionally and had many mutual friends in the Encinitas yoga community," says Michelle. Elia, a yoga therapist, went vegan shortly before they started dating, while Michelle, who was raised vegetarian in rural Texas, made the leap to a vegan lifestyle a couple of years earlier.
Planning prowess
There was no doubt that they'd have a vegan wedding, and when it came to location, they settled on Kaihalulu beach on the island of Maui, which Michelle calls "one of the most beautiful beaches in the world." Luckily, their resort, the Travaasa Hana, was already vegan friendly, but, says Michelle, "It's always a challenge to plan remotely." To help bring their beautiful celebration to life, they sought the wisdom and expertise of a Hawaii-based wedding planner who just happens to specialize in elopements.

"We were fortunate to work with Elope Maui by Ajja Photography, a fantastic Maui-based wedding planner and photographer who helped us find everything we needed, from the flowers to the cake," says Michelle. "Having a knowledgeable, local resource to provide recommendations was very useful."
Their menu was an eclectic and mouthwatering extravaganza featuring everything from sautéed fiddlehead ferns and mushroom risotto to pan-seared chili tofu and furikake-dusted tater tots. The pièce de résistance was their vanilla and yellow lilikoi—also known as passion fruit—wedding cake created by local micro bakery Soulfull. Made from local organic ingredients, it featured layers of vanilla cake, vegan mascarpone cream, housemade lilikoi curd, and vanilla buttercream frosting, garnished with fresh orchids and plumeria blossoms.
Honeymoon heaven
One of the reasons Elia and Michelle decided to elope was because they wanted to direct their time, energy, and financial resources toward their honeymoon rather than on a blowout wedding, and this strategy meant they could spend their leisure time engaging in activities that were personally meaningful. This included communing with animals and nature at Leilani Farm Sanctuary, an eight-acre farm inhabited by rescued goats, cats, geese, donkeys, sheep, rabbits, tortoises, pigs, ducks, deer, and a cow.
"Getting to connect with the founder of Leilani Farm Sanctuary, Laurelee Blanchard, was so inspiring," remembers Michelle. "I loved hearing the story of how she founded Leilani and about many of the animals she's helped."
Should you elope, too?
If you're thinking about whether or not to elope, here are some questions to ponder:
♥ Does the idea of planning a wedding add unwanted stress to your lives?
♥ Are you worried about family drama erupting at your celebration?
♥ Do crowds, even when they include people you love, give you anxiety?
♥ Would you rather budget money for a down payment on a house or another big expense?
♥ Do you dread the thought of being in the spotlight?
♥ Are your families pressuring you to have a non-vegan celebration?
If you answered yes to any of these, an elopement might be right for you.
Sage advice
"I would recommend eloping to any couple that wants to be able to focus on each other during the ceremony and in the days right before," says Michelle. "Having fun and relaxing time alone together on Maui for a few days before the wedding helped us feel refreshed and rejuvenated for the big day. Also, an elopement can be a lot less expensive than a wedding with guests."
For Elia and Michelle, the decision to elope meant committing to each other in a way that truly reflected who they are as a couple, and allowed them to express not just their love for each other, but their love of the natural world in a soul-inspiring setting.
"What made the whole day really special was that it was just us," says Michelle, "surrounded by nature."
Want more vegan weddings?
You're going to love our Great Big Vegan Wedding Idea Book!