Matt Kivel and Emily Hunt Kivel's love story could have been pulled from a how-to-write-a-romcom playbook: They met on an airplane.

Back then, Emily was a fresh-faced 18-year-old vegan on her way home to the San Francisco Bay Area after exploring college campuses in Seattle when Matt, a 24-year-old vegetarian musician on tour with his band, spotted her in the airport food court.

Halfway through the flight, as Emily was nose-deep in F. Scott Fitzgerald's Tender is the Night, Matt made his move, handing her a quirky-romantic note folded into an intricate origami shape. Emily was intrigued, and wrote a note in reply, which she hand-delivered to him at the back of the plane.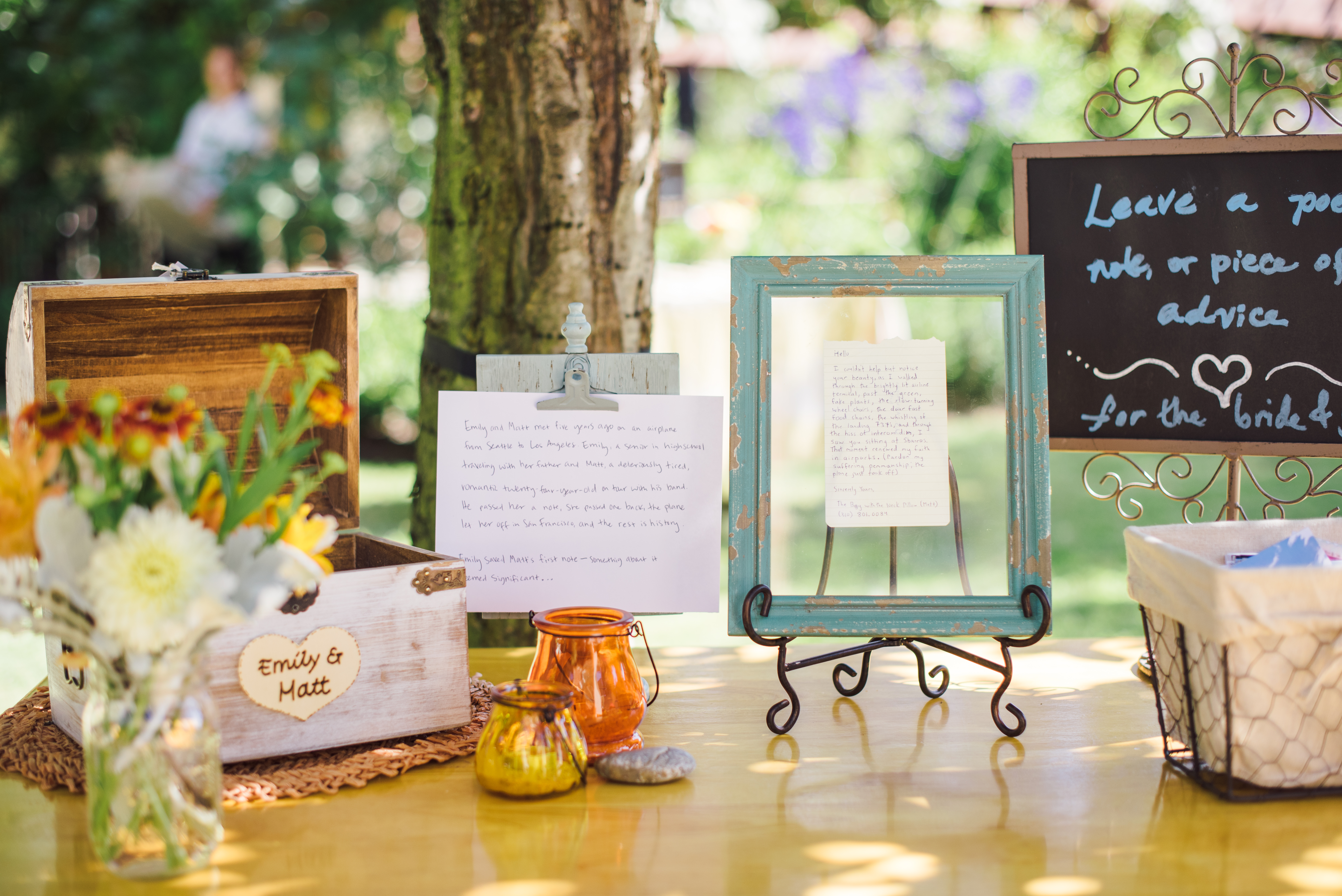 "There, I had to do some real guesswork as it dawned on me that he was sitting next to his identical twin brother. Luckily, I handed my note to the right Kivel!" says Emily.

In San Francisco, they parted ways, but not for long. The pair began an old-fashioned pen-pal relationship, before transitioning to long-distance dating. A couple of years and a few break-ups and reunions later, the duo decided to marry.

In 2015, they tied the knot on a picture-perfect summer day at Emily's family home in the beautiful Northern California wine-growing region known as The Valley of the Moon.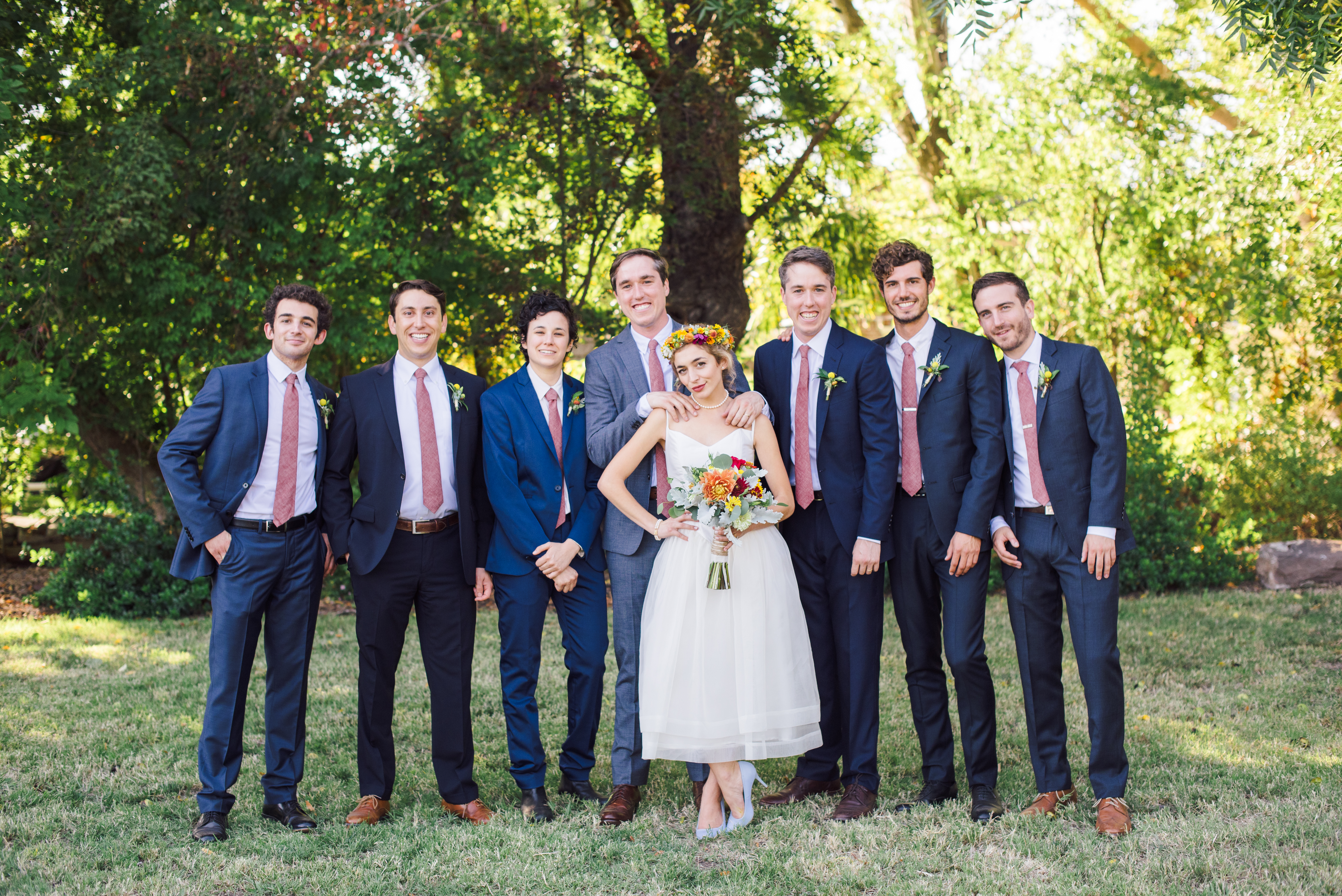 Legendary Oakland dining spot Souley Vegan catered the celebration, creating a mouthwatering menu centered on classic Soul food. Appetizers included fried okra with aioli and elegant spoons of grits topped with gumbo, while the buffet was an ode to the flavors of the American South, featuring barbecued tofu and collard greens, mac and cheese, and brown-sugar yams, among others.

"We wanted people to enjoy their food, and not just serve vegan fare to make a statement," says Emily.
After their road-trip honeymoon along the California coast, the couple began their new lives together, with geographic hopscotching from Los Angeles to New York (where Emily attended grad school and taught writing as Matt's music career evolved), and eventually, to Austin, Texas, where they live with their rescue cats Scout and Georgie.

We caught up with Emily and Matt to discover more about their post-vegan-wedding lives, their creative endeavors, and what makes a happy marriage.
Catching up with vegan wedding couple Matt & Emily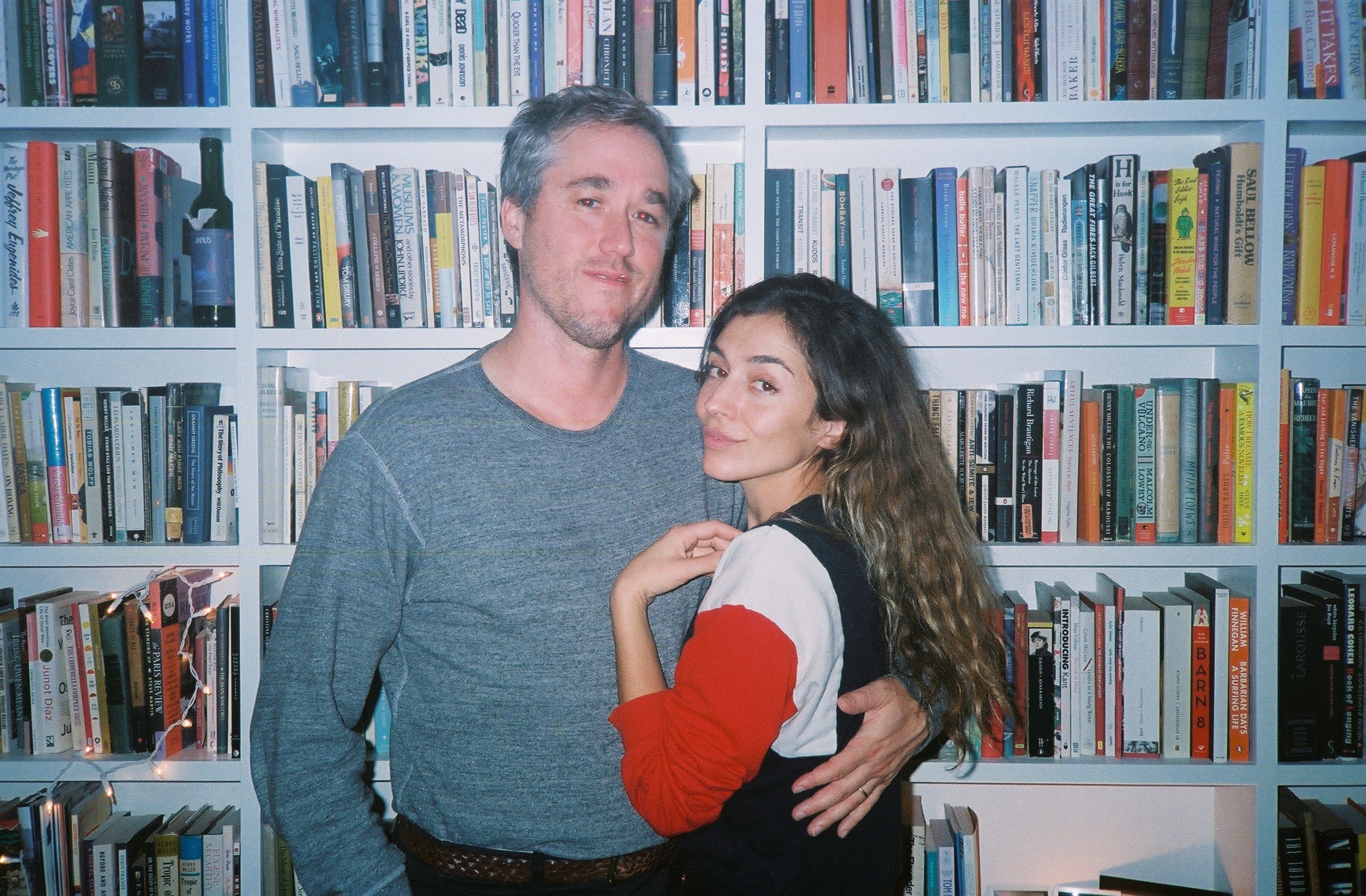 How do you explain the serendipity of that day you met? Do you believe it was destiny?
Matt: Looking back, it's kind of extraordinary that a single decision, especially one that was so in the moment and unplanned, would go on to alter both of our lives in such a dramatic way. With that said, I did feel there was a kind of destiny in us meeting at the time. When I saw Emily, I had a feeling that she was an exceptional person and that my life would somehow be better if I knew her. That turned out to be true!
Emily: I believe that were Matt and I to ever be in the same room, at any point in our lives, we'd seek each other out.
You are both creatives; as writers and musicians, what are some of the ways you have incorporated your respective art forms into your relationship?
Emily: Matt is my first reader on almost everything I write. I think admiring his taste and respecting his opinion and work ethic is an important part of our relationship, and part of what continues to draw me to him. I think both of us draw a lot from other mediums—I often write in pace with music and Matt usually conceptualizes albums around films and books, for example—and so the ability to mix and share our libraries and references is really incredible. It's fascinating to see the ways in which a shared life can beget totally unexpected interpretations. Matt's work has also allowed us to travel—shortly after our wedding we took a trip playing shows in the UK—and get to know people in a way that feels focused and collaborative.
Matt: Our creative work has been at the very center of our lives from the beginning of our relationship. We are always working on different projects and sharing things with each other in various forms of completion. Emily is extremely driven and I have a ton of respect for her as a writer and creative force. I've seen her write many short stories and novels just a couple rooms over from me and it often reminds me that I need to work harder on my music. She is disciplined and has tons of energy and that inspires me to bring that same level of focus to the music I'm making. But beyond music and writing, creativity influences almost everything we do and everywhere we go. We spend a lot of time going to movies at Austin Film Society and anything from the art we hang on our wall to the plants we plant in the garden (most of which are dead, but we're trying) are part of some kind of artistic process.
Our creative work has been at the very center of our lives from the beginning of our relationship.
What has been the biggest surprise about married life?
Matt: That it is always changing.
Emily: I don't know if I had any expectations about this kind of commitment. I'm still learning about it, and so in many ways everything is continually new.
Looking back on that day, what is your fondest memory?
Emily: I actually really loved our ceremony. It was a fantastic day and night, but I had never been one to dream about my wedding, exactly, so having the opportunity to stand together and feel a part of something larger was very grounding and profound.
Matt: Just seeing all of the most important people in our lives (at that time) in one place, celebrating joyfully. Things like that never happen. And it was just wonderful to sit back and watch the collisions of all of these different people from all areas of our lives. I feel like a Paul Simon song came on when everyone was on the dancefloor and everybody was just flying around, grabbing grapes off of vines and hugging each other. That was my favorite memory.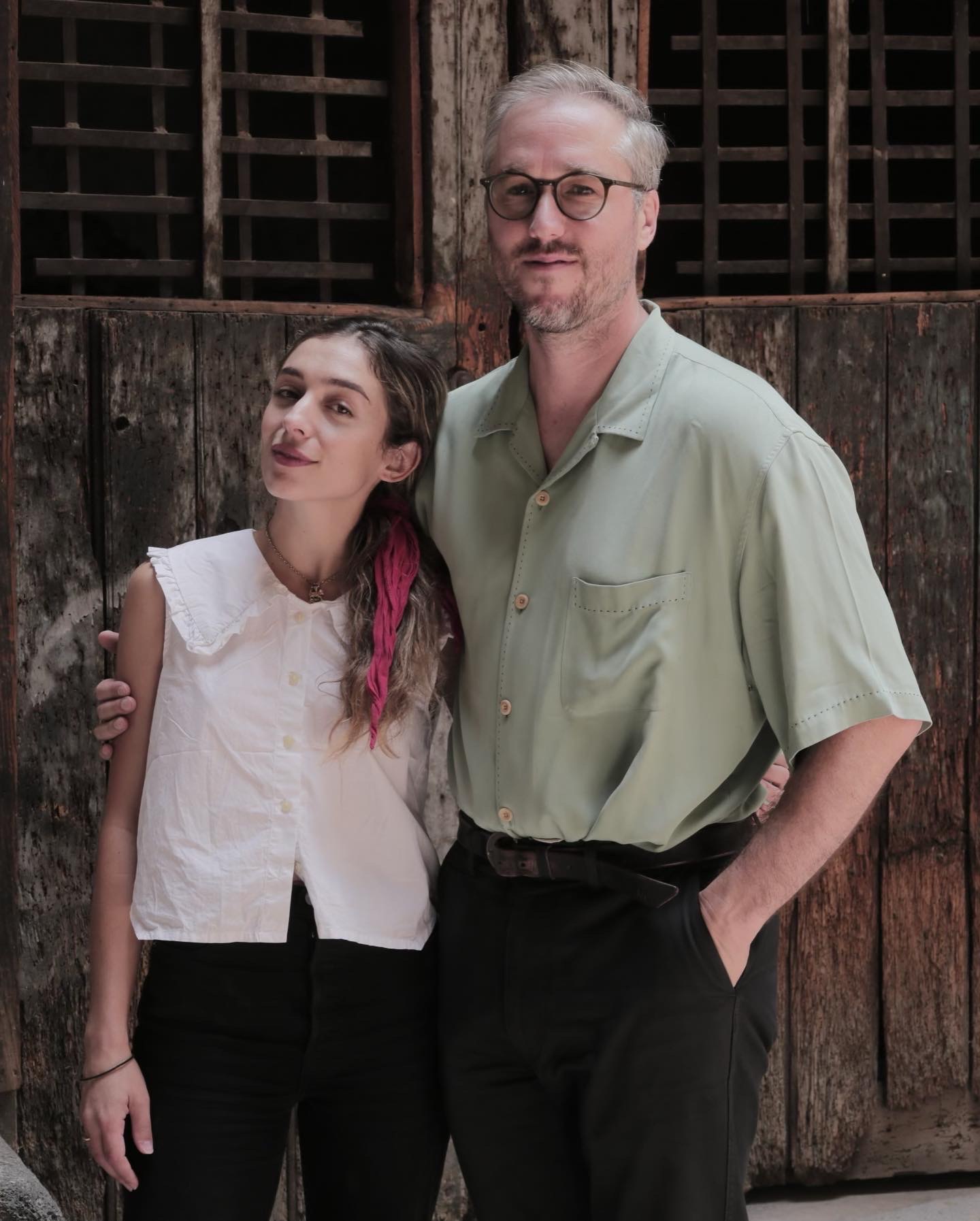 If you could go back in time and alter anything about your wedding day, what would it be?
Emily: The police shut down our wedding! So I suppose I would have built better goodwill with our neighbors so the dancing could continue much later.
What words of wisdom would you share with another couple planning their vegan wedding?
Emily: Sit down and eat the food. Have fun with the person you're marrying. Realize that life events like this will impact everyone—family, friends—differently. Spend time with each other before in which you don't talk about the wedding at all!
Matt: Don't worry about offending non vegans. They have no problem exposing you to their meats and whatnot during the events they host. So this is your turn to share your traditions with them. It's not their wedding and you're calling the shots.
Finally, what, in your experience, is the secret to joyful union?
Emily: Staying curious and allowing one another the freedom to change.
Matt: Being with someone you believe in and trusting them with all of your heart.
Want more vegan weddings?
You're going to love our Great Big Vegan Wedding Idea Book!