Carrie Mumah and Matt Reese are a couple that knows who they are and what they want, and their stunning wedding at a bucolic farm sanctuary is proof!

The vegan duo, who met more than a decade ago while working for vegan health advocacy non-profit PCRM in Washington, DC, knew they wanted a celebration that reflected their values, and that meant choosing a venue and working with vendors that understood their ethics.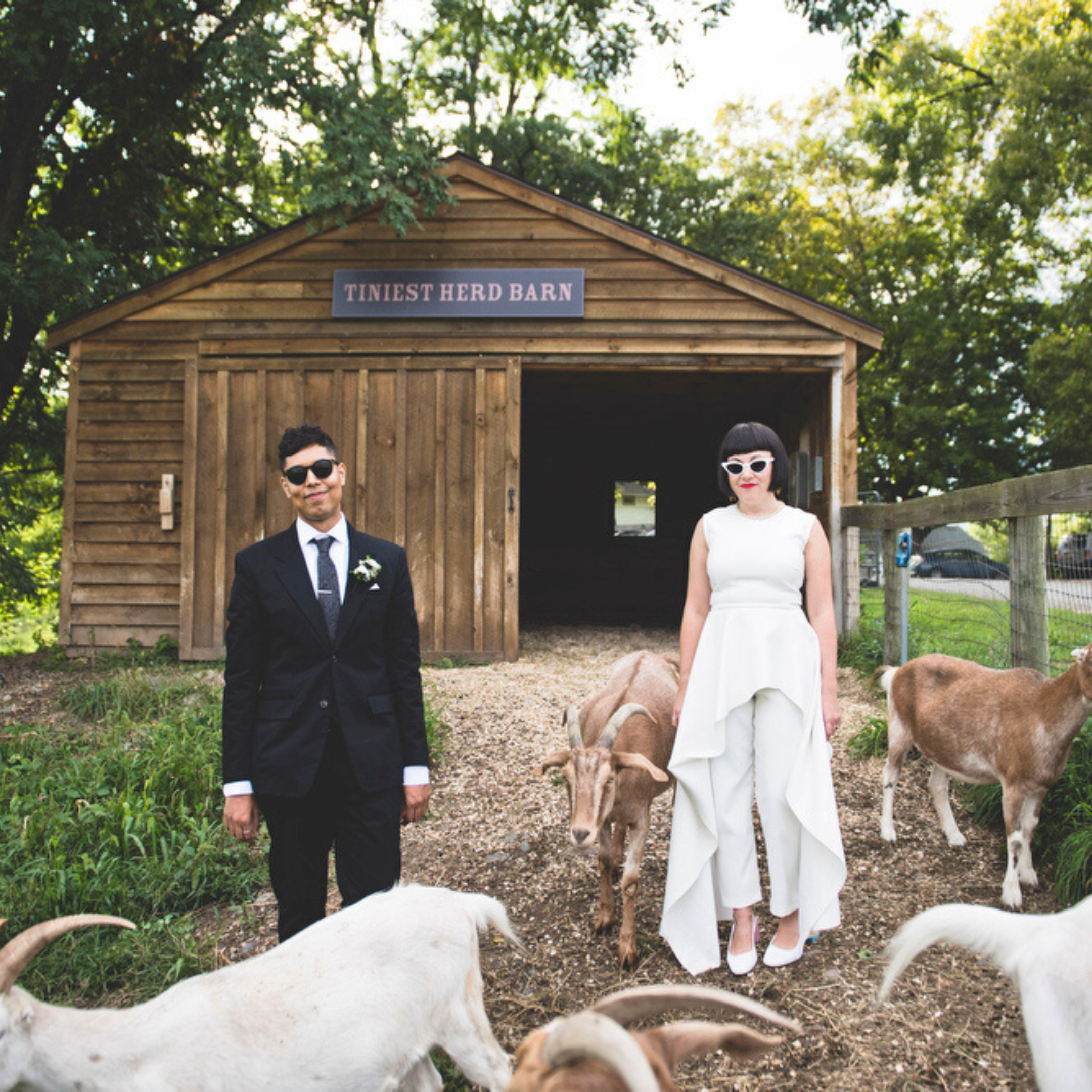 With the help of skilled wedding planner Emily Monus, who—as a vegan, is very well-versed in plant-based living—they got everything they wanted, from their pre-wedding pizza-and-wings party to their magical venue where animals would be part of the nuptial narrative.
"The Gray Barn at Woodstock Farm Sanctuary provided us a peaceful, serene, and vegan space to prepare for the day," says Carrie, who first went veg when she was just 10 out of a love for animals. "Our guests got a tour of the farm sanctuary right after the ceremony where they could meet the animals and hear their stories. Supporting this incredible organization felt fitting for us as longtime activists."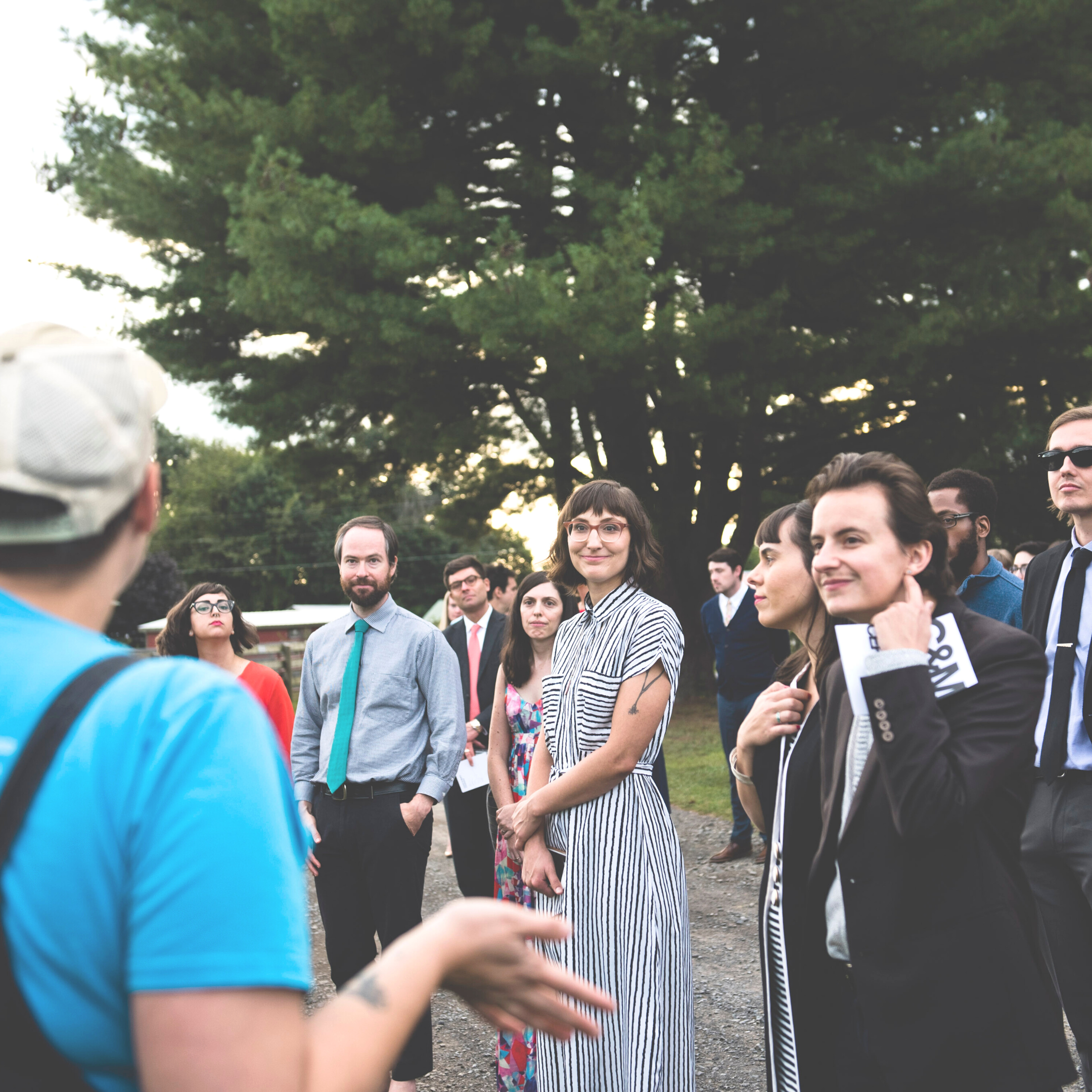 The couple, who were living in Park Slope, Brooklyn when they tied the knot, brought their sleek urban style to the celebration with chic outfits that made them look like they stepped right of the pages of an avant garde fashion magazine.
"After one attempt at trying on wedding dresses, I knew it wasn't for me and ended up finding this jumpsuit online," says Carrie, who ordered her outfit from Solace London, a vegan-friendly brand with lots of options for brides who favor bold looks. Her ensemble also included a pair of stylish leather-free slingbacks with two-toned block heels.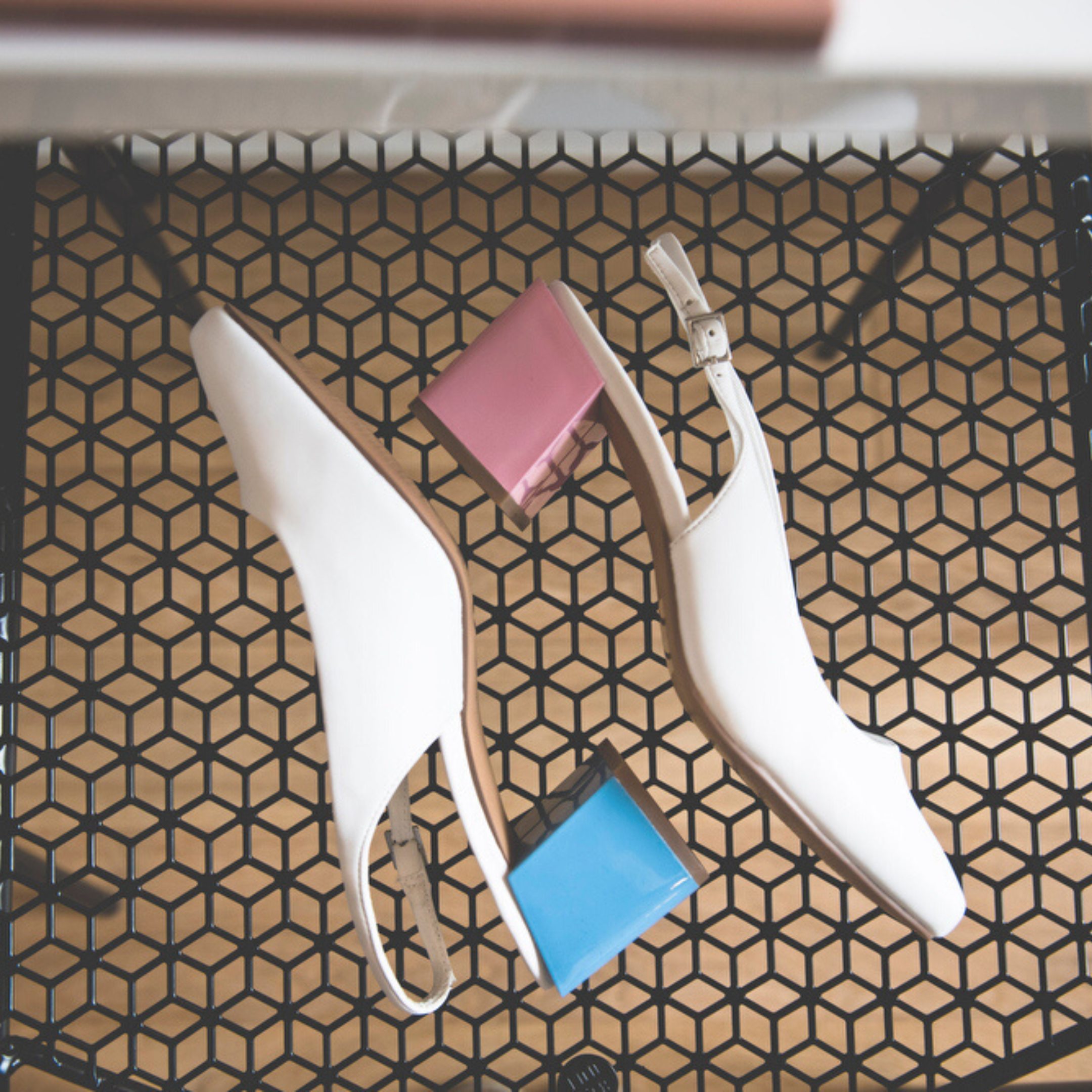 Matt got lucky and found a perfectly tailored vegan suit by revered fashion house Maison Margiela, and wore a bespoke pocket square that was made by a friend. He cut a sharp figure with his synthetic leather brogues, boutonniere, and silk-free tie.
The couple bucked tradition when it came to walking down the aisle, choosing to stroll to the altar hand-in-hand instead of the standard father-of-the-bride escort. A dear friend served as their officiant, and, says Carrie, "we didn't have a wedding party, but we had supportive friends who were there for us throughout the weekend, helping out and providing support."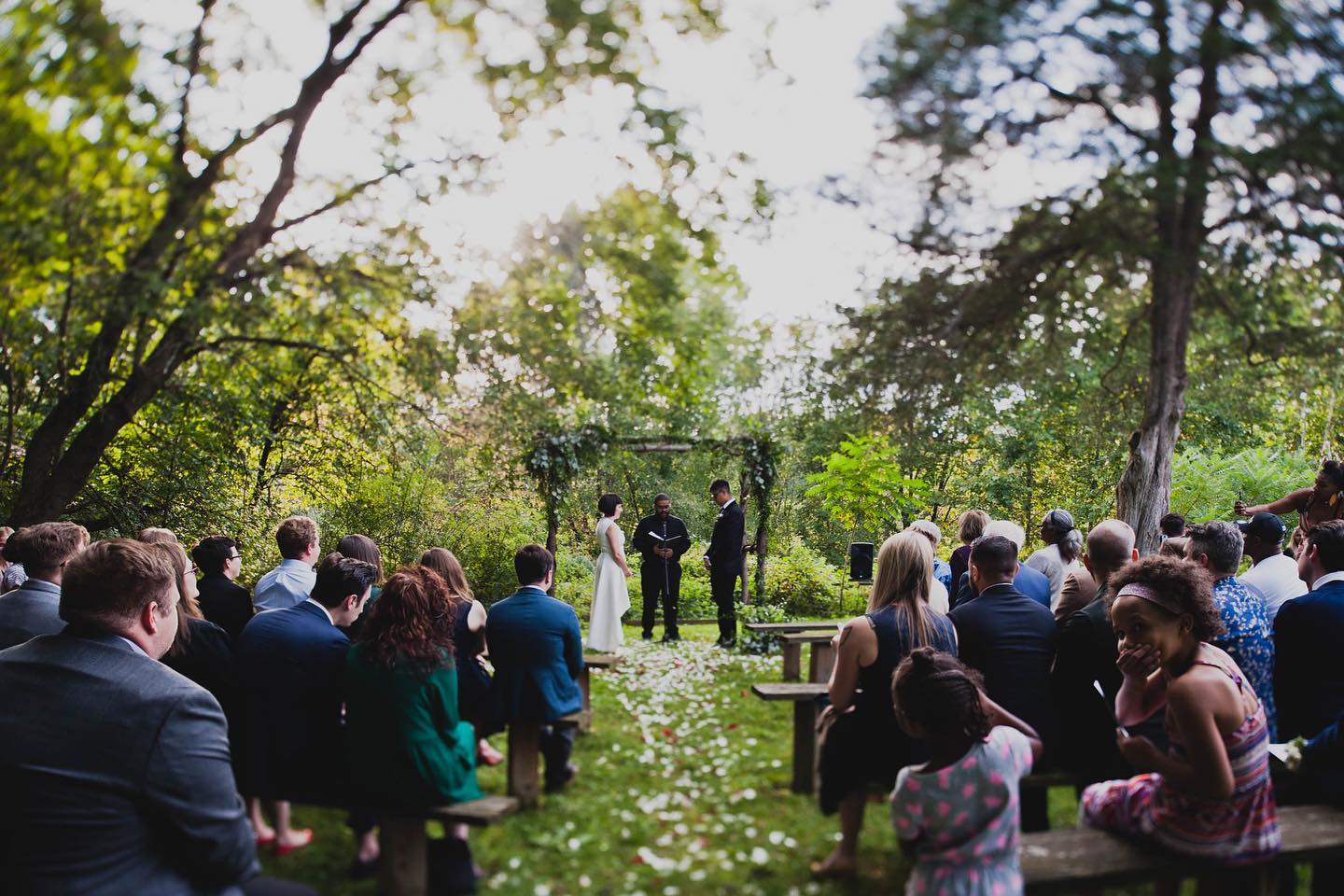 For their wedding favors, Matt and Carrie went the DIY route, making eco-friendly soy candles by hand for each of their 70 guests. A box of matches bearing the same matchstick tattoo design they both share added an extra-personal touch to the gifts.
They even put their unique spin on their wedding meal, most of which their caterers prepared outdoors on an open fire. Drinks included cocktails named in honor of the couple's two cats, whom they'd lost in recent years, and their cake was a multi-tiered confection created by vegan bakery Sweet Maresa's.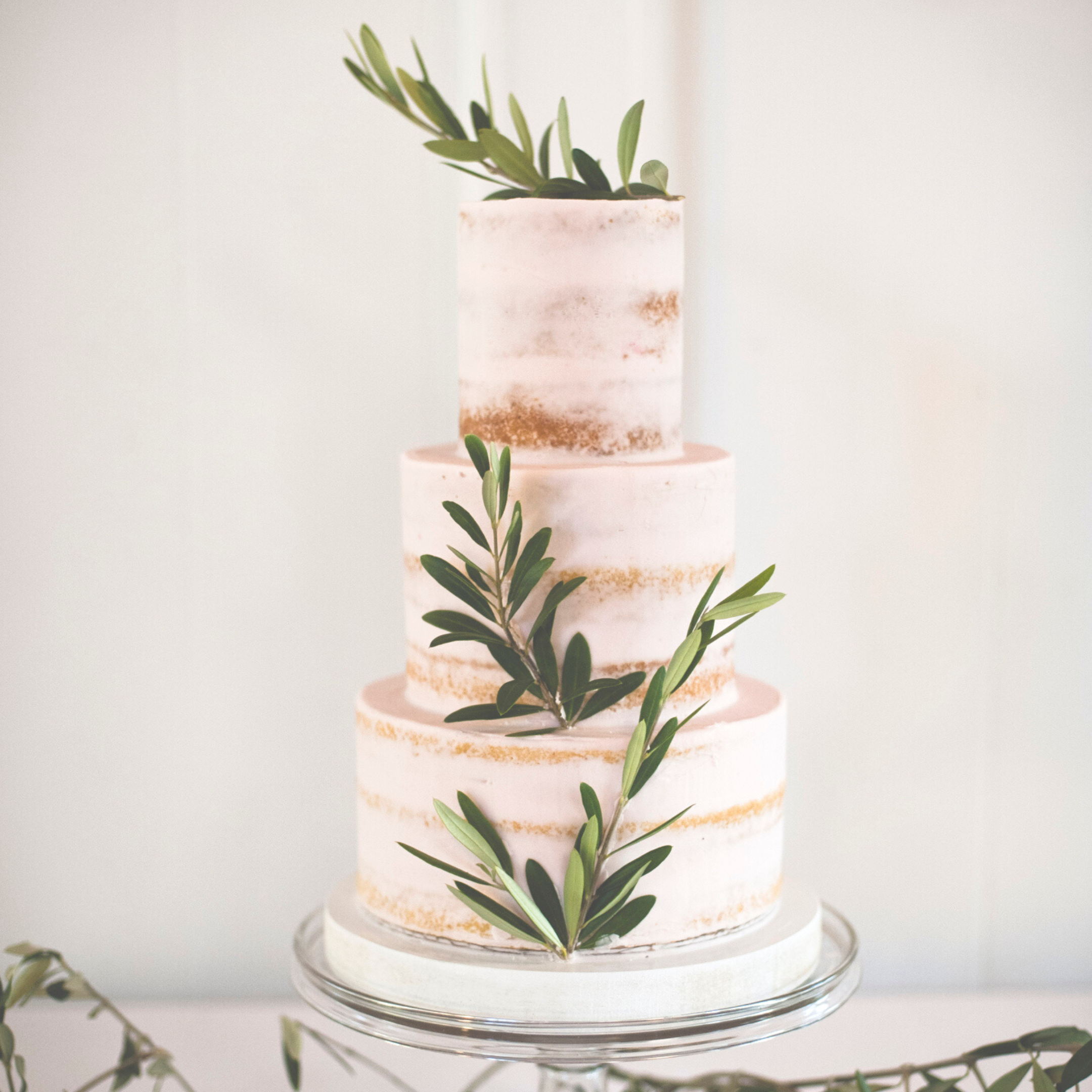 "The wedding ended with a firepit," says Carrie. "We loved that this provided a natural end to the wedding where we could relax with friends around a fire."

As far as vegan weddings go, Matt and Carrie's was pretty perfect, but if they had it to do all over again, there's one little thing they'd change. "We wish we would have filmed some of it just to have the memories on file," says Carrie.

"At the time we felt that would be going a bit overboard for us, but thinking back it would be nice to have recordings of the musicians we had there who were amazing, the speeches our friends gave, and our friends getting wild on the dance floor."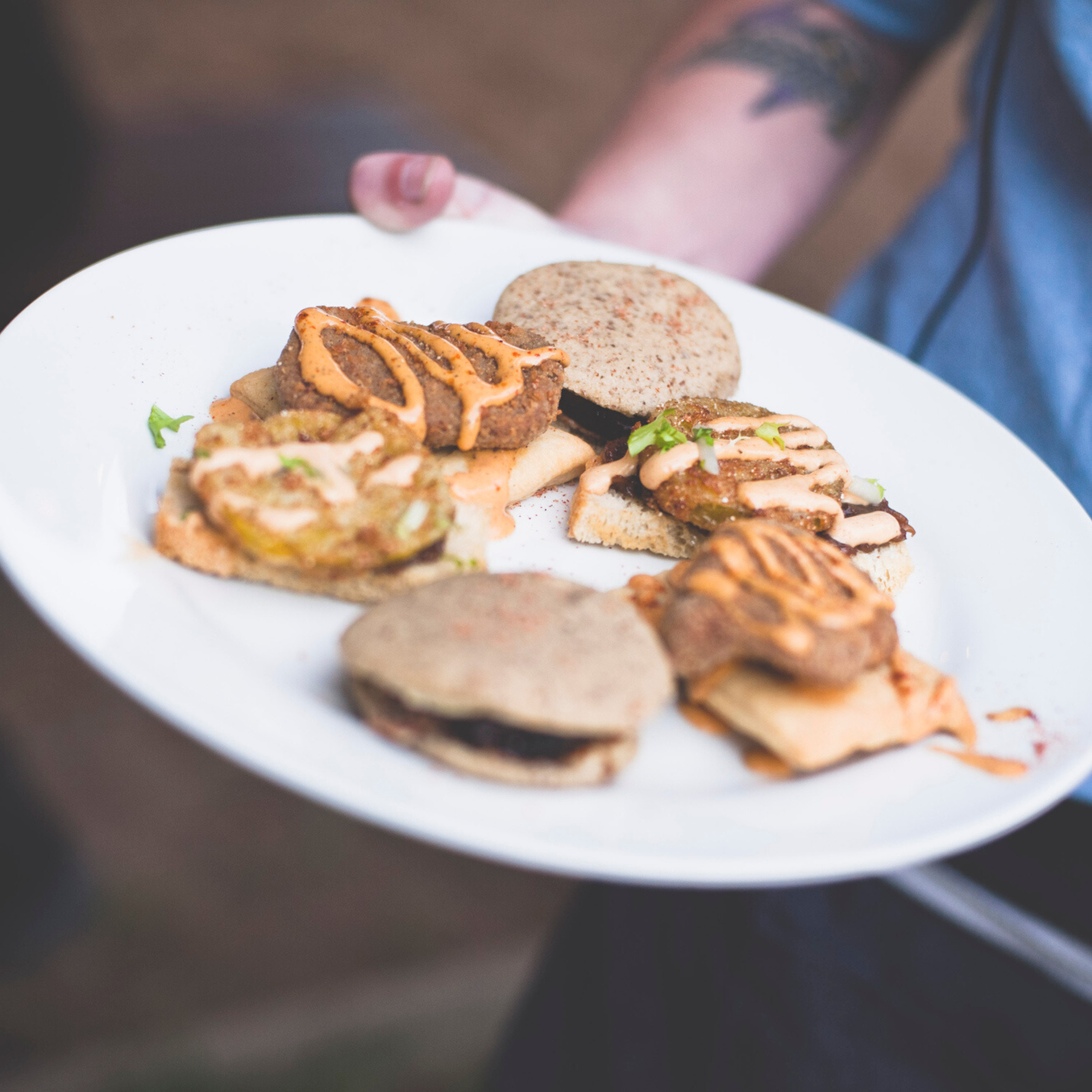 In the nearly four years they've been married, Carrie and Matt have experienced some pretty big shifts. Not only did they move from New York to Atlanta, Georgia, but they also welcomed a new family member into their lives.

"To say our lives have changed is an understatement," says Carrie. "We lived in Brooklyn through the first two years of the COVID pandemic, and had a baby during that time too. She's about to turn two!"

Bringing authenticity & flair to your vegan wedding

Want to follow Carrie and Matt's lead and create a wedding experience that reflects your personality, style, and ethics? We've got ideas!

Fun on the farm
A farm sanctuary wedding is perfect for couples who are passionate about animal rights. While Woodstock Farm Sanctuary no longer hosts private events, many others do. Check out some great sanctuary venues here.

Fabulous favors
Carrie and Matt hand crafted soy-wax candles to give to guests as wedding favors, merging function with eco-friendliness. Check out our ideas for equally interesting gifts that your guests will not only love, but also reflect your vegan values.

Sartorial savoir-faire
You don't have to go the traditional wedding attire route; today's brides and grooms illustrate their style by wearing ... whatever they want! If you're feeling vintage vibes, check out some of the wedding dress looks we're loving here.

Unique unions
A good friend served as Matt and Carrie's wedding officiant, making their I Dos extra meaningful. You can add more of yourselves to your own ceremony by weaving in a unity ritual or another "extra" experience. See how one couple did it here.

Pick your poison
Don't drink? You're not obligated to serve alcohol at your wedding, so why not choose an elixer that better represents who you are? For some couples, that's coffee; for others, it's cannabis. And yet others choose creative zero-proof cocktails.
Want more vegan weddings?
You're going to love our Great Big Vegan Wedding Idea Book!