Let's face it: we live in a visual age where immense value is placed on the images we project to the world. This modern global reality adds extra pressure to wedding couples when it comes to what, exactly, they're going to wear—and be photographed in and subsequently have those images plastered across multiple social media platforms—on their big day.

For some of us, there's zero stress involved. Deciding what to wear is actually the fun part! For others, there are the pressures, real and imagined, with thoughts as varied as "I need to lose weight" to "I don't want to wear white but my mom will freak out if I don't." When you imagine yourself on that day, what are you wearing? Are you decked out in a tux or a bespoke suit constructed in a sustainable microfiber? Or maybe you're in a fluffy princess bridal gown or a modern short dress with a matching mini veil?
The average cost of a wedding dress in 2022 was $1,800, which is not insignificant for a one-day occasion.

For brides, the vegan-friendly options have never been so multitudinous. We are not relegated to the traditional white wedding gowns of yore; we can wear pantsuits, vintage, a reworked version of your mom's dress, or even a bathing suit! (We're channeling vegan Pamela Anderson marrying Tommy Lee on the beach in Mexico.) Maybe your wedding attire Pinterest board is all over the place and you haven't quite settled on the look you're going for. Completely understandable given the seemingly endless possibilities available at our fingertips.

A study by The Knot showed that the average cost of a wedding dress in 2022 was $1,800, which is not insignificant for a one-day occasion. Granted, that's just an average; many dresses cost much, much more, while others ring in at significantly less. Where yours lands on the scale of averages depends on your style, your vision, and—most importantly—your budget. And then there are the other considerations: Is this dress eco-friendly as well as vegan? Can I get more wear out of it after the wedding day? And are there any other sustainable options?

Beyond the brand-new-dress route, there are some attractive options that include rentals, contemporary second-hand, and vintage. If these alternative possibilities appeal to you, whether for economic, ecological, or other reasons, read on to discover some enticing vegan options available to you in 2023.
Sustainable wedding dress options we love
RENTAL

There are a lot of positives to point out about rental dresses. First, you get access to designer fashions that might be out of your budget were you to buy them off the rack. Second, rental dresses align really well with eco-conscious lifestyles (even with shipping factored in). And best of all, more and more sustainable wedding rental brands are popping up. Here are some we love.
Something Borrowed
This UK-based brand was founded by a bride who saw first-hand the waste that is generated by weddings, and launched Something Borrowed to help other brides avoid adding to the waste problem. Dresses come in a variety of vegan styles, from pantsuits to sleek bias-cut gowns.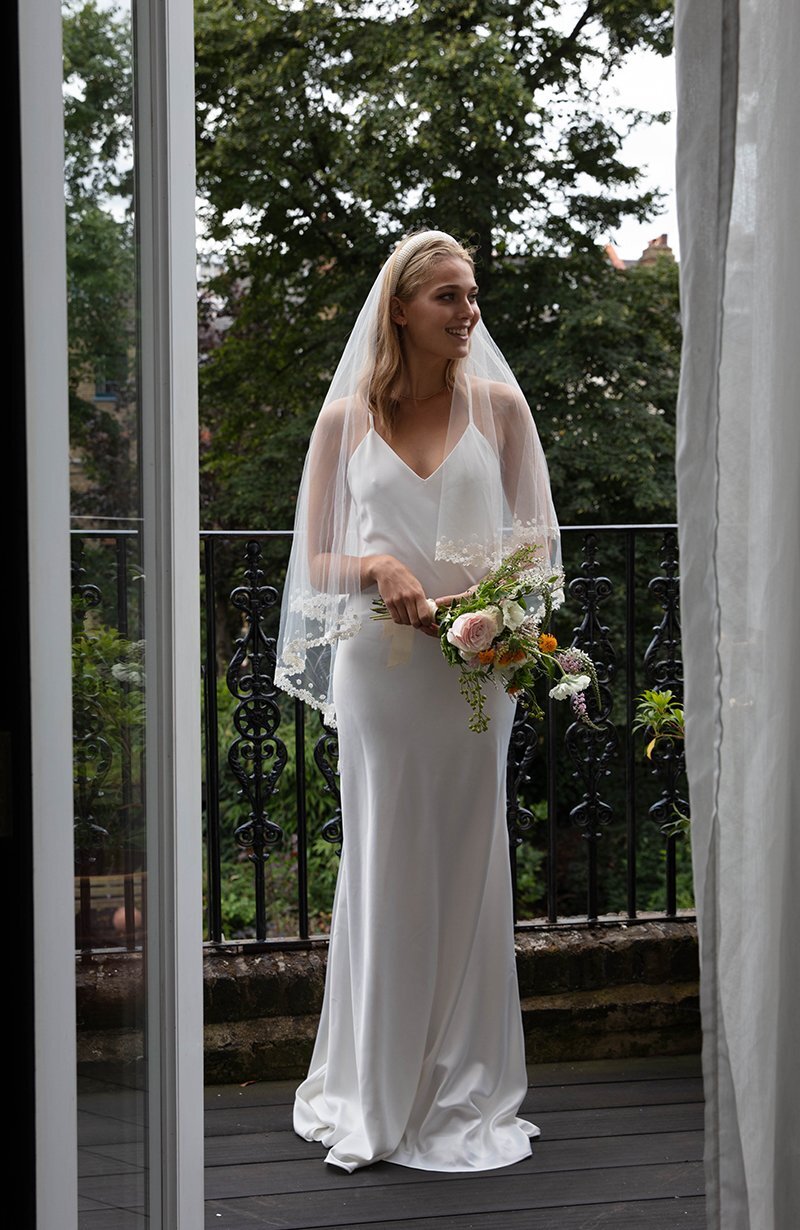 Dare & Dazzle
Slashing the wedding industry's carbon footprint is what prompted San Francisco Bay Area-based founders Hien Le and Mandy Tachiki to launch Dare & Dazzle. Brides book an IRL or virtual consult and their team helps match you with your dream dress, which you keep for a 10-day rental period. The looks are dreamy and size-inclusive, to boot.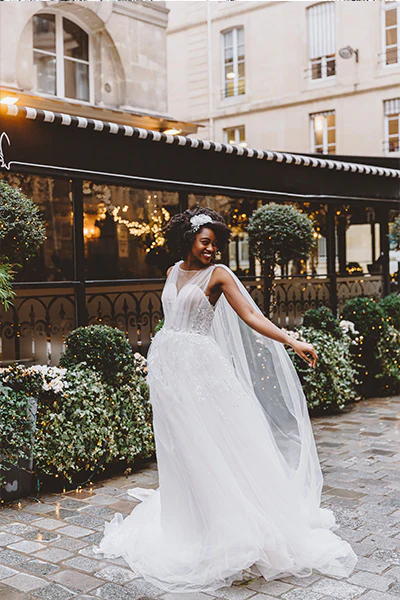 Revive Yo Soul
A small, curated treasure trove of wedding dresses are available for vegan brides at this traveling dress rental brand based in Houston, TX. And bonus: owner Katie Denton is also a photographer who does beautiful wedding portraits!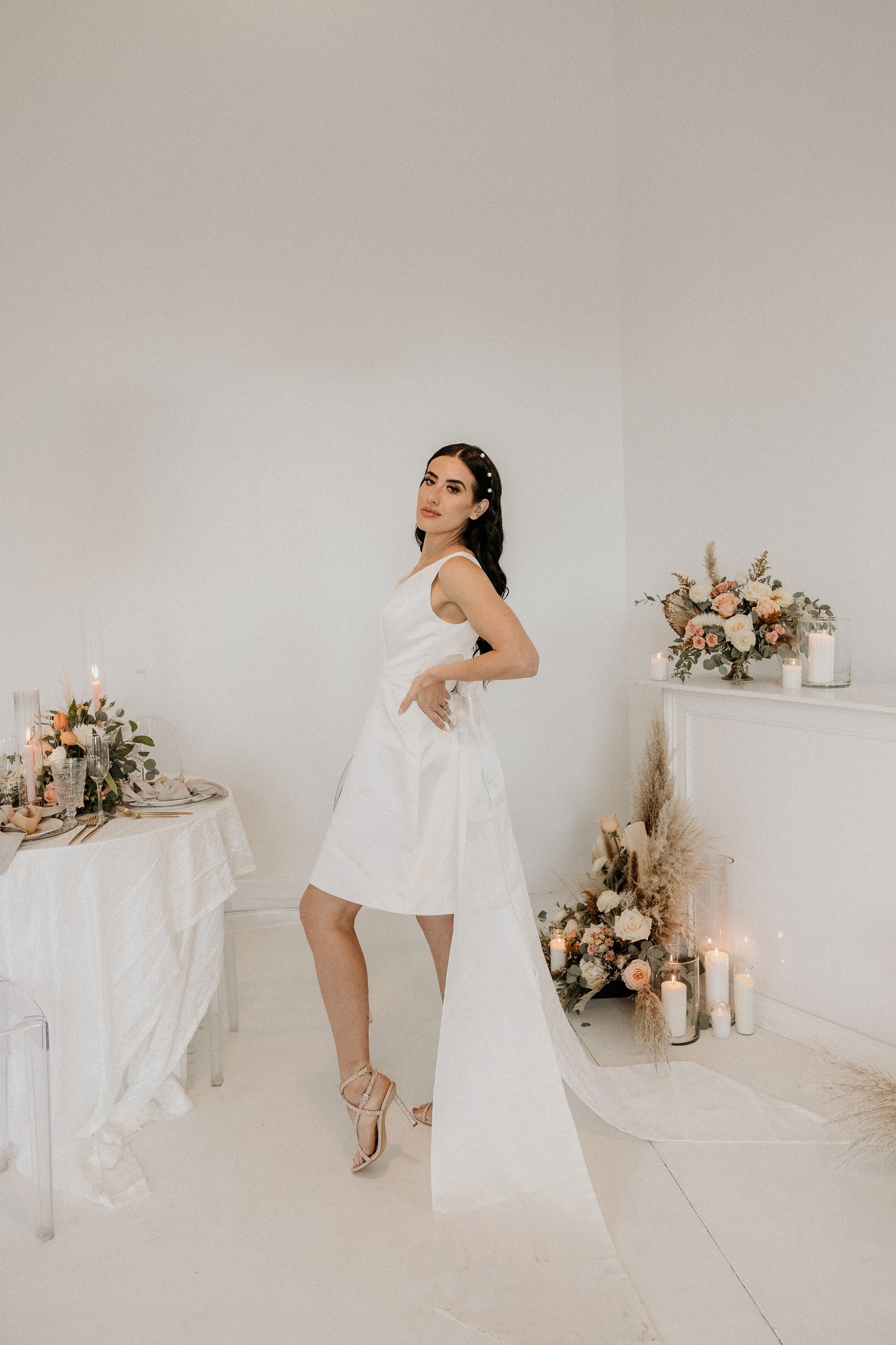 VINTAGE
Vintage dresses are not everyone's style, but for those who love something truly unique with a history (and possibly some secrets) and period detail that you won't find in a contemporary dress, vintage is the way to go. From Old Hollywood glamour to groovy '70s chic, there are amazing styles to choose from. One of them is just perfect for you!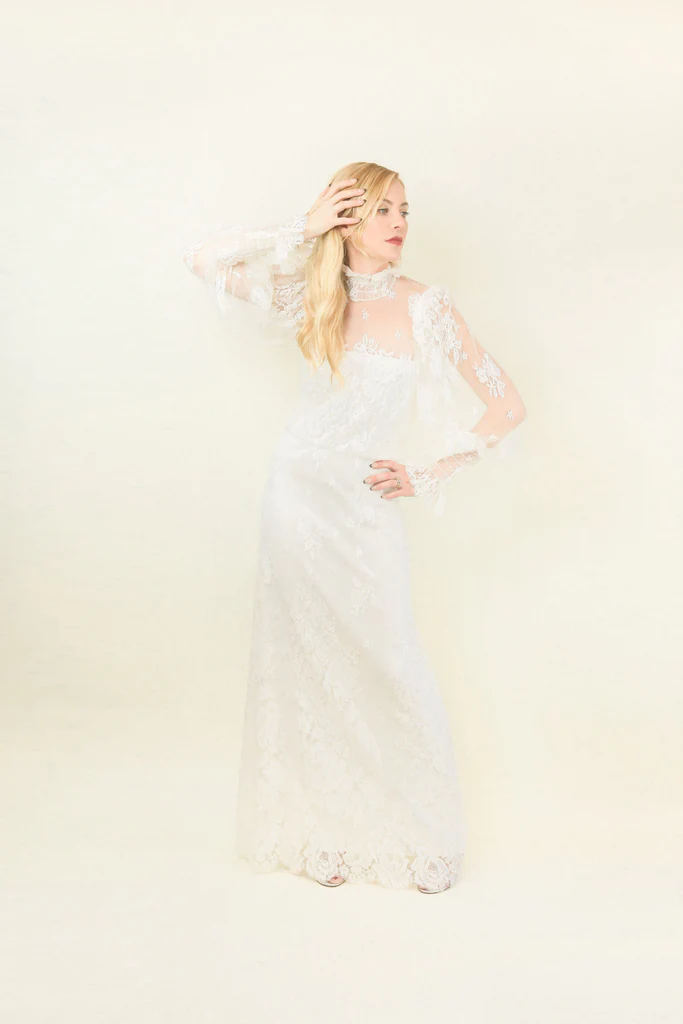 The Kit Vintage
LA-based The Kit's stunning dresses range from Edwardian lace to '90s sheath-dress simplicity, and prices are equally diverse, beginning at around $250 and climbing to 10 times that price! But if your heart's desire is a one-of-a-kind look, this is sartorial nirvana.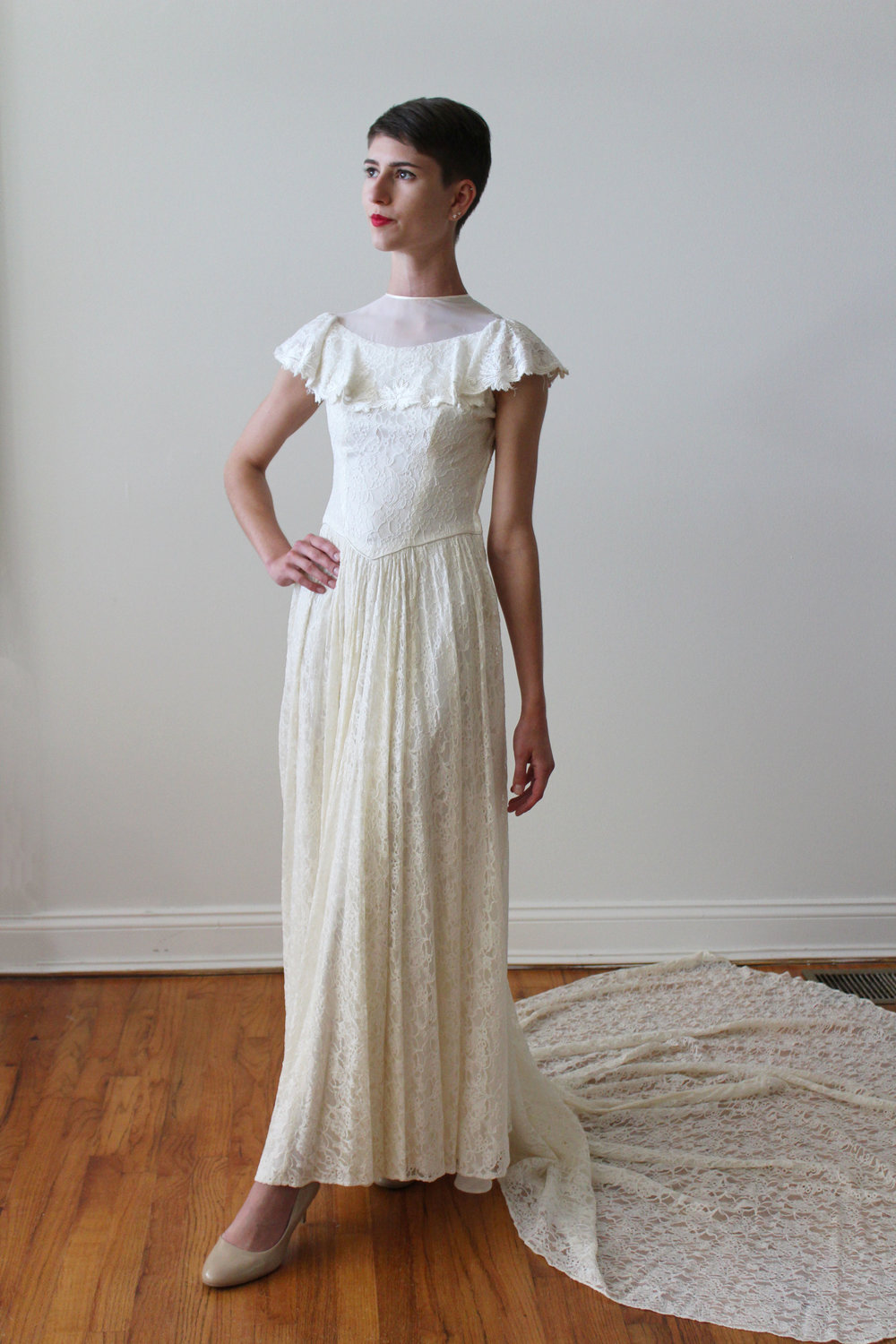 Miranda's Vintage Bridal
We loved featured vegan bride Jac's strapless wedding dress, and were excited to see the many other beautiful possibilities for ethical brides at Miranda's Vintage Bridal in Cleveland. Perusing their website is a dream! And if you're going for all-encompassing vintage vibe, they also sell vintage jewelry, hair ornaments, and classic cake toppers.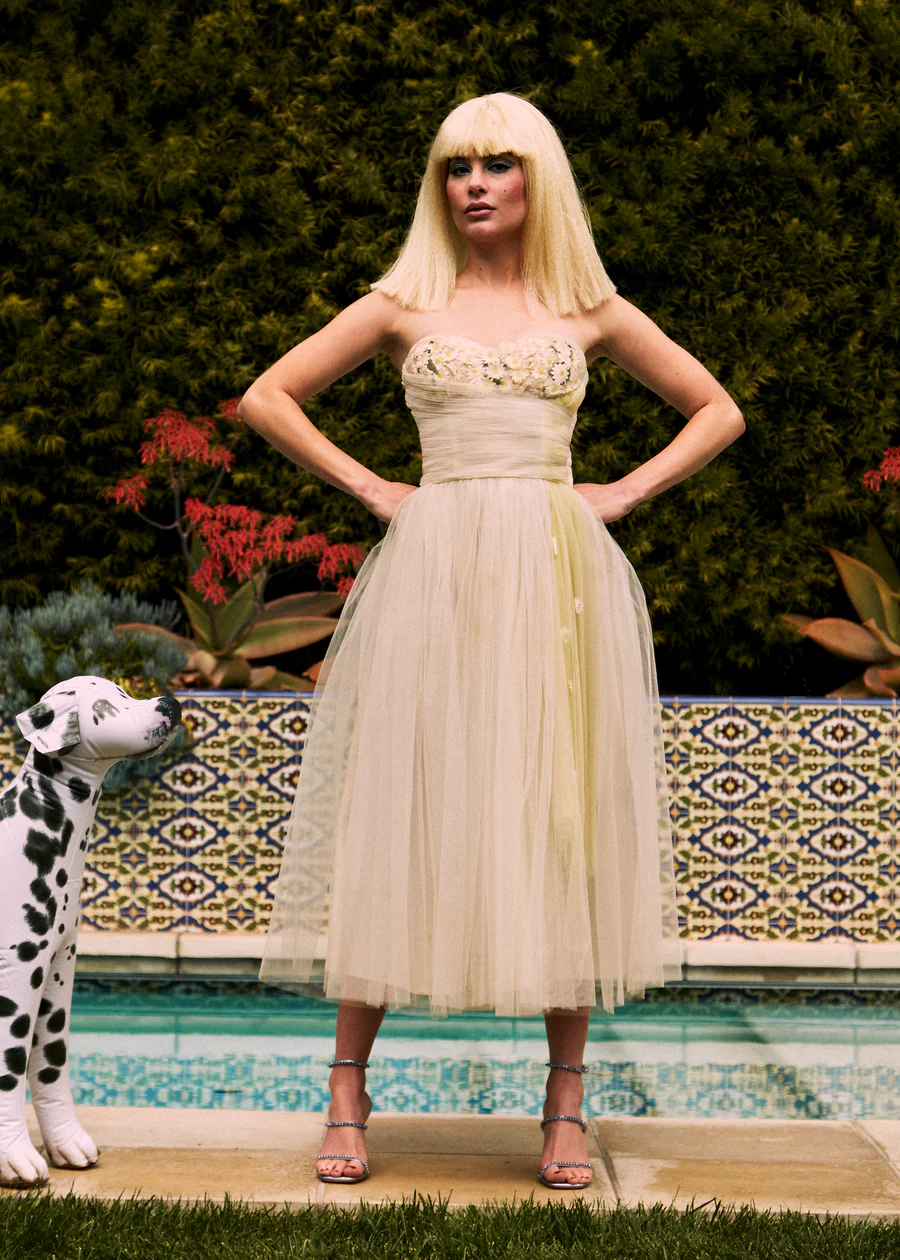 The Happy Isles
This Los Angeles showroom and boutique specializes in dazzling dresses for brides who are ready to embrace the limelight on their big day. From classic designers like Chanel and Halston to lesser-known but equally stunning labels, there's something for anyone with an eye for wedding looks from other eras. Bonus: we spotted a couple of vegan shoe options in their wedding footwear section!
CONTEMPORARY SECOND-HAND
It's a question every wedding couple in every corner of the world thinks about at some point along the getting-married process: what will we do with our wedding attire once the big day is over? Some dresses are put into storage for future generations to consider for their weddings, some are repurposed into more wearable outfits, and others end up at the local Goodwill. And these days, as more brides (and brides-to-be) discover the perks of second-hand shopping, many wedding dresses end up on digital marketplaces specializing in gently-used wedding wear. These are three of the many options out there.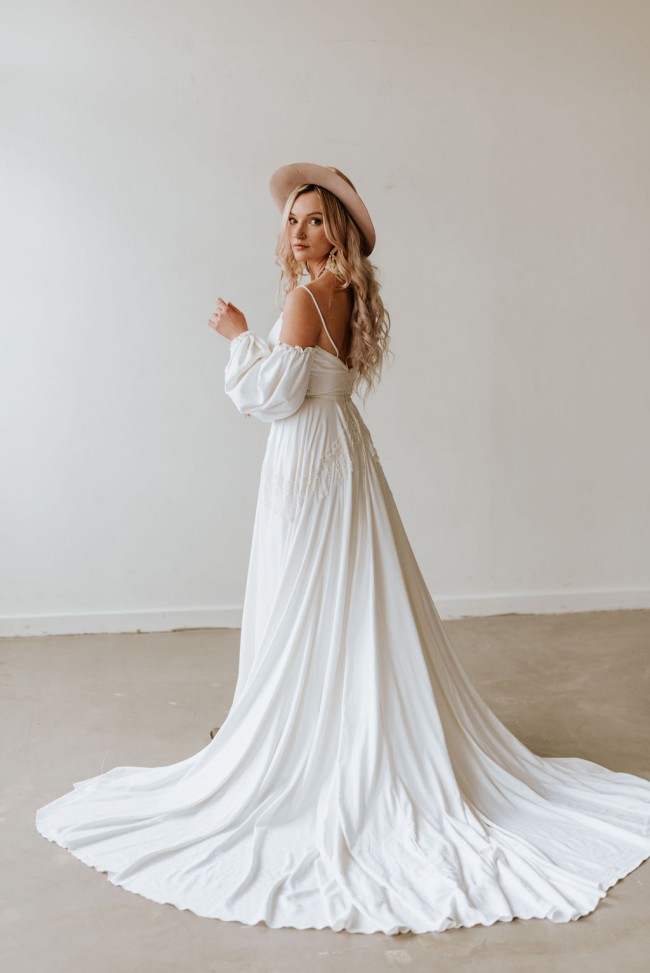 Stillwhite
Groom Bruno asked bride Ingrid what she was going to do with her wedding dress as she was stuffing it into a box under the bed. That sparked the idea for a used wedding dress marketplace for brides around the world. Many outfits were worn just once or not at all (back-up outfits are a thing), and the fabric filter makes it easy to find all the vegan dresses.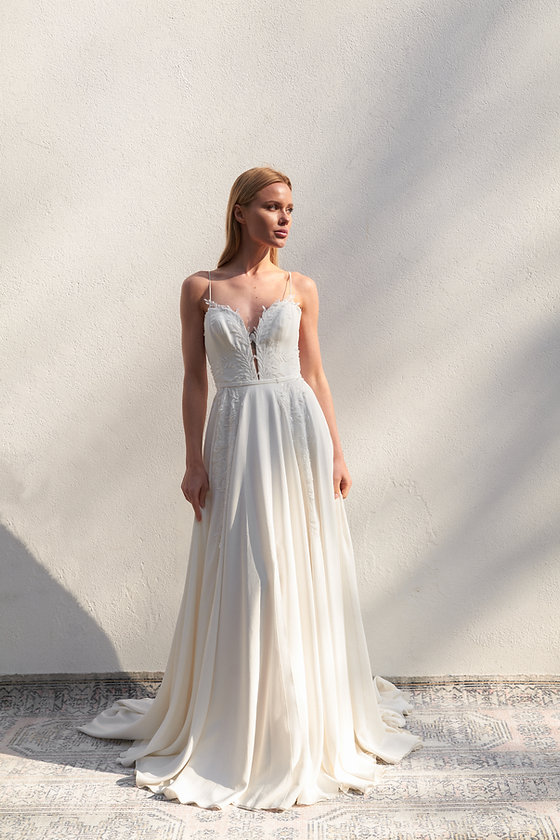 Brides Do Good
This London-based bridalwear brand that does things a little differently. Their MO is to take donated bridal gowns (from both brides and samples from fashion houses) and resell them, with a portion of the profits benefitting organizations that help social causes including ending child marriage and distributing free menstrual pads to women and girls in developing countries.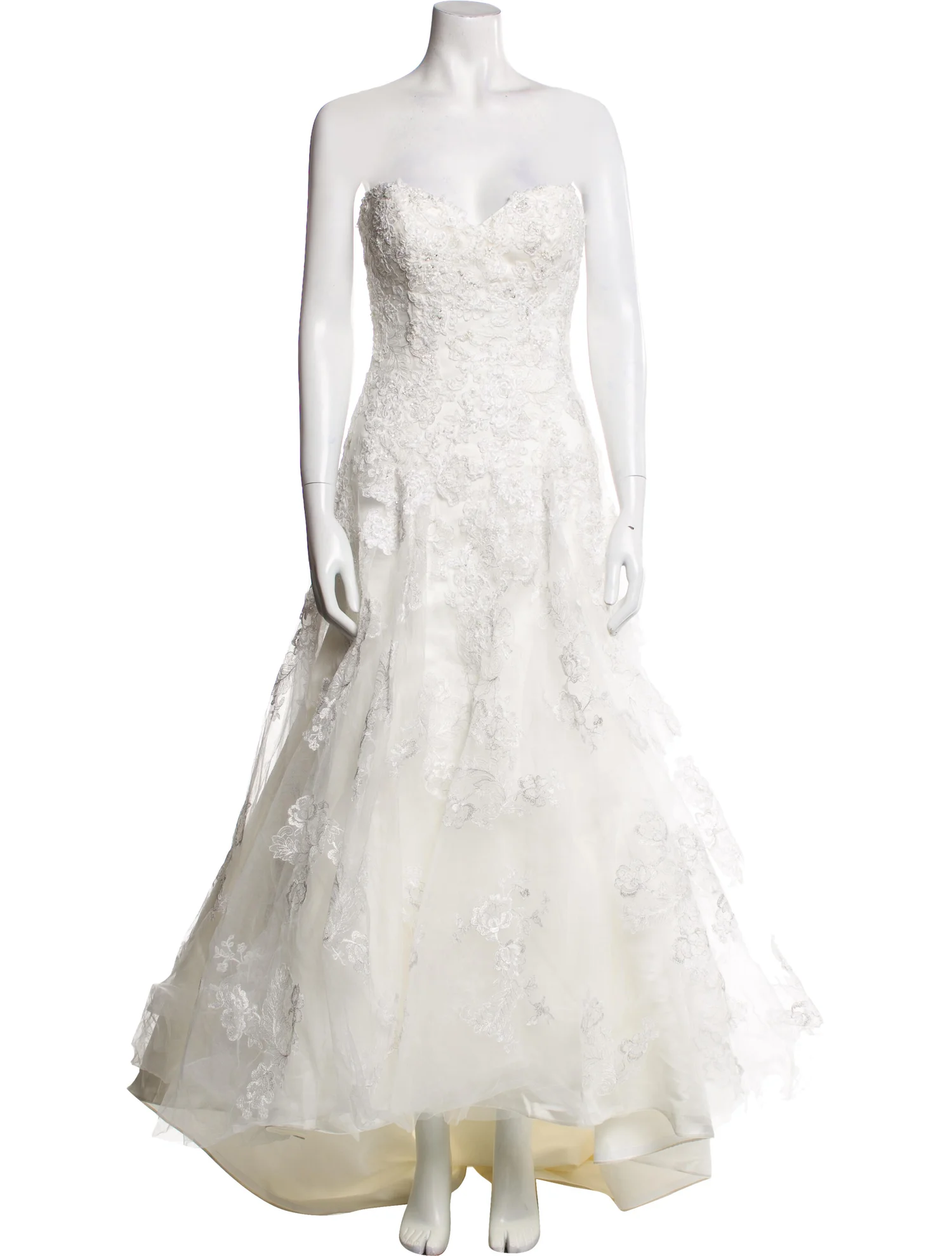 The Real Real
For more than a decade, The Real Real has been a revered marketplace for authenticated designer clothing of all styles, including wedding dresses (and suits for men). Their mission is to promote sustainability by extending the life of luxury garments. If you dream of a vegan designer gown, this is one spot to find them at reasonable prices.
Want more vegan weddings?
You're going to love our Great Big Vegan Wedding Idea Book!