You've heard of Best Man and Flower Girl, but what about a Dog of Honor? Meet Lulu the VIP (Very Important Pup) whose presence at her parents' dreamy wedding in France's Loire Valley added an extra je ne sais quoi to the festivities.

When Emily Brobeck and Pierre Wooldridge began planning their wedding, they knew their Dachshund Lulu would play a part in the day's event. "There was no way we could celebrate such an important occasion without her there," says Emily, who rescued Lulu as a puppy and considers her their "first baby."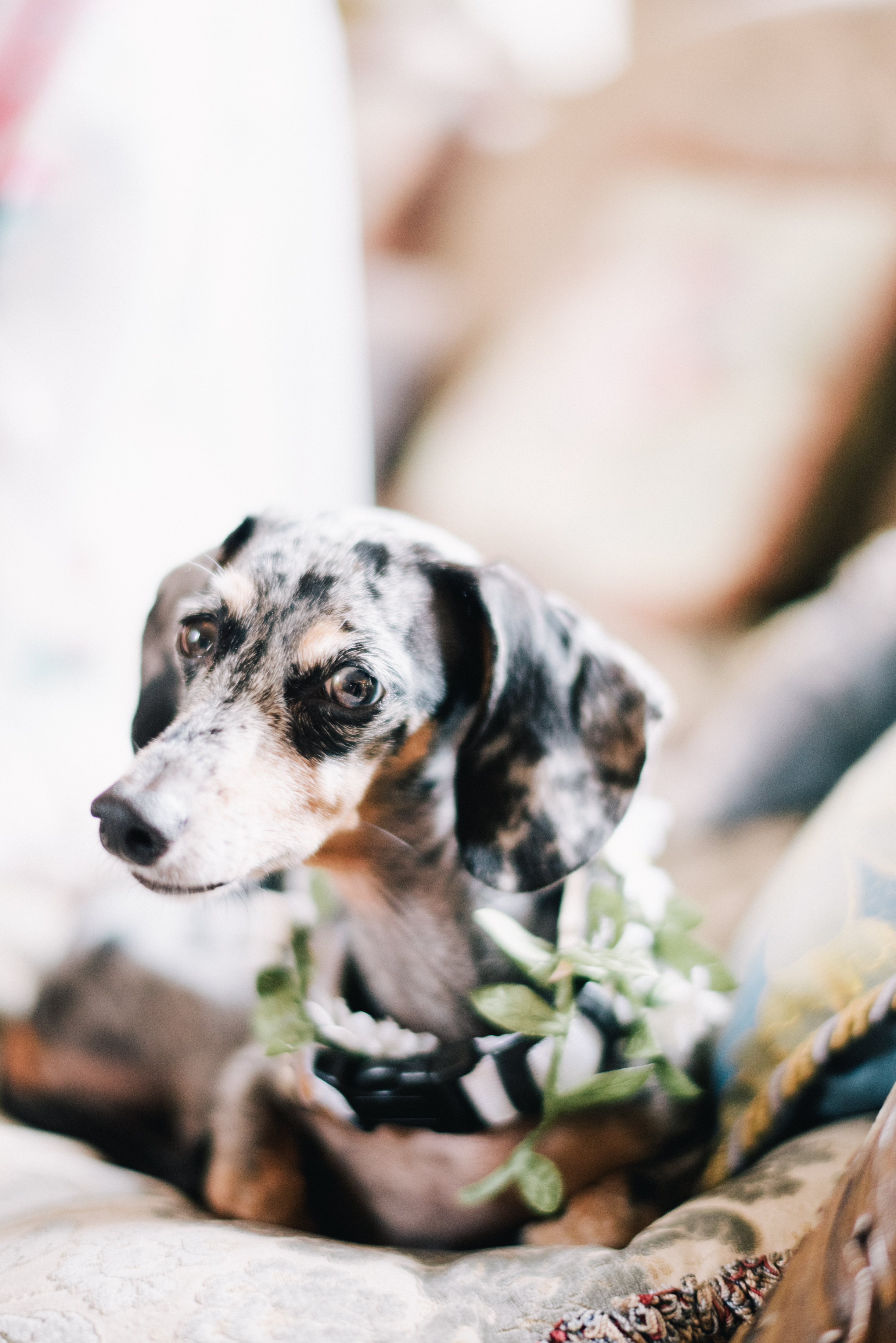 Lulu the Dachshund played a significant role in Emily and Pierre's French wedding. // Photo by Ben Yew Photography
The wedding venue, where the couple and their guests stayed throughout the wedding week, couldn't have been more perfect for a pooch either: a chateau in dog-friendly France, with epic lawns and gardens ideal for running and romping.

"She had the best week of her life in France too, running in and out of all the rooms in the chateau and exploring the grounds as she pleased," remembers Emily.
Kids and dogs bring a special energy to wedding celebrations. // Photo by Ben Yew Photography
A dog-inclusive wedding isn't just great for the canine guest of honor, however; having an animal on hand for cuddles or a game of fetch can help ease the minor stresses that are inevitable at any big life event. They can also play a more functional role, like Lulu, who, as Dog of Honor, welcomed guests as they arrived and escorted the bride's young nephew as he fulfilled his ring-bearer duties.

"My sister, a bridesmaid, held her during the ceremony and Lulu barked along while our guests clapped and cheered after our kiss," says Emily. "During cocktail hour and the reception, Lulu mingled with guests by jumping on their laps and accepting cuddles. She fulfilled her role perfectly!"

If you're a dog parent who wants to integrate your four-footed family member(s) into your wedding, the simplest way is to bring Fifi or Fido along for the festivities, whether to accompany the bride or groom down the aisle, act as ring bearer, or serve as Best Beast or another honorary title. However, symbolic gestures are equally compelling possibilities that don't require your beloved companions to leave home.
Try these tips from our wedding couple to make your wedding canine-inclusive, too:
Idea #1: Doggy Donations
In lieu of gifts, request that donations be made to your favorite animal charity in your companion animal's name.
Idea #2: Canine Iconography
Recreate your companion animal's likeness as a graphic to decorate placecards or wedding invites.

Idea #3: Top Dog
Include your pooch in your wedding topper to illustrate the merging of your entire family.

Idea #4: Tasty Treat
Give beautifully wrapped vegan dog biscuits as wedding swag for the dog people in attendance.

Idea #5: Puppy Potion
Name a signature wedding cocktail after your canine companion to serve at your reception.
Want more vegan weddings?
You're going to love our Great Big Vegan Wedding Idea Book!