Cupid's arrow guided animal lovers Hannah Hagler and Jesse Weseloh to each other while the two college students were at a charity fundraising event. "I saw Jesse from across the room and knew I had to get to know him," says Hannah. Magnets to one another, the two spent all night talking, and have been inseparable since. Over a decade (and nearly two dozen foster dogs) later, it was their moment to get married. "We knew we wanted to take that next step and be a family," says Hannah.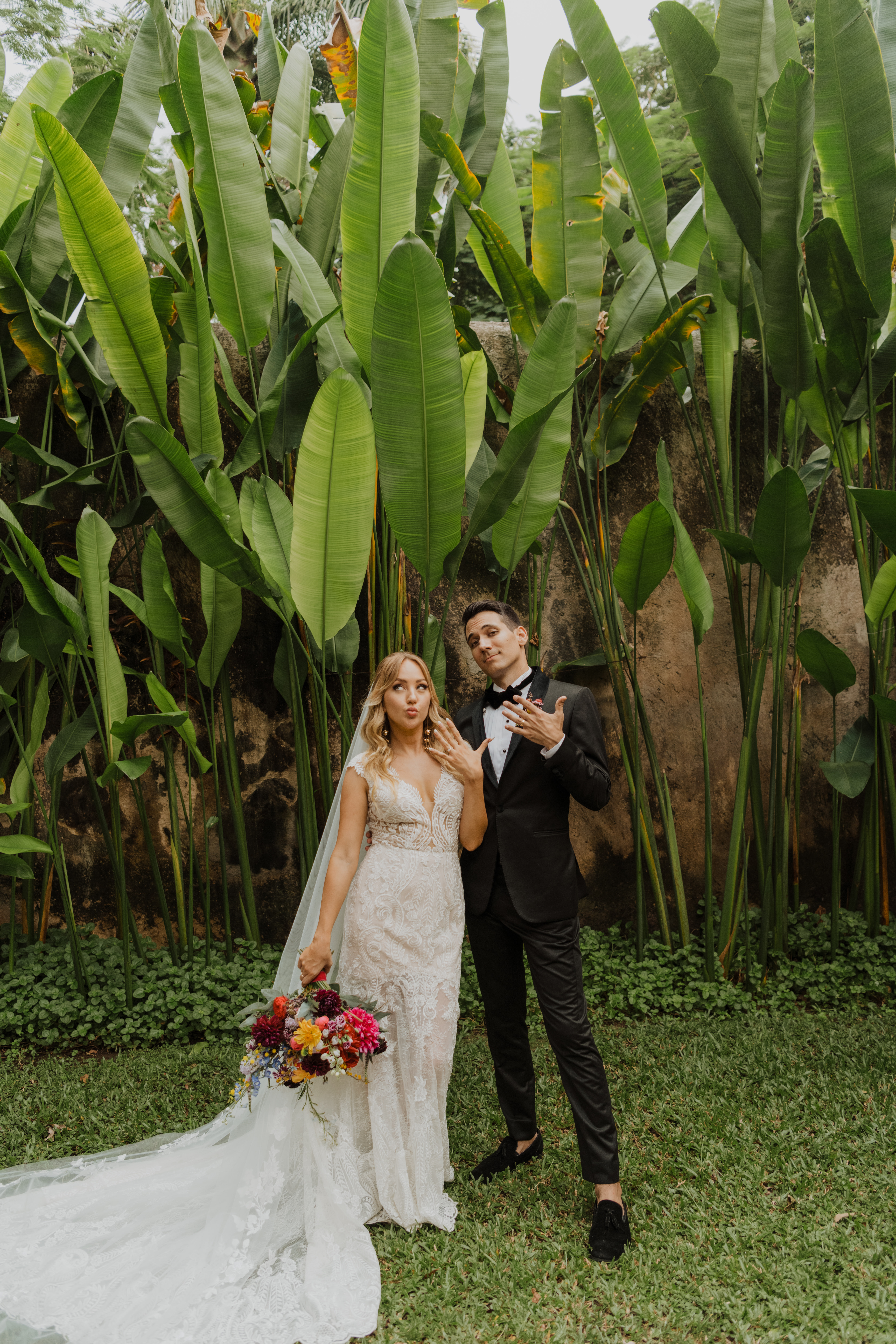 The love story
Jesse surprised Hannah with a proposal while they were in Arkansas, visiting the bride-to-be's grandfather. "He's my favorite person on the planet," she says. Jesse popped the question at The Old Mill, in North Little Rock's lush T.R. Pugh Memorial Park—a grand recreation of a 19th-century mill featured in the opening scenes of the big-screen classic Gone With the Wind.
Vegan influencer Hannah took to Instagram in search of the ultimate spot for their dreamy destination wedding, zeroing in on the colorful city of Mérida, Mexico to celebrate their longtime love. The pair kicked off their three-day romantic fête with a welcome party on the roof of the Rosas y Xocolate Boutique Hotel and Spa, where they gathered with friends and family as a rainbow appeared in the sky. Lounging with their guests in the tropical night air, two friends surprised the soon-to-be-wed couple by joining the house band on stage and serenading the bride and groom with songs.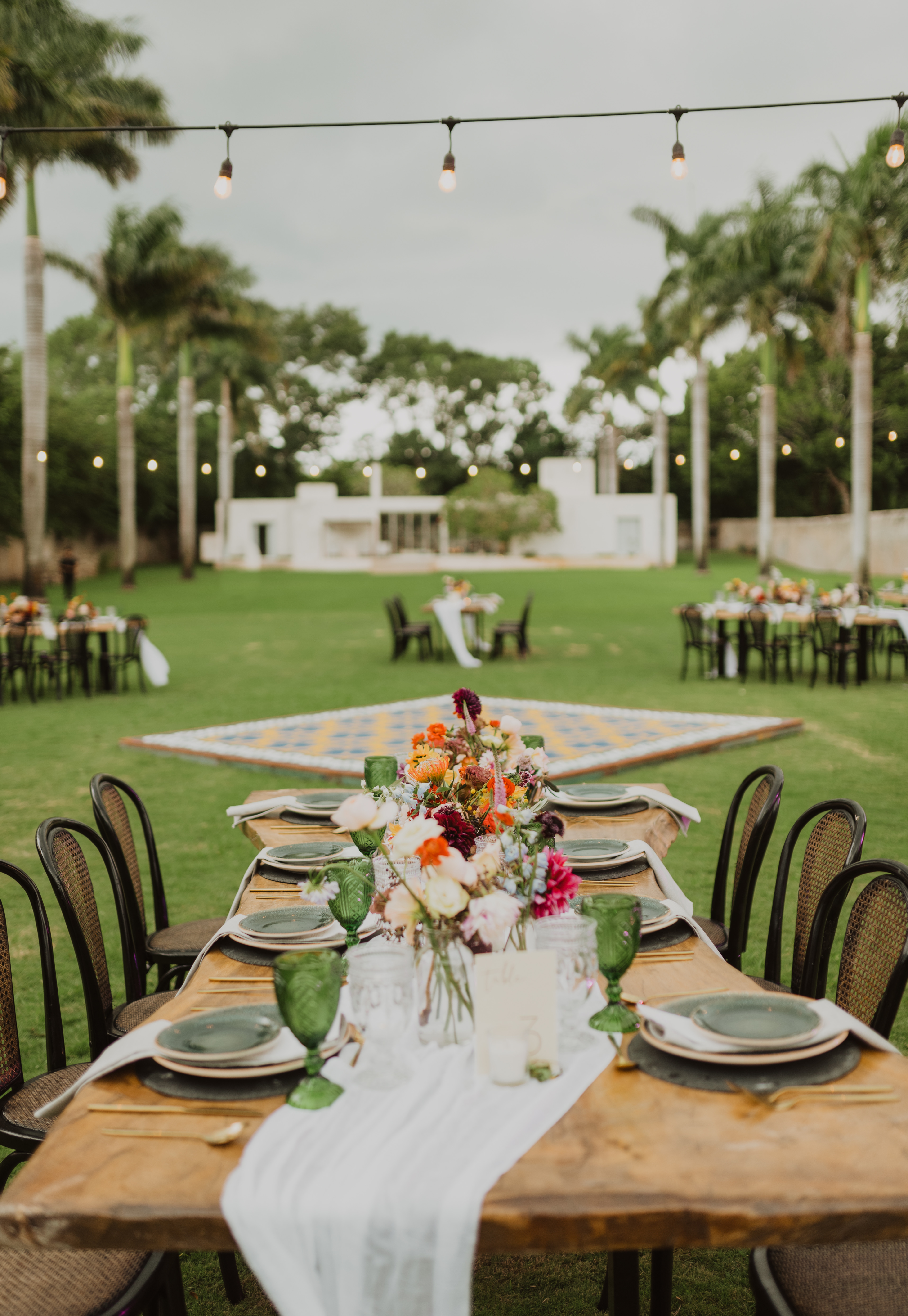 The intimate weekend celebration embraced the natural beauty, sounds, and flavors of Mexico, with local flowers in vibrant jewel tones, live mariachi music, and an after-party featuring a taco truck. When the forecast predicted precipitation during the wedding's outdoor ceremony, Hannah took a tip from the vegan-led makeup team and, following Mexican tradition, stuck knives in the ground to protect the matrimonial moment.
Hannah's rain ritual worked, and the wet weather held off until the cocktail hour, when guests were safely shielded from the sudden storm beneath a canopy. Minutes later, the skies cleared and the party continued into the night, with a creatively crafted vegan dinner and dancing.
Translation app iTranslate helped the bride and groom navigate language barriers during their Mexico wedding celebration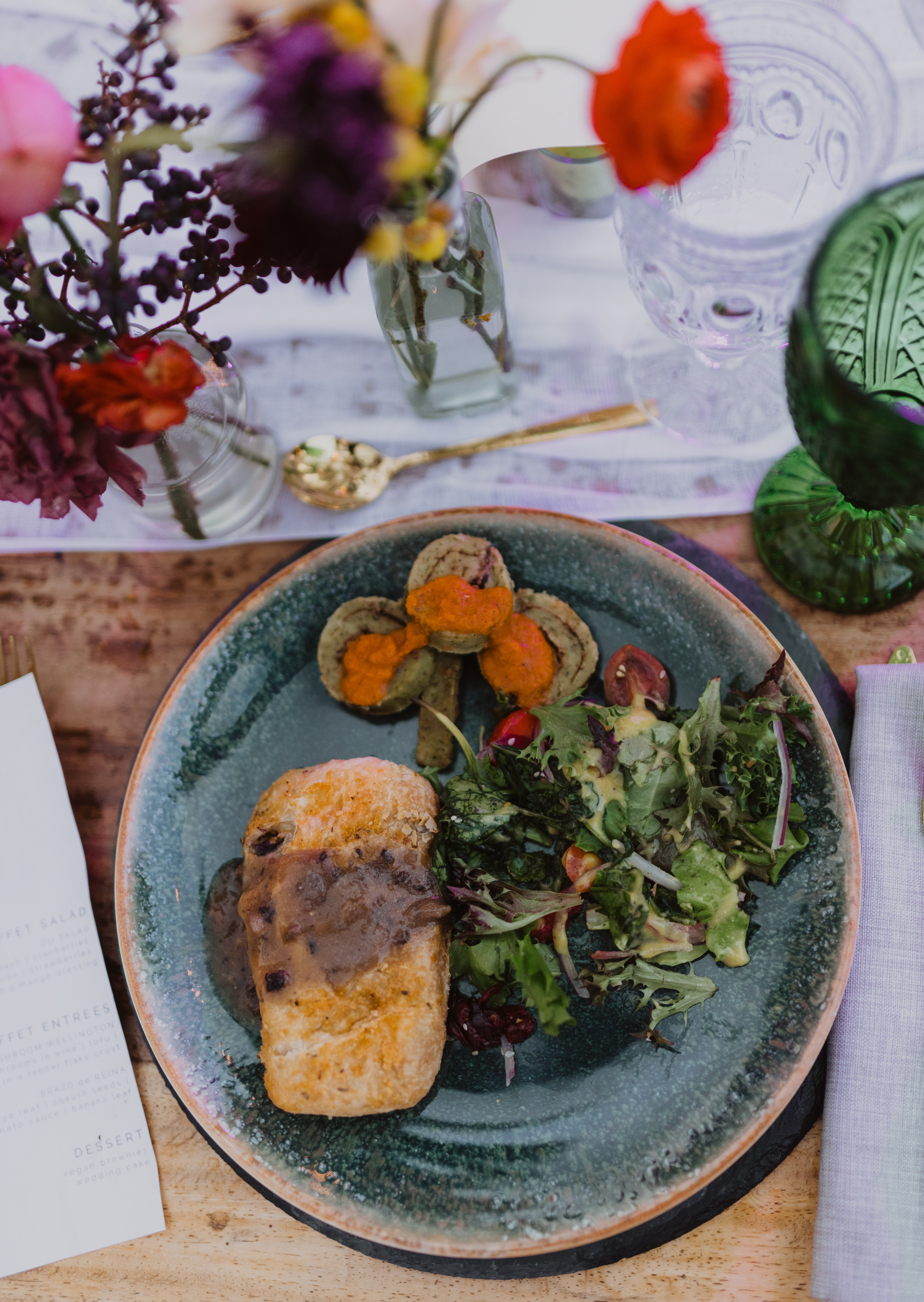 The newlyweds followed their Mérida marriage with a trip to Playa Del Carmen before spending a week in Mexico City. There they indulged in the capital's fantastic vegan culinary offerings, visiting restaurants including Por Siempre Vegana Taqueria, Plantasia, and Fat Vegan. "The vegan food there is insane," says Hannah. "It is some of the best vegan food I've ever had in my entire life."
The Big Day
The décor
All of the wedding's decorations reflected the natural beauty of Mexico and Hannah's passion for color. Floral arrangements were composed of local blooms in stunning jewel tones. The music Jesse walked down the aisle to the sweet sounds of "Always" by Frank Sinatra, while the bride entered to an instrumental rendition of "Stand by Me" by Vesislava.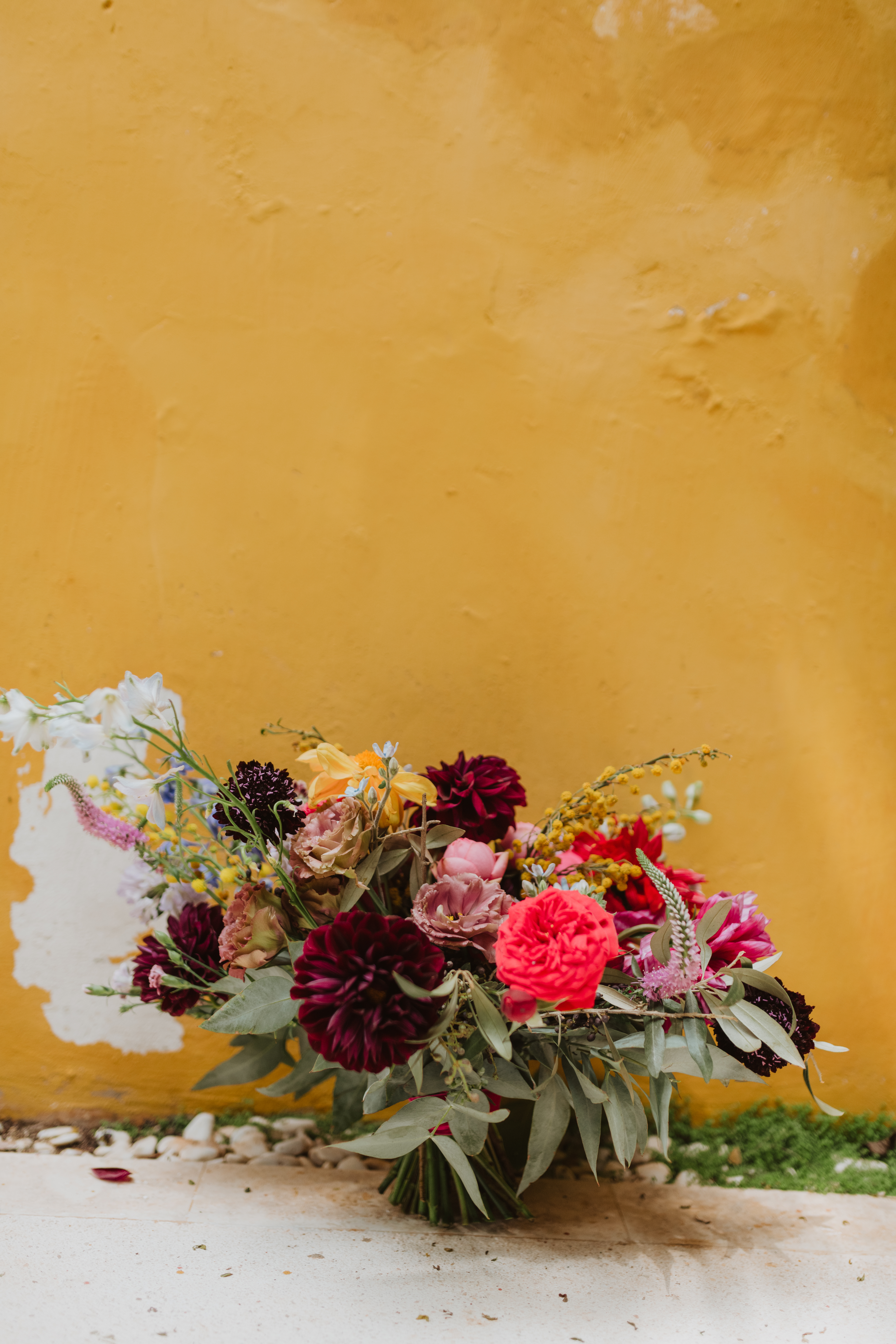 The food
The elegant all-plants menu was crafted and served by local restaurant Avocado Vegetariano, which also catered an after-party taco truck complete with vegan carne asada, al pastor, and veggie tacos the next day. Dishes included:
Mushrooms with guajillo chili oil and garlic dressing
Grilled eggplant, tomato, and tofu skewers with pesto
Kalamata olive pâté with fresh breadsticks
Salad with kale, spinach, cranberries, avocado, strawberries, in a mango dressing
Mushroom Wellington
Yucatan tamal with chaya leaf, squash seeds, tomato sauce, and banana leaf
Sweet apples with wine and homemade peanut butter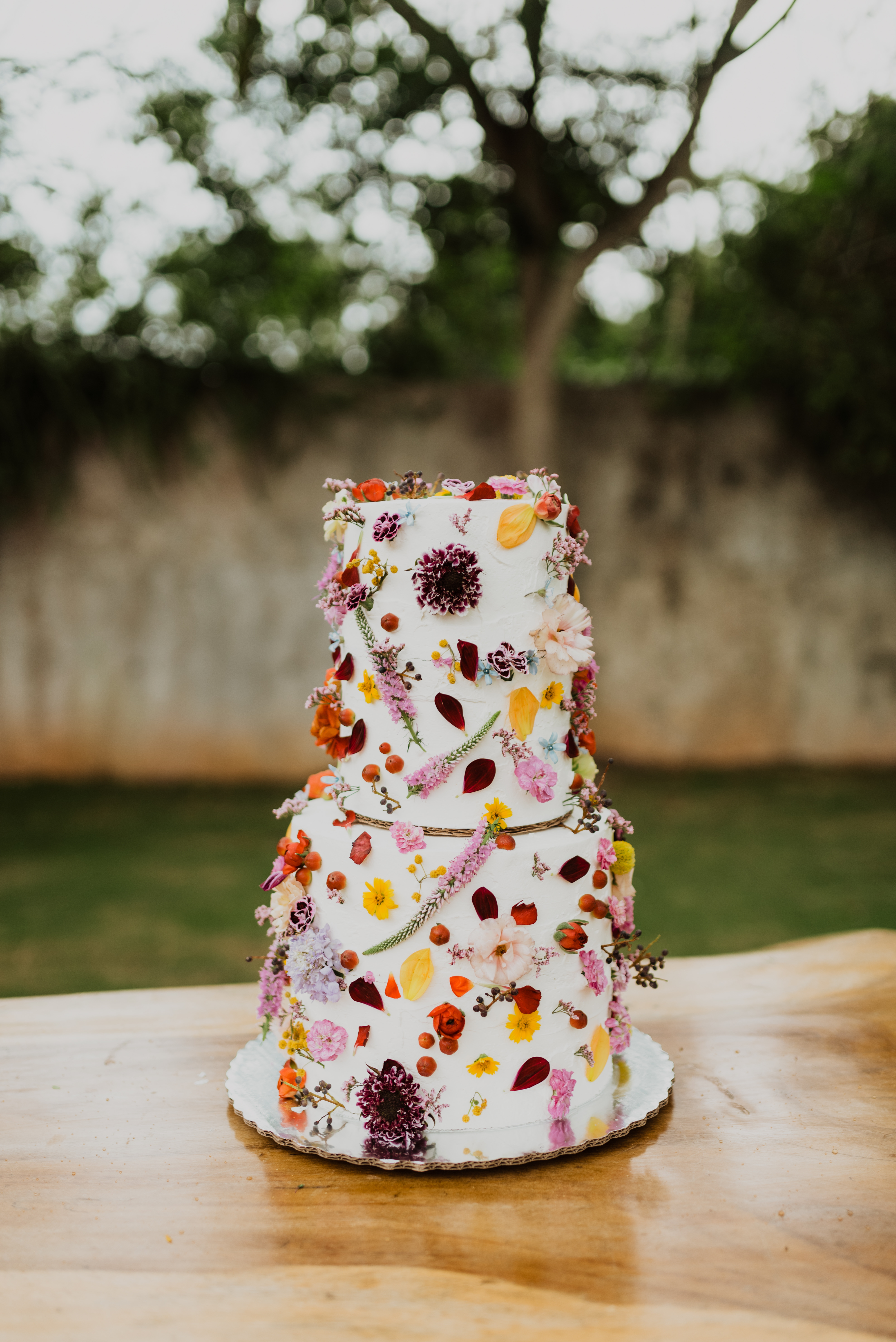 What they wore
For the ceremony, Hannah wore an airy, sleeveless silkfree gown by Tara Lauren, with custom-designed heels from celebrated vegan designer MINK shoes, while Jesse dressed in a vegan suit by Hangrr. For the reception, the bride emerged in a flirty dress and striking off-the-shoulder cape by Karen Willis Holmes, with vegan gold platform shoes by AERA.
And the personal touch
Though the couple's two beloved canine companions—Zoey and Archie—stayed at home, Hannah and Jesse brought them to the wedding in spirit by naming their signature drinks after them.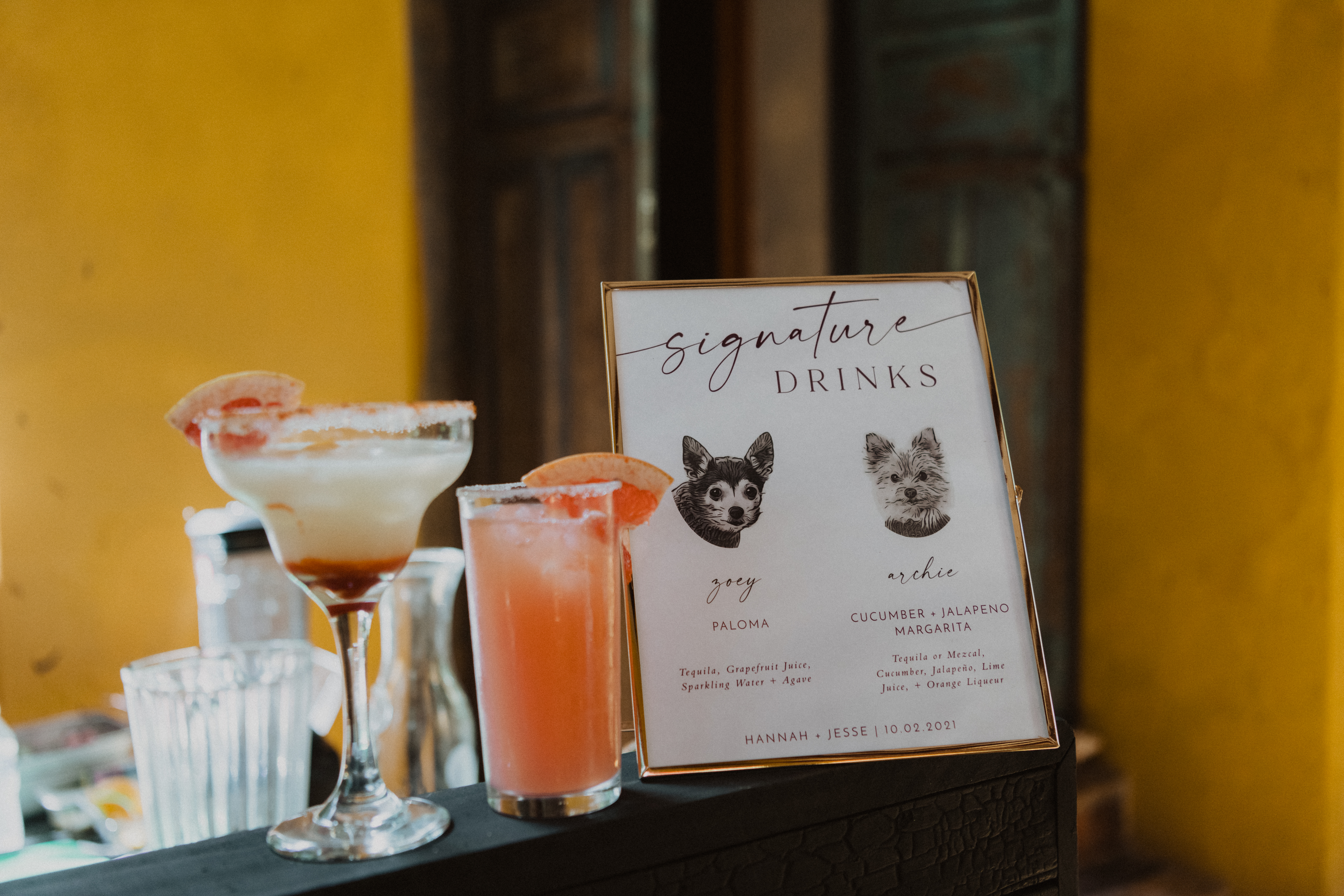 Tips for Maximizing Social Media for Planning Your Vegan Wedding
Hannah and Jesse used a variety of different social tools to help them plan the vegan wedding of your dreams. These might help you, too, as you plan your big day.
Instagram
Follow hashtags for not just #veganweddings, but for every component of your wedding, from #engagementrings to #honeymoonideas and everything in between. Your feed will be flooded with #weddinginspo to get the planning juices flowing!
Pinterest
Brides and grooms love this visual platform for creating wedding-idea scrapbooks and moodboards to curate every detail of their weddings. Once you get pinning, a clever algorithm will start intuiting your desires and suggesting ideas. So helpful!

TikTok
This wildly popular video-sharing app can help you nail your first-dance routine, give you ideas for how to liven up your wedding photography and video, and give you inspiration for outside-the-box reception ideas.
Want more vegan weddings?
You're going to love our Great Big Vegan Wedding Idea Book!