Sweet Hart Kitchen holds a special place in the hearts of Pat Murphy and Alexandra Courts, and not just because Alexandra is the co-owner of this vegan, gluten-free, and no-refined-sugar sweet spot in Toronto's Kensington Market neighborhood. It's also the place where Pat—who first met his fiancée when he was a customer at the previous bakery she worked for—proposed to his bride-to-be. (Spoiler alert: she said yes!)
The pressure was on, then, to have an epic wedding cake for their reception at the woodsy Kortright Centre for Conservation just outside of Toronto, because what baker who creates extraordinary cakes for a living wouldn't want the same for her own nuptial celebration? Alexandra didn't do the honors herself, though, but called in another expert to bring their cake dreams to life.

Chef Shastyna Coderre, the founder, owner, and chief cake designer at The Plump Strawberry, took her Official Wedding Cake Baker role seriously. The self-taught baking maestra, who has been honing her craft since she was just 13, created a confection that would make even ardent "I don't do sweets" people swoon.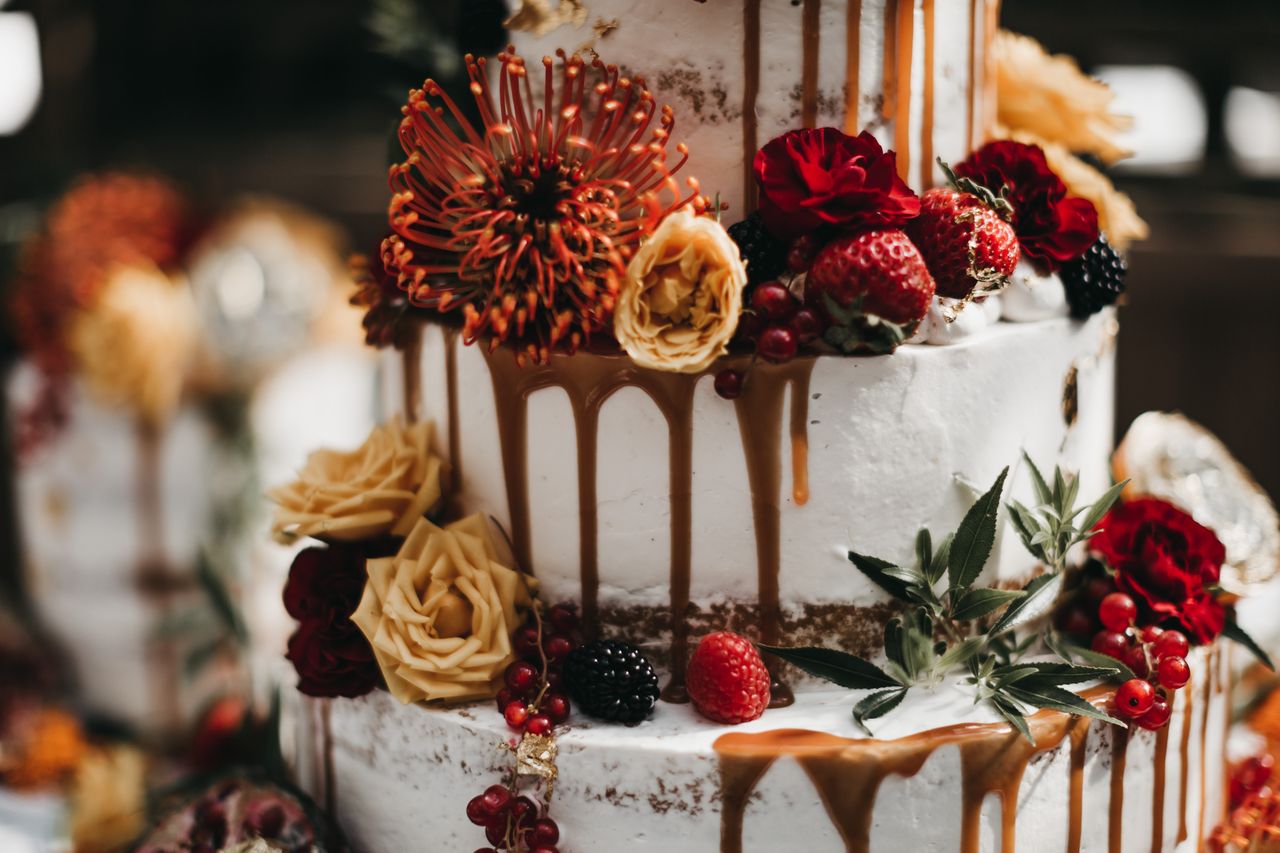 Layers of decadent vanilla bean sponge and fresh strawberry buttercream were enrobed in a swiss meringue buttercream, then drizzled with a rich caramel sauce before being festooned with fresh flowers, berries, pomegranates, and passionfruit. The dramatic flair was off the charts, and the conbination of elements added a definite WOW factor.

Shastyna understand the importance of a couple's wedding day and has a protocol she follows with each of her clients to ensure they get the cake of their dreams. Follow these three tips to ensure your cake is everything you hope for, and more.
Tip #1: ID Your Desires
"I would advise couples to meet with their cake designer once they've decided on their theme/colors/general vibe of their wedding," cautions Shastyna. "It can be a bit challenging to meet with a couple if they don't have any idea of what they are looking for."
Tip #2: Don't Rush
"A wedding cake is best booked at least 3–4 months prior to the wedding," says Shastyna. This gives the baker sufficient time to carve room in her calender, source any special ingredients, and create the blueprint for each unique cake.
Tip #3: Take Time to Taste
"Most cake designers I know provide the couple with either a sit-down cake tasting or a cake tasting box," says Shastyna. "I prefer a sit-down meeting. It gives me a chance to get to know the couple, which helps me with the design process."
To find the vegan baker that's right for you, be sure to check out the Vegan Weddings Marketplace for resources!
Want more vegan weddings?
You're going to love our Great Big Vegan Wedding Idea Book!