When getting hitched, you can always opt for tradition, but if wedding-white dresses and standard-issue tuxedos aren't your style, there's no hard and fast rule that says you must cling to convention. For some couples, their vegan wedding is more than just an opportunity to pledge their commitment to each other in a meaningful way; it's also a chance to express their style. For Randi Fair and Matthew Leister, that meant blue velvet, a black wedding cake, and Halloween-inspired table decor replete with pumpkins and spider webs.

Randi, who met Matthew when they were both students at Temple University's school of journalism, orchestrated their celebration's dramatic theme. "I was always into spooky things since I was a little girl," says Randi, "and I knew I wanted a wedding that reflected that."

The wedding wasn't a full-throttle spookfest, however; the couple met in the middle for balance, saving the Hallowedding vibes for the afterparty. "Matthew was afraid if he didn't put some boundaries down, I'd be walking down the aisle to Monster Mash, so we compromised and did more of an autumnal theme for the ceremony, but I could do whatever I wanted at the reception!"

"Whatever I wanted" translated into a coffin-shaped favors filled with candy, bespoke cocktails named after blood types, and a conga-line dance to Harry Belafonte's Jump in the Line. But there was more to this deeply personal wedding than just the Beetlejuice-inspired theatrical ambiance. It was also important to Randi and Matthew to create an amazing day that was budget friendly, and the duo found myriad clever approaches to stick with that plan.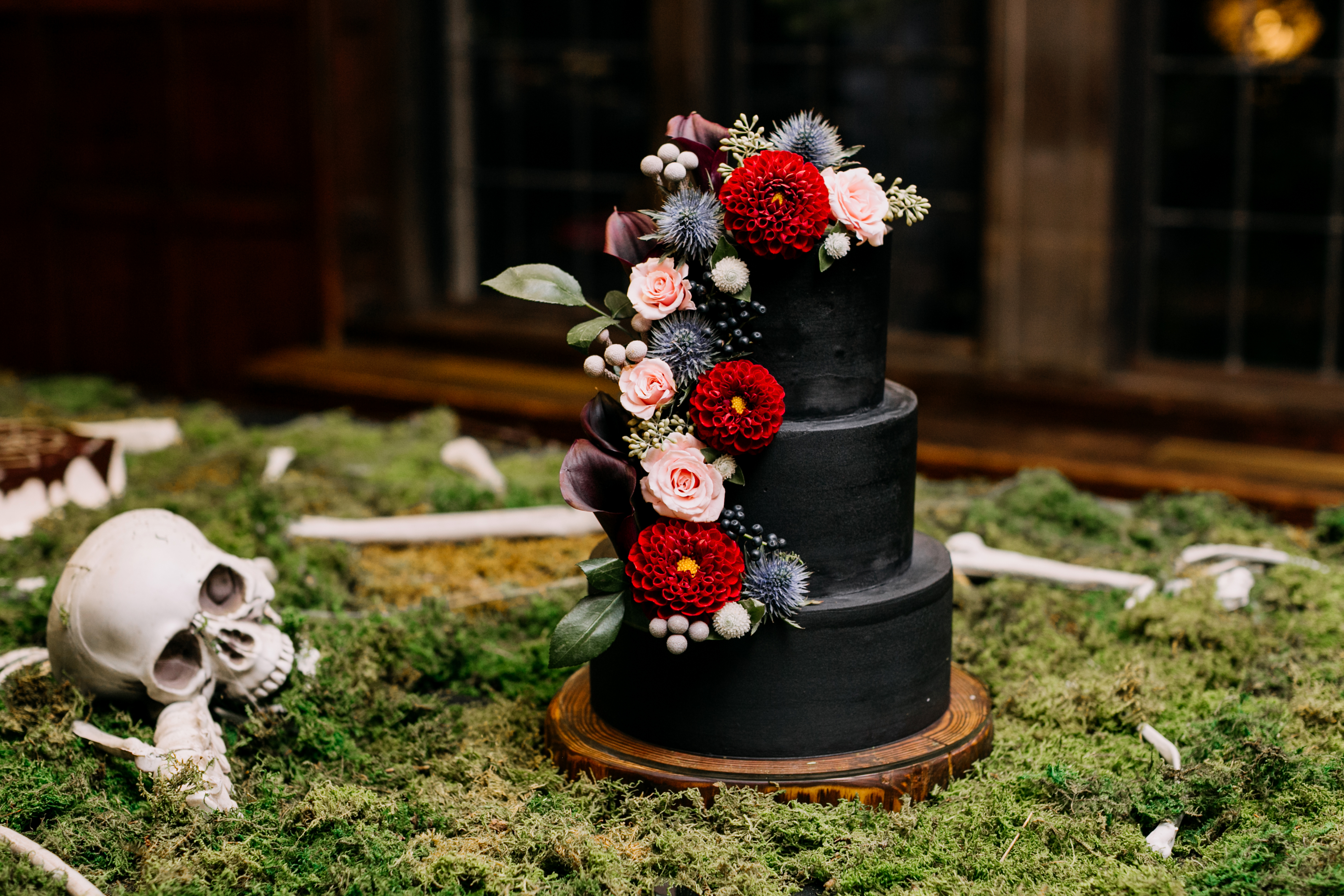 For their wedding venue, they were excited to discover that their alma mater had an event space that, as former students, they could secure at an affordable price. And instead of bespoke or designer wedding attire, they went for online ready-to-wear; Randi's gown was actually a prom dress that she found on Etsy for $200, and Matthew's matching velvet jacket was sourced on affordable fashion retail site ASOS.
Randi's bridal bouquet was faux, but you'd never guess; the blooms looked beautifully lifelike and matched the matrimonial mood with dark purples and deep reds. And as a car-free couple, Randi and Matthew took public transportation to their reception. Even with all their clever budgeting, there was a bit of animal-lover's guilt when the total was tallied.

"It was hard seeing the final total and thinking, 'how many cats would that money have been able to spay?'" remembers Randi.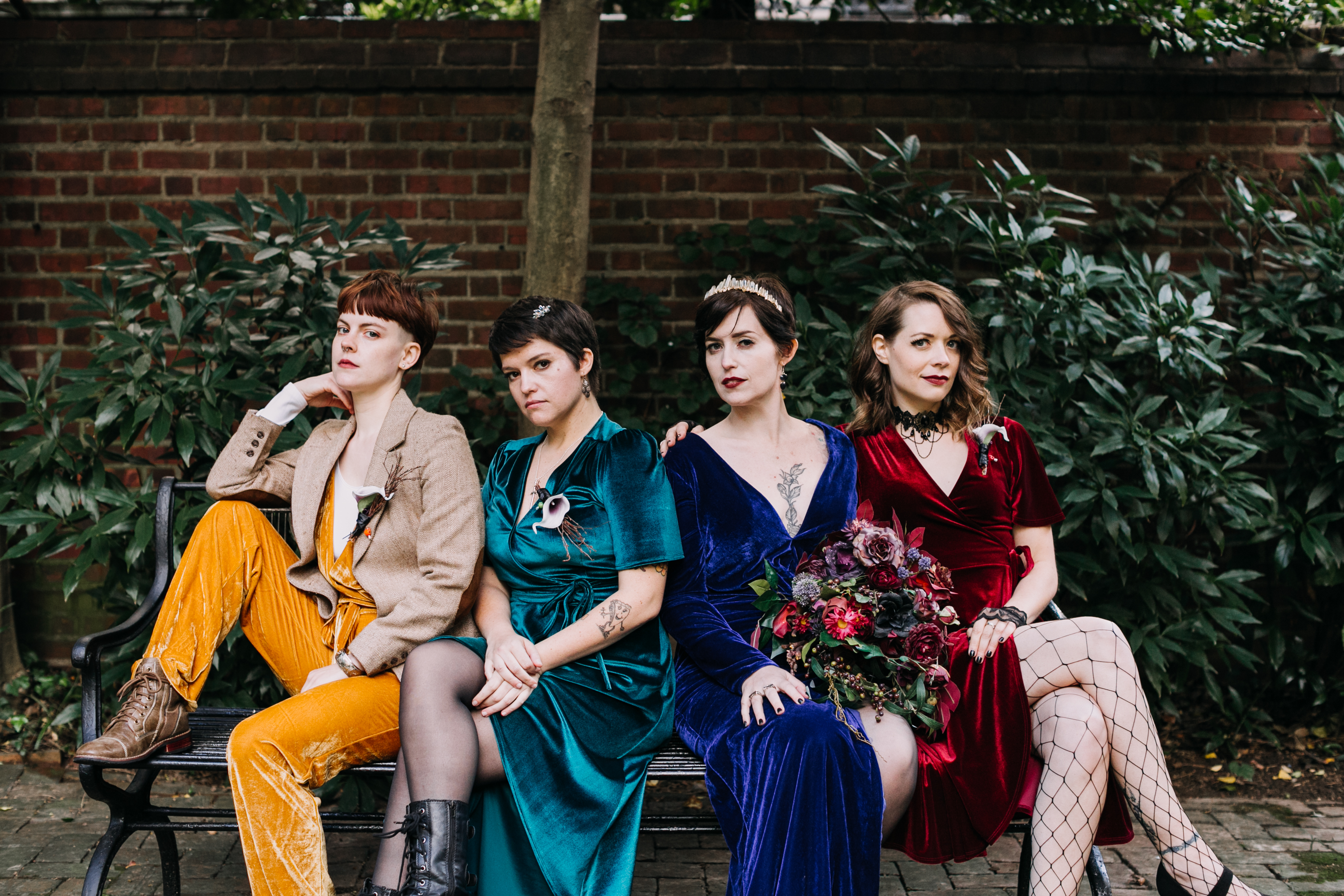 The venue is often the biggest wedding-day expense couples face, but for Randi and Matthew, those honors went to photography, food, and drinks. But without their thoughtful thriftiness, a glamorous and characterful wedding like theirs could have really broken the bank.

If keeping your budget in check while planning the nuptial bash of your dream is important to you, borrow a page from Randi and Matthew's playbook. These are just some of the takeaways that can save you money so you can save the world! (Or at least spay and neuter some strays!)
Five Tips for a Fab and Affordable Wedding
Go faux
Real flowers can be prohibitively expensive, but fakes like the gorgeous bouquet that Randi carried, are fabulous, eco-friendly, and look like the real deal but at a lower price point.


Get venue-creative
Matthew and Randi found out that their university had a wedding-appropriate venue that was steeply discounted for alumni. Gardens, wineries, and farm sanctuaries are other more affordable options to consider.


Consider second-hand
Randi's stunning blue-velvet, floor-length gown was a perfect fit for her aesthetics AND her wallet. Thanks, Etsy! Other sites to scope out include The Real Real, DePop, and Vestiare Collective.


Skip the limo
You don't need fancy transport to get around on your big day, so skip the stretch limo and do like Matthew and Randi and take the subway–or enlist a friend with a comfy car to be your chauffeur!


Phone a friend
Matthew and Randi called in friends for important roles, including officiating their wedding. Louis Greenstein, who created Reptar from The Rugrats, was the person they asked to seal their deal. (He said yes!)
Want more vegan weddings?
You're going to love our Great Big Vegan Wedding Idea Book!