If you're single and gay, odds are good you've got that one straight friend who knows "just the perfect person" they're always trying to low-key set you up with. Most of the time, their intentions are in the right place but there's no chemistry with "Mr. Perfect." But sometimes—as it turned out for James Koroni and Joshua Katcher—that friend might actually be equipped with some serious matchmaking skills.

Back then—before dating apps like Tinder and Hinge—digital platforms designed to make it easy to meet people weren't as ubiquitous as they are today, which is how the New York City based 20-somethings ended up connecting on Facebook.

James, a comedian, dancer, and performer moonlighting as a waiter, was intimidated by the idea of connecting with Joshua, who had a fast-expanding public persona as the founder and personality behind the men's vegan lifestyle website, The Discerning Brute, and the Brave GentleMan fashion brand. But when James mistook his matchmaking friend's "add a friend suggestion" as an invitation to connect directly from Joshua, he inadvertently found himself making the first move.

On their first coffee date—where they engaged in what might be the most vegan-of-all-first-date activities (taste-testing granola)—they discovered how much they had in common, beyond their shared vegan values and love and compassion for animals.

"We're both family oriented," says Joshua. "And from big, tight-knit families." The commonalities were a breath of fresh air after they had each experienced unfulfilling relationships with men who challenged their values and played games.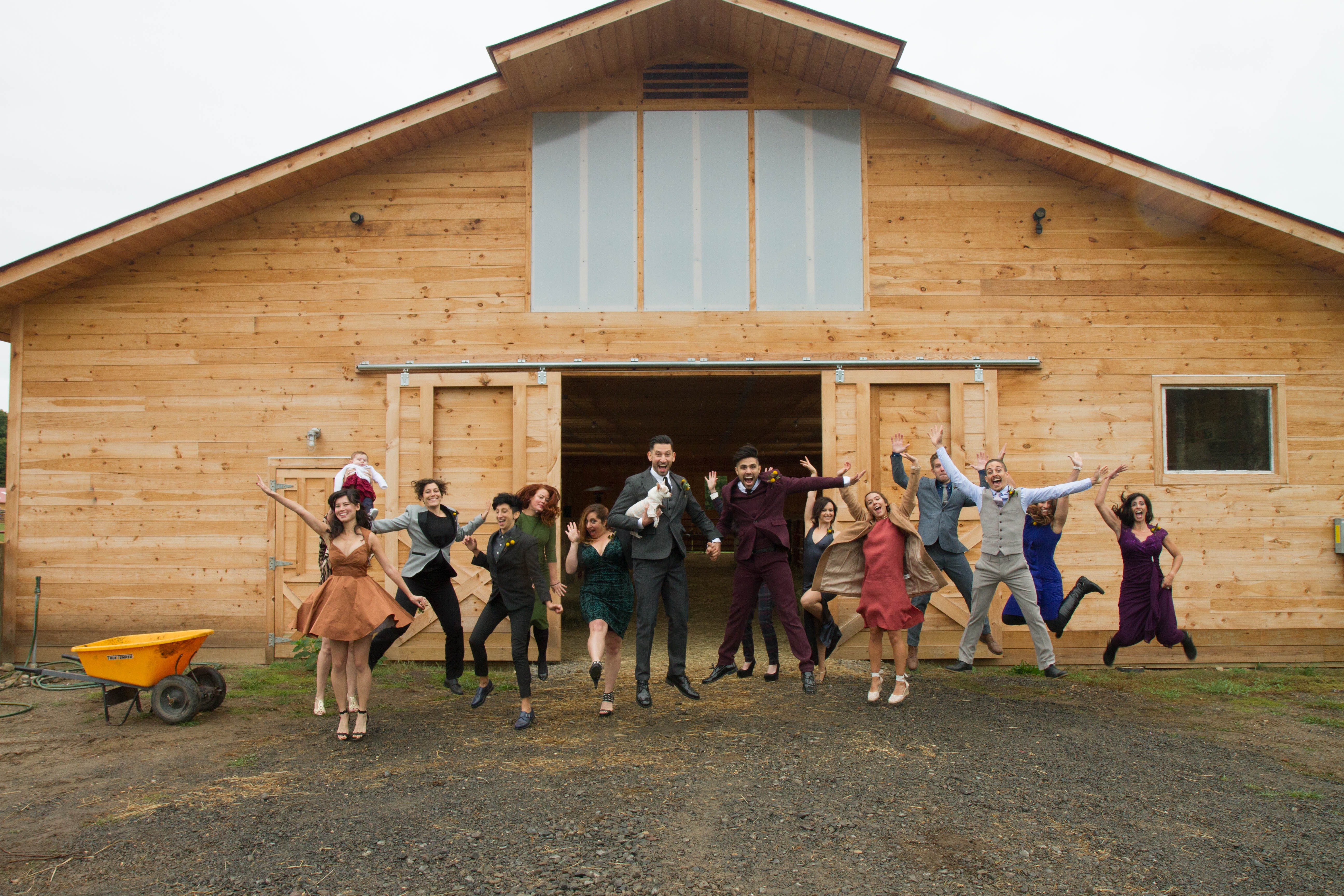 "Right away it felt right; we had so many shared interests that brought us joy," says James. "It was so natural and easy."

Date #1 went so well, they immediately made plans for dinner that same evening, heading to now-defunct Food Swings in Brooklyn for more bonding over plant-based junk food. Dates #3 and forever soon followed.
Love on ice
When the Supreme Court made marriage equality federal law in June of 2015, James and Joshua knew that they wanted to take advantage of the opportunity to create a safe and secure future for themselves as a couple—something they couldn't imagine as youngsters when contemplating their future lives.

"Growing up queer and being raised Mormon, you don't even allow yourself to dream that marriage is possible," says James.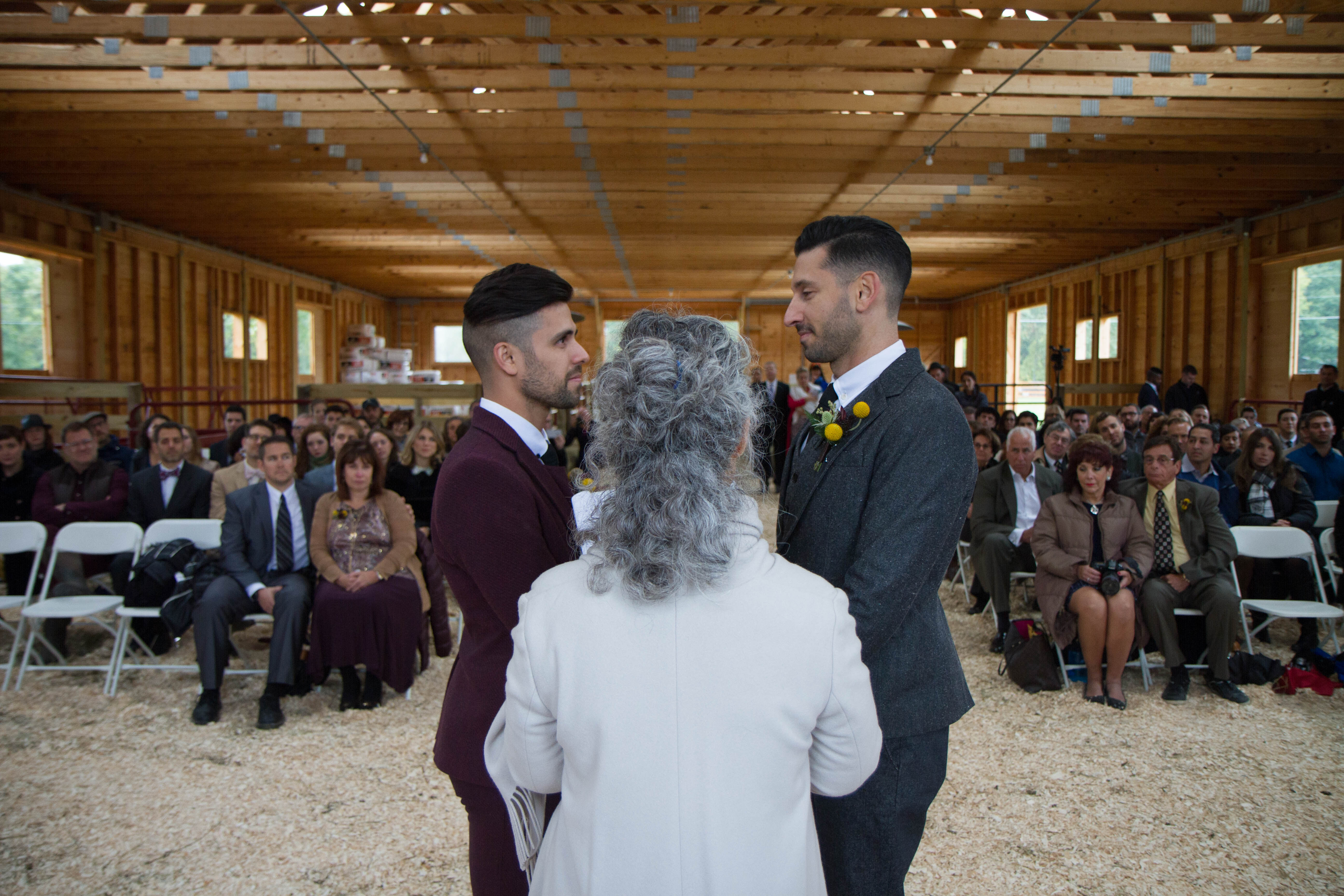 A major factor informing their decision was that marrying would give them legal protections such as the basic right to visit your partner in the hospital or to inherit their property upon death—simple rights that so many non-gay couples take for granted. "It felt like a use it or lose it type of thing," says Joshua.

With love, mutual respect, and a historic opportunity propelling them, Joshua proposed to James in front of a dramatic waterfall on a trip to Iceland (spoiler alert: he said yes), and the pair wasted no time planning their nuptial celebration.

As the son of schoolteachers with weekend side-hustles as wedding photographers, Joshua was "always surrounded by weddings," and knew he didn't want the cookie-cutter experience, but rather a celebration of their love that was authentic and meaningful and a reflection of their values. "I wanted to validate our love in front of people—to say 'this is real.'"
Fun on the farm
For their wedding extravaganza, 150 friends and family headed upstate to a farmed animal sanctuary, where, over three days, they bonded over bonfires and vegan s'mores, sharing deep, late-night conversations, laughter, and meaningful time rooted in the here and now of each other's company.

Just before the outdoor ceremony was scheduled to begin, the weather shifted, turning what should have been a balmy October afternoon into what felt like a winter storm, complete with near-freezing temperatures and rain. Guests rallied, coming up with a brilliant Plan B, moving the wedding to a cow barn, hastily scooping poop and laying down hay to make it wedding-ready.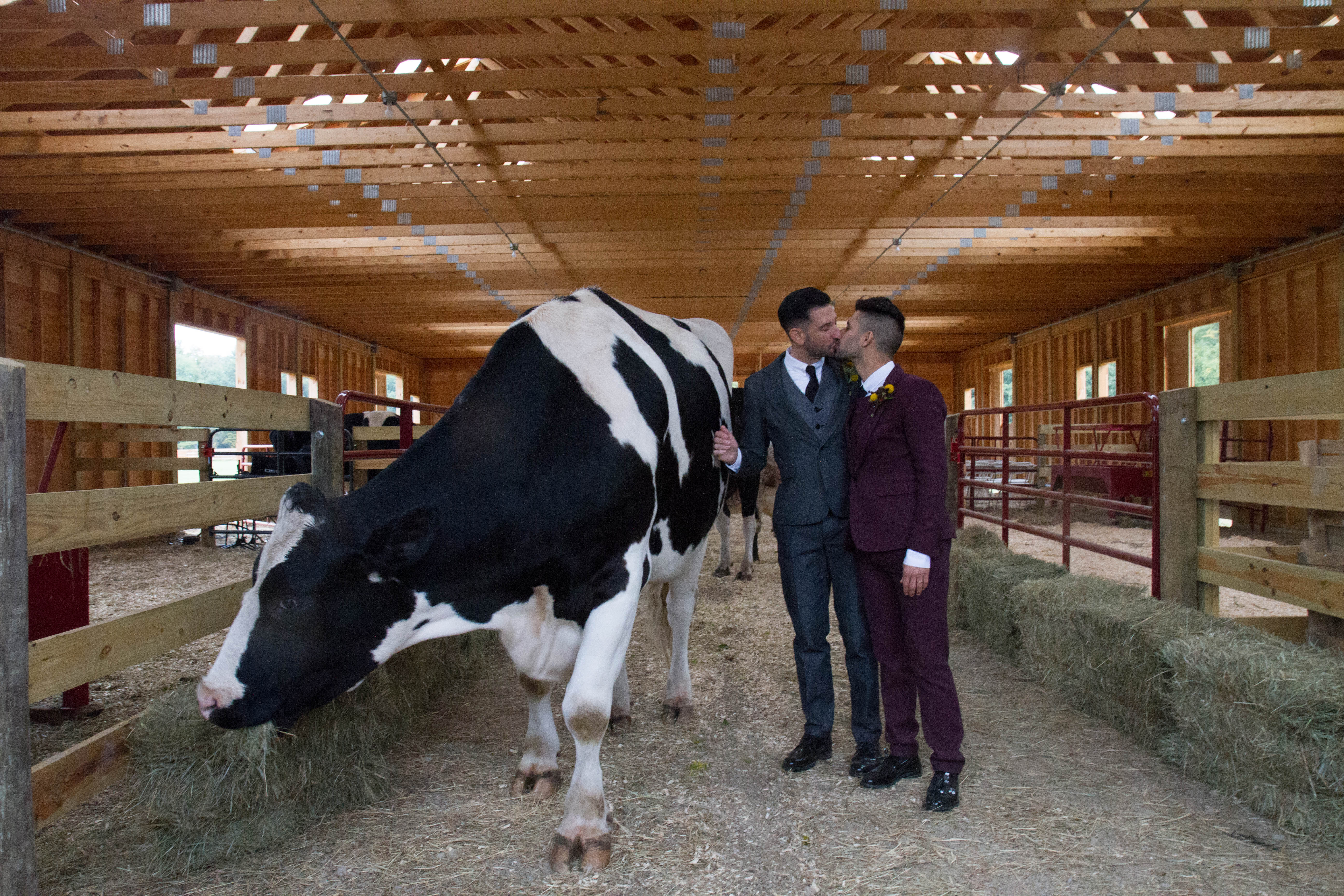 A friend sang, they recited their hand-written vows, and, their beloved canine companion, Enzo, scampered down the aisle bearing the couple's recycled-gold wedding rings. At the advice of their wedding officiant, James and Joshua took a 15 minute breather between the wedding and their reception to simply sit in each other's company and absorb the significance of their big day.

The reception was a food feast catered by Champs Diner and inspired by the couple's mixed Jewish-Persian heritages. Dessert was an over-the-top celebration of all things sweet, beginning with a cake extravaganza by cult favorite vegan bakery Sweet Maresa's featuring chocolate peanut butter cake, coconut custard cake, and chocolate caramel cake. It was, according to Joshua, "the best cake I've ever had."

The autumn themed dessert table overflowed with bite-size treats, including French macarons, a gourmet assortment of cookies, and exquisite chocolates from legendary vegan chocolatier Lagusta's Luscious.

Their first dance was to Dreaming by Icelandic artist Ásgeir–a nod to their romantic Icelandic engagement getaway. Then James' mom and sisters Amina—a Zumba instructor—and Layla took to the floor with a rousing Zumba number. Mother-son dances and tears of joy followed. "It was a real friends-and-family bonding moment," says James.

Tradition is to make your great honeymoon escape right after your wedding, but James and Joshua took tradition in a different direction, shifting their focus toward finding post-nuptial bliss in the simple act of laying down roots. "Being in a marriage feels like a sense of security," says Joshua. "It feels like a bedrock in our lives."
James & Joshua's Secrets for a Happy Marriage
Cheerlead Each Other
There's no better way to express your deep and abiding love than by being a supportive spouse. "We're both fiercely independent and fierce cheerleaders of each other's work," says Joshua.
Stick With Tradition
The couple has a Friday date-night tradition, plus a morning "cofftea" ritual where they walk to local cafe for coffee (James) and matcha (Joshua) and do the NYT Crossword puzzle together.
Create Special Moments
On their 10 year anniversary, Josh and James plan to unpack their wedding vows from safekeeping and reread the commitment they made to each other.

Check Yoursel(ves)
As you evolve over time as an individual, your relationship changes, too. "We always check in with each other to ensure we're becoming the best version of ourselves," says Joshua.
Want more vegan weddings?
You're going to love our Great Big Vegan Wedding Idea Book!