If you look at your parents' or grandparents' wedding photo albums (remember those?), you'll see that those celebratory images are like time capsules that capture the look and feel of both a specific moment in time—the wedding itself—but also a snapshot of the era.

In the '70s, grooms wore thick mustaches to go with their wide-lapel white suits, bridesmaids wore frilly pastel dresses, and weddings often took place in natural settings. In the '80s, big hair and puff-sleeve gowns ruled the bride's wedding looks category, and balloons were the décor du jour. And you'll know it's the '90s when you see the bride in a slip dress and disposable cameras on every table.

In the future, when Generations Alpha and Beta slide on their virtual reality headsets for an immersive 2023 experience, they'll see brides and grooms defining the era with bright splashes of color, towering cakes, and elements from the natural world. Read on to discover more of this year's trends.
Top 10 wedding trends for 2023—with a vegan twist
Mismatched & marvelous
If you've ever been a bridesmaid, you've probably bought the dress dictated by the couple's nuptial aesthetic—and odds are good you've never worn that dress ever again. Talk about waste! Even if you recycle it by donating to a thrift store, you're still contributing to the waste stream, which isn't optimal. In 2023, bridesmaids are getting a break, and it comes with eco-friendly perks.
The vegan twist: With the trend of coordinated color palettes but free reign to choose the style of dress or pantsuit they wear, bridesmaids can choose something that they'll actually wear again, and they can even purchase their ensemble at a vintage shop or thrift store, thus pulling from the waste stream instead of contributing to it.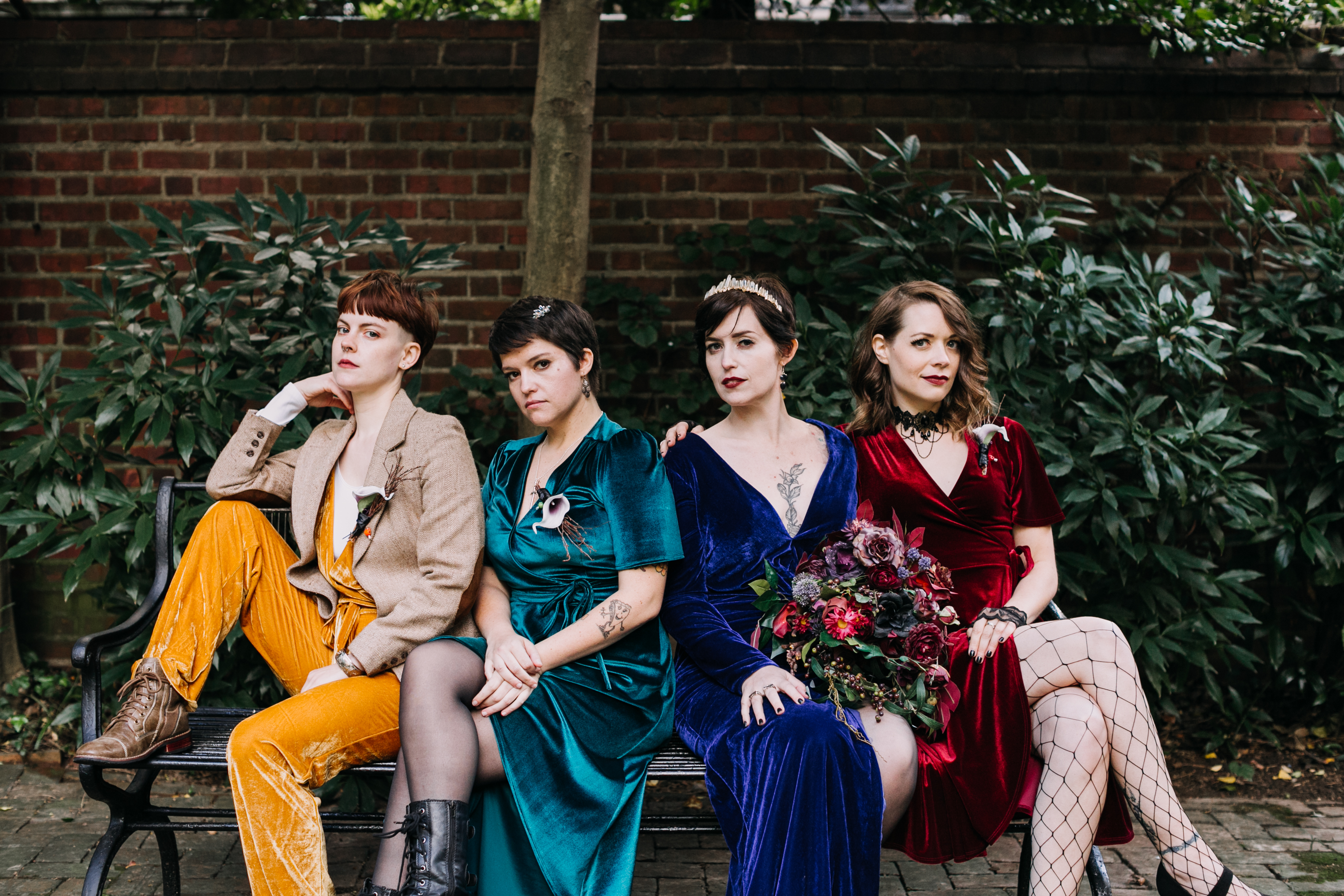 Late-night afterparties
You've been planning this day for a year, and you want to make it count. If you're going for "a night to remember" vibes, an afterparty is one way to amp them up. As your wedding festivities wind down, you might be revving up for round two at your venue complete with DJ, disco ball, and late-night grazing tables. Or maybe you'll book the back room at your favorite dive bar, gather for a backyard bonfire, or head to a karaoke bar for a music-filled night.
The vegan twist: The afterparty is your chance to bring non-vegan guests into your world with more plant-based food and drink to show them just how amazing (and definitely not deprived) your lifestyle is. Think grazing boards brimming with vegan cheeses and meatless charcuterie, or veer toward the sweet with a buffet of vegan doughnuts from your favorite local spot, or s'mores made with vegan marshmallows if you opt for the late-night campfire.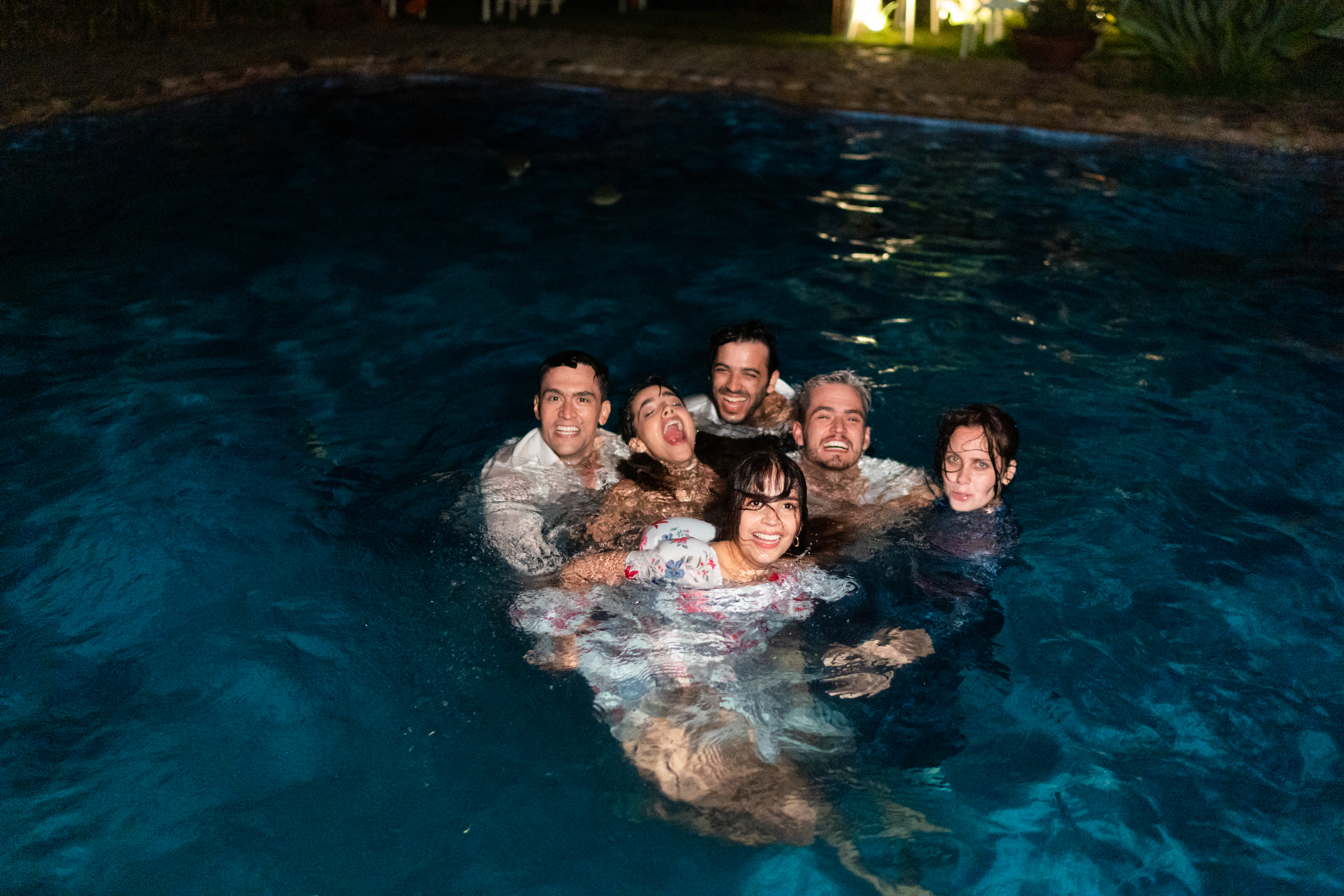 Thoughtful guest swag
Your guests have gone to great lengths to join you on this major life occasion; they've bought expensive plane tickets, sprung for hotel rooms, and even bought you that $400 Vitamix at the top of your registry. So it's only fair that you return the love with guest goodies that they'll actually take home (instead of leaving in their hotel room). In the old days, guests were lucky to get a tiny sachet of Jordan almonds; in 2023, there are more exciting options.
The vegan twist: Gift your guests with eco-friendly gifts that are functional and fun. This could be seed packets that guests can toss in an indoor planter or out in their gardens; mini bottles of your favorite vegan wine or organic beans from your favorite coffee roaster; a donation to your favorite charity in their honor; or a trio of deluxe dark chocolate bars festooned with a gorgeous bow.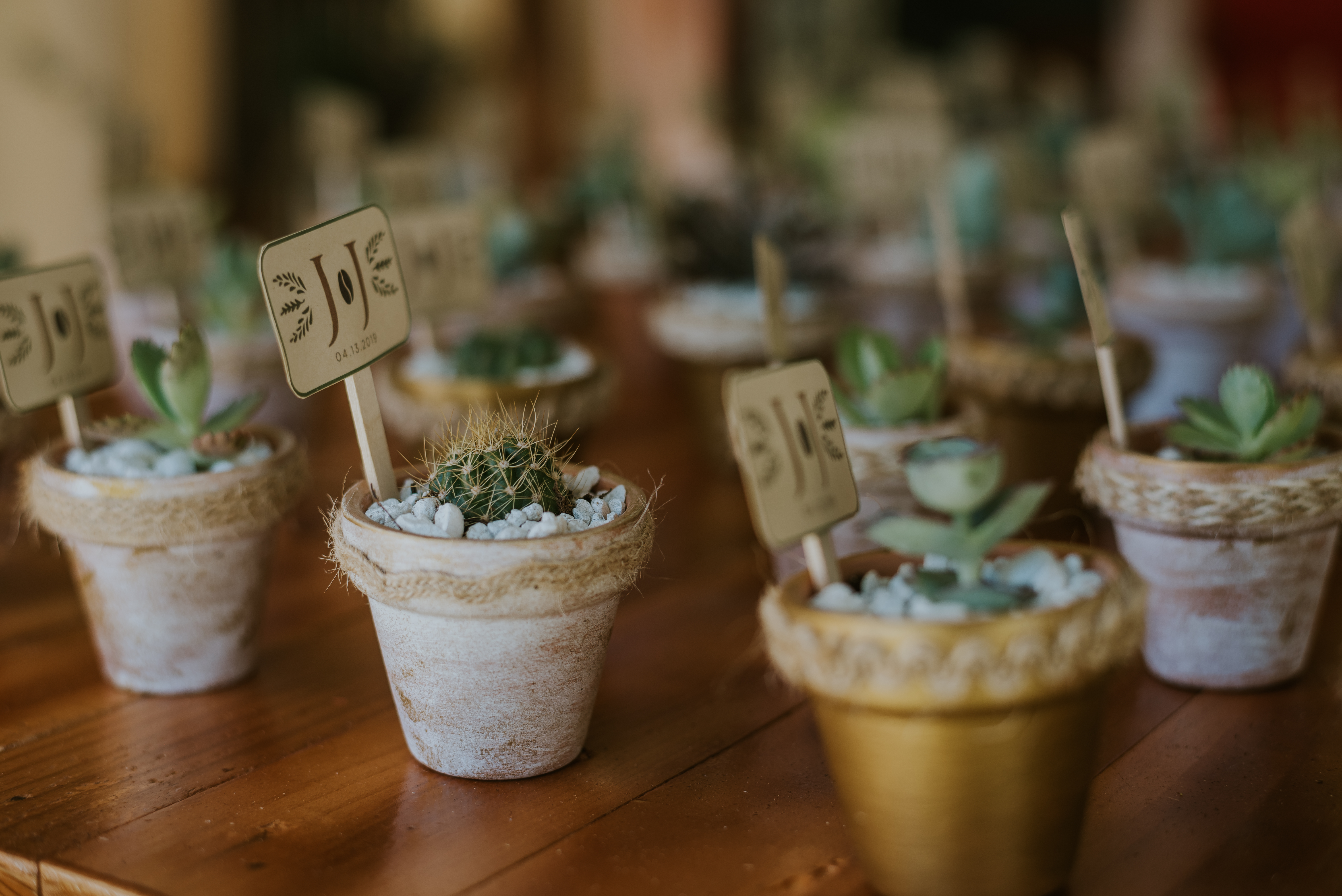 Color, everywhere!
Black and white weddings are predictable and, if we're being honest, predictably dull. If you dare to embrace this top trend for 2023, you can implement it in a variety of ways. Instead of subdued tea roses and lilies, opt for a vivid bouquet brimming with fuchsia peonies, red ranunculus, and purple irises. Grooms can embrace the trend gingerly with flashy socks in a fun hue, or go all in with a blue velvet suit. A colorful wedding looks fabulous and fun in photos, too.
The vegan twist: White wedding dresses are priced at a premium, but when you choose to wear something colorful that doesn't scream "wedding" (but still looks elegant and makes you feel amazing), you have more options. Buy used, or from an eco designer, and dare to be different!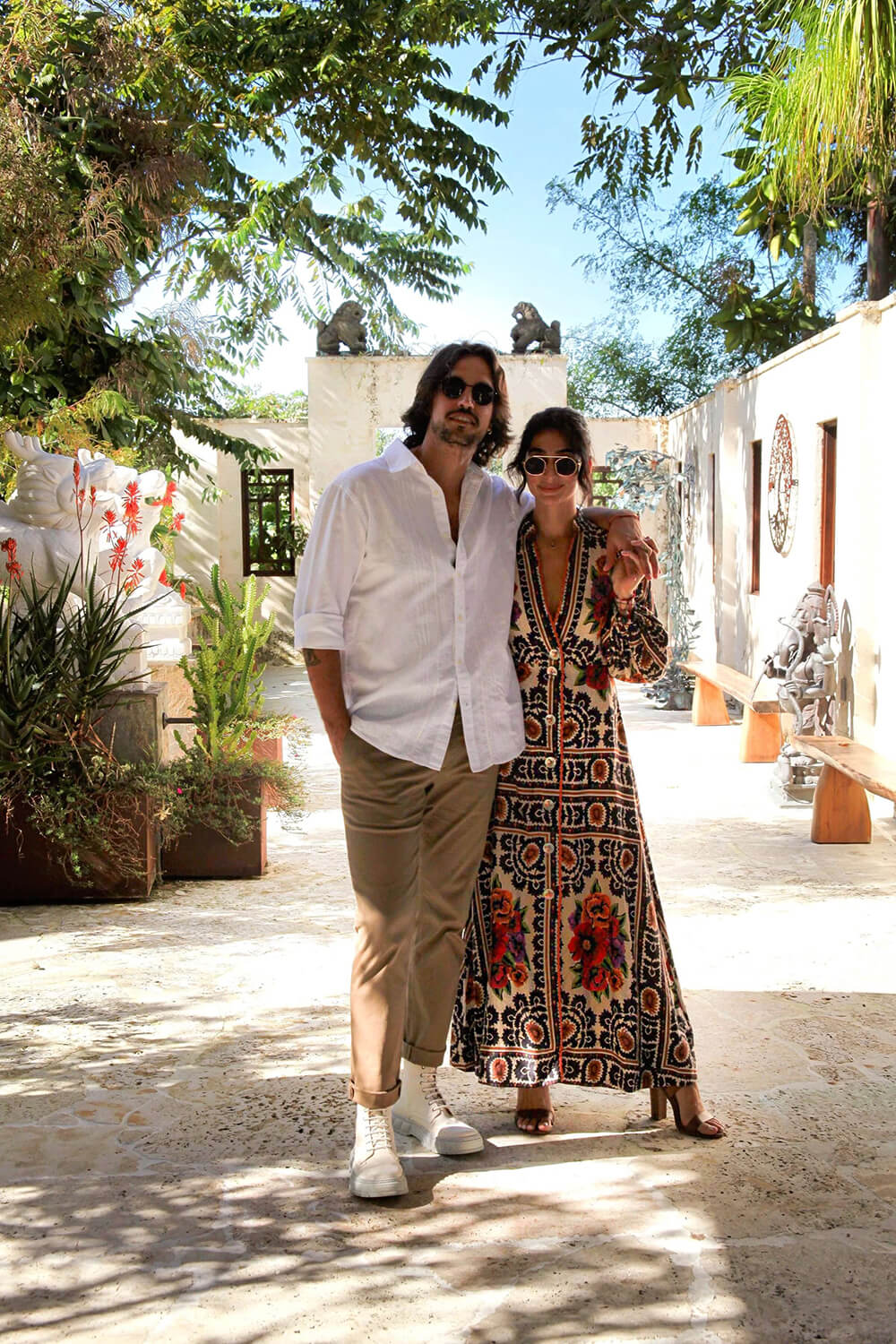 Living décor
Fresh flowers are beautiful, but unless you're buying farm-to-table blooms, they're not the most eco-friendly option. In 2023, couples are leaning into the idea of live greenery not just as a decorating idea, but to make a sustainability statement. We're seeing them as ceremony backdrops—think tropical palms and cacti for visual impact—as aisle decor, and as earthy table displays. And bonus: plants are waaaaay more affordable than flowers, and it's even possible to rent them for the day instead of buying.
The vegan twist: Plants play a special role for vegans; it's what we've built our lives around! Incorporating living plants into your wedding, whether as guest swag, table decorations, or a backdrop oozing #naturevibes means welcoming guests into your plant-based world. Take the trend in new directions and use decorative edible plants as your decorative statements. Have fun with it!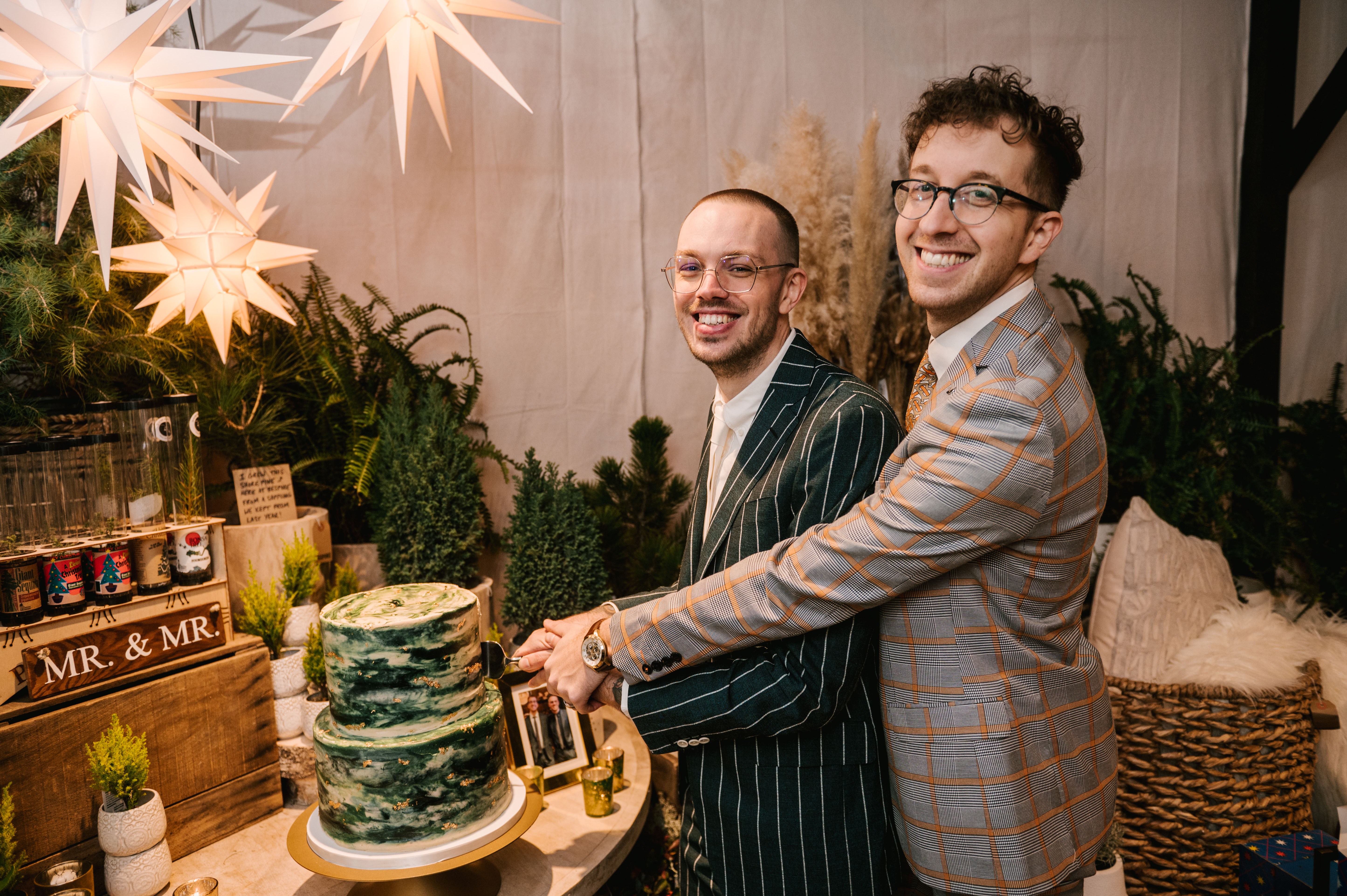 Private ceremonies
When you really want to elope but can't bear the thought of leaving friends and family out of the wedding completely, there's the private ceremony. Marrying alone—with just the two of you and your officiant in attendance—and having a full-on reception bash afterward with everyone you know in attendance offers couples the chance to say their vows without added stress or PDA anxiety. It also adds an element of intimacy and can enhance the sacredness of your union.
The vegan twist: When you say your vows in private, you can get really real with your thoughts and feelings, without worrying about what anyone else in the world thinks. Maybe you'll want to express the joy of finding someone to eat vegan pizza with, or tell your partner how happy you are that they don't want to go to zoos, either. For some audiences, this might be unorthodox, but when you're alone, what others think becomes a non-issue.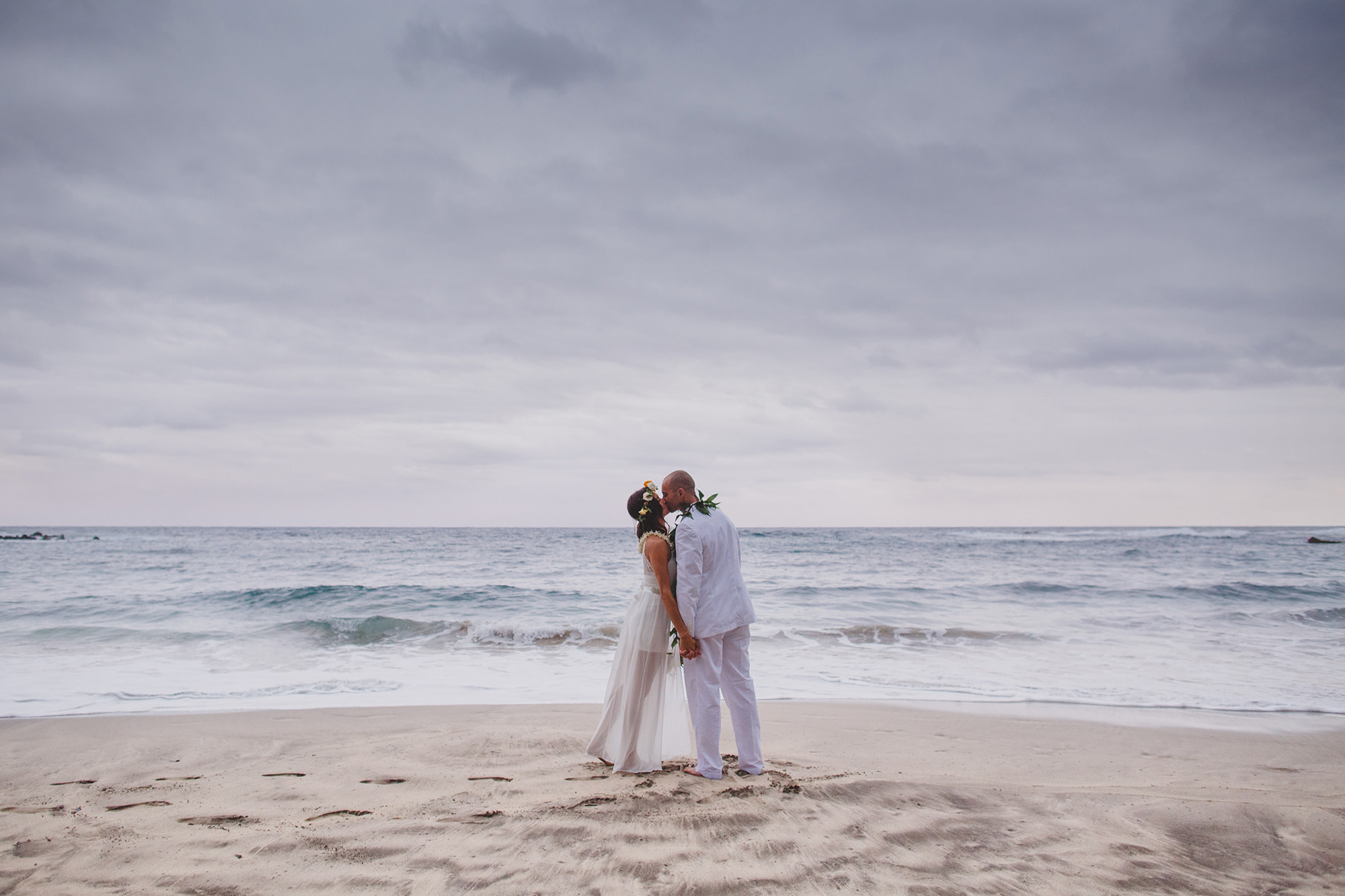 Candid photography
"Authenticity" is a buzzword that continues to hold court over our relationship with photographic images, and in 2023, we'll see couples embracing more visually authentic versions of themselves in their wedding photos. Images that are staged, overly posed, and cliché are giving way to natural, candid, and, dare we say it, imperfect reflections of your big day. When you look back on your wedding photos, you'll recognize the people getting married instead of wondering who those lifesize wedding Barbies are posing with Grandpa and Aunt Cathy.
The vegan twist: Being at peace with who you are is a journey for many of us, and acceptance is a huge part of the personal growth process. Letting go of the idea of a perfect image in favor of authenticity means showing compassion for yourself, which helps you show compassion for others (yes, even your new in-laws who love sharing their "but bacon!" stories), and can help you be a more effective advocate for all the causes you care about.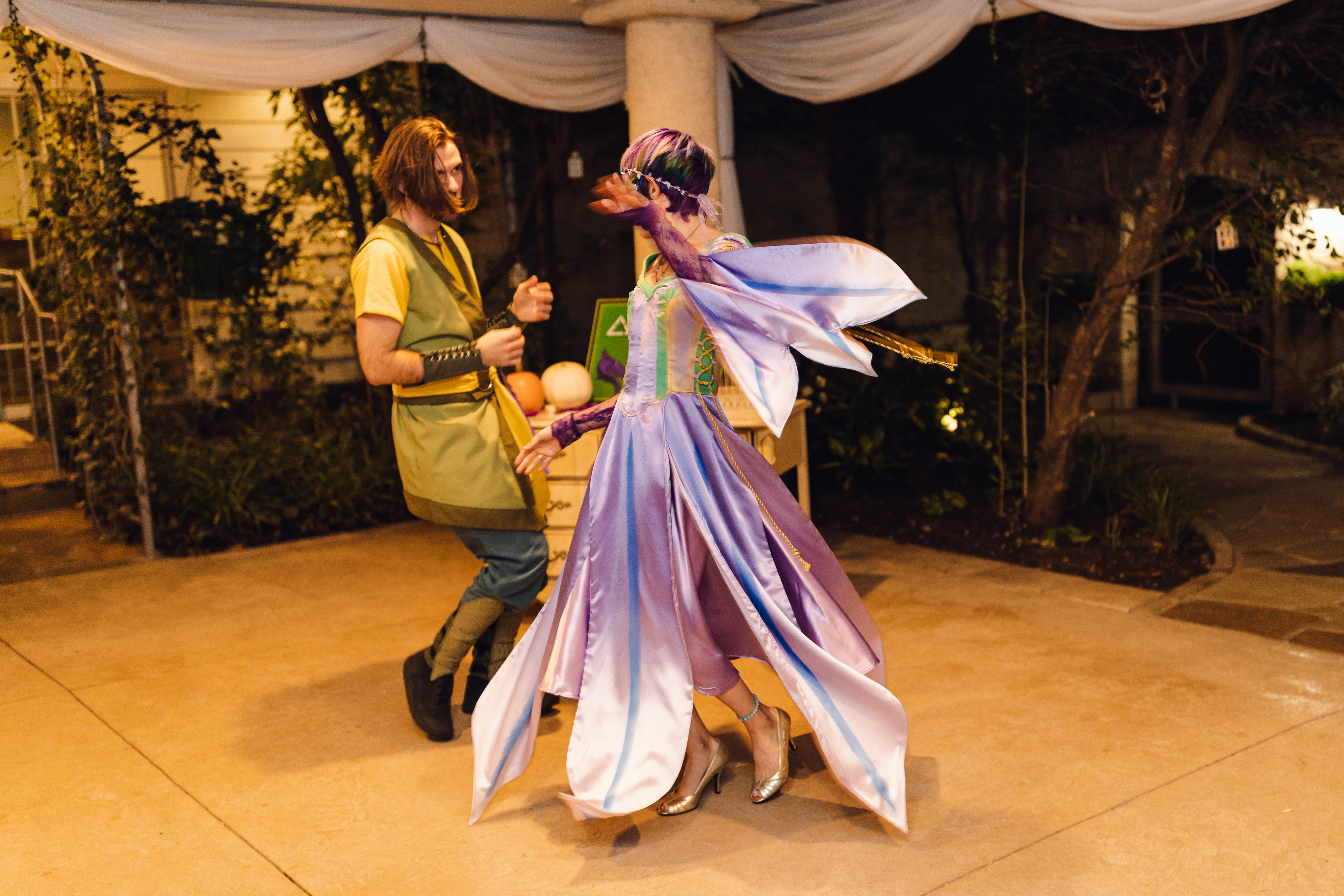 Over-the-top cakes
Even though more couples are opting for weddings that are pared down and simple, the same cannot be said for their wedding cakes. In 2023, they'll be bigger, taller, and more colorful than ever, and that's a good thing, because everybody loves cake! Cake toppers are informing the trend, giving couples a chance to show more of who they are with what they choose to crown their cake with. Will you put yourselves in miniature, a slew of sparklers, or tiny versions of your pets atop yours? So many options!
The vegan twist: The cake is yet another opportunity to show the world—OK, maybe just your wedding guests—how incredible vegan living can be. A gorgeous cake decorated with colorful flowers, vegan buttercream, fresh fruit, and dripping caramel is enough to change hearts and minds on the spot.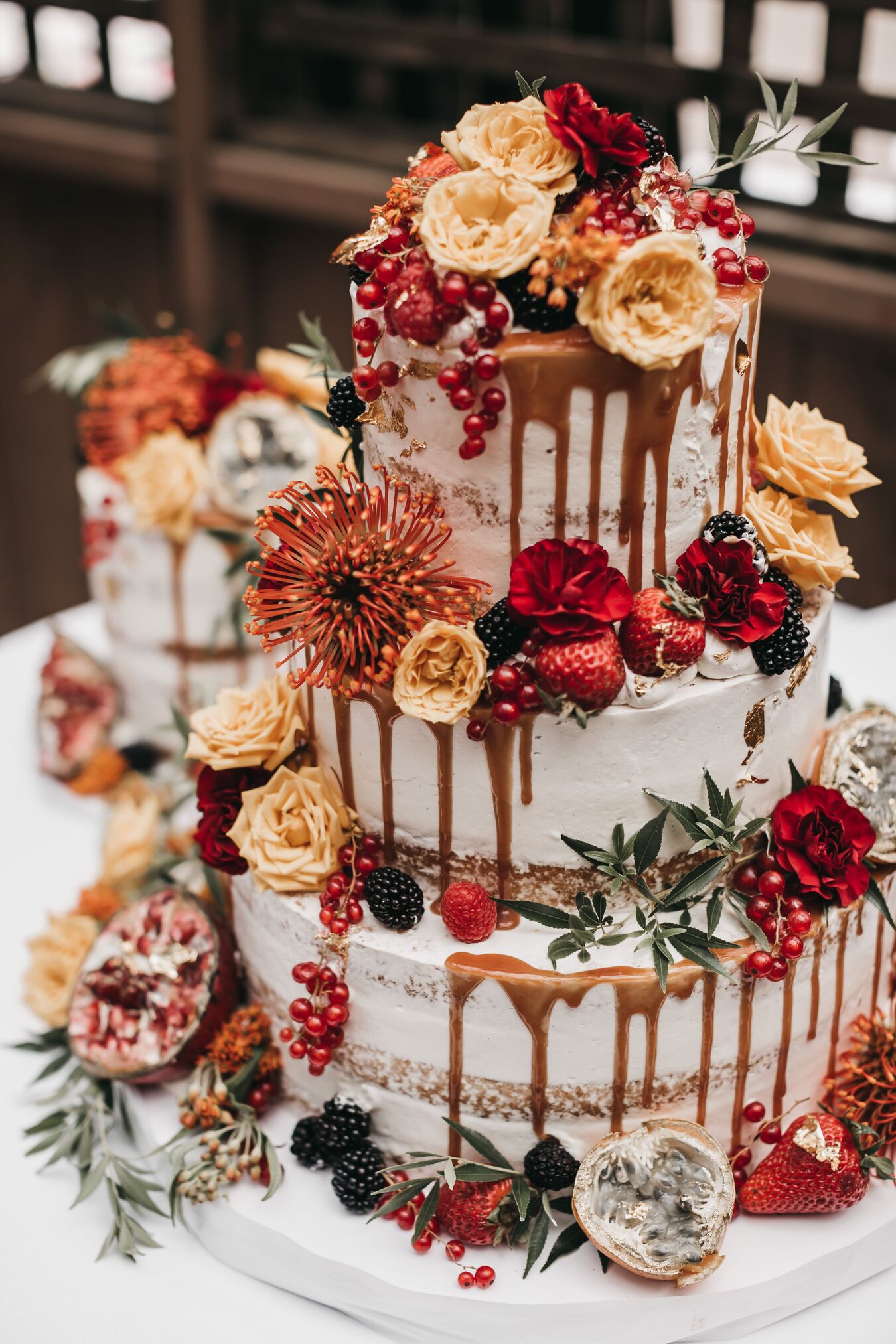 Unconventional venues
Modern wedding couples are trading in their parents' churches, synagogues, and mosques for barns, botanical gardens, and backyard yurts. Less traditional venues offer flexibility, affordability, and uniqueness that many many about-to-be-marrieds find hard to resist. In 2023, you'll be seeing a lot of couples marrying at home, whether their own, their parents', or at that family friend's with the huge backyard, sparkling swimming pool, and tennis court (perfect for the band to set up on).
The vegan twist: Vegan couples have been marrying at unique venues like animal sanctuaries and art galleries for ages, and now everyone is finally catching on! Sanctuaries, in particular, are perfect wedding day venues, since animals have magic calming abilities, and the venue rental fees support the lifesaving work that sanctuaries provide.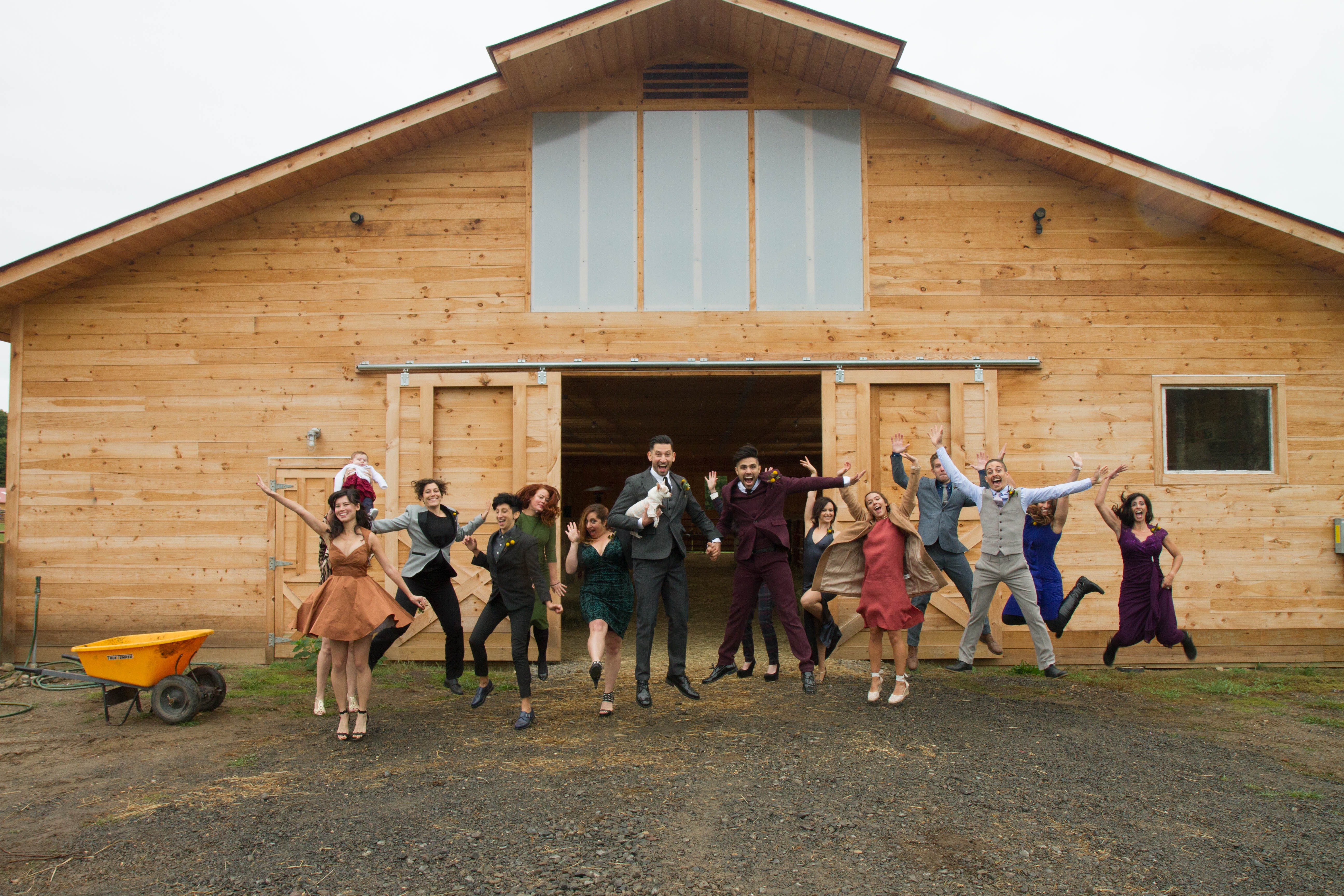 Statement suits
Wedding dresses get all the wedding day glory, but in 2023, it's the wedding suit's time to shine. Whether you're a man, woman, or non-binary, if you're altar-bound and planning to wear a suit, this is an opportunity to let your personal style cut loose. Sure, you can always choose black, white, or navy blue, but why not choose visual opulence and do red velvet or a head-to-toe flower print? If you've got sartorial swagger, don't dim the lights on your wedding day. Turn up the volume!
The vegan twist: Finding that perfect non-wool suit requires serious sleuthing skills, or at least it can feel that way when you're shopping for your wedding day outfit. While exploring the options, cast your net wide to consider all the possibilities, from tailored Italian linen to satin brocade to striped gabardine. Show some flair and wait for the oohs and ahhs to come rolling in.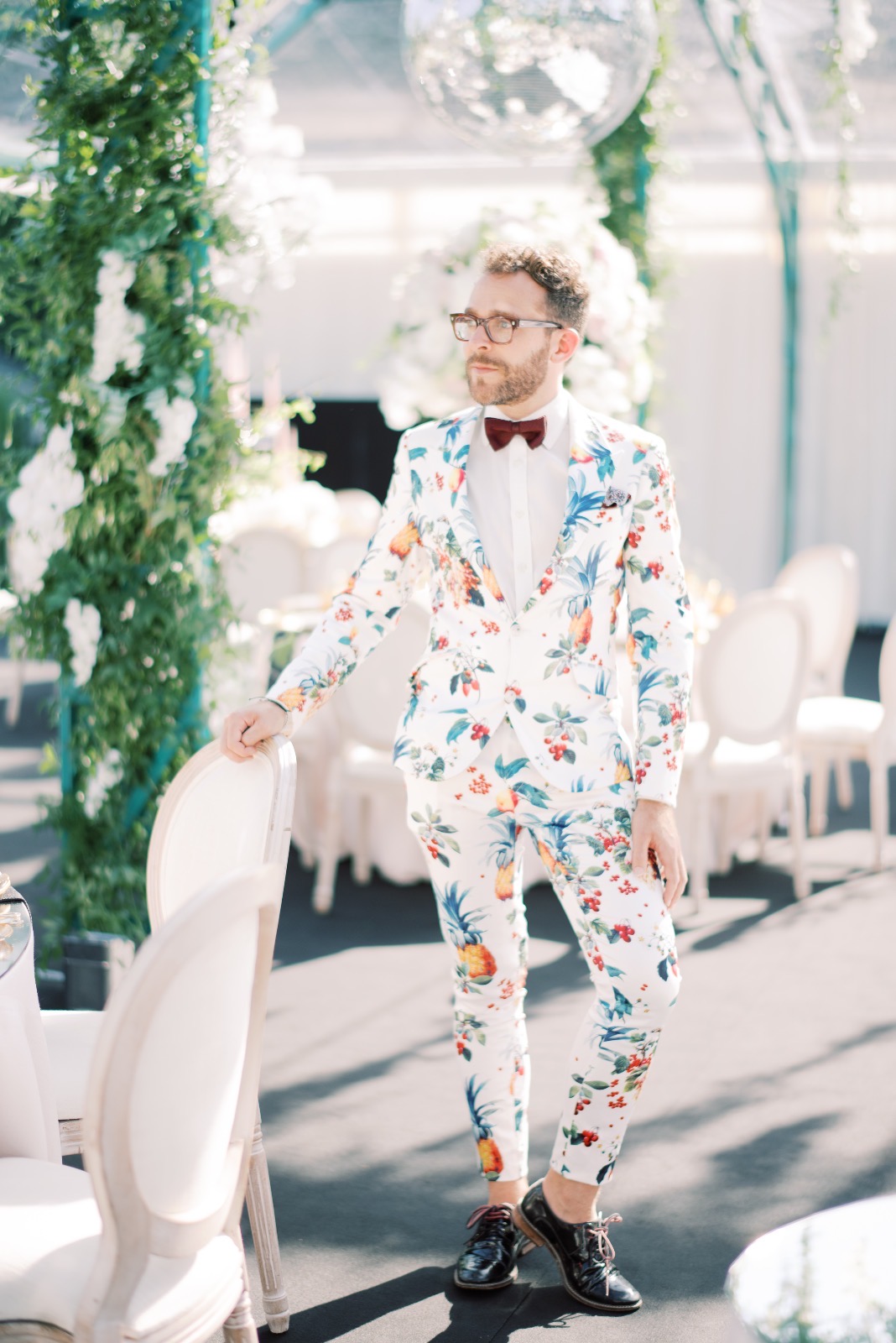 Want more vegan weddings?
You're going to love our Great Big Vegan Wedding Idea Book!