By most people's estimations, Ann Christine and Arnold de Souza have lived a charmed life. Ann, the co-founder of holistic health and vegan lifestyle site Veggie Magnifique, met Arnold, a plant-based holistic health coach, nearly a decade ago in romantic Paris, where they were both working for the same non-profit organization.

After falling in love and building a beautiful life together in The City of Light—with plenty of adventures along the way, including getting certified together at a yoga teacher training program in Rishikesh, India—the dynamic duo decided to take their relationship to the next level, and planned an incredible vegan destination wedding in Puerto Vallarta, Mexico in 2019.

Since then, life has continued on its fortuitous trajectory, with a slew of exciting developments in both their personal and professional lives. First, the biggie: Baby Edgar arrived in late 2021, turning their lives upside-down and inside-out "in the most glorious and epic way," says Ann.

And while Arnold continues his work as an online entrepreneur, health coach, and tech wizard behind the curtain at Veggie Magnifique, Ann has taken on a new role working with Dr. Neal Barnard at PCRM as the co-host of the French program Un Monde Sain. What's more, she's also preparing to launch an online membership for health-minded mamas called Mama Magnifique!
We caught up with Ann and Arnold to discover more about their married lives, get their wedding-planning tips, and learn some of their secrets to a happy vegan life together. Read on for the full scoop!
Catching up with Ann and Arnold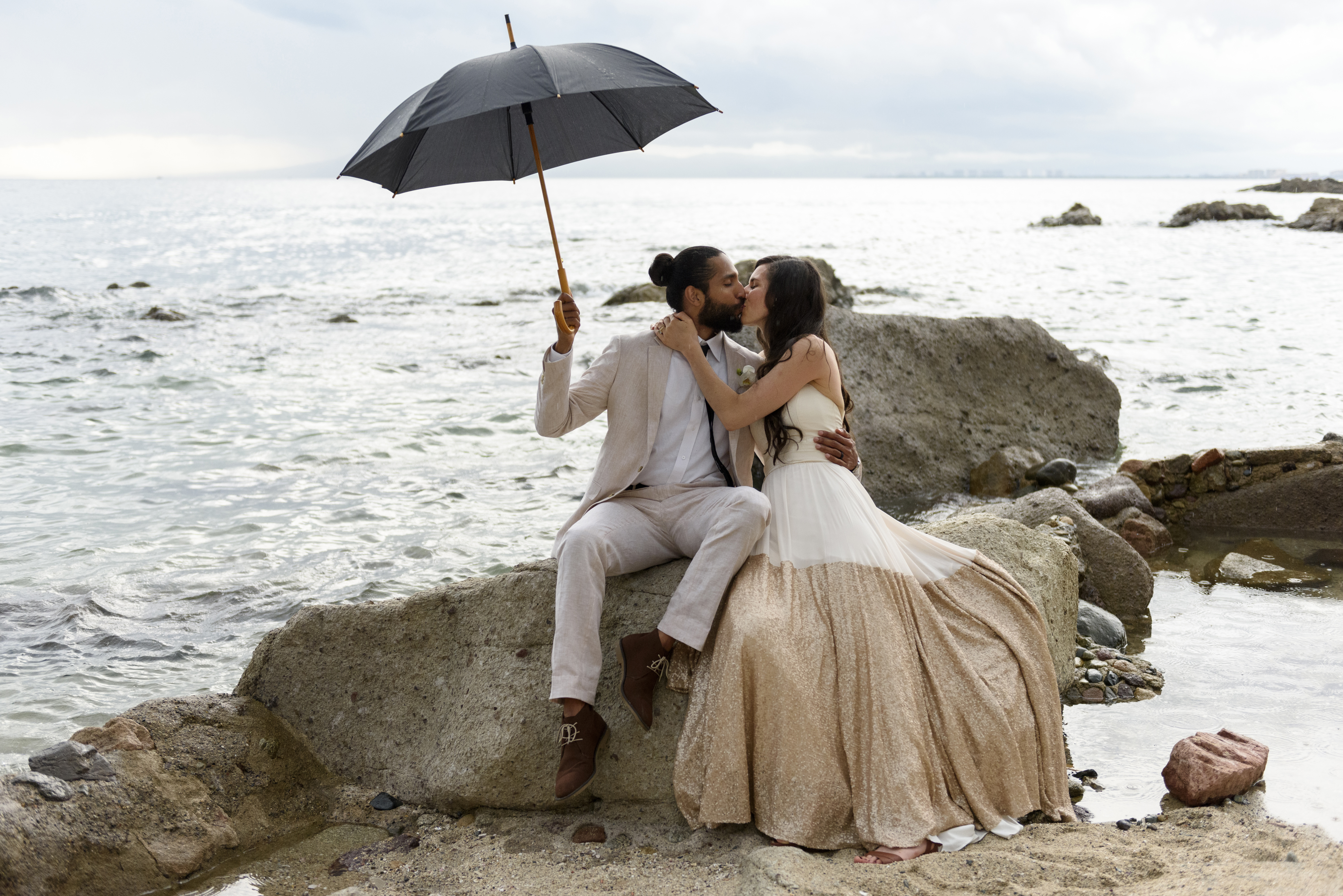 We haven't seen you since your beautiful destination wedding in Mexico. Where are you now?
We are now living on the coast of New Hampshire! We moved here in January of 2020 after traveling through Mexico, South East Asia, and Indonesia, on our extended honeymoon the second half of 2019. New Hampshire is a glorious place to live for many reasons! For one, we have four very distinct seasons, there's very little crime, and it's one of the freest states in the nation, so the quality of life here is just off the charts.
Looking back on your wedding day, what is your favorite memory?
The whole experience was so delightful, but perhaps one of our favorite aspects was the quality time we had with our friends and family. The beauty of a destination wedding is that everyone comes for at least a few days! So over the course of those few days, our friends could just pop over to the villa and spend time with us or go swimming in the pool. We loved that everything happened at the villa, where we were also staying.
If you could change anything about your wedding experience, what would it be?
Ann: I wouldn't wear a strapless dress! I had bad posture the whole day because I was afraid the girls were going to pop out! Plus, both Arnold and I are dancers and I really wish we could have choreographed something more exciting for our first dance! But we were planning our wedding at a distance, and there was just so much to do!
How has life changed since you got married?
First and foremost, we had an adorable baby boy! Edgar was born toward the end of 2021, and naturally, our lives were turned upside down and inside out in the most glorious and epic way. Secondly, Ann's parents recently relocated to the Granite State in 2022. It's been so lovely to have family nearby!
What has been the greatest joy of your marriage so far?
In addition to starting a family of course, one of the greatest joys of our marriage is how we enjoy each other's company. We never get tired of one another!
What has been the biggest challenge of married life?
One of the biggest challenges has been the fact that we moved to the United States soon after getting married. We had been living in France for many, many years, so navigating the ins and outs of moving internationally and starting over completely has been a total challenge!
Have you developed or created any special rituals as a married couple?
We love our morning walks, in all kinds of weather! We bundle up baby and hit the road. We also strive to have a date night every week, though since having a baby, this tradition has gotten decidedly more "cozy"... to the tune of playing Scrabble, or watching half of a movie because mama falls asleep.
What do weekends look like for you?
Honestly, as online entrepreneurs we do work on the weekends! We take turns watching our son while the other one works. But we do also have fun! We always do some sort of excursion, whether it be going on a hike, visiting friends, walking along the ocean, or even just a visit to the local library.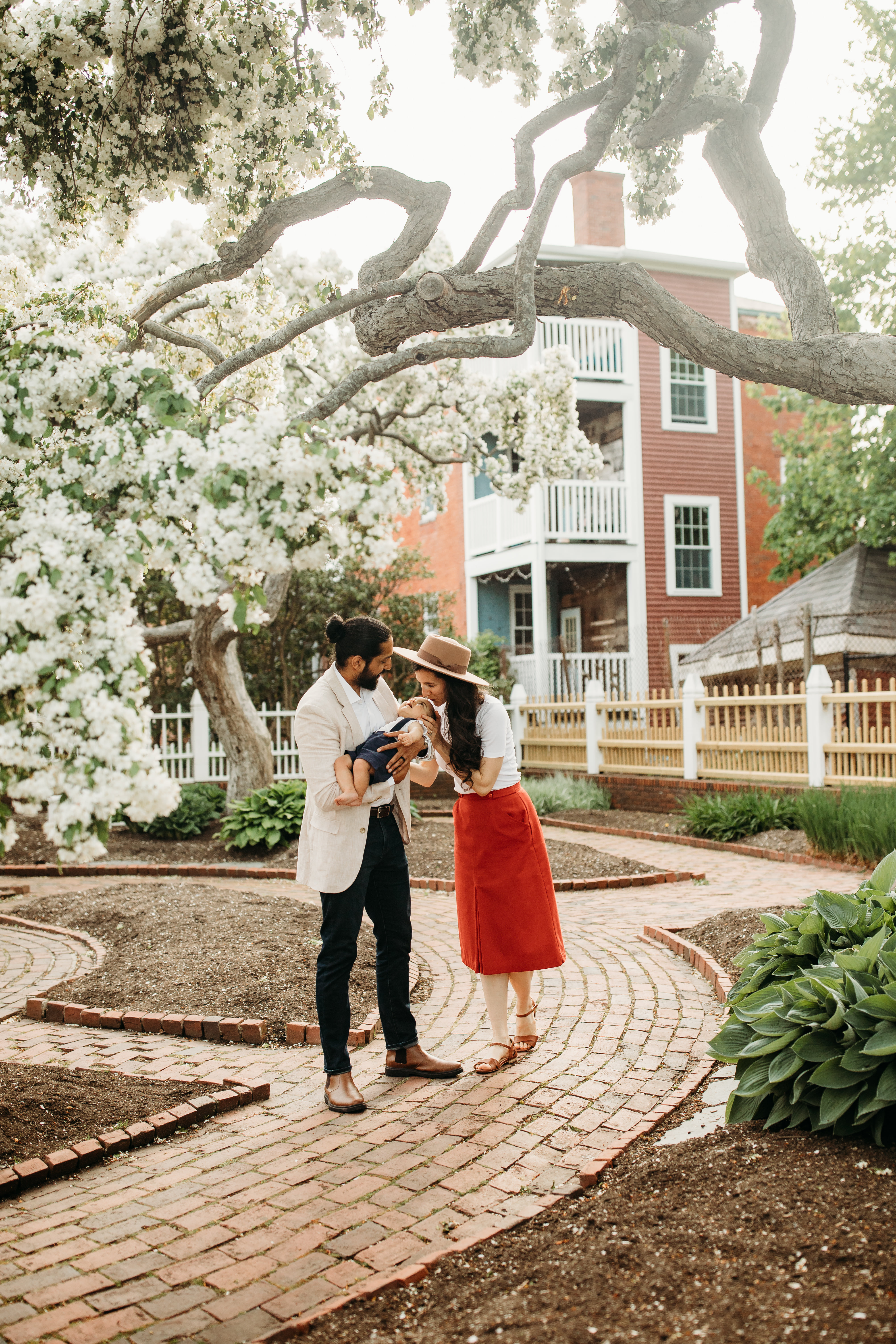 How do you celebrate your wedding anniversary?
We always go out to one of our favorite vegetarian restaurants in Portsmouth, The Green Elephant, which is an Asian-fusion restaurant with a ton of vegan options!
Don't worry what Aunt Thelma's going to think if she doesn't see meat on her plate—it's YOUR wedding!

What advice would you give other vegan couples embarking on the wedding-planning process?
It's absolutely doable, wherever you are! Our caterers in Mexico weren't vegan at all, but we requested vegan fare and even shared recipes with them, and they were happy to accommodate us! Furthermore, don't worry what Aunt Thelma's going to think if she doesn't see meat on her plate—it's YOUR wedding!
You seem to have discovered the key to a happy marriage. What is it?!
Open communication and spending quality time together are paramount. Plus, finding ways to grow together instead of apart. Can you read the same book (on parenting, finance, what have you...) and discuss its application in your life? One little trick is to strive to be an expert on your spouse. What does he or she really enjoy? What makes him or her tick? And, then, less romantically, mastering your schedule... including scheduling in fun time. Routine doesn't have to be boring, and is so essential to running an efficient home, especially when there are children involved.
What future plans are you especially excited about?
Ann: I'm so excited to launch this Mama Membership and connect with more like-minded mamas.
Ann and Arnold: We're excited to grow our family!
Want more vegan weddings?
You're going to love our Great Big Vegan Wedding Idea Book!