There's a lot of pressure to look incredible on your wedding day—not just because all eyes will be on you and there'll be what feels like a thousand photos taken throughout the course of the day—but because you want to look as amazing on the outside as you feel on the inside.

Enter the wedding hair and makeup artist (known in industry parlance as an HMUA).

These beauty pros are a bride's secret weapon for giving you that picture-perfect wedding day face, but as vegans, we also need someone who understands our ethics and can deliver those glowy, glamorous looks using cruelty-free cosmetics, animal-free makeup brushes, and vegan-approved hair products. Thankfully, they aren't unicorns—they actually do exist!
Toni Searle is one such pro. Growing up in England, she had no idea what career path she would take, but after an uninspired stint as an office worker, she knew that wasn't the future for her. Fate stepped in when her mother brought her a book by a hair and makeup artist that got her creative juices flowing.

"I liked learning about how to enhance natural beauty," remembers Toni. "After doing some friends' weddings, I knew I wanted to work with brides, as I just loved it so much."

A few years later, after countless clients asked if she also did hair, Toni added hair styling to her skill set, transforming her business into a full-service HMUA enterprise.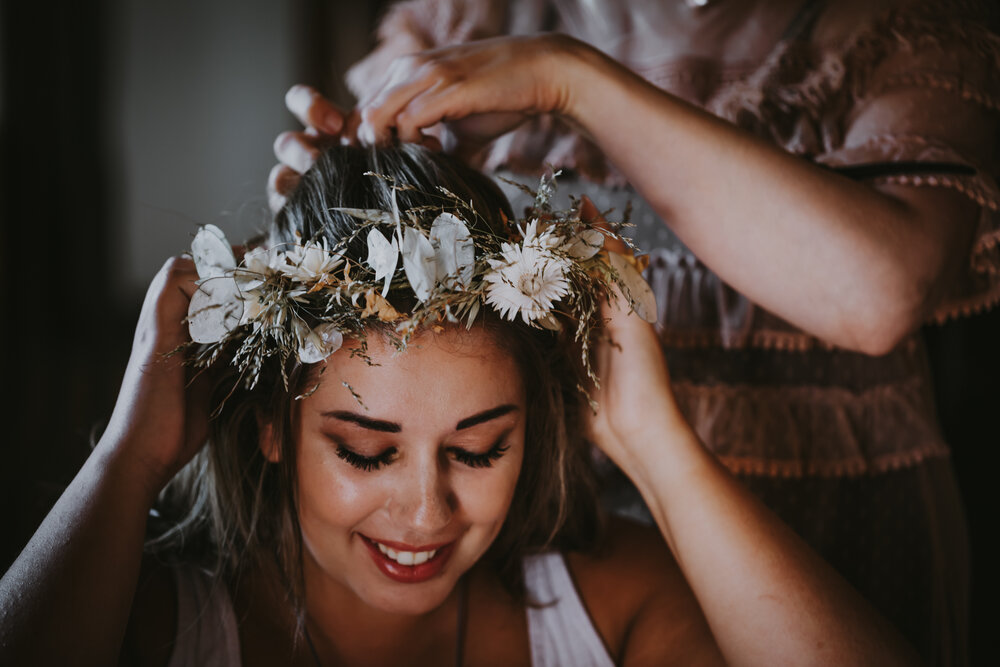 Toni's vegan journey evolved as her business grew, starting with a switch to cruelty-free cosmetics. "It was quite a gradual but inevitable process," Toni recalls. "Then I thought, 'How could I bang on about being cruelty-free but still contribute to animals being harmed?'"

After watching a few documentaries, Toni cut out dairy and all animal products from her life completely and hasn't looked back. "It's easier as my husband went vegan, too," she says.
Today, Toni's an in-demand HMUA (when she's not on maternity leave; she and her husband recently welcomed their second child), giving brides the wedding day glow-ups of their dreams. We caught up with Toni to get her insights on current trends in wedding hair and makeup, to find out how to look our best in wedding photos, and discover the top vegan beauty products she can't work without.
Pro tips from a vegan HMUA
What are the most flattering looks for modern brides on their wedding day? Are there any trends you're loving?
I tend not to follow trends, as I like people to embrace their unique features and show off their beauty that way. Although there is a glitter-in-the-hair trend at the moment that is really cool and I hope I get to do that on someone soon! My favorite thing to do is to perfect the skin and give my clients a really glowy, radiant makeup look. I think that is always flattering.
What are some mistakes that brides make with their makeup and/or hair on their wedding day?
Quite a lot of brides think that they need something completely different to what they like to do because it's their wedding day, then it turns out they feel really uncomfortable and want to look like themselves instead. This is why I love hair and makeup previews; it can be sorted before the wedding day so we can keep you really calm and relaxed.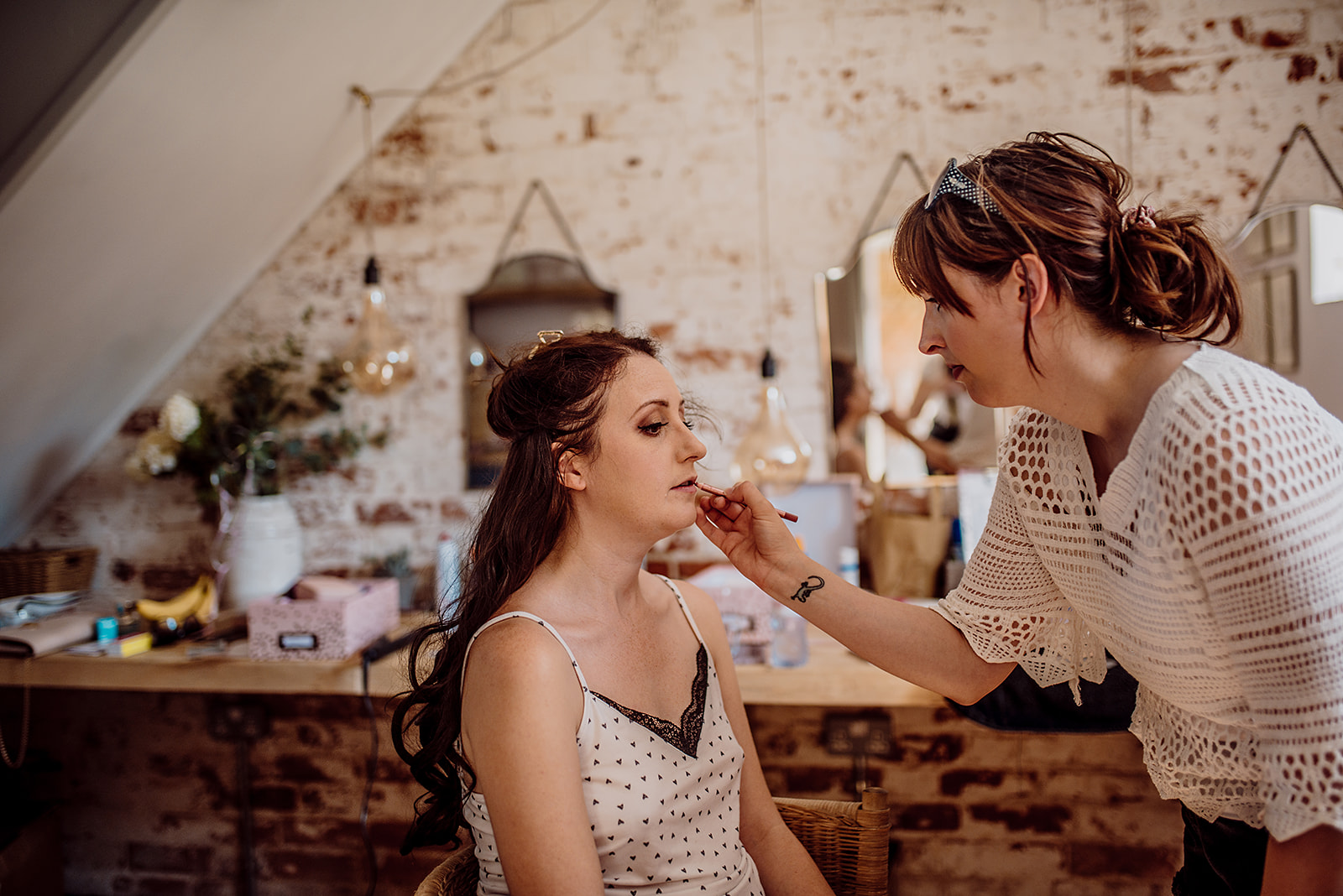 What are your tips for brides to ensure they look amazing in their wedding photos?
Make sure you speak up at your preview if the look isn't quite right; once it's perfect, we know, trust me! Your whole body language and mood changes. When you are feeling amazing it shows in your face. If you don't speak up, you'll just feel uncomfortable the whole time and this will show in the photos, too. If we've got it right at your preview, the getting-ready process will go smoothly and you will be relaxed, happy, and glowing in your photos. Oh, and also follow the skincare advice after your preview. That always helps!
How would you recommend brides find their HMUA?
Search using hashtags on instagram or find some wedding directories/planners that may recommend some artists for you. Directories targeted at vegan weddings are, of course, the best ones to look at if you are looking for a vegan HMUA. Have a look at the artists' portfolios and reviews; do you like their style of work? Do they seem trustworthy? Then have a budget in mind, and if someone you like is within your budget, get in contact with them. You can follow them first to see if you like their personality (that's a must as they will be working on your face on your wedding morning!), and join email lists of any artists that provide one. Talk to your other suppliers, too; they usually know HMUAs to recommend.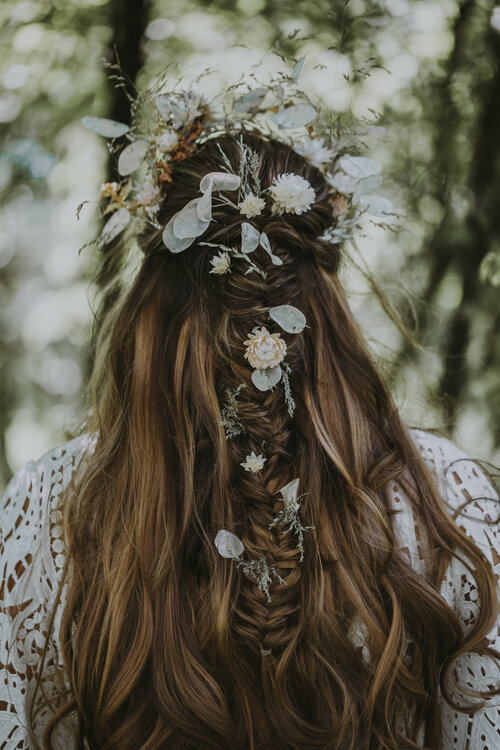 What questions should brides ask before hiring their HMUA?
You can always ask how the process works when it comes to previews and the wedding morning. Some artists need an assistant if you have an early ceremony or a large bridal party. Ask if their products are vegan/cruelty free, as that will be important to you. They may not be, but can always recommend another artist who is.
What should a bride expect on wedding day?
This depends on how many people I need to get ready/how many services are needed. I can do about six services on my own in about five hours, and any more than that I will need an assistant to make sure everything is running on time. I provide a schedule for the morning to take that pressure off and I will help you stick to it. You need more time than you realize; there will be parts of the morning where you need to take a break, have breakfast, give presents to your bridal party, talk to the florist and then you need time for photos, too. I aim to have you all ready at least one hour before the ceremony; this gives you time to get in your outfit, have photos, and have a bit of a breather before you walk down the aisle!
When you are feeling amazing it shows in your face.

What is your favorite part of working with brides on their wedding day?
A lot of my brides have been amazing and made me feel like part of the family! It's so lovely to be a part of such an important day, and the atmosphere is always so exciting and happy. I love getting to know everyone and helping my brides keep calm is something I am good at; you should be enjoying your wedding day. I love seeing how different everyone's wedding is, too, and have been a part of some really cool, unique weddings.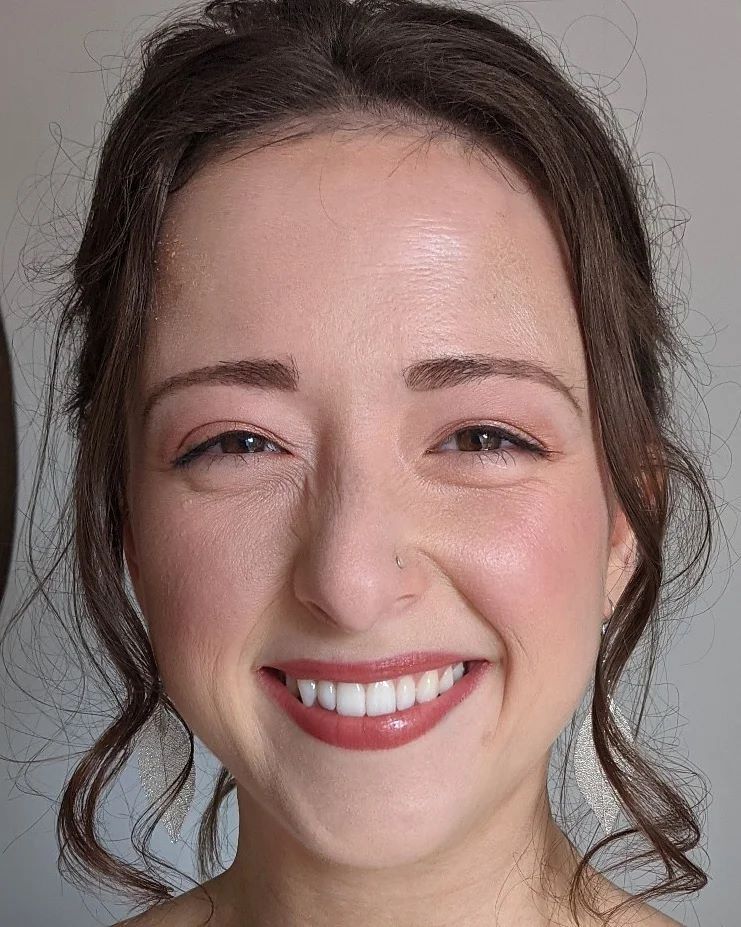 BONUS!
We asked Toni to share her favorite cruelty-free vegan products, and she narrowed it down to her top five.
1. West Barn Co Soap Brows
2. NYX Precision Brow Pencil
3. Danessa Myricks Colorfix Foils
4. Fenty Beauty KillaWatt Liquid Highlighter
5. RCMA Translucent Powder
Want more vegan weddings?
You're going to love our Great Big Vegan Wedding Idea Book!