Vegan nuptials have quickly become the most important source of innovation in the wedding-planning industry. The cruelty-free fêtes are advancing new ideas and creating elegant revolutions wherever they are held, and helping to drive home the reality that the vegan lifestyle is not only accessible, but beautiful, luxurious, and fun. To add a personal touch to your wedding day, borrow ideas from these couples who used their imaginations to bring personal touches to their wedding day, from plant-based tablescapes instead of flowers to donating leftover wedding reception food to a homeless shelter. Let these creative gestures inspire your big day.
Give DIY a try
When it comes to weddings, doing-it-yourself adds the ultimate personal touch and inevitably saves dollars. For Clare Madrigal and Cheryl Mejia's wedding, Clare sewed a Pride-inspired rainbow pillow that their dog, Pumpkin, toted down the aisle bearing their matrimonial rings. True to their personalities, couple Andrew "Ace" Amis and Chelsea Clegg created their own 'zine in place of traditional wedding programs, reflecting who they are, rather than attempting an aesthetic that wasn't authentic. The heavily inked pair also gave each other DIY stick-and-poke tattoos of the Big Dipper during their honeymoon. For Amber St. Peter and Alex Owens' outdoor fête, the mother of the groom purchased fruit and vegetables at a local shop to assemble unique plant-based tablescapes in lieu of traditional centerpieces.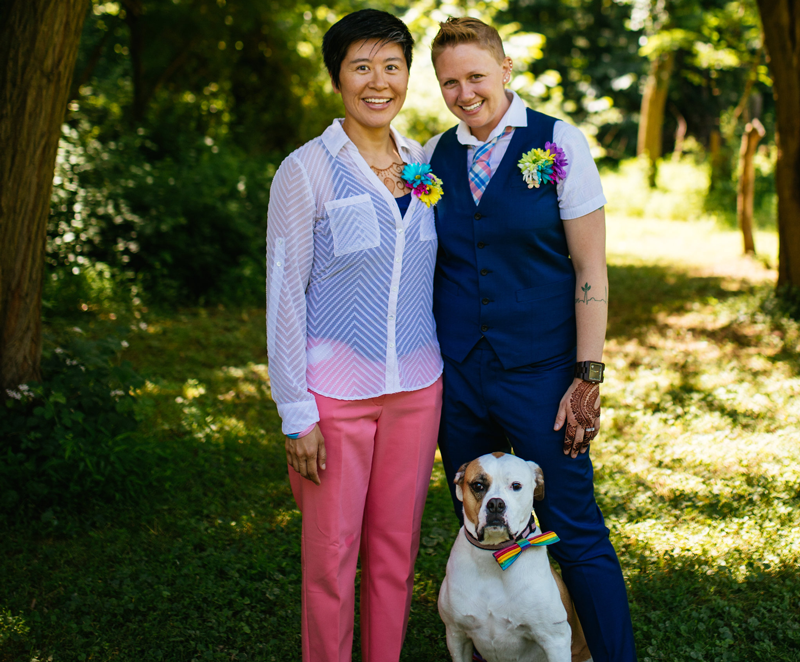 Forgo the flowers
Couples kept flower budgets in-check by focusing on built-in botanicals and getting creative with low-cost alternatives to traditional décor. Amber and Alex found an outdoor aquaponic farm in Anaheim, CA for their wedding that was filled with sunshine, greenery, and passion fruit plants, allowing them to avoid cut flowers. Andrew and Chelsea also took advantage of a venue that offered an abundance of foliage, marrying in the midst of a lush botanical garden. And when Candice Hutchings and James Aita found their weird and wonderful dream venue, a winding Victorian mansion, they realized they'd have to cut their décor budget dramatically. So the pair went heavy on candles, intensifying the ambience without the need for a hefty florals budget.
Do your day your way
All of these couples had one thing in common: their special days were true reflections of themselves. Cady Meshnick and Henry Stanley's ceremony was deeply personal, performed by their shared best friend, who offered a shout-out to Brooklyn-based Champs Diner. Andrew and Chelsea honored the animals who live at Iowa Farm Sanctuary, where they serve on the board, with gilded farm animal toy decorations. Clare and Cheryl's American Sign Language-interpreted ceremony, and reception at the Washington, DC Pride parade, embraced the communities that they are part of. And though the guests of Amber and Alex's may have wanted more than minimal alcohol, the pot-aficionados skipped the full bar, in favor of a cannabis-infused medicated cake.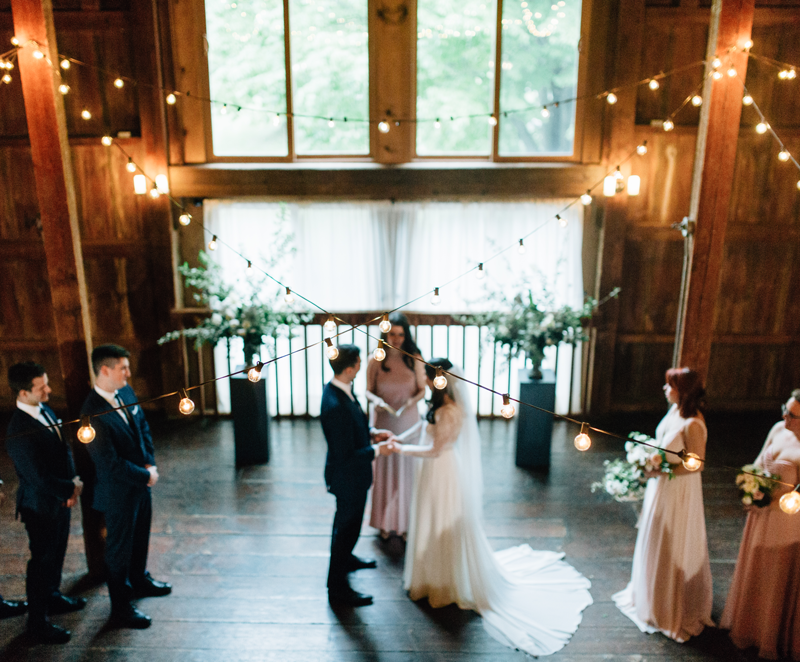 Get your activism on
Turns out that a wedding may actually be an act of activism, in elaborate disguise. Cady and Henry's wedding was a classic and beautifully produced celebration that brought an entirely vegan affair to a 100-percent omnivore crowd. In this way, they were able to present a fine plant-based meal to a brand new audience, in a joyous and loving environment. At Clare and Cheryl's Pride-inspired rainbow-filled lovefest, one of the activities for guests was creating signs for the next day's LGBTQ March. Andrew and Chelsea embraced causes close to their hearts by making sure their wedding was eco-friendly, and also donating leftover food to Central Iowa Homeless Shelter & Services. Candice and James used creatively articulated haute-vegan cuisine as their activist tool of choice, knocking guests' socks off with the masterful meal, and revealing that it was vegan only as it was being served.
Spread vegan love
In every way, holding a vegan wedding spreads vegan love. A compassionate fête means no animals suffer for a celebration that is meant to honor the love we have for others. Not only did all of these couples host stunning events that came at no cost to animals, they also introduced many guests to professionally prepared creative vegan dishes for the first time. These spectacular affairs spread love between the couples, to their friends and family, and to the animals. Weddings are all about love, so why not honor our love for all living beings on this special day?
Want more vegan weddings?
You're going to love our Great Big Vegan Wedding Idea Book!