It's a classic Hollywood love story. Boy meets girl at a Tinseltown soirée and they experience a mutual attraction while performing a musical duet together. What Jackie Johnson and Adam McCabe would later discover is that the real star in the family was their dog, Chooch.

With Instagram followers numbering in the thousands, Chooch—a rescue dog who regularly sports pink hair, Mom's favorite color—is no stranger to the limelight, but she even stole the show at her parents' wedding.

"My dog is my best friend, my angel, and my baby," says Jackie. "This was basically her wedding, too."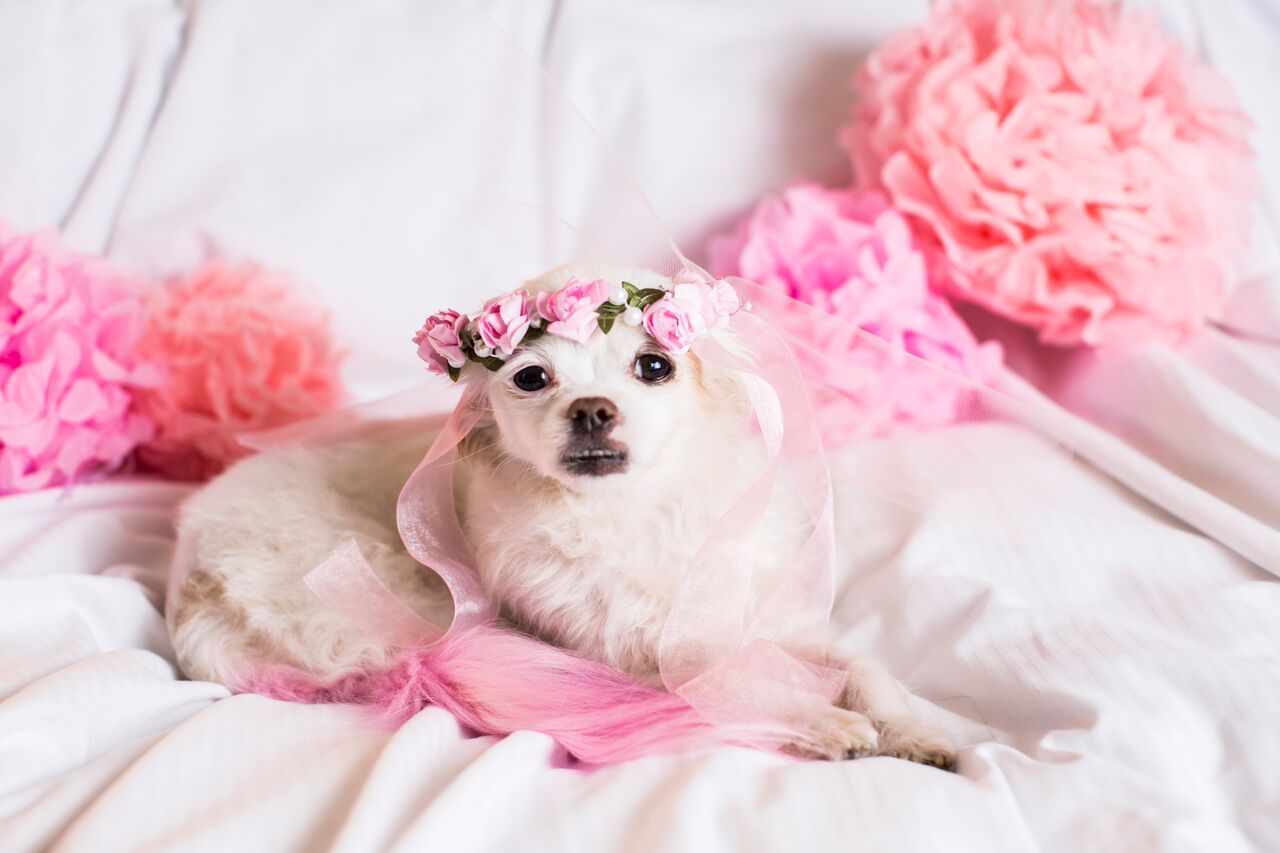 Sporting a custom artisanal flower crown crafted by the bride herself and a freshly dipped rose-tinted tail (done with vegetable-based vegan dye, of course), Chooch walked her mom down the aisle, and was the emblem of perfect canine behavior as she sat for portrait after wedding portrait.

"Because of how special she is in our lives, it was an absolute priority to have her not only there, but as involved as possible," says Jackie.

Key to a successful pet-inclusive wedding, insists Jackie, is working around your pet's personality. "I would cater the involvement around their vibe and behavior," she says. If your dog is afraid of loud noises, a mariachi band or fireworks might not be the best approach. And if your companion animal is afraid of children, an adults-only wedding might be in order.


For a fabulous canine-inclusive wedding, borrow these five tried-and-true tips:

Tip #1: Ensure a Pet-Friendly Venue
Don't wait until the day of your wedding to discover pets aren't allowed at the property. Do your research, and understand that your top choice destination might not be pet-friendly. "I turned down venue options that did not allow dogs to attend!" says Jackie.

Tip #2: Keep Your Canine Companion Calm
"If your dog is a little jumpy, vocal, or anxious," cautions Jackie, "maybe you do pictures with them prior to the ceremony, then let them rest, or have them walk down the aisle on a leash with someone the dog is used to, then put them away right after."

Tip #3: Get Professional Help
"I also recommend working with a trainer if necessary to pull off ring bearer duties or anything similar," says Jackie. "We love dogs, but at the end of the day, they are not the most predictable creatures!"

Tip #4: Enlist a Dog Wrangler
Ask a dog-loving friend or family member to be the Dog Wrangler of Honor who cares for your canine companion when you're having portraits snapped or taking the floor for your first dance. Having someone you trust will free you up to fully enjoy your big day.

Tip #5: Make it Official
Letting guests know in advance that there will be a VIP (Very Important Pooch) in attendance will give anyone with allergies the chance to refill their allergy prescriptions, and lets your loved ones know you are thinking of them, too.
Want more vegan weddings?
You're going to love our Great Big Vegan Wedding Idea Book!