How do you want to feel on your wedding day? That might be the most important question to ask yourself as you begin your quest for the perfect outfit to wear while saying your I Dos. Do you want to feel glamorous? Like a fairy princess? Chic and sophisticated? Or maybe comfort is your key criteria? Once you've settled on that feeling, you're halfway there.

You already know that your dress (or perhaps, wedding pantsuit or separates—more on that later!) will be vegan, but settling on the right balance of price, quality, and the way you feel can be a process. But thankfully, more and more options are becoming available for brides who want to wear their ethics and feel amazing, too.
The Importance of Ethics
The global weddingwear industry is forecast to reach $87 Billion by 2025, with wedding gowns making up the bulk of the market. That's a lot of dresses—many of which are produced on a mass scale to meet the needs of brides around the world. Like fast-fashion, there is a lot of waste in the wedding dress industry, with scrap material being a leading cause. Then there are the dresses that end up in landfills after the wedding is over.

Eco-conscious brides are looking for ways to offset that waste, including choosing outfits that can be worn long after their wedding celebrations, either with modifications such as shortening a long dress to make it suitable for daywear or as a party dress, or choosing separates, such as a skirt and top or even wedding trousers and jackets that can be mixed and matched with standard wardrobe pieces for extended wear.

Another eco-friendly option is buying pre-owned or vintage wedding attire—a particularly appealing option for brides who only plan to wear their dress for that one special day. Purchasing something that's already in the waste stream diverts that garment from the landfill, and can potentially be passed on to other brides who are also interested in lessening their ecological impact on their wedding day.

Whatever approach you take to your wedding attire, know that there are options that are not only vegan and eco-friendly, but suit a variety of budgets. We've found three to help get you started on your journey toward the altar.
Bride on a Budget
Every year, 92 million tons of fabric waste end up in landfills, but even big bridal dress companies are making an effort to minimize waste. One of those is Azazie, a Silicon Valley-based company that serves one out of every 10 brides in the United States.
"All of our dresses are made to order which adds a unique component to our sustainable practices," says Azazie's senior brand marketing manager Keily Hernandez, This minimizes waste and ensures your gown fits like a glove. And for brides on a budget, their prices can't be beat.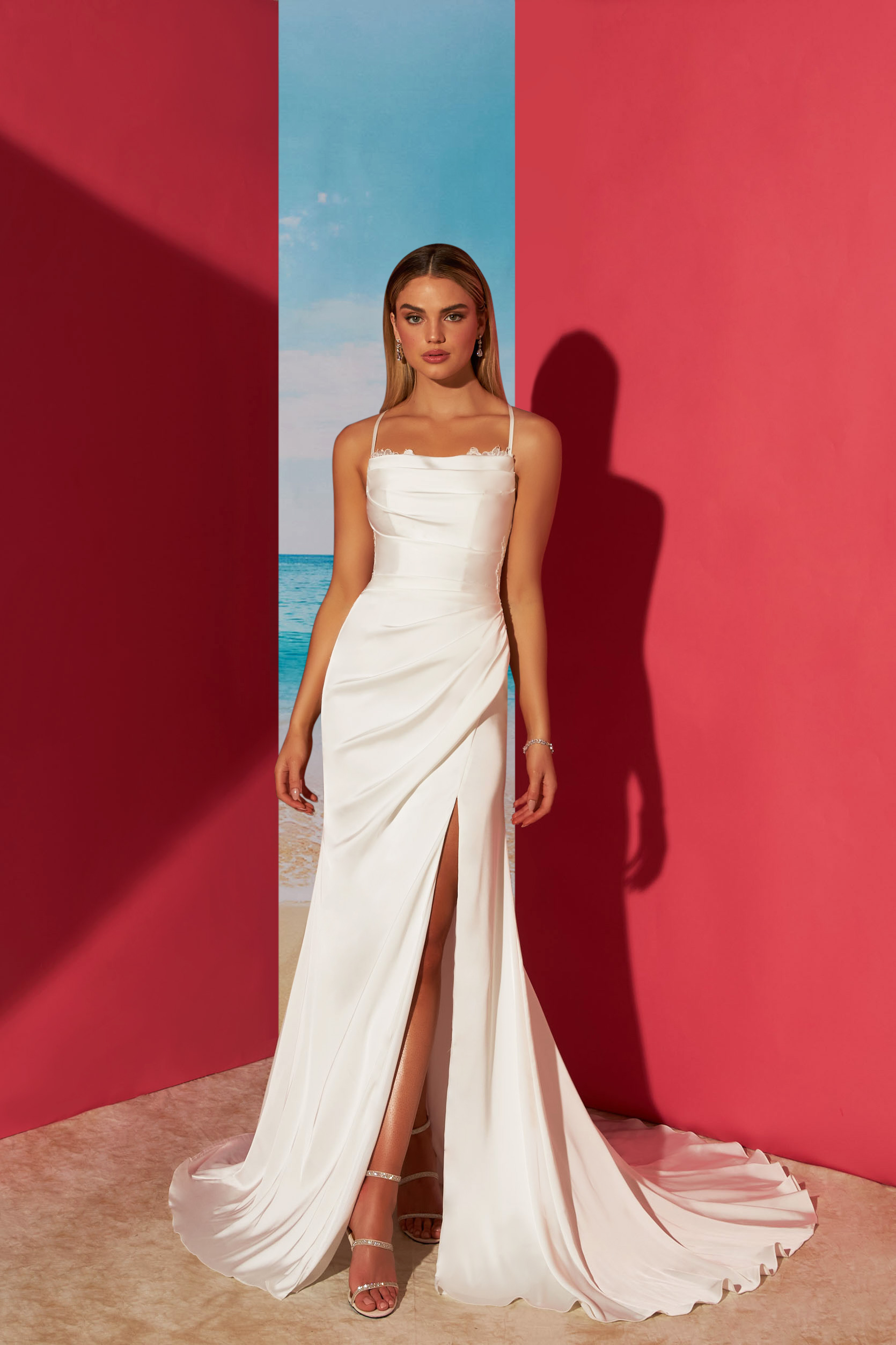 They offer a range of vegan bridal gowns that start at $239 (and vegan bridal-party dresses start at just $79.) Styles range from mini dresses to long and elegant with trains, to one-shoulder dresses and full-length sleeve options. Vegan fabric options include tulle, velvet, and stretch satin.
"In terms of bridal trends for 2023, we are focusing on our three most popular categories that our Azazie Brides gravitate towards the most," says Keily. "Modern Sleek: Minimalistic/Sleek Silhouettes; Fairytale: Classic Silhouettes with feminine details; and Sexy Glam: Sexy and highly embellished gowns."
Mid-Range and Magnificent
The name comes from a WWII-era campaign in the UK to grow your own vegetables, and while Dig For Victory is a contemporary brand, their dresses have a vintage appeal that speaks to brides with unique style sensibilities that lean toward modern and romantic but nod to the past.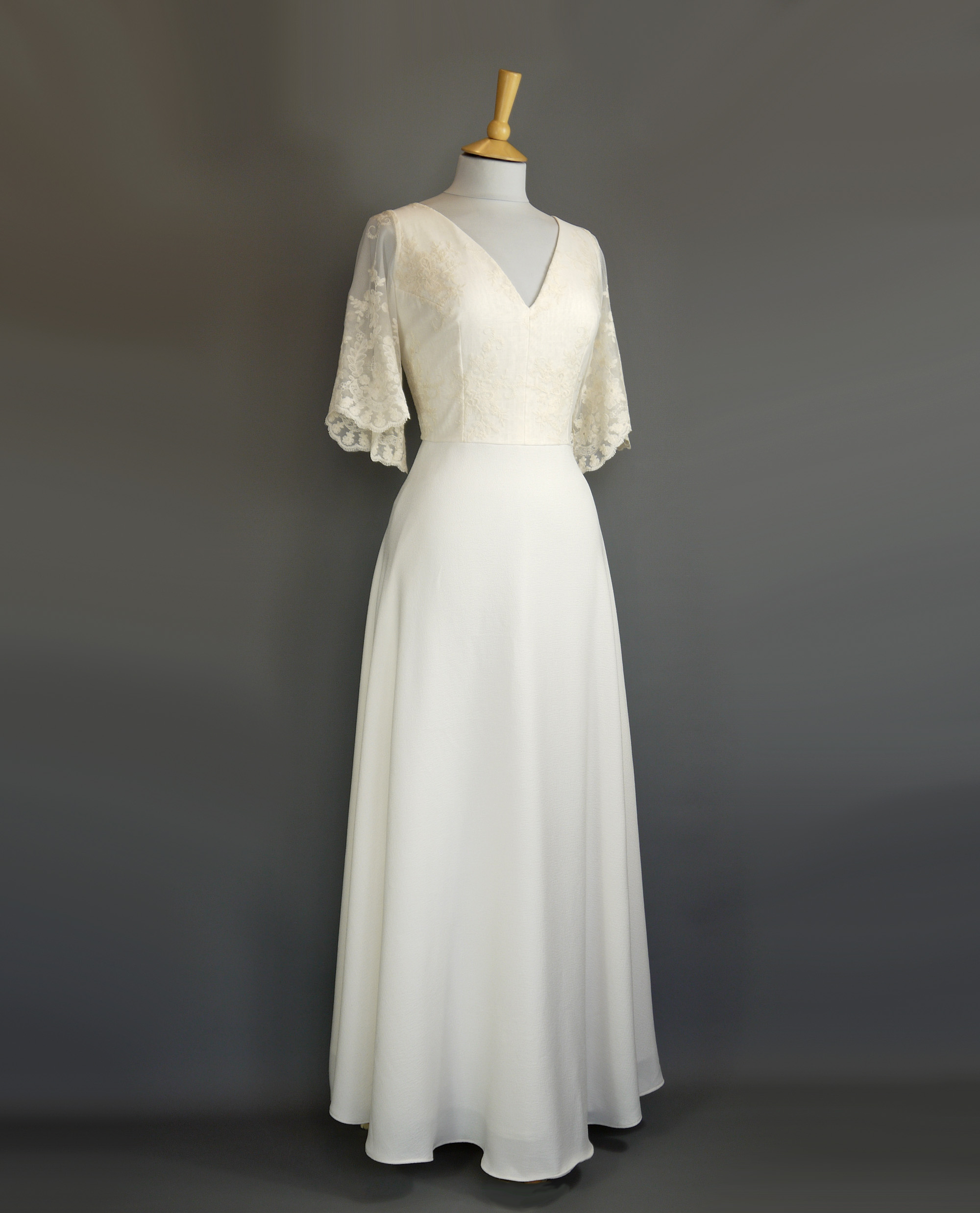 "Our customers vary dramatically in age and style and location but what they share is a desire for a dress and a wedding that reflects their individual personalities and that they can feel both comfortable and special when wearing," says the boutique bridal brand's owner and founder, Eleanor Callaghan.
Dig For Victory offers dresses for vegan brides in both vintage and contemporary fabrics, including unique options such as ivory cotton poplin, a popular choice for 2023. "Other trends that our customers are embracing are flutter sleeves, ballerina/long midi lengths and layers of tulle," says Eleanor.

Dresses are made to order in Brighton, England, and can take between three and eight weeks to create, plus up to two weeks for international delivery. It's advisable to begin the process a year out from your wedding, just in case!
Luxe and Lovely
For the bride with the luxury of a big budget and a commitment to ethical glamour on her wedding day, there's E&W Couture. This Wales-based brand works toward zero waste ideals in every step of the process, including recycling, cutting out plastic packaging, and donating fabric scraps to non-profits for repurposing. They also work with local suppliers to keep their carbon impact low, and by funding reforestation projects on Ecologi.

Their prices begin at roughly $1500, and climb upwards of $3500, but you're paying for quality, ethics, style, and—yes!—that "🌱" symbol so you know your dress is vegan. The company recently began working with the first V-labeled fabric producers in the world, and are now using the materials to create fabulous dresses that not only stand out from the crowd, but are figure flattering, and comfortable.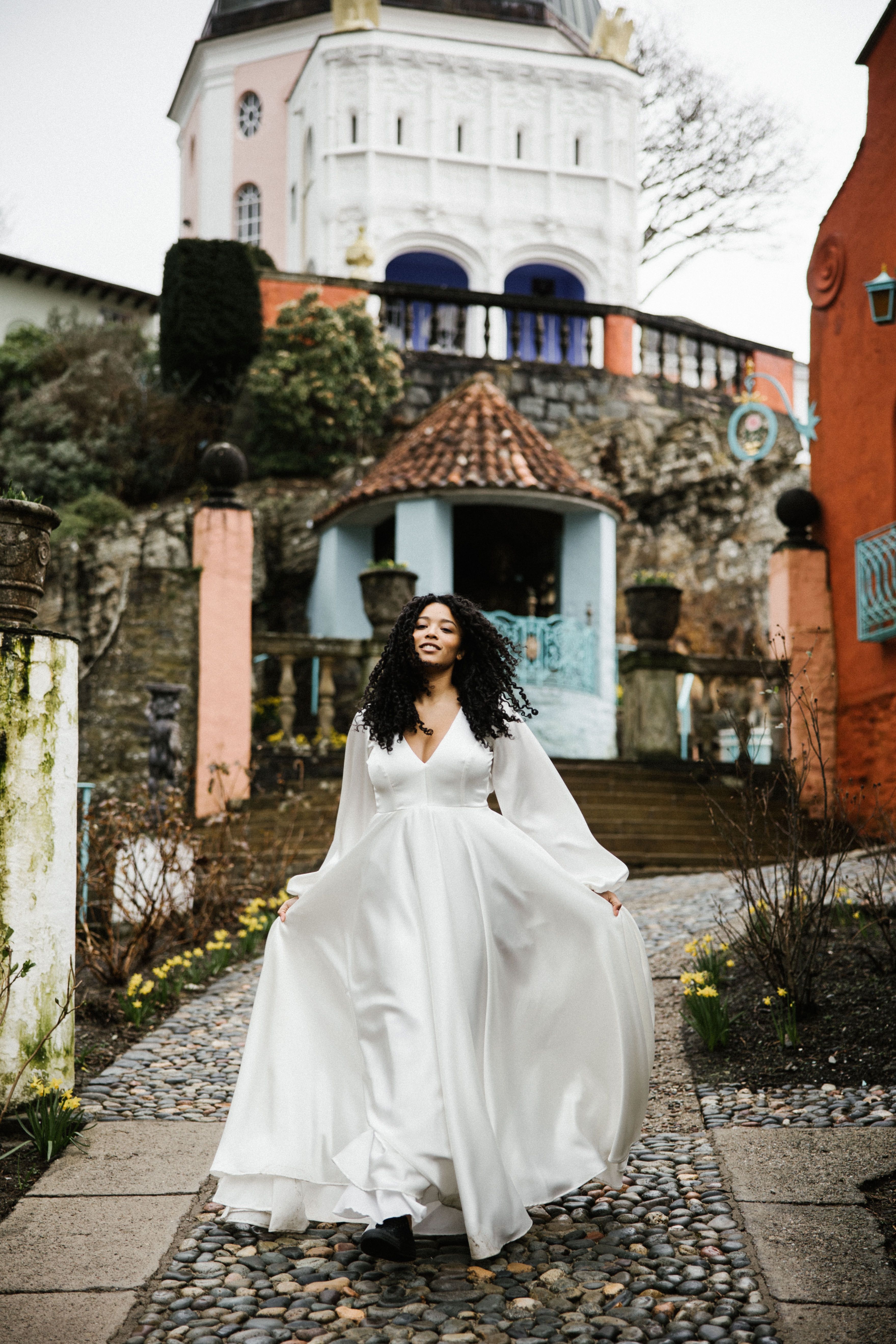 "The E&W Couture bride can't be defined," says creative director Sophie Creed. "We cater for brides from all walks of life and all different shapes and sizes with only one thing in common, they all know they don't want to be traditional."

Looking ahead to the new year, the E&W Couture bride is gravitating toward volume and pattern. "They are looking for a modern take on a classic floral fabric or a simple silhouette with extraordinary simple fabric, such as our soft vegan range," says Sophie. "Our 2023 brides are really embracing oversized sleeves, bold prints and low V necks."

Have you already found the vegan dress of your dreams? Tell us about it for a chance to be featured on veganweddings.com!
Want more vegan weddings?
You're going to love our Great Big Vegan Wedding Idea Book!