When your vegan wedding is postponed by a pandemic, then hurricane floods, and then a burst water pipe in the new home you just bought, you might be tempted to throw in the towel on the whole idea of getting hitched. But sometimes, a fairy godmother steps in and saves the day.

For Gabe Pendleton and Adam Goral, two fairy godmothers came to the rescue: Gabe's mom Gretchen and wedding planner Sarona Farrell.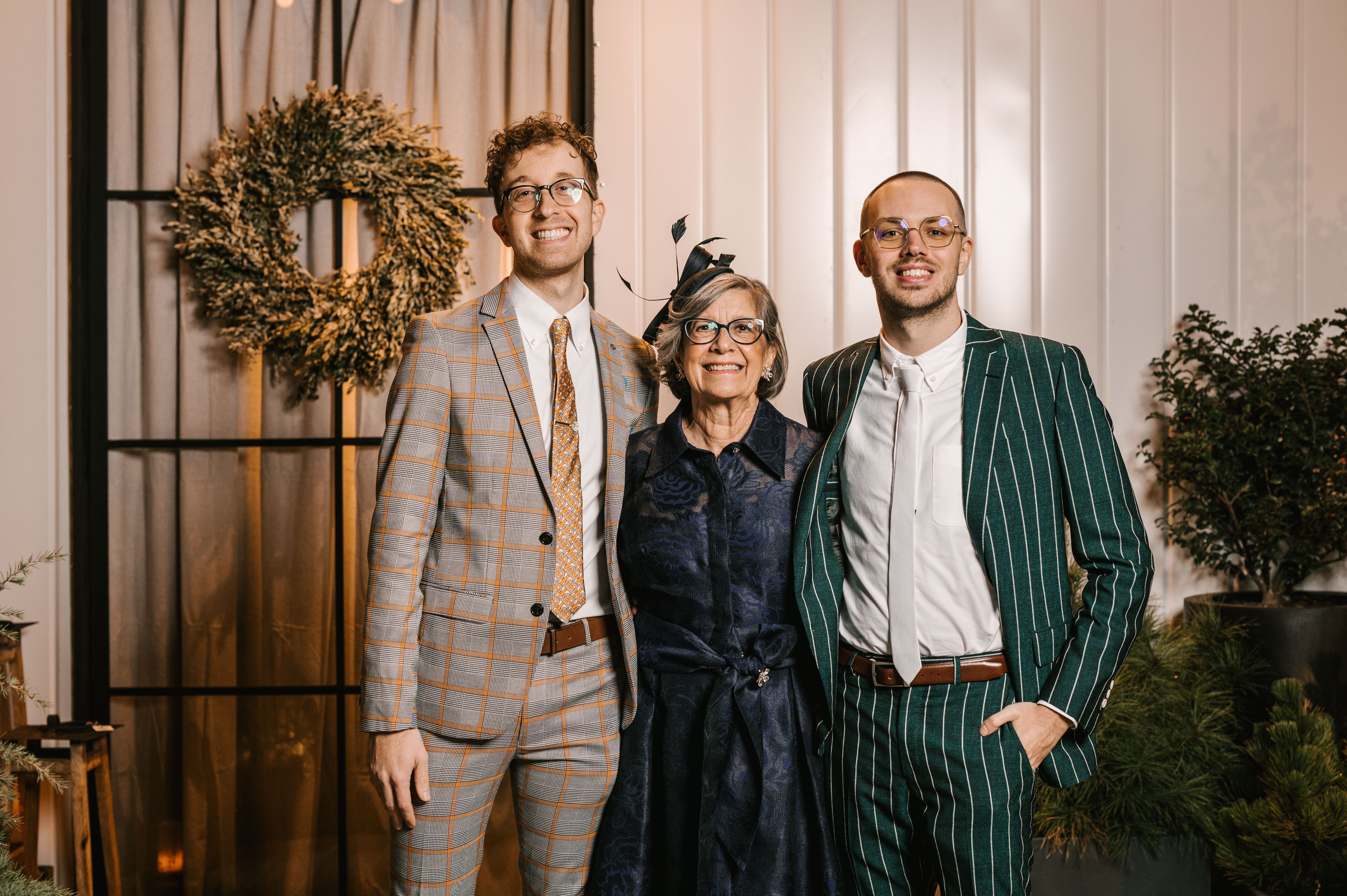 When Sarona's good friend Gretchen told her about Gabe and Adam's rocky road to the altar and her wish to give her son and his husband-to-be the wedding they deserved, Sarona had a stroke of inspiration. Until 2021, she had been a professional singer, but then the pandemic put the kibosh on her performing career and prompted a vocational pivot. Sarona's new career? Wedding planner.

"I said to her, 'Hey, would you like to give me a chance on this wedding?'"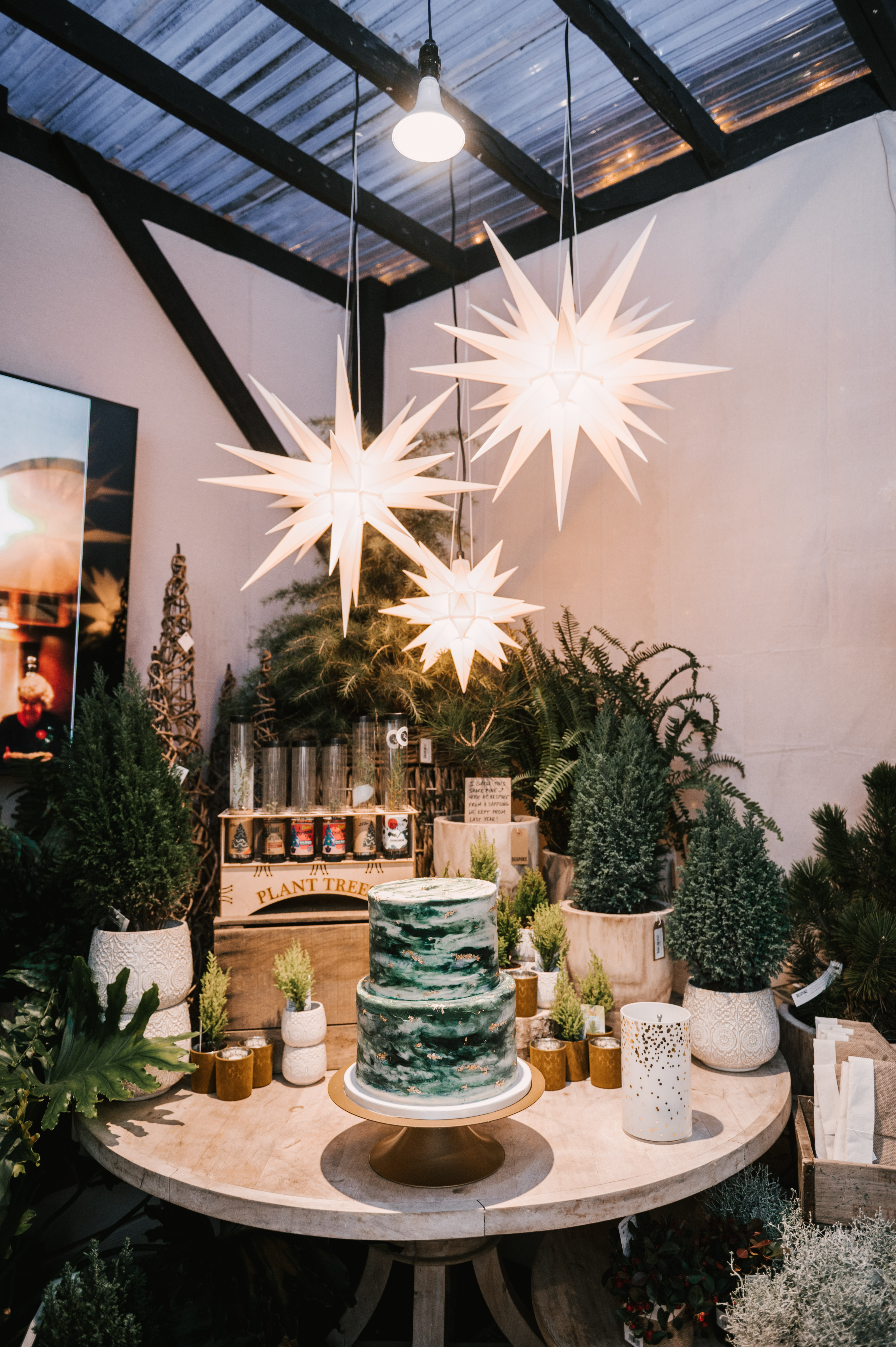 Never mind that Sarona had just launched Glōweddings and had yet to collaborate with a vegan client, and wasn't fully versed in all things vegan. But Gretchen had faith in her friend's abilities, and together, they got to work.

"She hired Glōweddings, and between us, we looked at what they had already spent, the contracts already signed, and proceeded to plan this new wedding in less than eight weeks, during Christmas!" remembers Sarona.

Gabe and Adam had already secured their caterer—Rachel Klein of Philadelphia's legendary Miss Rachel's Pantry—and commissioned their wedding cake from Philly favorite Crust Vegan Bakery, but there were still logistical details aplenty that required the time and attention of experts.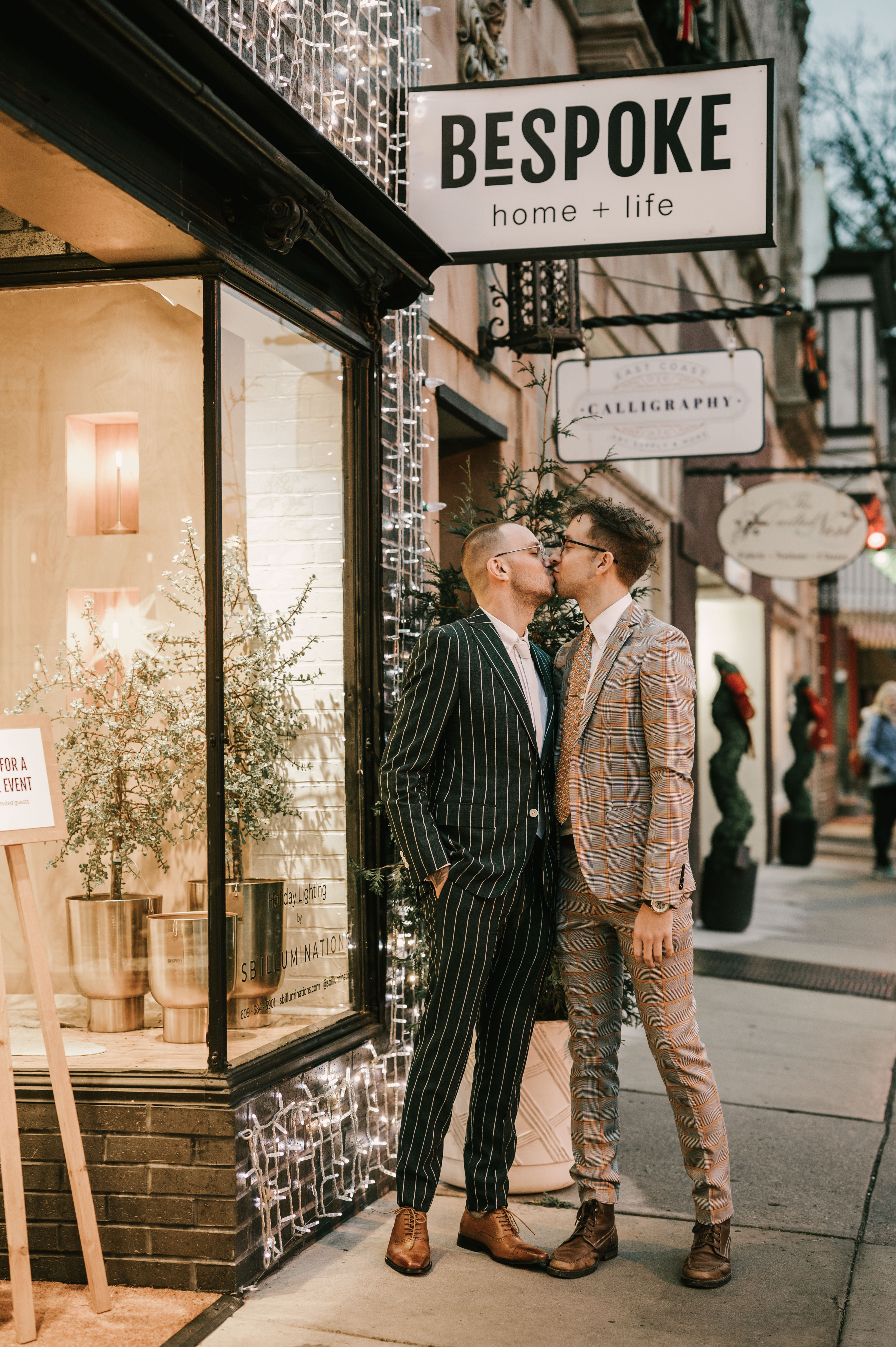 "We moved venues, cut the guest list down to 30 and, due to the generosity of every single vendor, were able to use all those deposits to pay for this scaled-down wedding," says Sarona.

For Gabe and Adam's more intimate wedding celebration, Sarona found a gem of a venue in Bespoke Home + Life, a plant-centric lifestyle concept store brimming with palms, ferns, and other gorgeous greenery. Infused with natural light and full of cozy ambiance, it was the perfect space for a yuletide-season wedding.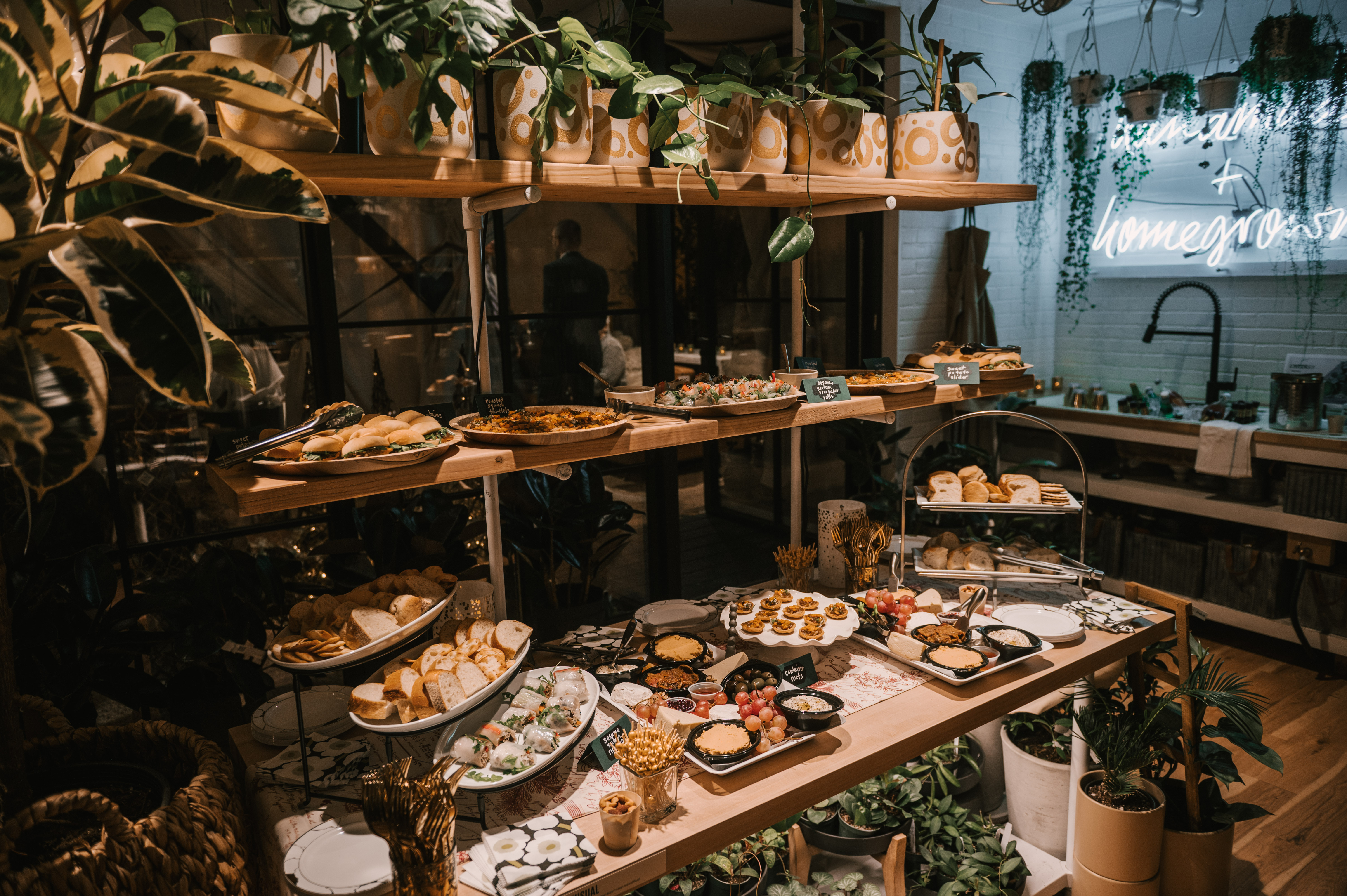 Being her debut wedding-planning assignment, Sarona learned a lot as the process unfolded, making discoveries that challenged her notions of what "vegan" meant, especially when it came to the food. But the pros at Miss Rachel's Pantry and Crust Vegan Bakery helped her overcome any trepidation she was experiencing.

"Because it was my first official wedding as a business owner, and I was unfamiliar with vegan catering, I have to admit I was a little intimidated," says Sarona. "I guess I didn't know what to expect from the wedding food and the cake but suffice to say I was blown away by how delicious everything was. And of course Rachel Klein and Meagan Benz are the loveliest people and vendors."
I had no idea vegan food could be so delicious."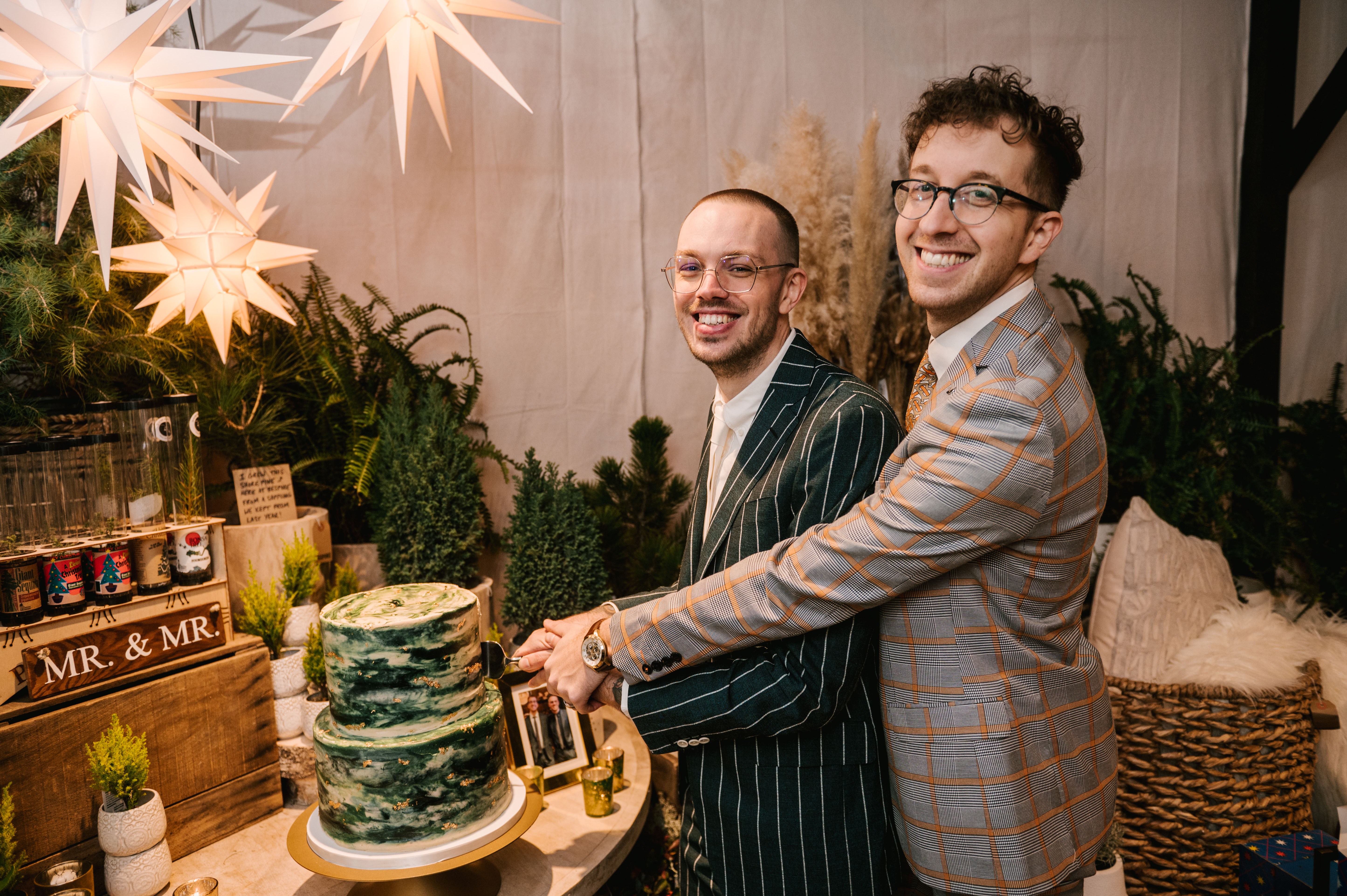 On December 18, with the magic of the holiday festivities in the air, Gabe and Adam married in the company of their loved ones—and one very happy first-time wedding planner, who didn't actually meet the couple face-to-face until the day of the wedding.

"It was incredible," remembers Sarona. "The venue, the food, the family and friends, and the guys actually got married! We were pretty proud of ourselves!"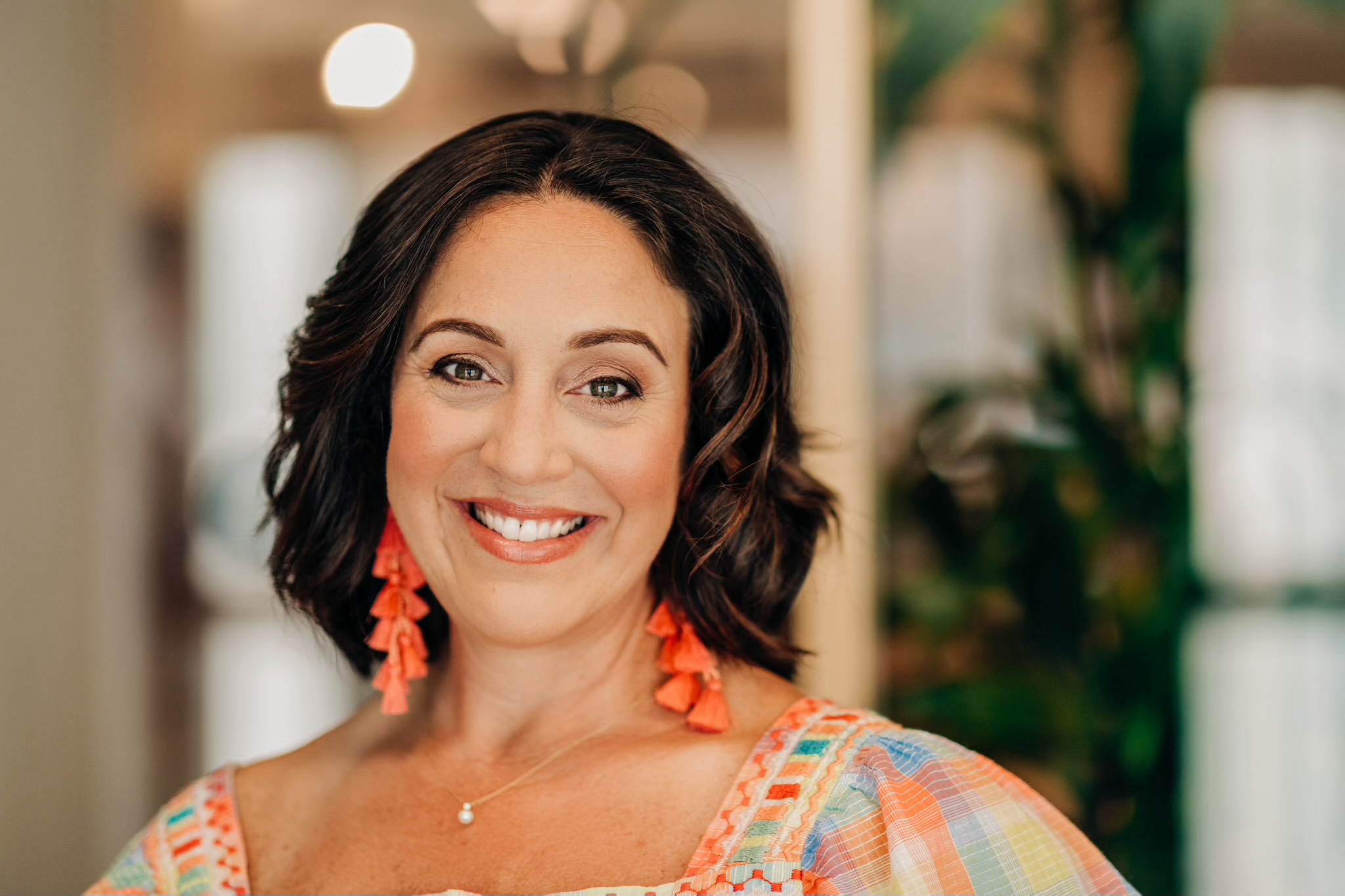 With one incredible vegan wedding to launch her career in a dynamic new direction, Sarona has established Glōweddings as a full-service wedding planning agency specializing in East Coast celebrations and authentic Hawaiian destination weddings. And while she has yet to take on another vegan wedding, she would welcome the opportunity.

"Before this wedding, I was like 'How do you make a cake without eggs?!' It just had not been my area of expertise," says Sarona. "But I didn't feel like anything was lacking. I was pretty blown away."
Want more vegan weddings?
You're going to love our Great Big Vegan Wedding Idea Book!