Rachel Klein knows a thing or two about creating unforgettable vegan wedding experiences. She launched her culinary career as a private chef all the way back in 2008, and 15 years later, she's catered more than 200 vegan weddings at venues ranging from swanky yachts to animal sanctuaries and everything in between. She's learned a lot along the way, including the ins and outs of running a vegan restaurant (she's the brains and talent behind Philadelphia's one-of-a-kind Miss Rachel's Pantry), and her benchmark for success has remained consistent over the years: "To create food that will get your meat-eating cousins to lick the plate."

Because food plays such an important part of every wedding—the average couple in the United States will spend nearly 20 percent of their wedding budget on food—and especially vegan weddings, where many non-vegan friends and family will be in attendance and the food is sometimes judged with extra scrutiny—we sat down with Rachel to ask for her sage advice for creating the most inviting, inclusive, and memorable vegan wedding feast for soon-to-be marrieds and she graciously obliged.

While she now caters exclusively at her restaurant (a fabulous destination for a small wedding!), Rachel's wisdom and experience will help you navigate some of the hurdles to ensure your big day is the best day ever, whether you're planning an intimate minimony or an epic nuptial celebration with your entire extended friends and family circle. Read on for her stellar tips and tricks!
Advice From a Catering Pro
Finding a highly qualified vegan caterer is one of the most daunting tasks a couple will face while planning their vegan wedding. Where do your clients even begin to look for you?
Our team is small, caring, and diligent, and our reputation reflects our hard work. Word of mouth has gone such a long way and is our biggest (and maybe only?) form of advertising. I think that's because we put so much effort into each wedding; always just one wedding per day so each couple gets undivided attention. It's just another day for us, but it's a hugely important day for the folks getting married. It's important not to lose sight of that.

PRO TIP: Word of mouth rules when finding your caterer!
What can couples expect when meeting with their caterer for the first time? What should they bring to prepare for this important meeting?
When I meet with a couple, I see how we get along and make sure they feel heard during the meeting. If doing a food tasting, I'll ask them to bring their most staunchly meat-and-potatoes friend or family member to try the food while we talk. I ask for food likes and dislikes, menu themes or favorite foods, and I ask leading questions (e.g. "How do you feel about olives?"), because often people forget how they feel about foods they don't like in the whirlwind planning stages of a huge life event! Part of being heard means sometimes being able to incorporate a dish near and dear to the couple, whether it's a recipe from a family member who has passed, or a nod to a particular culture. We try to accommodate and honor that person or tradition.

PRO TIP: Bring a meat-eating friend to your caterer's food tasting!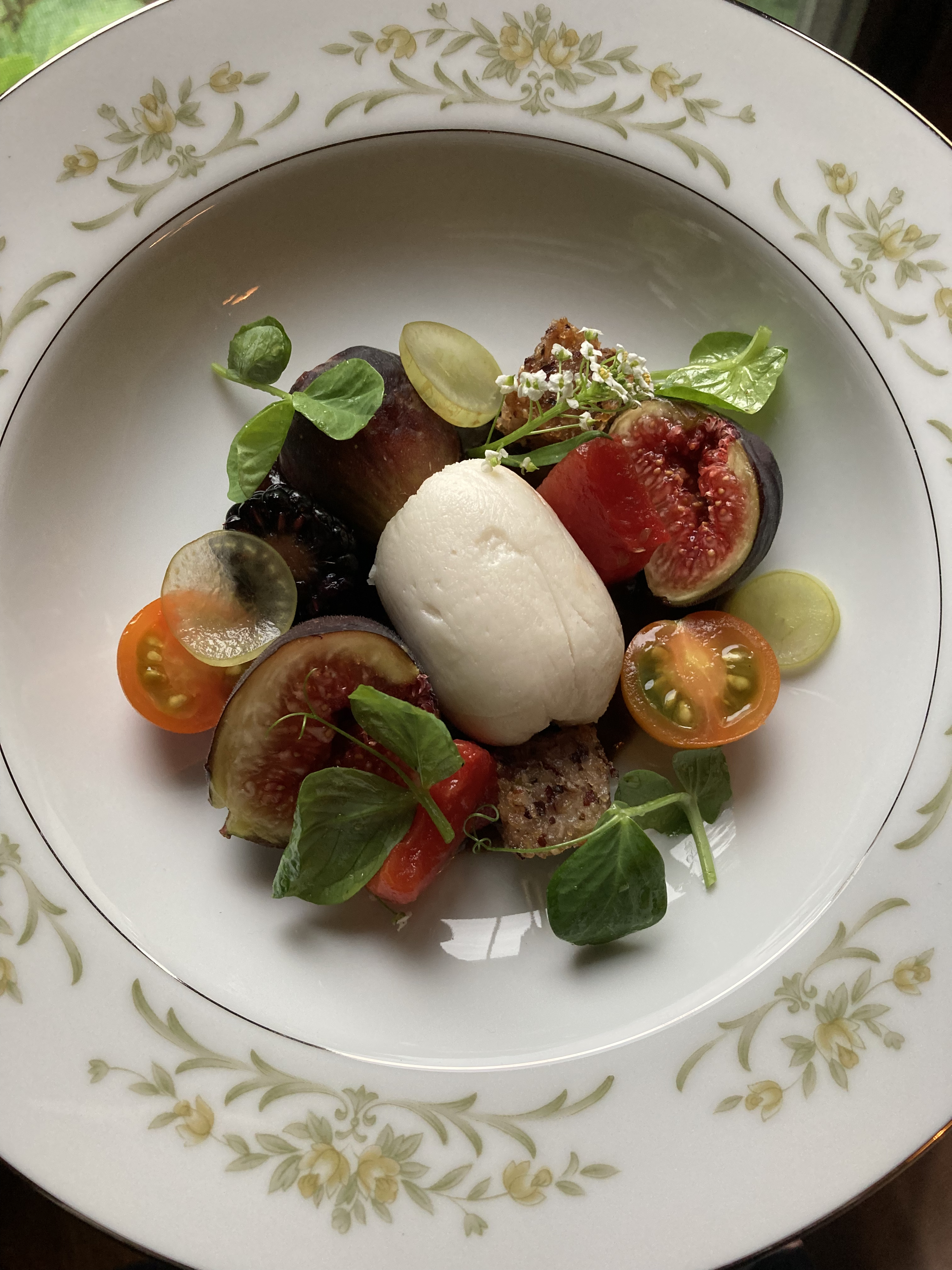 What are some of the advantages to having a vegan caterer vs. a "regular" caterer who can do vegan food?
Trust is key when hiring a caterer. If you trust your "regular" caterer to both deliver *really good* vegan food that's actually vegan, you're golden. There are many fantastic omnivorous restaurants that cater, and a great deal of them here in Philadelphia do a phenomenal job. By talking and tasting their food, you'll be able to make your decision. I think that an advantage of hiring a vegan caterer, though, is threefold:
1. You'll know that your menu isn't divergent from what their chefs cook day to day; you'll be getting the menu on which that the caterer prides themself.
2. You'll know for sure that no animal products will inadvertently make their way into the menu.
3. Your weird aunt who has a penchant for requesting off-menu items won't finesse her way to an omnivorous plate at your reception.
PRO TIP: If hiring a non-vegan caterer, establish trust beforehand, but if at all possible, choose a vegan caterer!
I love incorporating ideas from the couple! It's challenging and exciting. I love weddings where there's food everywhere, too. Cheese trays, grazing platters, family-style shared plates, little appetizers. I never want anyone to be hungry.


What is the biggest misstep couples make when planning their wedding menus?
I think the menu cannot be solidified until the caterer has seen the kitchen of your venue. Often venues that allow outside caterers are sort of offbeat, nontraditional spaces, with kitchens that are smaller or less-equipped than a restaurant kitchen might be. Trust your caterer when they tell you what's possible. We create menus with a formula—ones that we know will be loved by a diverse crowd (example: maybe leave the tempeh and brown rice to Sunday night dinner at home, in favor of a vegan crab cake with buttery whipped potatoes!). When working off-site, we would take food preferences to heart, and then from there, make dishes with mass appeal that could be executed perfectly in less than ideal cooking conditions.
Another oversight/misstep is ignoring the crowd. If you have a group that might not be familiar with vegan food, go with family-style or buffet service, versus plated service. That way, your guests have a handful of options in front of them to choose as they please, versus a composed plate that they do not have control over once it's received.
PRO TIP: Trust your caterer if they say something won't work! They have your best interests at heart.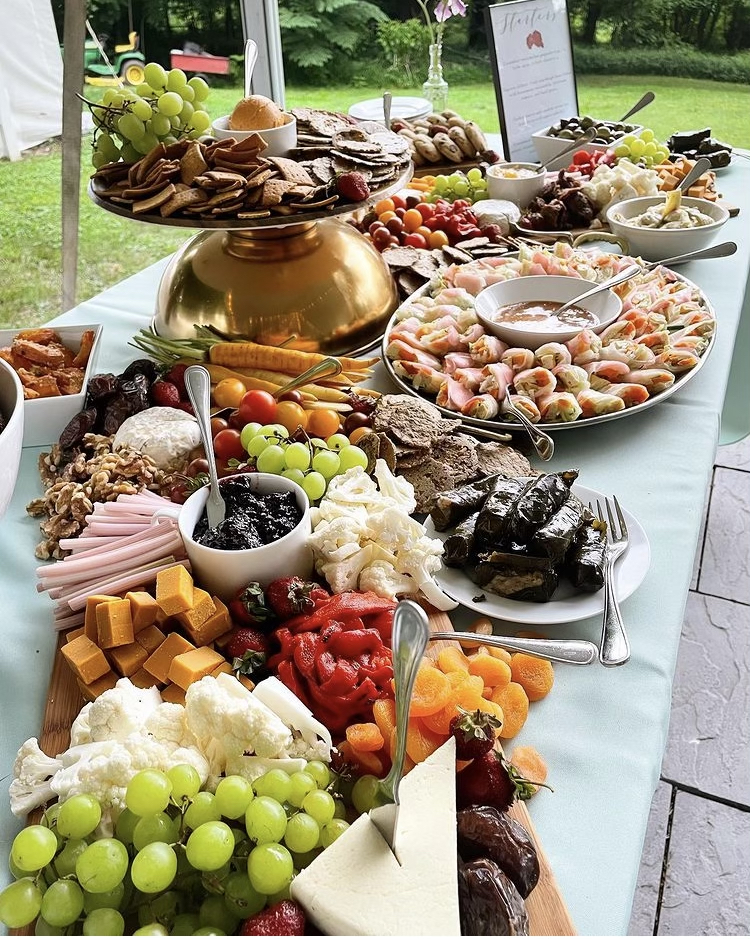 What advice, if any, would you give to a couple who is on the fence about whether to add non-vegan foods to appease family members who aren't vegan?
Don't do it! Jokes aside, it is your day. One of my earlier weddings was at an art gallery for a lovely couple who had a few family members protesting unless there was meat on the menu. We did a little trickery (!) and made a special pan of (vegan, unbeknownst to the family) "chicken piccata" and called it just that. No one knew. In all seriousness, this is your day, and a celebration of who you are. If the food is good, and the menu titles emphasizes familiar, beautifully described ingredients (example: "Truffled Wild Mushroom Risotto with Spring Leeks" versus "Gluten-Free Vegan Risotto"), it's incredible how receptive your guests will be. Especially if you have taken their tastes into consideration, as mentioned above, and choose flavors and concepts you know they enjoy.

PRO TIP: Use familiar language to describe your wedding-day fare; this will put vegan-resistant friends and family at ease.
Want more vegan weddings?
You're going to love our Great Big Vegan Wedding Idea Book!