The wedding dress fantasy—finding an elegant, perfect-fit gown that makes you feel like the lead character in a rom-com—is one of the little joys shared by many brides-to-be around the world. But when you add vegan values to the equation—a quest for something silk-free and fabulous, ideally made using ethical labor practices in a zero-waste atelier—the fantasy begins to look more like the Impossible Dream.

But, wait. Not so fast!

A fairy godmother in human form is making magic happen for all the ethically minded brides out there, and if her name sounds familiar, that's because Leanne Mai-ly Hilgart has already transformed fashion wishes into reality as the creative force behind Vaute Couture, the luxe vegan fashion house she founded way back in 2008.

After a successful 13-year run, Leanne closed Vaute during peak COVID and took a well-deserved sabbatical. Just two years later, she's putting her skills and talents back into production with the launch of Humans We Love, a slow fashion brand where stunning, sustainably produced dresses commingle with vintage and handmade rings created by women artists. Oh, and there are vegan wedding shoes, too! Basically, Humans We Love is a one-stop shop for about-to-be marrieds of the vegan persuasion, and we couldn't be more excited to welcome this fledgling brand into our universe.
The worklife of an entrepreneur is non-stop, so we were delighted when Leanne agreed to take time out of her busy life to tell us more about Humans We Love and to share her perspectives on everything from veils to dogs at weddings (spoiler alert: she's a fan of both). Read on for all the juicy insights!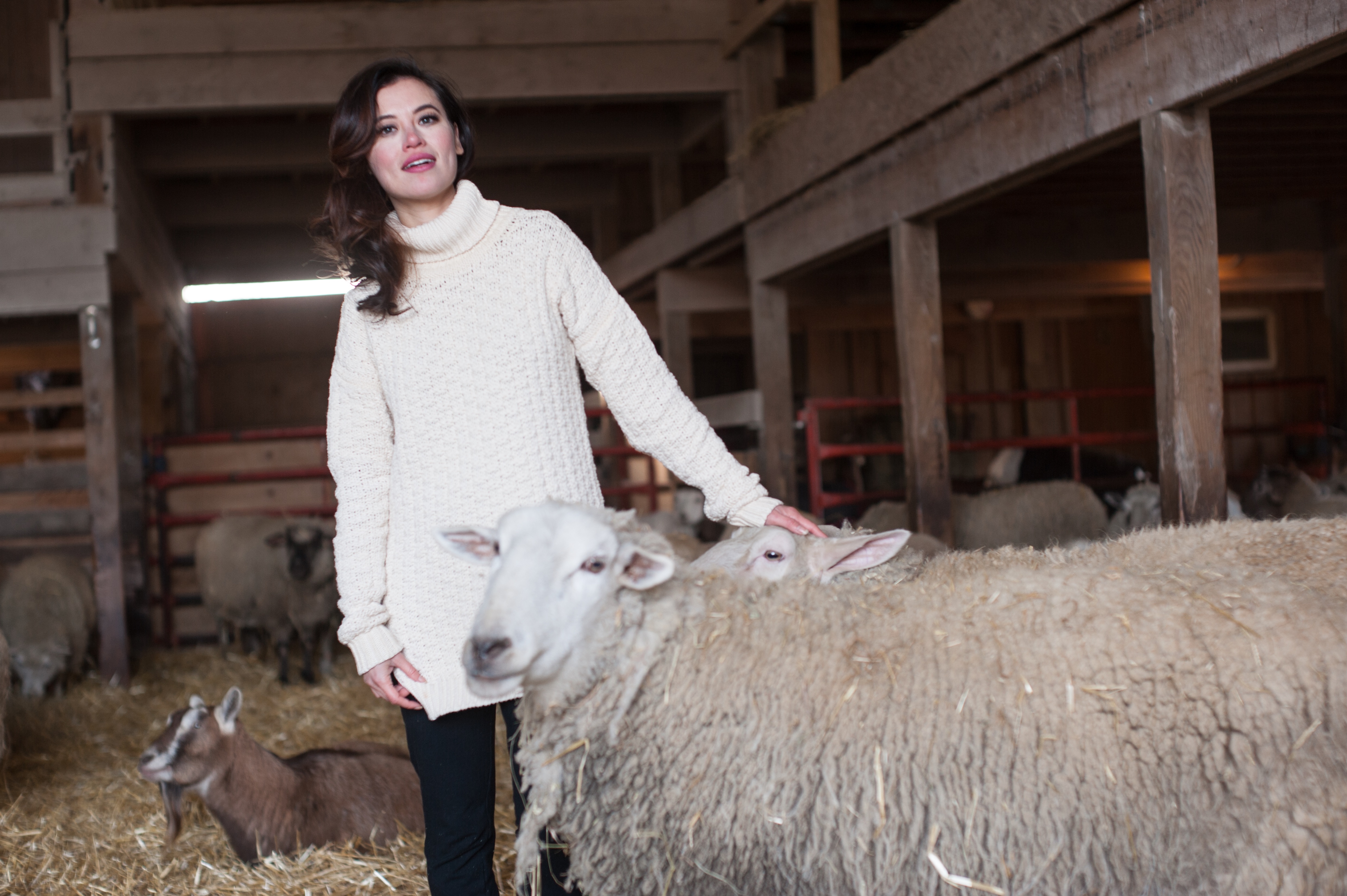 13 Questions Leanne Mai-ly Hilgart of Humans We Love
Favorite wedding trend of 2023?
I'm only one month into being in the bridal world, but I think the reason why it felt right to start Humans We Love now with vegan couture zero-waste gowns is because the pandemic seemed to shake up the wedding world, as anything does that creates tight constrictions. When we couldn't have in-person gatherings, and people started celebrating through zoom, I think that broke some standard bridal/wedding rules that we previously considered fixed. It allowed everyone to start thinking of what was right for them, for their unique love and celebration, instead of spending lots of money doing their wedding the way everyone else is and has. My favorite trend is that people are realizing there is a whole world of ways they can celebrate their love; it's their relationship, and their community, and they can do whatever they want.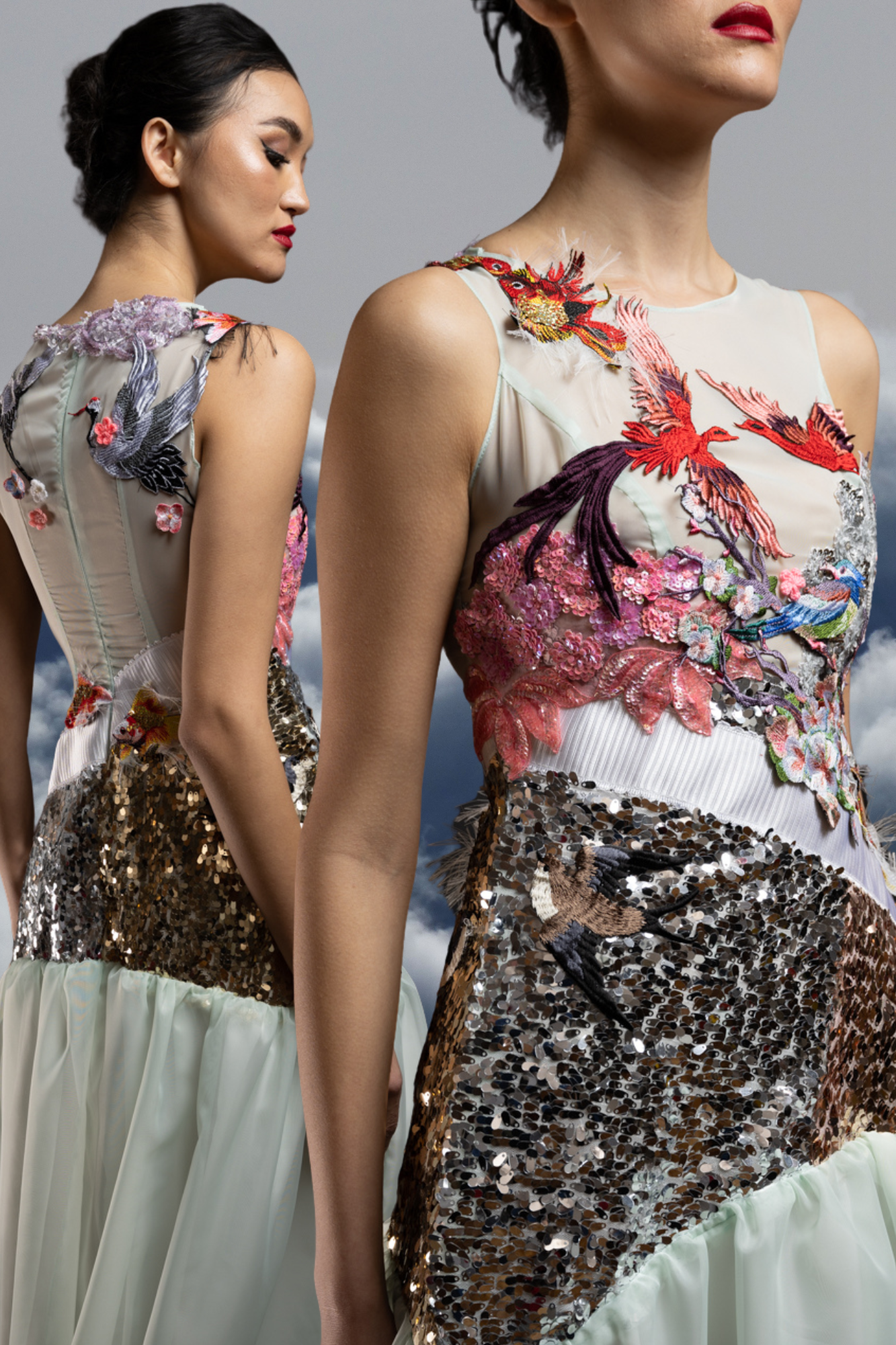 Ideal venue for a vegan wedding?|
A vegan restaurant is a great venue for your vegan wedding! If you have a certain vibe you love, there might me one that already has decked out their space. The art deco x punk look of Overthrow Hospitality's Ladybird in Manhattan with green velvet and the coolest bathroom wallpaper of '80s girls would make an amazing space to celebrate a small wedding. Obviously an animal sanctuary is also pretty perfect if the sanctuary has a space away from the animals where they won't be disturbed. Supporting the sanctuary, getting married in a space built as a refuge, and also a way to put faces to the food your omnivore guests may not see yet as beings … It's the ultimate celebration of love for all beings.
Veils: yes or no?
One hundred percent yes to veils. Even if you're doing something more "casual" (like our '60s inspired Courthouse lace mini dress) the veil adds so much sweet movement and drama. Basically a veil on any pastel dress reads "BRIDE!" And I'm a big fan of the shorter the dress, the longer the veil. If you are wearing a long gown, the veil becomes a new layer of movement, think of it like the clouds in the sky, and you are the sun. It makes it all feel soft-focus.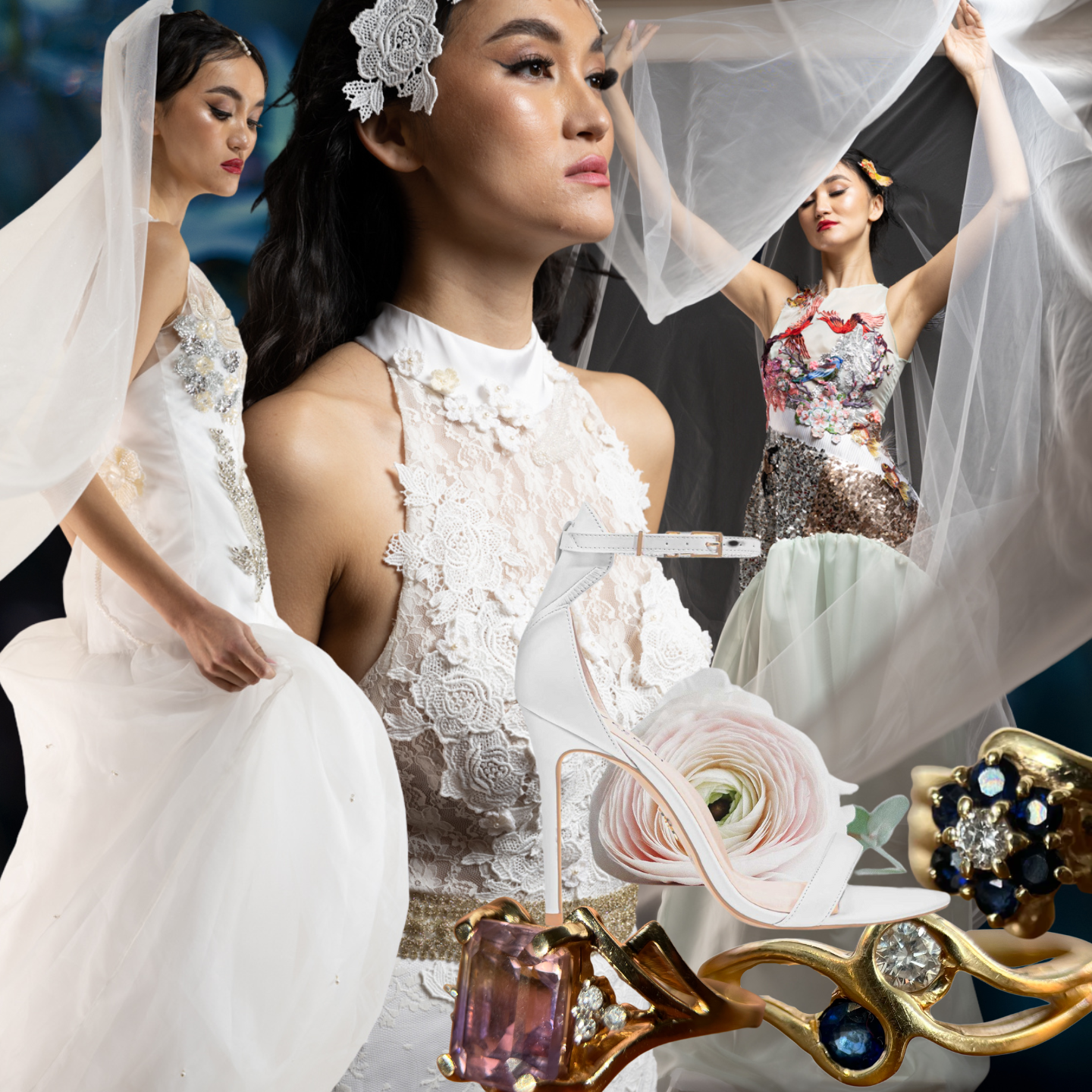 Announce your wedding is vegan or keep it on the DL?
Hm. I think this is a very personal choice! Everyone has their own brand of activism. If you don't mention it's vegan and everyone just enjoys the food but there's also a menu with ingredients listed, guests may put two and two together for that aha moment of WOW THIS IS GOOD, and IT'S VEGAN. But if you'd like to make it a clear statement, that's good for reminding people that vegan food is yum and beautiful and something they might be into making more of at home. I think it's a great idea to suggest favorite vegan restaurants in town for guests to try for their other meals, and if you have time, suggest vegan cookbooks or YouTube channels for easy vegan cooking at home post-wedding, in case they loved the food and want to try it at home.
If I chose my own engagement ring, it would be ______________.
Oh dang. TOUGH QUESTION. I feature two amazing female designers of ethical engagement rings (Tamsin Rasor & Ciara Bowles) on our site, HumansWeLove.com. Tamsin makes her rings in NYC of recycled metal and traceable stones and she's known for her gorgeous ombré wedding bands. They are SO beautiful. Ciara makes her rings by hand in the London Jewelry District with never-worn vintage and antique stones. I also source vintage engagement rings; my favorites are from the Victorian era. But if I was going to choose my own engagement ring, I would probably have one made: a cluster of tiny ombré pastel diamonds with a pink or yellow lab grown diamond center, heart or emerald cut, set in a hand-carved yellow gold band.
What dress/outfit from your collection would you be inclined to wear on your wedding day?
I think it'd be fun to wear a FEW; what other day can someone wear multiple outfits, unless you're asked to host the Grammys?! The Courthouse mini I'd wear for the night before, probably with Bhava boots. The Lovebirds gown with hand-embroidered koi fish, crane, and phoenix bird couples I'd wear for the ceremony, and the silk-free slip dress for the reception, with the sky-high slit and Veerah Venus heels in vegan leather. Perfect for eating and dancing ♥

Describe a bridesmaid's look you love right now.
I LOVE monochromatic and gradient aesthetics, so choosing two hues and having each bridesmaid wear a solid dress in that color spectrum between those two hues allows for a soft sweet cohesive watercolor effect when everyone is all together, and also creates a unique look for each.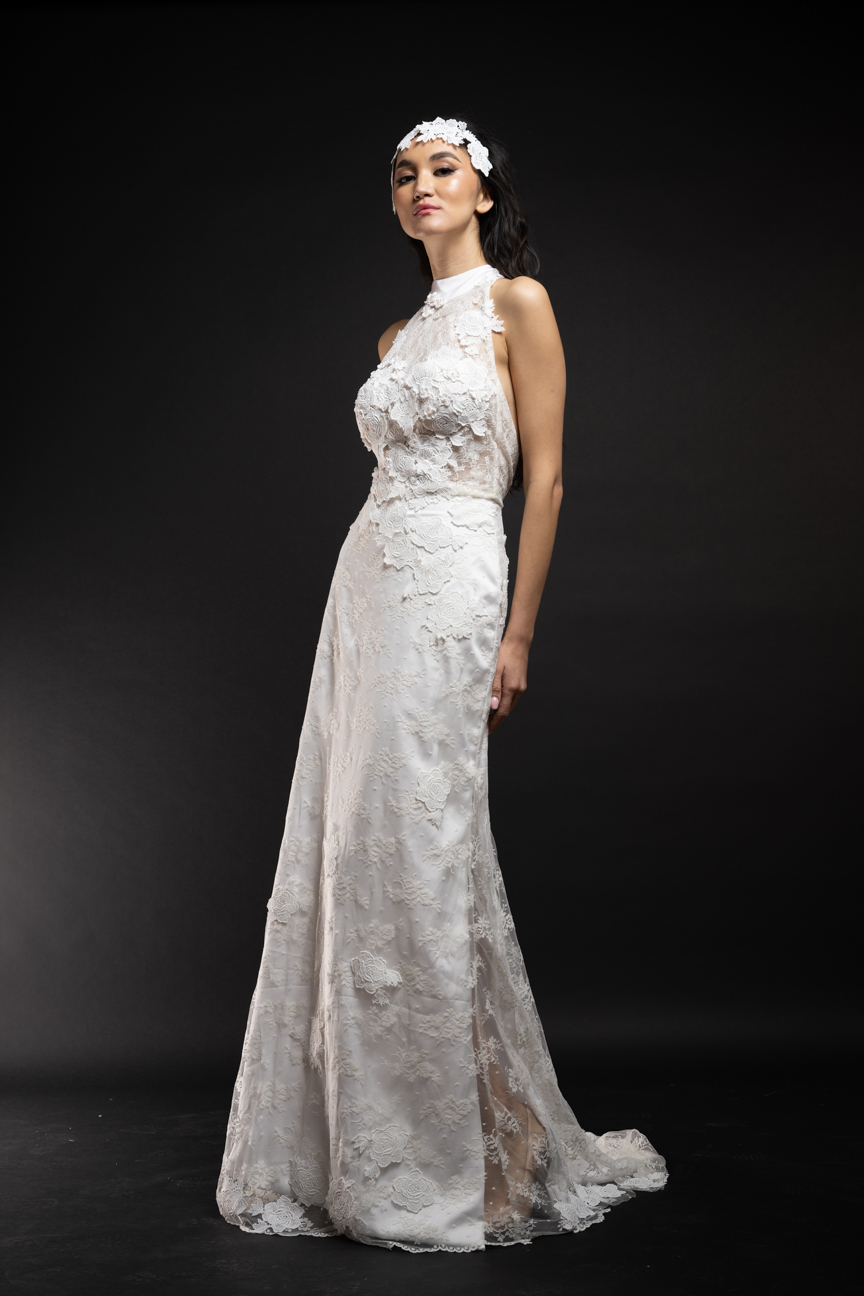 Favorite place for a vegan honeymoon?
After living in NYC for 13 years, I'm thinking a place I can go and just enjoy nature and nothingness with my partner for a few days, THAT would be ideal. So, on my list are: The Strawberry Park Natural Hot Springs in Steamboat Springs, CO, or the Bolt Farm Treehouse a few hours outside Nashville, which are these gorgeous glass domes built in nature. Making our food on a fire, late talks, sleeping in, watching the stars, that's the stuff.

A vegan restaurant is a great venue for your vegan wedding! If you have a certain vibe you love, there might me one that already has decked out their space.
Dogs at weddings: yes or no?
Duh yes. Dogs EVERYWHERE ANYWHERE ALWAYS ♥
Destination wedding or close-to-home celebration?
Both? Little destination for a week with closest friends, and a party later in the hometown.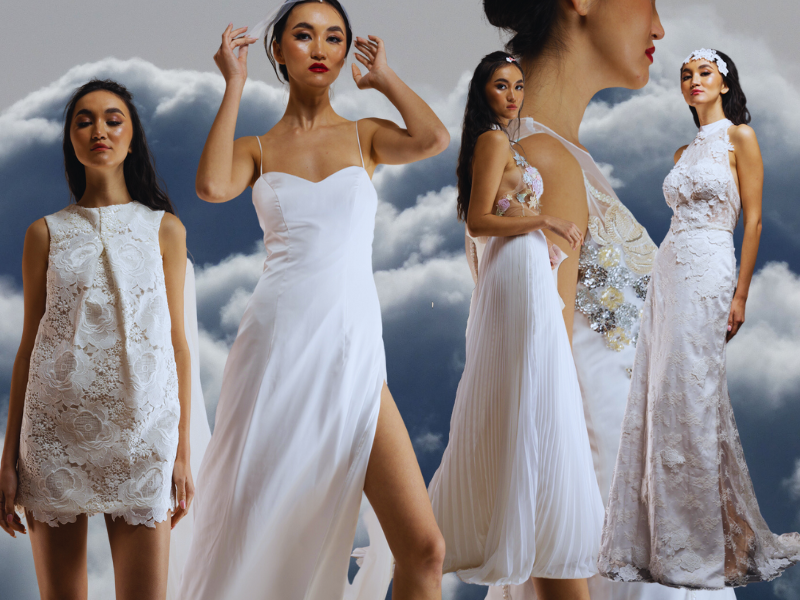 Wedding DJ or live band?
I consider one of my favorite music genres "COVERS." I love hearing a song I've heard million times, in someone else's voice. So definitely a live band, playing all our favorite songs. And if you have musical friends or family, having them sit in or sing a song or two is something you may only be able to do once in your life so, uh, you kinda have to do it if you can!
Married couple you admire?
I have a few! Of my friends, Joshua Katcher (co-founder of Rind & Brave GentleMan) and James Koroni (vegan comedian and choreographer) have so much fun together, and also support each other's dreams, and that really inspires me so much. I also really look up to Liz Dee and Nick Garin. They make a great team and put in effort to become the best partners and people they can. Famous couples: I'm going to be a basic b and say Ryan and Blake. Also Meghan and Harry because Meghan is also mixed, divorced, and not 25, and that reminds me I'm not old or broken at 40 for not being married or having kids yet (when my high school classmates have 3 kids already and I'm like OH SHOOT am I so behind!?)
Number-one reason to have a vegan wedding?
You have to take advantage of this HUGE opportunity!! Your wedding is likely the biggest and most expensive event you will ever hold. That means it's your biggest food purchase, AND a chance to have people try YOUR FAVORITE vegan food, so if you're vegan, it's the biggest food impact you can make in one day! Most of the people who've said they've gone vegan from me have said it's because they were at an event or a photoshoot I coordinated where everything was vegan and they just kinda realized it was something that fit who they are, and was easier to do than they realized.
Want more vegan weddings?
You're going to love our Great Big Vegan Wedding Idea Book!