The pleasures of springtime are innumerable. The weather is neither too hot nor too cold, the days are getting longer and brighter, and everything is in full bloom, lighting up outdoor spaces with bright splashes of color and the heady aroma of fresh flora. If thinking about the beauty of the season (minus the pollen!) fills your heart with joy, you might want to consider hosting your wedding at a botanical garden.

The allure of a botanical garden is multifold, beginning with a built-in backdrop of lush foliage, often ponds or streams, arched passageways, quaint bridges, themed gardens, and negative ions–the charged molecules produced in by plants and other natural elements that have been proven to make us feel good–for days.

Having an outdoor ceremony or reception (or both) surrounded by family, friends, and the peaceful serenity of the natural world sets the tone for not just a beautiful day, but symbolizes renewal and fresh starts. What better way to begin your new lives together?

From Southern Florida to Northern Washington, botanical gardens come in a range of styles, from cactus-filled desert gardens to rainforest-like gardens flush with tropical ferns and palms. And many of them welcome you to tie the knot amongst their verdant backdrops. For budget =conscious couples, there's good news: depending on the scope of your wedding, botanical gardens can be surprisingly affordable venues. Here are seven delightful possibilities, spanning a spectrum of styles and prices, that you might consider when planning your wedding day.


7 Stunning Botanical Gardens for Your Wedding Day

WEST COAST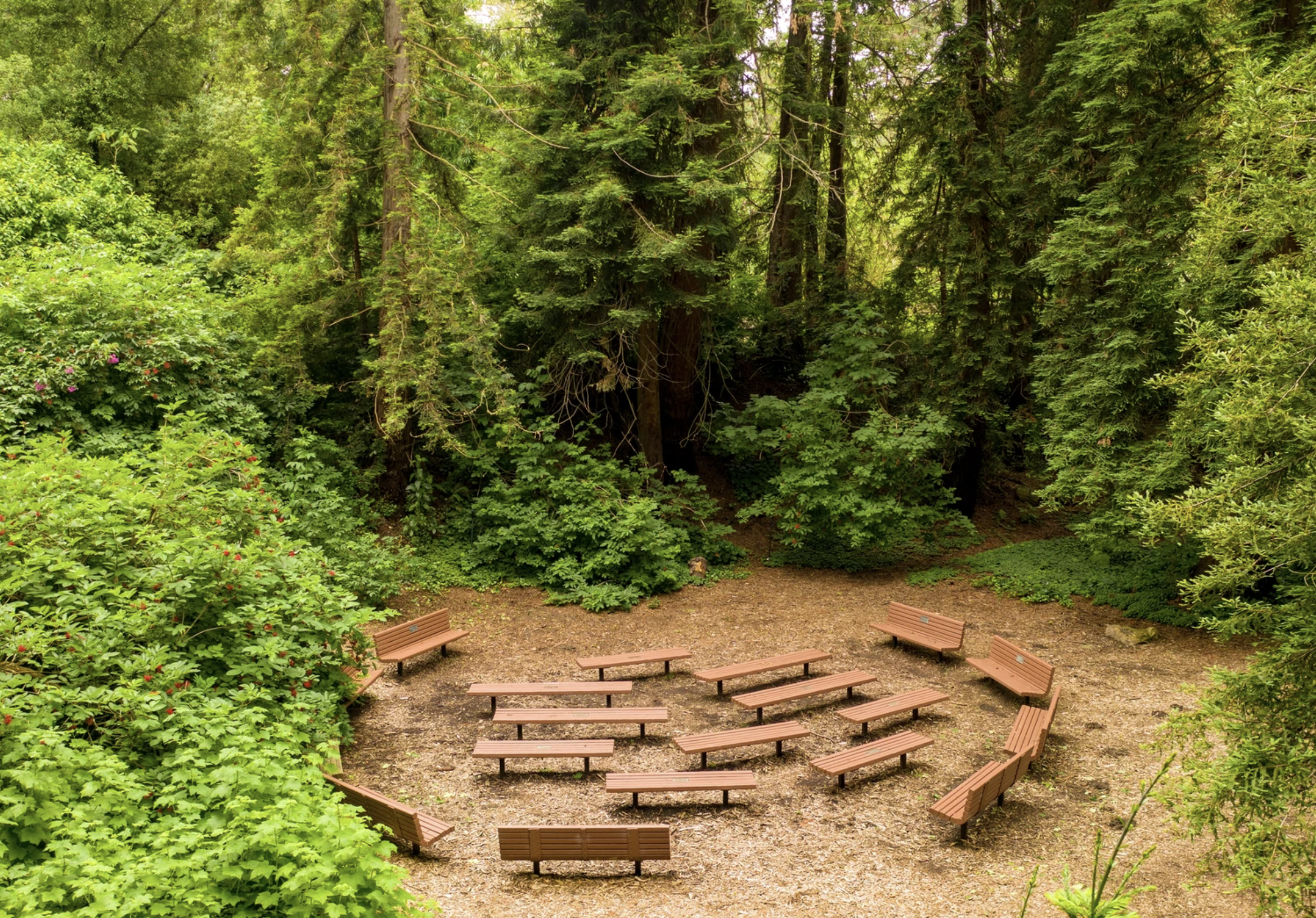 San Francisco Botanical Garden
San Francisco is one of the most romantic cities in the world, and in a city this beautiful, there's no shortage of spectacularly scenic venues for a wedding. You could do like Marilyn Monroe and Joe DiMaggio and marry at the majestic Beaux-Arts City Hall, or better still, invoke Summer of Love vibes and marry at The San Francisco Botanical Gardens in Golden Gate Park. Choose among locations like the intimate Redwood Grove or the more expansive (and newly renovated) Celebration Garden, and relish the salty breezes wafting up through the eucalyptus from Ocean beach. Note: Summers in San Francisco can be cold, foggy, and blustery. Autumn is the perfect time to tie the knot here.
Budget: Wedding packages range from $950 for a micro ceremony to $10,000 for a macro ceremony and reception.
Bonus: If you've dreamed of a road trip honeymoon up (or down) the California coast, San Francisco is the perfect place to start your adventure!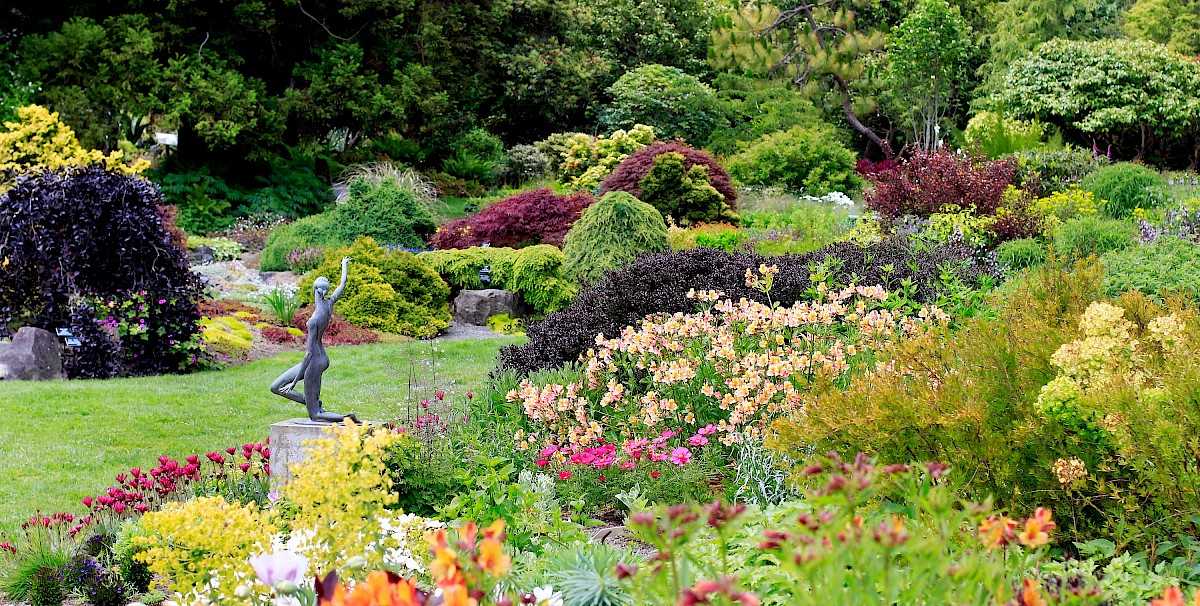 Mendocino Coast Botanical Gardens
Northern California's rugged Mendocino coastline has been a magnet for outdoorsy, adventurous types for centuries. They flock here for the picturesque panoramic vistas overlooking the Pacific, for hiking, biking, and kayaking, and to explore windspect villages trapped in time. They also flock to the Mendocino Coast Botanical Gardens, a vast and varied park-like space where mushrooms and Magnolias coexist in perfect harmony. Getting married here provides an unparalleled scenic backdrop, whether you choose a bluff overlooking the ocean, a dazzling dahlia garden, or even the vegetable garden. The venue offers perks like a mobility scooter for guests who need it, plentiful on-site parking, and, for the married couple, a free year subscription to the gardens as part of the rental fee!
Budget: Plan to spend between $800 and $3,750, depending on the scope of your celebration.
Bonus: You can honeymoon at the nearby Stanford Inn By the Sea, a 100% vegan rustic-luxe hotel with sea views, gorgeous grounds, indoor pool and spa, and incredible on-site restaurant serving award-winning plant-based fare.

HAWAI'I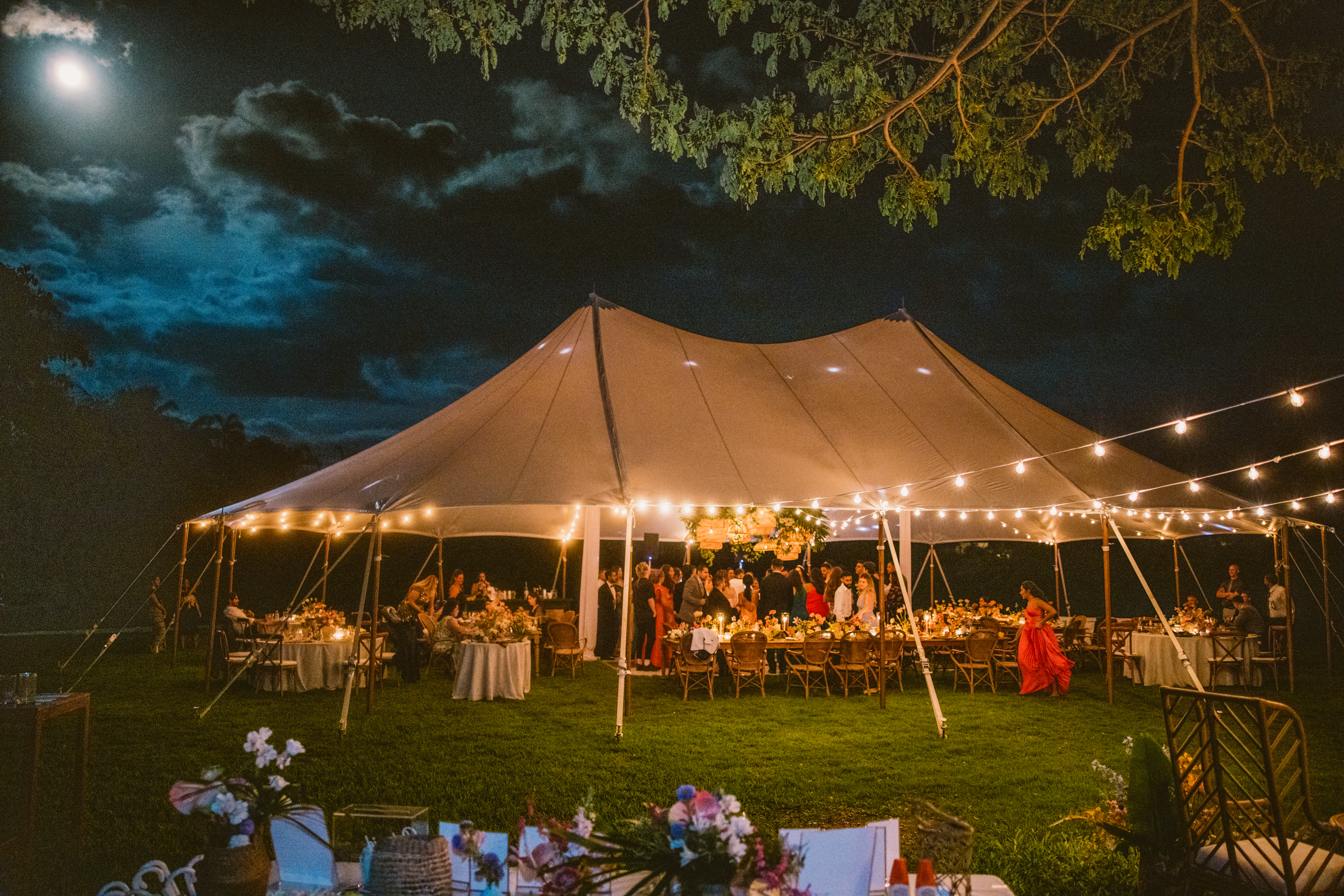 The National Tropical Botanical Garden
The Hawaiian island of Kauai moniker—"the Garden Isle"—is well earned. As the wettest island in the chain, Kaua'i is in a perpetual green state, with fragrant tropical blooms and lush foliage at every turn.. At the south shore's National Tropical Botanical garden, couples can marry at this non-profit conservation society and support their mission to preserve both Kauai's and the other islands' unique biodiversity. Choosing your specific wedding location is like choosing your favorite pet; they're all amazing in their own unique ways! Whether it's just the two of you or 200, consider the Meadow at the NTBG South Shore Visitors Center for a quintessential garden experience (sea breezes included); the McBryde Garden nestled on 200 acres in a lush valley flanked by mountains; or the Waihulili Waterfall, secreted in a dense tropical forest.
Budget: Weddings here range from $750 to $7,500, depending on group size, site usage, and location.
Bonus: When you marry in paradise, is there even a need for a honeymoon? Well, yes, and Kauai boasts an incredible array of beaches, mountains, valleys, and coastal trails perfect for outdoorsy adventure.
EAST COAST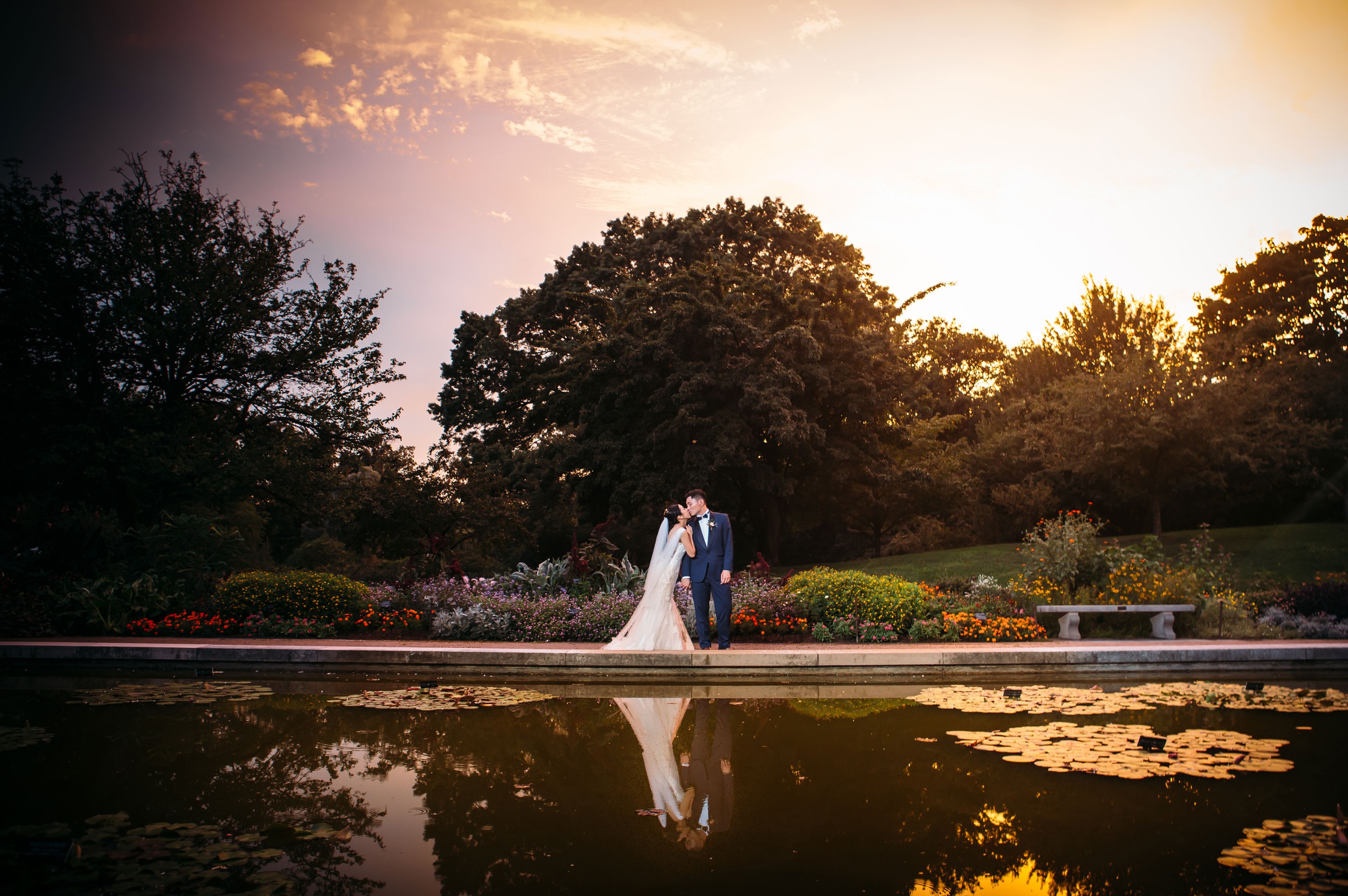 Brooklyn Botanic Garden
New York is full of surprises, including the 52-acre Brooklyn Botanic Garden. Founded in 1910, this lush urban paradise offers Japanese gardens with ponds and shrines, Shakespeare garden featuring plants mentioned in the Bard's writings, and a rock garden where plants that thrive in alpine and subalpine habitats flourish. Couples can choose a catered event at the Garden's glass-walled Palm House—with its outdoor terrace and views over a lily pond—or the more intimate and eco-friendly Lillian and Amy Goldman Atrium, with its living roof dotted with native grasses and wildflowers and views over the Garden's Cherry Esplanade.
Budget: $600 to $10,000, depending on whether you're hosting an intimate walk-in morning wedding in the gardens or a larger catered affair in one of the Palm House or Atrium.
Bonus: For a fun wedding afterparty, head to vegan restaurant and cocktail spot Bar Velo just a few miles away in Williamsburg for creative cocktails, late-night nibbles, and live music.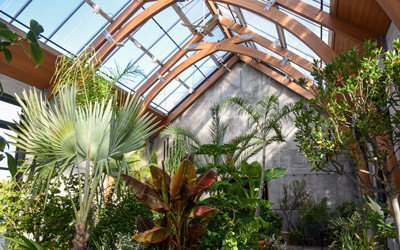 New England Botanic Garden at Tower Hill
A 45-minute drive west of Boston sits the New England Botanic Garden at Tower Hill, 171 acres of gardens, walking trails, and views of the Wachusett Reservoir. Spring is the garden's sweet spot, when the daffodil field explodes with a carpet of yellow flowers and the wildlife refuge pond erupts in a chorus of frog song, but summer and autumn each have their allure, too. Hosting a wedding here means supporting the Garden's philanthropic endeavors, which include feeding the community by donating food from their edible garden to local organizations that serve people facing food insecurity.
Budget: Simple ceremonies (without a reception) range from $500 to $1,500 depending on the season, but for receptions, you'll need to budget $8,000 to $10,000 for a summer wedding and $3,500 to $4,500 for an off-season celebration.
Bonus: The Garden's dedicated caterer is vegan friendly and sustainability oriented, and can even help you plan the wedding meal of your dreams!

MIDWEST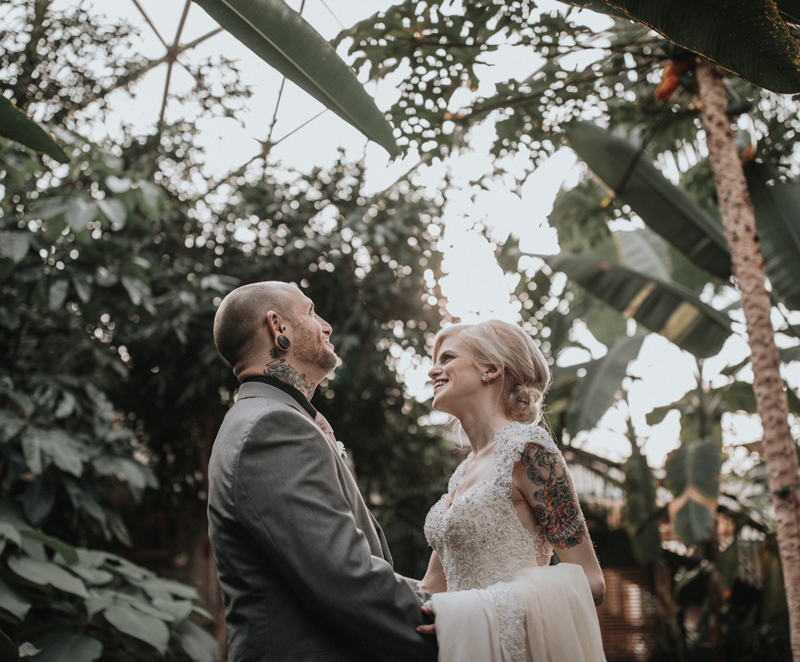 Greater Des Moines Botanical Garden
Diminutive in size but full of charm, the Greater Des Moines Botanical Garden sits right in the middle of the Iowa capital, serving as a calming oasis for urbanites in need of a nature fix. Vegan wedding couple Ace and Chelsea married here, hosting their reception beneath the stunning and photogenic geodesic dome surrounded by towering palms and ferns. The Garden's values include a commitment to anti-racism, inclusion, diversity, equality, and accessibility, and weddings of all kinds are welcome here. And did we mention that a dance floor, sound system, and dedicated wedding planner is included when you book your celebration here?
Budget: Prices begin at $400 for simple walk-in weddings to $4,000 for a weekend reception.
Bonus: If you love animals, you can do like Ace and Chelsea and make a post-wedding excursion to Iowa Farm Sanctuary to meet rescued pigs, turkeys, cows, and goats!

SOUTHWEST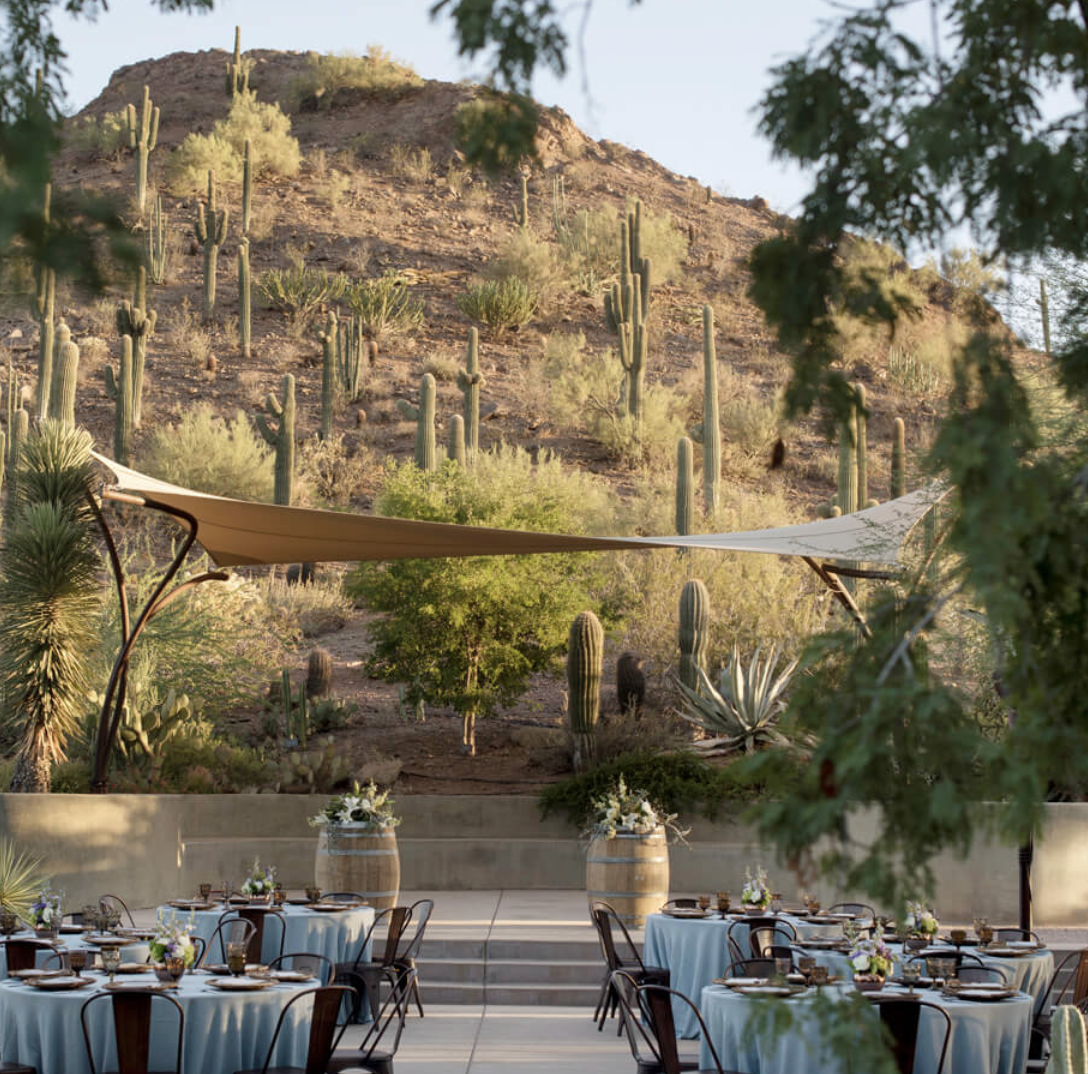 Desert Botanical Garden
Cactus lovers, unite! Literally! When you marry at this incredible garden sandwiched between the metropolises of Phoenix, Tempe, and Scottsdale, you'll be surrounded by the unique beauty of desert flora, including cacti galore and so much more. First opened in 1939, Desert Botanical Garden has been delighting guests with its native plant species ever since. Conservation is at the core of their mission, and the gardens are home to 500 rare and endangered plant species. Depending on the size of your wedding, you can choose to tie the knot in their fragrant herb garden; their wildflower pavilion surrounded by cacti and scenic mountains; the Webster Center with towering saguaro cacti standing sentinel; or the Dorrance center with its patio encircled by tall, feathery trees.
Budget: Depending on the space you choose, expect to spend between $2,600 and $4,200.
Bonus: Desert Botanical Garden's location is the perfect launching-off point for a Grand Canyon and Route 66 road trip.
Want more vegan weddings?
You're going to love our Great Big Vegan Wedding Idea Book!