Venezuelan actors Maria Gabriela De Faria and Christian McGaffney are used to the limelight, but on their big day at La Arbequina, a rustic-chic organic farm resort tucked into Chile's verdant coastal hillscape, their guests got the star treatment. First, the bride and groom toasted the crowd of 60 immediately following the ceremony, then spent quality time socializing and mingling with guests over refreshing drinks around the pool. Then came the food.
Those who dared also imbibed in another home-grown specialty: marijuana.


"A while after, we moved to another area of the venue, half-indoor, half-outdoor, where all the food stations were open," remembers Maria. "We had everything you could imagine in terms of food and drinks!" To start, waiters passed trays of empanadas, quiches, raviolis, Andalusian gazpacho, sushi rolls, and other scrumptious vegan morsels inspired by global cuisines, prepared with vegetables and herbs grown at the resort's own organic gardens. Those who dared also imbibed in another home-grown speciality: marijuana.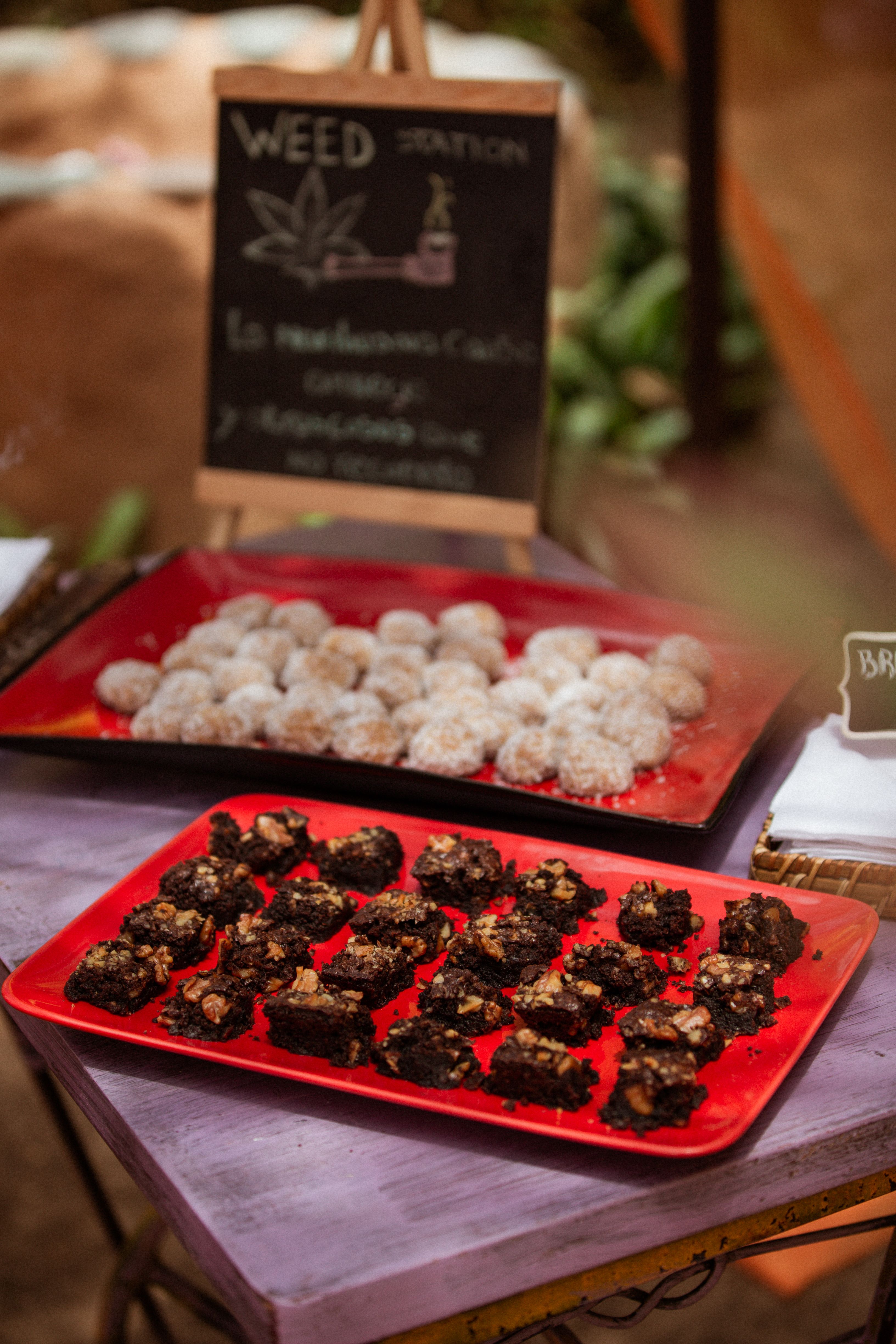 "La Arbequina grows its own weed," says Maria. "Since it's a family-owned business, one of the daughters of the family is in charge of cooking all of the delicious treats that the weed station offered, along with a gorgeous and kind woman that was there to talk with you about whatever it was you wanted to talk about after eating those THC-infused treats!"
The bride says the line to the weed station was backed up like rush-hour traffic in Los Angeles, where the couple live. Guests couldn't get enough of the medicated delicacies. "Even my 67-year-old British father-in-law!" says Maria. "Everybody got to take a few treats back home."
The food arrived in perfectly timed waves throughout the remainder of the special day, beginning with an elaborate cheese table and "pita station" where guests could design their own hand-held meal from a buffet of fresh ingredients sourced locally. "We also had a beautiful fruit table that was very much appreciated by everyone under the 100 degree weather in the middle of the summer!" says Maria.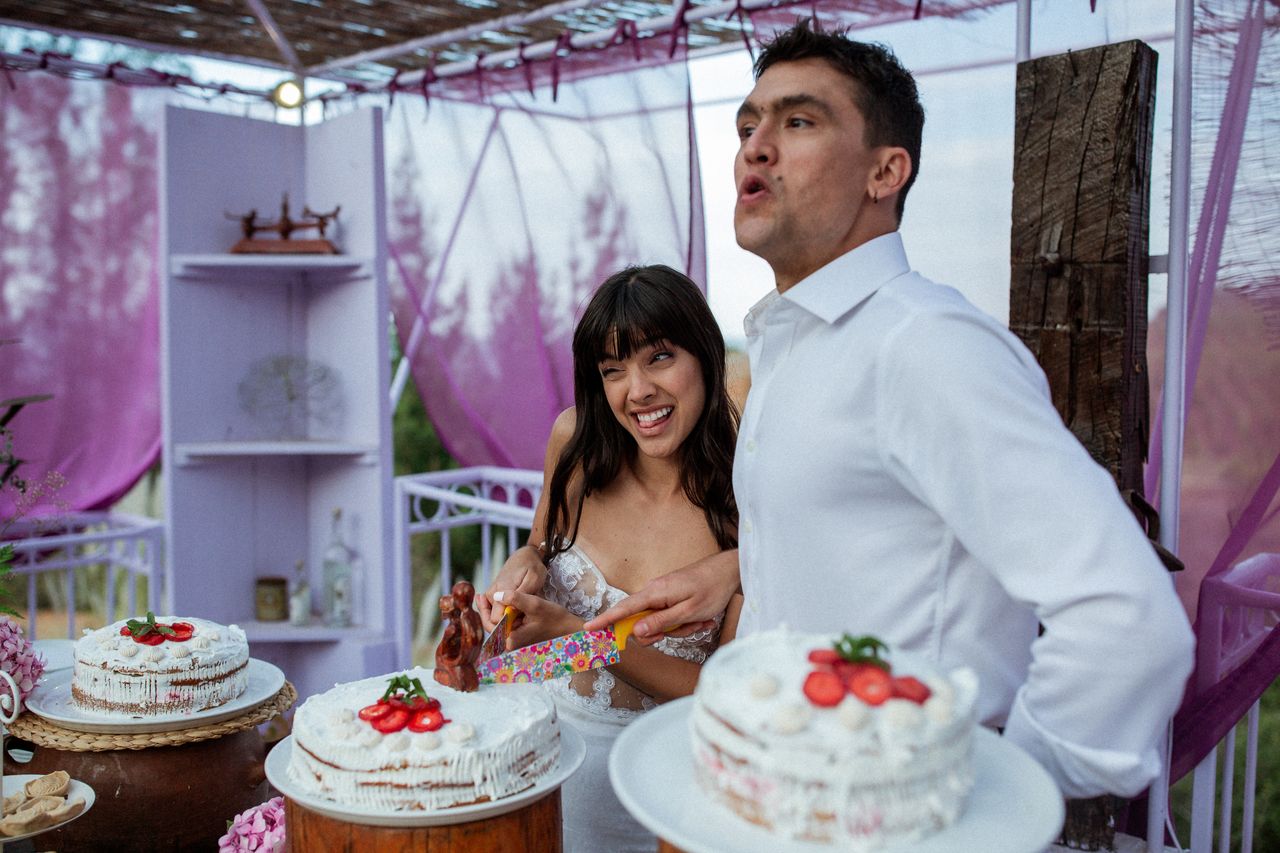 After a sweaty afternoon dance fest, a Venezuelan dining station allowed guests to choose from classic dishes including arepas and cachapas—fluffy corn pancakes stuffed with cheese. "We also had a delicious dessert buffet with over 10 different options," recalls Maria.
When it came time to cut the three different wedding cakes, the couple did the honors and distributed slices to each guest themselves.
It was a day to remember, not just for the beauty of the ceremony, the celebratory cocoon of family and friends, or the incredible setting. For Maria and Christian, turning their guests on to the delicious perks of the vegan lifestyle was the closest thing to a Hollywood happy ending.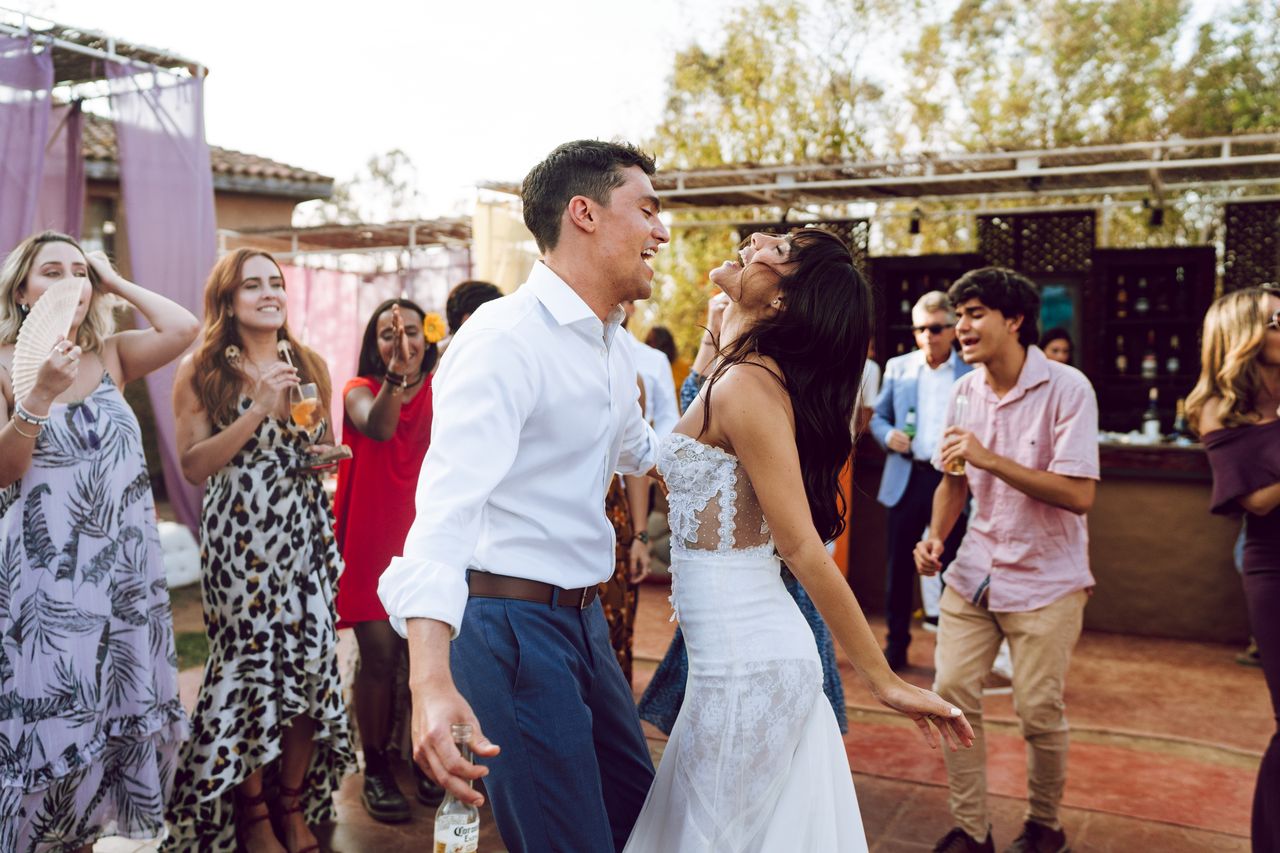 "What I can tell you," says Maria, "is that every guest left the wedding telling us they were going to give this 'vegan thing' a try after eating everything at our wedding. WIN!"
Want more vegan weddings?
You're going to love our Great Big Vegan Wedding Idea Book!